Convert F4V to MP4 - 5 Ways You Need to Find Out! [Desktop & Online]
The F4V file format used to be so famous for Flash Video. Today, it is unlikely to have come across F4V since many other programs and players do not support playing this format. Although F4V is viewed as standard for videos on the web nowadays, converting F4V to MP4 is the best solution to play online flash videos on other devices. Fortunately, this post will walk you through how to convert F4V to MP4, a superior format that all media players support. Dive in right now!
Part 1: Ultimate Way to Convert F4V to MP4 Formats on Windows/Mac
To convert F4V to MP4 quickly and easily, you must install a converter with excellent overall performance. Making it one of the best F4V to MP4 converters, 4Easysoft Total Video Converter handles more than 600 formats for all popular video, audio, and image. Those formats include AVI, WMV, WAV, and so forth. Furthermore, it supports many other conversions, like video to video, video to audio, and vice versa; it can also extract audio tracks from videos.
This powerful F4V converter works on everything from converting video files to customizing video settings to get your desired high quality. Besides that, it provides users dozens of editing features to trim, crop, add watermarks. and more you can apply before converting your video. Get the program now!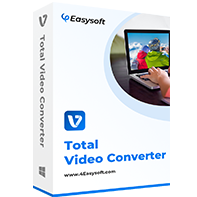 4Easysoft Total Video Converter
Support more than 600 formats for video and audio files and offers device presets for Android and iOS devices.
Let users convert multiple files with its batch conversion feature and convert them all at once.
Offer customization settings to adjust video and audio settings for high-quality output.
Support ultra-fast speed conversion, allowing you to get your file in no time — still maintaining excellent quality.
Step 1After launching the program, 4Easysoft Total Video Converter, go to the Converter tab. You can click the Add Files button at the upper-left or simply drag files directly into the program to convert F4V to MP4.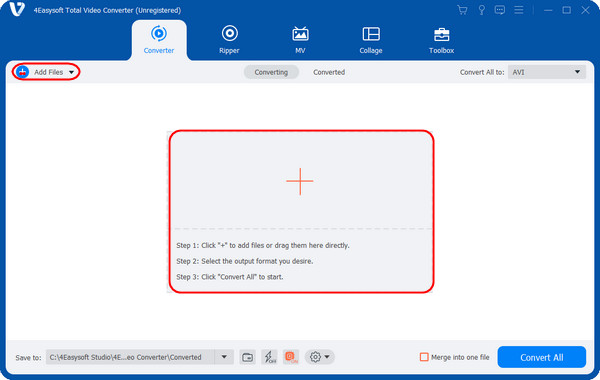 Step 2Once you have added the F4V file, navigate to Convert All to the drop-down menu to see all formats the program offers. Go to the Video section and select MP4 with your preferred customized resolution.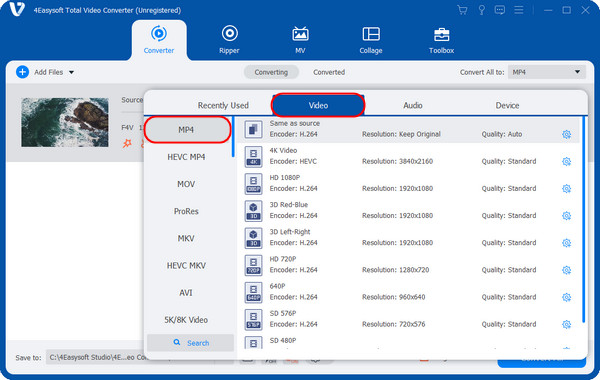 Step 4If you want to make further changes to video and audio parameters, click the Gear icon beside the Quality. Keep the high quality by adjusting those settings. Click Create New to apply changes.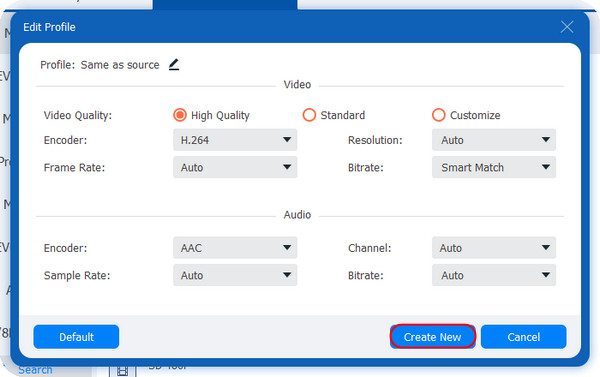 Step 4When done customizing, you can set the destination file below in the Save to menu. Hit the Convert All button to start converting F4V to MP4 if you are satisfied with your work.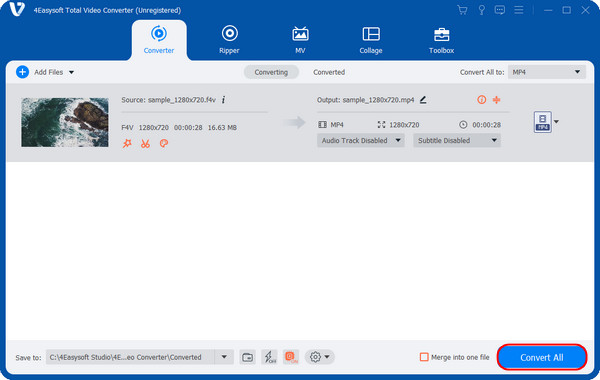 Part 2: How to Convert F4V to MP4 Online for Free - 4 Ways
If you don't want to install any program or software on your computer, you can go for online converting tools. The good thing is there are lots of them, and the four best are discussed below.
1. 4Easysoft Free Video Converter
4Easysoft Free Video Converter is a free F4V converter online that supports more than 300 formats for video and audio files, such as AVI, VOB, MKV, MP3, WAV, and more. You are also allowed to adjust video and audio settings, like the frame rate, codec, channel, sample rate, resolution, etc. Other than that, it supports batch conversion at an incredibly fast speed without compromising the quality of each file.
Step 1Head to 4Easysoft Free Video Convert leading page. You may need to launch the launcher first; if this is your first time using the online tool, click the Convert Video Now to complete it.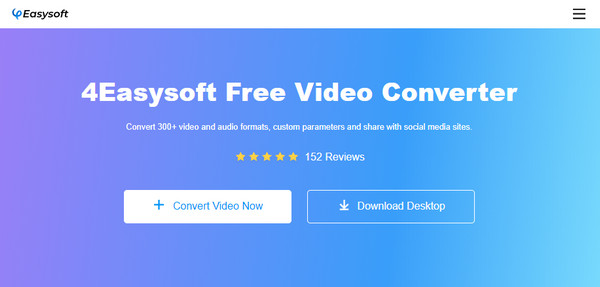 Step 2Add your F4V file, and you will be directed to the converting window. Hit the MP4 radio button. For further customizations, click the Settings icon to adjust video settings. Once done, hit the Convert button below, then select your desired folder destination where you want to save the converted F4V file.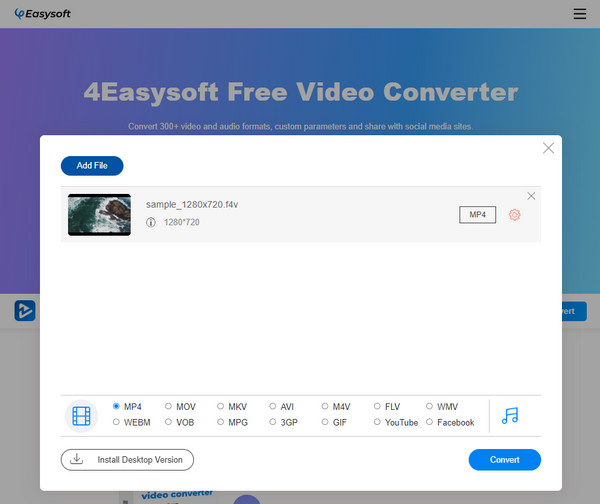 2. Zamzar
Zamzar is one great go-to online tool to convert F4V to MP4. It also supports several formats, like AVI, WebM, WAV, etc. Unlike other online converters that require you to sign up first before converting, with Zamzar, you don't need to install anything. However, be ready for the drawback as it is limited to 50 MB of files to convert, and you will be required to upgrade the version to convert large file sizes.
Step 1Find your way to Zamzar's official website on your web browser. Hit the Add Files button to open the F4V file on the page.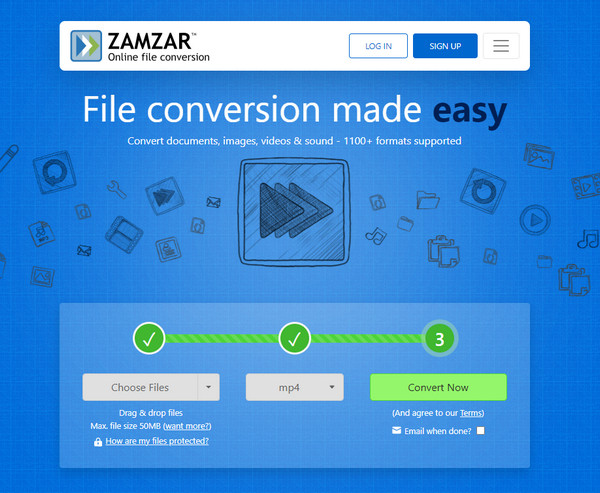 Step 2Hit the drop-down button, then select MP4. If done, click the Convert button to get your converted F4V file.
3. Convertio
Convertio is another excellent online tool to convert F4V to MP4. This online converter supports more than 300 file formats and has done over 25600 conversions. Additionally, you can customize video and audio settings, such as the resolution, quality, codec, etc. It also guarantees your privacy and security since it deletes your file immediately after 24hrs, and doesn't save your converted file in their cloud, and only you can access it.
Step 1Go to Convertio's main site, then immediately add the F4V file by clicking the Choose Files button.
Step 2Click the menu with an ellipsis, then navigate to Video and select MP4. To make some adjustments, tick the Settings button, then click OK to save.
Step 3Finally, hit the Convert button to start the process. Hit the Download button then if it gets completed.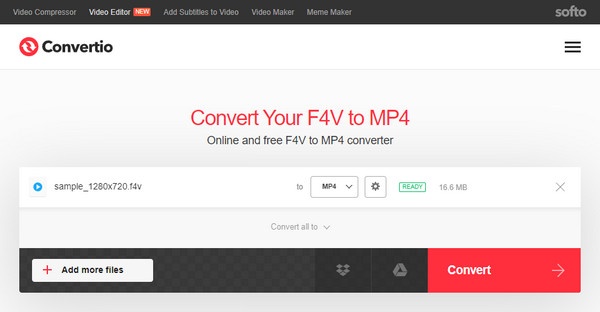 4. CloudConvert
One of the most used online converting tools is CloudConvert. It effectively converts F4V to MP4, and aside from video formats, it has support for documents, pictures, audio, presentations, and other files. Furthermore, as a F4V converter. you will not encounter any frustrating ads while doing the conversion in contrast with other online tools. But, after converting 25 files in a day, you won't be able to convert unless that day has passed.
Step 1Search for cloudconvert.com on any web browser. Hit the Select File button to open F4V on the page.
Step 2Hit the Convert to menu, and select MP4 in the Video section. You can then adjust settings by going to the Wrench icon beside the format menu.
Step 3Lastly, hit the Convert button. Once the process is finished, click Download to get your converted F4V file.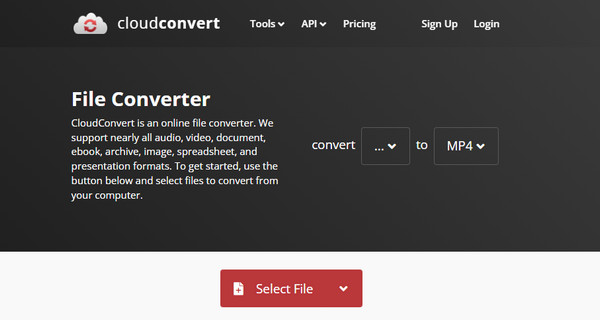 Part 3: FAQs about How to Convert F4V to MP4 Easily
Can VLC play F4V files?

Normally, an F4V file can be played on VLC Media Player. But sometimes, the playback may be stuck or with no sound. You'd better convert them to a more commonly-used format.

Does VLC handle the conversion of F4V to MP4?

Yes. VLC handles converting FLV to MP4 with its built-in converter. To do this, open the F4V file in the program by hitting the Media menu, click on Convert/Save, then select MP4 in the Profile drop-down list.

Does MP4 have better quality compared to F4V?

MP4 is a widely supported format; it can be played with most devices, contrasting with F4V. But, in terms of quality, both provide excellent video and audio quality.
Conclusion
By now, you understand how to convert F4V to MP4. With the online tools and ways above, you can quickly transform files unsupported by many devices into suitable ones. For everyday conversion, getting a program like 4Easysoft Total Video Converter is nice. It has full support for more than 600 formats, and device presets. With this versatile video converter, you can also do edits, enhance videos, and guarantee high-quality output.
Related Articles