The Ultimate Guide to Convert MP3 to MIDI [Desktop & Online]
Converting MP3 to MIDI is a common demand of professional musicians and record producers who use electronic instruments. Of course, as an amateur, you can also convert MP3 to MIDI for better sound quality. This post will recommend four free MP3 to MIDI converters with detailed steps. Moreover, you will get other unexpected gains. Read on to learn what MIDI is and how to convert your MP3 files.
Part 1: What is MIDI
Before converting MP3 to MIDI, you can understand what MIDI is. The full name of MIDI is the musical instrument digital interface. MIDI files do not contain audio data, so the size is much smaller than ordinary MP3 and WMV files. Compared with pre-recorded audio, MIDI files are easier to modify and operate. You can edit keys, tempo, melody, and timbre. Here are the four free MP3 to MIDI converters recommended for you. Continue to read.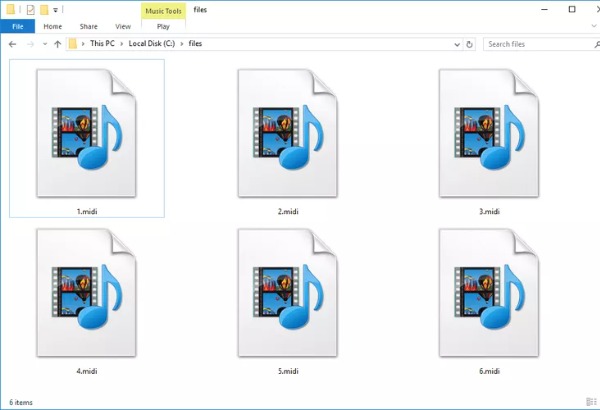 Part 2: 4 Free Methods to Convert MP3 to MIDI
1. Audacity (Windows/Mac/Linux)
Audacity is an excellent audio editor and recorder that supports almost any platform, including Windows, Mac, and Linux. Audacity can convert audio files into MP2, MP3, M4A, OGG, FLAC, MIDI, etc. In addition to converting MP3 to MIDI, it supports recording and multi-track audio editing. But the operation of this software is complex and unfriendly to novices.
Step 1After downloading Audacity from the official website on your device, open it directly. Take the Mac version of the software as an example. Click the File button and select the Import option to upload your MP3 file.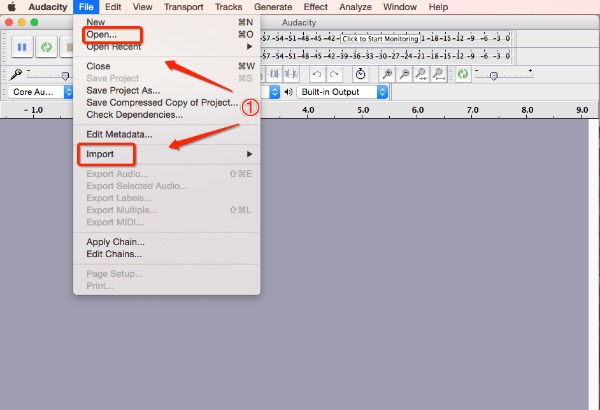 Step 2You can click the File button again and choose the Export option after uploading the file. Then it will pop up a new window, and you can choose the Other uncompressed files from the Format section. Click the Options button to select SDS (Midi Sample Dump Standard) from the Header tab.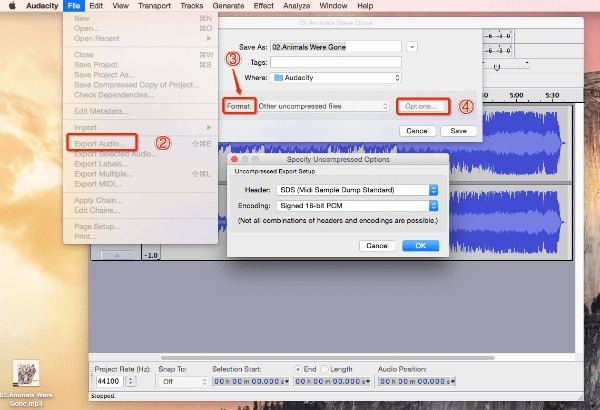 Step 3Click the OK button to save the previous adjustment. Last, you need to click the OK button from the new pop-up window to convert MP3 to MIDI.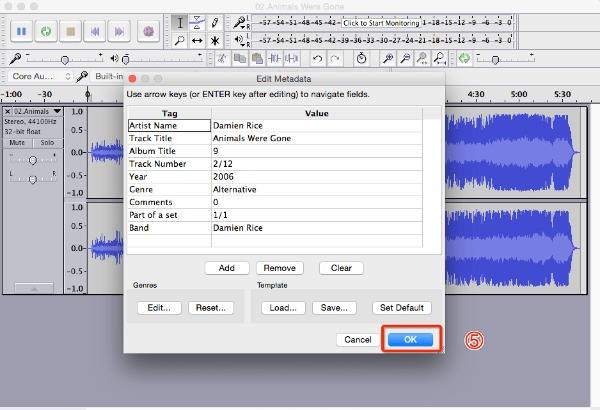 2. AnyConv (Online)
When you like to convert MP3 to MIDI without downloading any software, you can try AnyConv. It has a straightforward interface that is friendly to beginners. Unfortunately, there is no editing tool to adjust the audio and no batch conversion to convert multiple MP3 files at once. The following are the specific operation steps.
Step 1Open the AnyConv on any browser and click the Choose File button at the main interface to import your MP3 file. You can also drag the file directly to the square to upload files.
Step 2Select the MIDI as the output format from the dropdown list.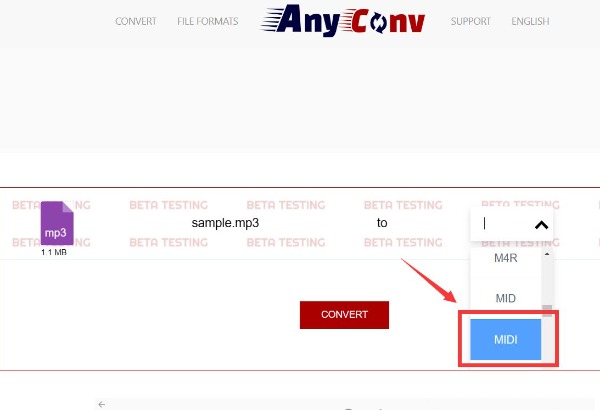 Step 3Last, convert MP3 to MIDI is to click the Convert button at the bottom. And click the Download .MIDI button to save your audio file.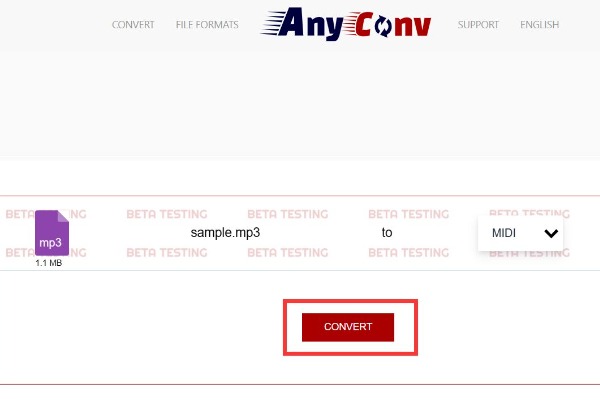 3. Bear Audio Online Tool (Online)
As its name suggests, Bear Audio Online Tool is also an MP3 to MIDI converter online. This free tool supports converting numerous MP3 files to MIDI in a batch, which can save lots of time. The drawback is the size of a single file is limited to 50MB. If your file size does not exceed its limit, you can try it!
Step 1Open your browser and search Bear Audio Online Tool directly. Open this MP3 to MIDI converter and click the Select a local file button to upload your MP3 file. You can upload multiple MP3 files to convert by clicking the Select a local file button again.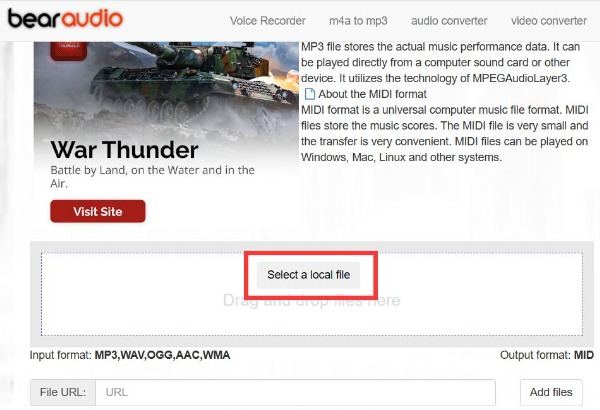 Step 2Select the audio converter from MP3 to MIDI before conversion. Once you import the MP3 file, it will show you the MIDI output format. Then click the Start Conversion button to finish the conversion.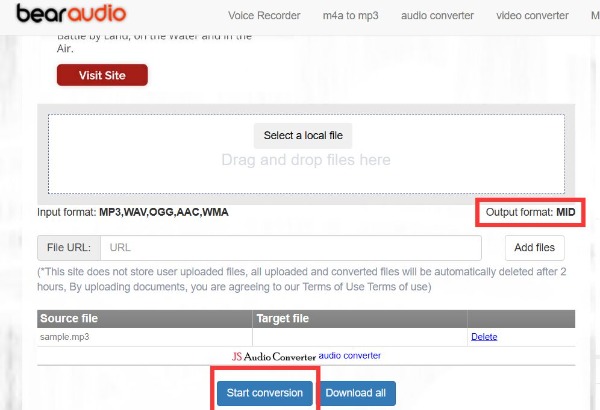 4. Audio Convert (Online)
Audio Convert is an MP3 to MIDI converter online that supports batch conversion. You can convert various MP3 files at the same time. And it supports many formats, and you can even convert MP3 to WAV with it. Moreover, it has an intuitive interface that can convert audio files easily for beginners. However, like most online tools, it has no editing function.
Step 1Search Audio Convert on any browser and open it. Then click the Upload .MP3 button to load your MP3 file into this tool.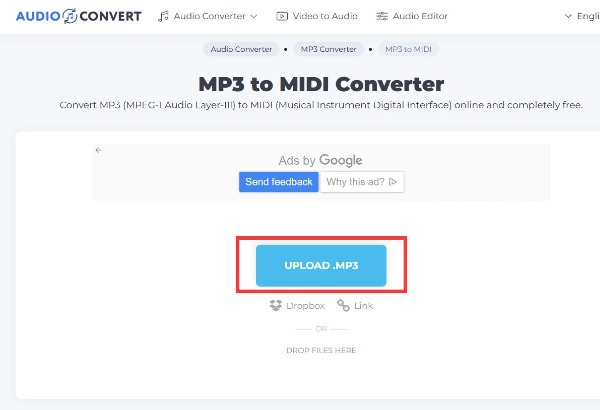 Step 2If you want to import multiple MP3 files to convert, you can click the Add More Files button.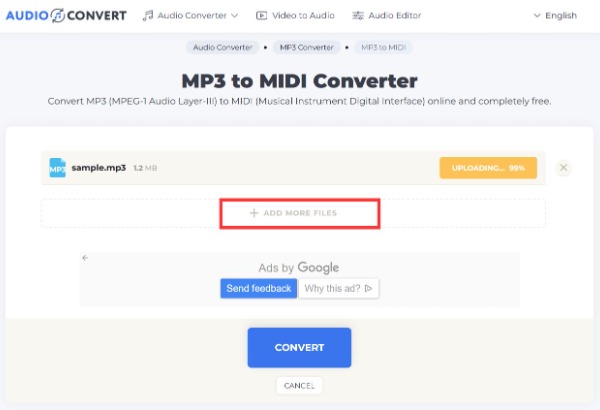 Step 3Select MIDI as the output format by clicking the Convert to button. Then you can choose MIDI from the list.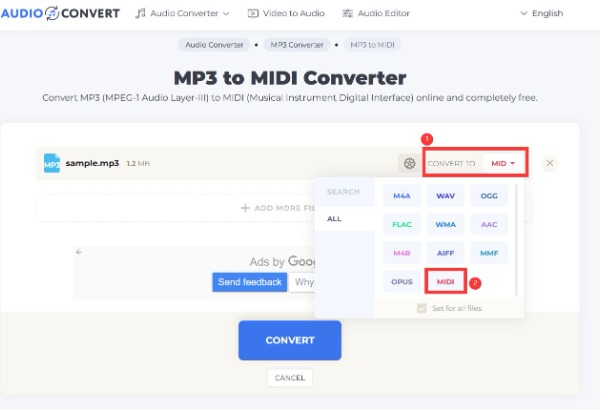 Step 4Click the Convert button at the bottom to convert MP3 to MIDI. Wait a few minutes and click the Download button to save the file.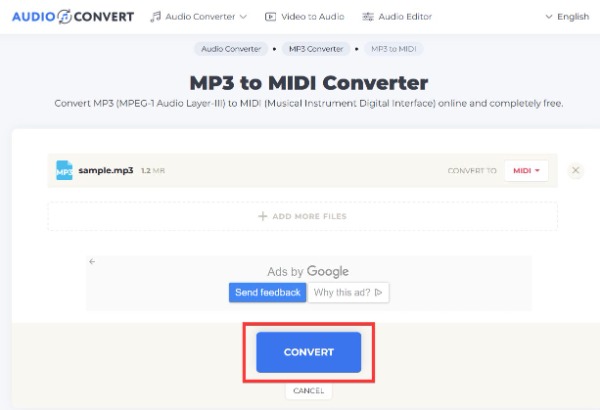 Part 3: Bonus: How to Convert MP3 to Other Formats
When you need to convert MP3 to M4A or other formats, 4Easysoft Total Video Converter must be the perfect tool you can try. This excellent video converter supports 1000+ formats that can convert MP3 to any format. You can convert multiple MP3 files to other formats simultaneously with no file size limitation. Moreover, it supports converting high-quality audio by customizing the settings, like sample rate, channel, and bitrate.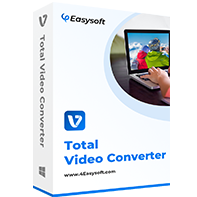 4Easysoft Total Video Converter
Convert MP3 to almost popular formats without any restrictions.
Provide customized settings to convert high-quality audio files.
Support batch conversion to convert numerous MP3 files simultaneously.
Powerful editing features to adjust your audio,
Part 4: FAQs about MP3 to MIDI
1. What is the difference between MIDI and MP3?

MP3 is larger and more difficult to edit than MIDI. Moreover, MIDI not only stores note information but also about different effects, including filtering, pitch, and speed, making it obtain better sound quality than MP3. Converting MP3 to MIDI is a nice choice.

2. How to play the MIDI file directly?

You can use many players to play MIDI files, like Windows Media Player, VLC, WildMidi, TiMidity++, NoteWorthy Composer, WildMIDI, Synthesia, MuseScore, Amarok, and Apple's Logic Pro.

3. Can I alter the instrument playing MIDI files in Audacity?

No, you can't. Audacity only allows you to import and play MIDI files, so you cannot edit MIDIs. But you can use Ableton Live, Acid Pro 10, FL Studio, and Reaper to change the instrument or other advanced editing options.
Conclusion
This article mainly shares three free methods to convert MP3 to MIDI. You can choose one of the tools to use according to your needs and preferences. If you have a better MP3 to MIDI converter to recommend, you can share it with us. When you need an MP3 converter to change MP3 to other formats, you can use the all-in-one 4Easysoft Total Video Converter.
Related Articles: