How to Convert MP3/M4A Audio to MIDI with High Quality [All Devices]
MIDI, which means Musical Instrument Digital Interface, is a famous standard file format that provides a way for music sequences to transport and play. Unlike MP3, MIDI is better at making the instruments readable as it will sound different in playback by a device. So, you think of converting your MP3 to MIDI or M4A to MIDI, and it would be such a pretty easy task with the suitable converter. Thankfully, this post got you the best free MIDI file converter. Go on and read to see what this entire content comes up with.
In today's age, having one search away from finding answers is advantageous, such as online tools you can use to convert to MIDI files. Without downloading any program on your PC, here are the top 3 web-based converters that will be of great help, each with a guide to fulfilling the assignment.
1. Zamzar
Made a name in the online MIDI file converter world is Zamzar, which provides users with an excellent conversion experience. If you have been disappointed with the online tools you've tried, Zamzar is worth your time. Aside from converting MP3 to MIDI, it supports a wide range of output formats for documents, images, videos, audio, e-book, and many more. Plus, with its friendly interface, it will be a simple process for everyone; you can start instantly with no account needed.
You can simple upload the MP3 file to Zamzar's main page by clicking the Add Files button. Locate the MIDI file format. Finally, hit the Convert button to transform MP3 to MIDI.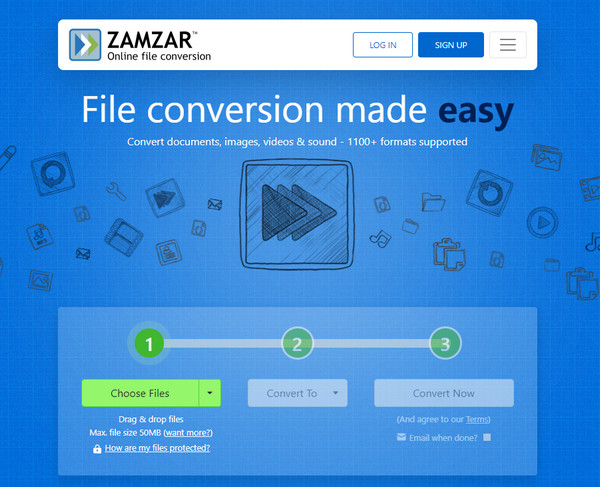 2. Bear File Converter
Bear File Converter is a free MIDI file converter online that has support for other formats as well, including WAV, OGG, WMA, etc. It is based on CMU Sphinx, which is for the recognition of audio voice files. In addition to this, it can be your Image Converter, e-Book Converter, Documents Converter, Video Converter, and more.
Step 1On Bear File's homepage, under Audio Converter, find the Convert to MIDI.
Step 2Open your MP3 file using the open button, drag and drop function, or URL.
Step 3Click Convert. Please wait for it to finish, then Download it.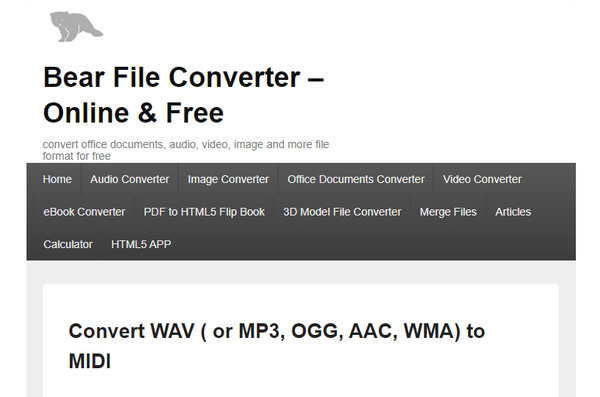 3. AnyConv
Lastly, AnyConv is another effective web-based online tool to convert M4A to MIDI. Similar to the first two discussed, AnyConv supports AAC, AVI, FLAC, MP3, and more formats for audio, video, documents, etc. Besides working on browsers on PC, it also functions on mobile devices for free.
Step 1Go to AnyConv's official site. Find your way, then to M4A to MIDI Converter.
Step 2Upload the file by opening or dragging it to this MIDI file converter. The process will just take seconds until you can Download the converted MIDI file.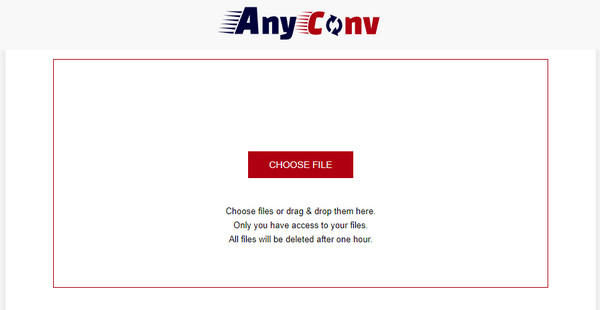 Part 2: How to Convert MP3 to MIDI through Audacity with High Quality
Aside from the online tools, some MP3 to MIDI converting programs can provide great assistance, like Audacity. It is always a great idea to have this free audio converter around. Providing many audio files, like MP3, M4A, OGG, FLAC, MIDI, etc., it is also reliable in recording and editing all types of audio files. If ready, follow the step-by-step guide below to convert MP3 to high-quality MIDI.
Step 1Run the Audacity MIDI file converter. Hit the File from the above menu, then go for Open in the drop-down or Import to upload an MP3 file.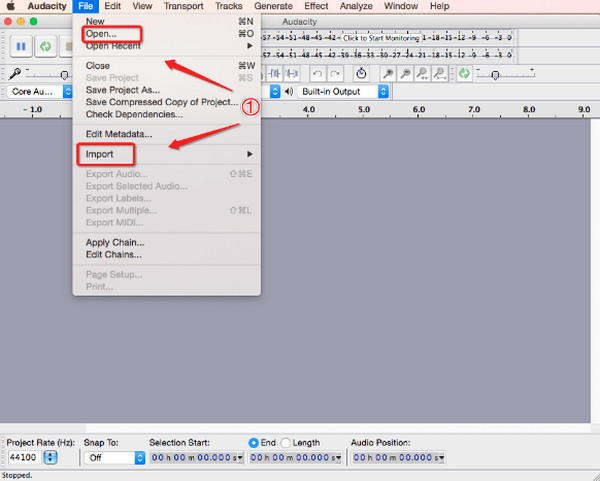 Step 2After that, once again, in the File menu, click Export Audio from the list. A small window will be visible where you will choose the format as Other uncompressed files. Then, hit Options to pick SDS from the Header menu and choose your preferred encoding before you Save it.
Step 3Finally, you are free to modify the audio information right before you press the OK button to get your converted MP3 to MIDI file.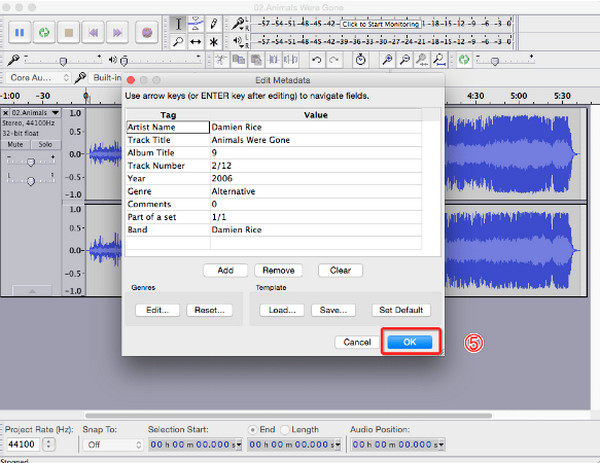 Bonus Tips to Convert MP3 to Other Formats, even Videos in One Click
Followed by the tools to convert MP3/MP4 to MIDI, aren't you curious about converting MP3 to other formats and videos, like FLAC with high quality? If so, keep in your mind the 4Easysoft Total Video Converter. An easy-to-use program with a friendly main screen, by that, the conversion experience will not take time to finish. It supports more than 600 formats for video, audio, and image, as well as device presets with customized resolutions.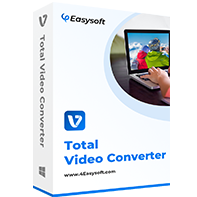 4Easysoft Total Video Converter
The drag-and-drop functionality makes the uploading of files quick and much more straightforward.
Customizable video and audio settings, such as resolution, quality, frame rate, etc.
Ability to do batch conversion, allowing you to get all converted files in one click.
Support editing features, like cropping, merging, trimming, and more you can do to your video.
Part 3: FAQs about How to Convert MP3 Audio to MIDI Files
Is Audacity the best choice to convert MP3 to MIDI?

It is one of the best selections as it offers a high-quality and robust audio editing tool and is working well with Windows, Mac, and Linux operating systems. It is not only made for converting but also supports audio editing and recording audio effectively.

Does converting MP3 to MIDI affect the sound quality?

Today's technology makes converting MP3 to MIDI with no quality loss possible. So, it depends on what program or tool you will use in the conversion process.

What other file formats can be converted to MIDI aside from MP3?

All files with an extension of AAC, AIFF, FLAC, OGG, WAV, WMA, M4A, etc., are supported.

What is the difference between MP3 audio and MIDI file?

MP3 audio represents a sound that can be recorded, played back, and edited. Meanwhile, MIDI lets musical instruments and devices communicate, as the sounds will differ depending on your device.

Are Zamzar, Bear File Converter, and AnyConv, safe?

The three online tools discussed are all safe from viruses and bugs that might corrupt your PC. Although they are done online, you will not encounter any annoying ads while converting MP3 to MIDI.
Conclusion
That's all for converting MP3 to MIDI with today's best converters. If finding one reliable tool is hard for you, you can always return to this post to rely on it. However, regardless of so many programs or online MIDI file converting tools, one always stands out the most. A program for Windows and Mac that supports a wide collection of file formats with excellent quality assured, 4Easysoft Total Video Converter will be your go-to converter. Make sure to try it out!
Related Articles: