Top 8 Best and Free MP3 Converter Tools to Solve Playback Issue
MP3 is continuously titled as the best audio format available today because of its wide range of compatibility, quality, and file size. So, you need a free MP3 converter for uploading or sharing soundtrack on social platforms. But the question is, what would be the best tool to use and how to choose one? Don't worry! This post features 8 of the best free MP3 converter tools! Discover them now!
Part 1: Top 8 Best Free MP3 Converters on Windows/Mac/Online
1. 4Easysoft Total Video Converter (Windows/Mac)
First on our list of the free best MP3 converter tools is the 4Easysoft Total Video Converter. This Windows and Mac-compatible tool supports 600+ media formats, and device presets, including those audio formats. Additionally, it provides an ultra-fast MP3 conversion process without compromising the original quality of your video or audio files. Moreover, this MP3 converter has well-organized and user-friendly features and an interface that will make everything easy to use. These are just a few of its qualities; it still has much to offer, and it only takes the first step to discover all of them!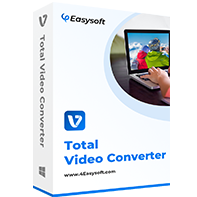 4Easysoft Total Video Converter
Support batch MP3 conversion process, which lets you simultaneously convert several files to MP3.
Equipped with accelerated machine learning computations and Blu-Hyper technology to convert videos to MP3 at ultrafast speed.
Infused with audio track modification features such as trimming and compressor.
Enable you to enhance the quality of your converted file to MP3 through the tool's built-in audio tweaking options.
How to use 4Easysoft Total Video Converter as your Best Free MP3 Converter:
Step 1Download and install the 4Easysoft Total Video Converter tool on your Windows or Mac computer. Then, launch the tool and click the Add Files button to import the file you want to convert into MP3.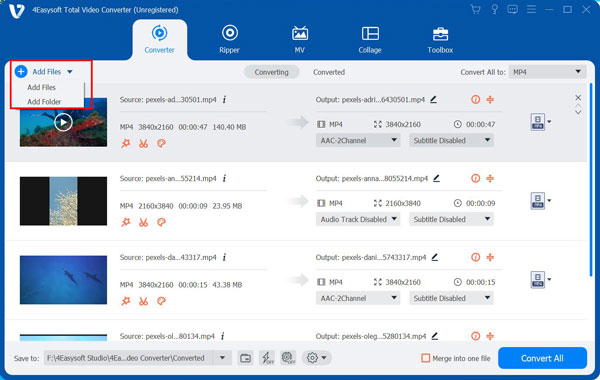 Step 2After that, tick the Convert All to button at the upper right corner of the tool. Then, on the pop-up window, select the Audio tab and click the MP3 from the list of options.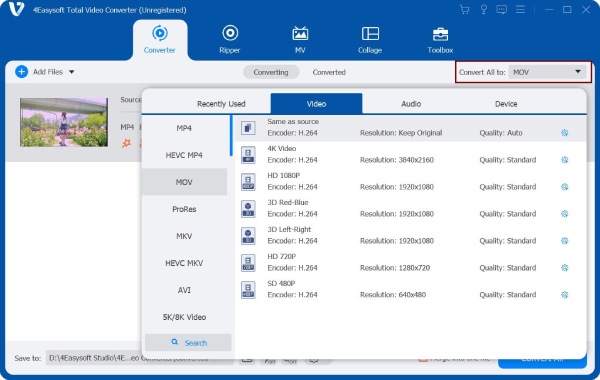 Step 3Next, if you want to enhance the quality of your MP3 file, tick the Custom Profile button with the Gear icon. In the Edit Profile window, you can modify your MP3 output's Encoder, Sample Rate, Channel, and Bitrate according to your preferences. Once you are satisfied with the setups, click the Create New button.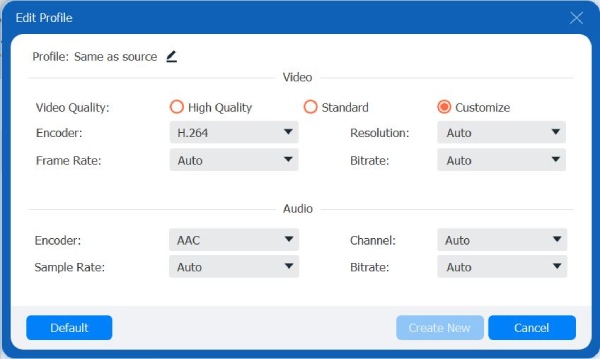 Step 4Then, select your preferred storage path location where you want to save the MP3 output; just tick the Save to dropdown option and select a specific folder. If satisfied with your selection, click the Convert All button in the bottom of this best MP3 converter.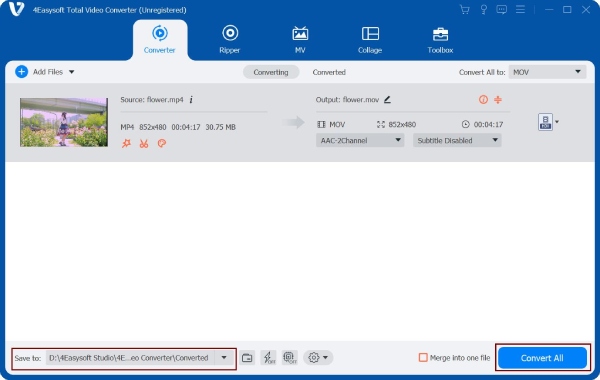 2. VSDC Free Audio Converter (Windows)
Another free best MP3 converter is the VSDC Free Audio Converter. This tool's primary purpose is to convert audio files from one to another. Also, it is infused with audio editing features, which you can use to modify your audio before exporting the output. This tool may look uncatchy and outdated, but it can give users high-quality outputs and a fast conversion process. Additionally, it is infused with the ability to convert files via link or URL and rip them. However, this tool is only available to Windows 10, 11, and older versions, and you'll notice it is trying to install unwanted applications along the setup process.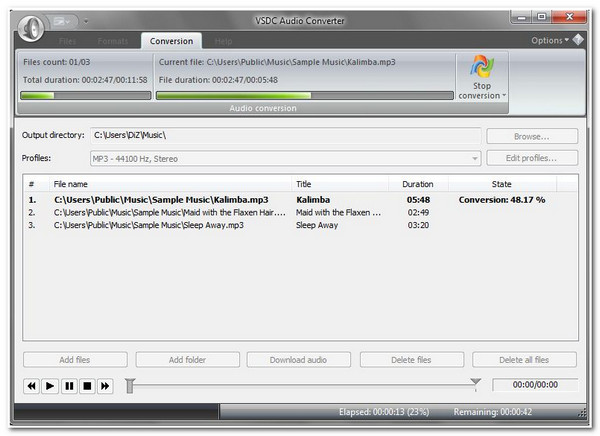 3. MediaHuman Audio Converter (Windows/Mac)
You shouldn't miss the chance to try the MediaHuman Audio Converter, as it also includes the best MP3 converter free. If you are looking for an easy-to-use tool that could provide high-quality outputs even though it is not infused with advanced conversion features, then this tool is the best pick. MediaHuman Audio Converter enables you to convert video files like those from YouTube and iTunes into MP3 with admirable quality. However, this tool is too direct and specific that you can't even trim and tweak your output's length and quality.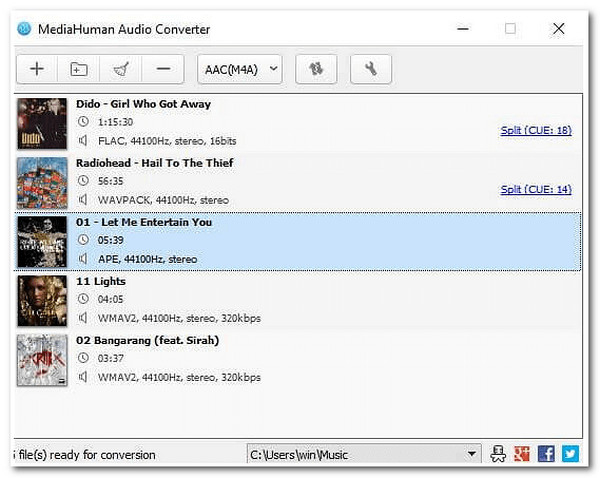 4. Audacity (Windows/Mac)
Audacity is next on the best MP4 to MP3 converter free download list. This tool is the best free and open-source audio recording and editing program. This tool can convert several media files into MP3 simultaneously as it supports the batch conversion process. Moreover, besides MP3, it also supports lossless formats, including WAV and FLAC. Despite that, you couldn't convert video files unless you undergo a process of FFmpeg installation, which provides the ability to support WMA, AMC, M4A, etc., file imports.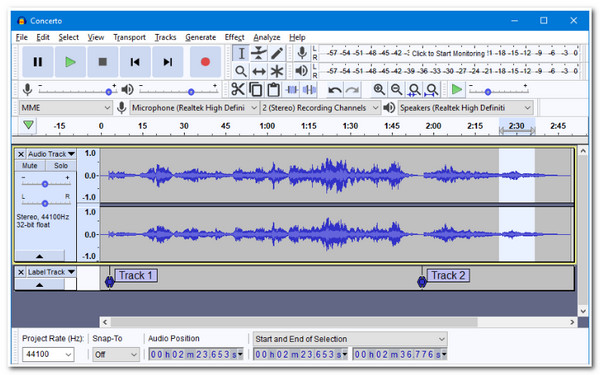 5. VLC Media Player (Windows/Mac/Linux)
Another free best MP3 converter is the VLC Media Player. VLC is a versatile tool that is not only made to play various video and audio files in different formats but is also equipped with video-to-MP3 conversion features. Moreover, it can provide excellent quality MP3 output without spending money and at a fast speed process. However, this tool is not intuitive, quite complex, and sometimes fails to do the process.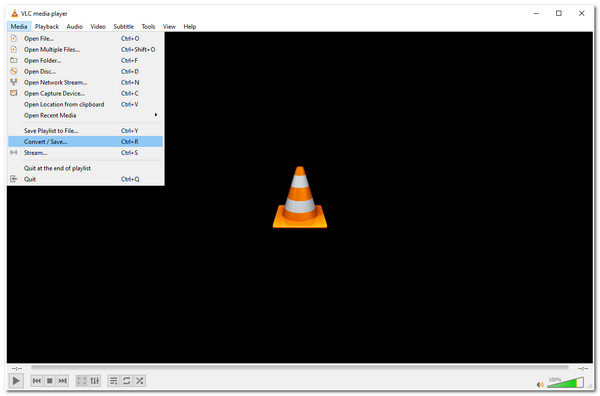 6. Freemake Audio Converter (Windows)
Freemake Audio Converter should also be on your best MP4 to MP3 converter free download list. Like with other MP3 Converter tools, Freemake Audio Converter can also convert several videos into MPsimultaneouslyce. Moreover, this tool enables you to combine various files into one file. Furthermore, it is also equipped with output tweaking options where you can adjust the quality of your MP3 before importing it. The biggest drawback of this tool is that it doesn't allow you to convert media files into MP3s that are longer than three minutes. Additionally, it installs unwanted programs while setting it up.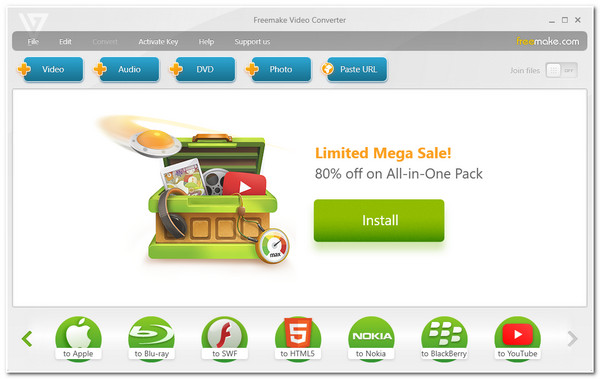 7. Convertio (Online)
Next on the line of the best free MP3 converter is the Convertio, an online tool accessible on any browser under Mac or Windows platform. This web-based tool enables you to convert various videos into MP3 in just a few simple steps. Besides that, it supports fast conversion with a secure process that deletes the uploaded file after 24 hrs. Since it is a web-based tool and uses the internet, it is prone to various freeze issues and failed processes. Additionally, it only allows you to upload a 100MB file.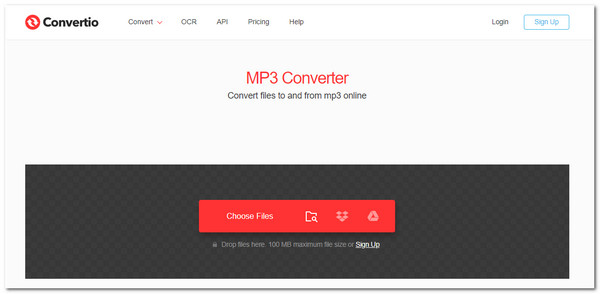 8. Cloudconvert (Online)
Last free best MP3 converter on the list is the Cloudconvert. Like the other online MP3 Converter tools on the market, Cloudconvert is also accessible via any browser available on Windows or Mac computers. This tool stands out because it enables users to tweak their MP3 output file's resolution, size, quality, etc., before exporting them. However, this tool limits you to a few free conversions per day.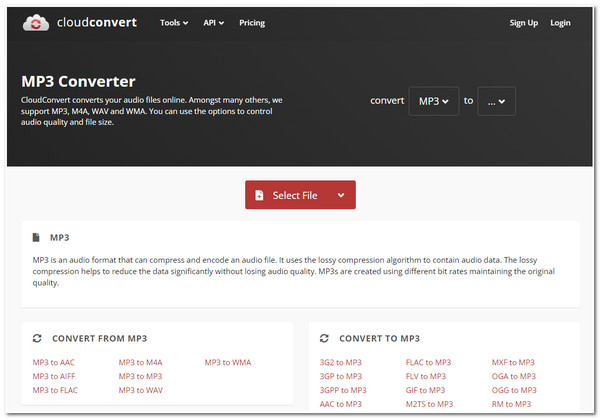 Part 2: FAQs about the Best Free MP3 Converter
1. Does Mac has a built-in MP3 converter tool?

Yes, it has! The Mac's Music program is infused with customization settings where you can convert various files into MP3. However, this will work if you wish to convert an audio file into other types of audio format.

2. How to convert a URL video into an MP3 file?

To convert videos from video-sharing platforms, copy their URL and paste them on an online free MP3 converter like Cloudconvert. Then after that, click the convert button and select download.

3. How can I convert FLV to MP3?

You can use the 4Easysoft Total Video Converter, also considered the best free FLV to MP3 converter. You just need to import the FLV file to the tool, access the formats offered, and select MP3 format. Then, you can select the Convert All button to import the file to save it to your local storage.
Conclusion
There you go! Those are the lineup of free best MP3 converter tools available today! With their capabilities, you can transform various video files into MP3 files. Still, the best recommendation is the 4Easysoft Total Video Converter tool. This tool is indeed a total package, for it is not only made to convert media files to MP3 but also to edit as well as to enhance their quality at the same time. If you find it interesting, please visit the tool on its official website to download it today!
Related Articles