Where to Find League of Legends Replays and Share Your Highlights
The LoL gameplay, a shortcut for League of Legends, is a video game that focuses on a battle in player versus player combat. And if you're a die-hard fan of the game and eager to know where to a specific LoL replay that is one of your best game highlights, this post has got you. As you read the entire post, you will learn where to find LoL replays to share them, as well as the best answer to watch your highlights whenever you want without finding replays.
Part 1: How to Find, Watch, and Share LoL Replays of Your Highlights
Before going through where to find LoL Replays and others, understand first what it is. The League of Legends is among the best gaming platforms that enable players to watch their previous performance in the game in their Replay Function. Players can save their gameplay as their copy to watch them whenever they want and even convert LoL replay to MP4 or any other video file format. It is indeed a great way to enjoy their highlights conveniently.
So, how to find this function after a successful match in the gameplay to download LoL replay? You won't have to activate anything or adjust anything in Settings and enable it; you can get it done by following the steps below.
Step 1Enter the MATCH HISTORY option once the match is completed. All matches with the Download button will be listed on your screen; click the Download button of your selected LoL match.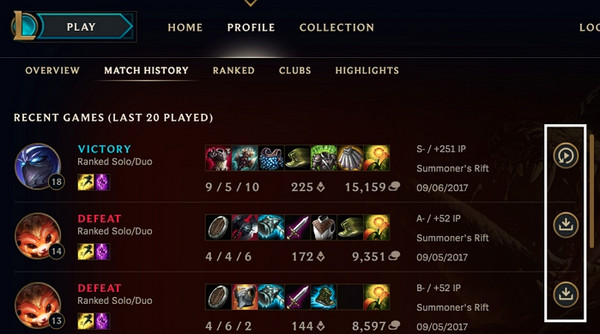 Step 2After that, it will be saved to a folder or file on your PC. Please wait for the downloading process to be finished.
Wondering where you can find the LoL Replays after downloading them to watch and share with others? After you find the LoL replay and save them to your PC, you would love to know where they are. All downloaded LoL Replays can be accessed as ROFL Files, and these files can be found in the Settings menu of the League of Legends Client. If you don't have any idea where to locate it, there's a guide that will accompany you below.
Step 1Head to the Settings menu under the LoL Client. Click the cog icon afterward, located at the top right of the Client. On the left side menu of your screen, find the Replays option under In-Game, then click it.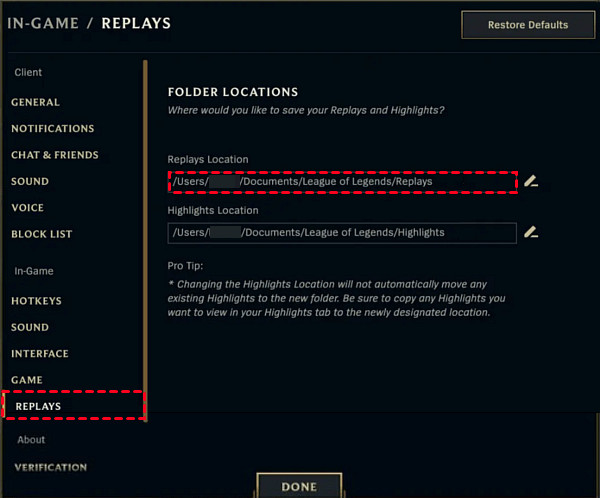 Step 2Next, a default folder where all LoL Replays were saved will be seen on the screen. You can now find your way to this location or change it as you like.
Here's how to watch LoL replays in the default folder: copy the location, go to File Explorer, paste the copied location in the DIrectory box, then click Enter.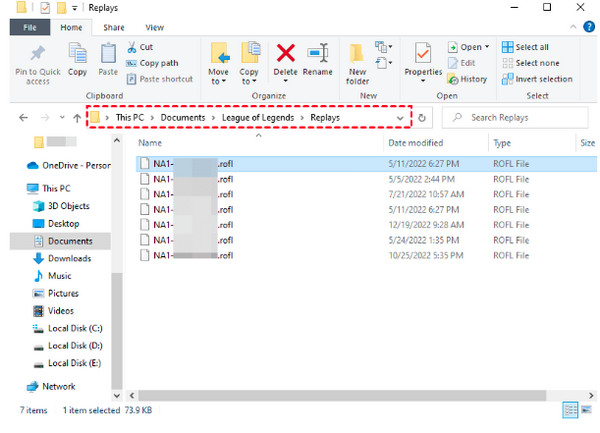 Part 2: The Best Way to Replay LoL Games Directly by Recording
After reading the deault way to find and watch LoL replays, you will find that the LoL app is necessary, which is not convenient for watching and sharing the highlight videos. Luckily, you can directly record your LoL replays or games for easy playback and upload. 4Easysoft Screen Recorder is the recommend gameplay recorder for Windows/Mac. Even if you are not that techy or don't have any experience in recording, you can easily cope with this easy-to-use function to record highlights and easily upload all recordings. You can directly record LoL play and enjoy doing additional edits afterward without needing to find LoL Replays. To have more knowledge on how to use this great recorder, here's how to record LoL plays through it.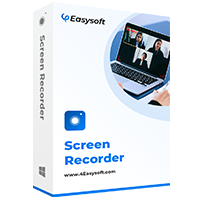 4Easysoft Screen Recorder
A Game Recorder that records gameplay with high quality and no lag.
Real-time drawings that you can use to annotate and take screenshots while recording.
Customized hotkeys for quickly starting recording, stopping, pausing, capturing, etc.
Trim recordings in the Preview window to remove extra parts before saving.
Step 1Free Download the 4Easysoft Screen Recorder, then complete the installation process to launch it. Click the Game Recorder among any other options on the main screen.

Step 2Ensure the LoL gameplay is open for the recorder to recognize it after clicking the Select the Game button.
Turn on the System Sound to record the effects and other sounds of the gameplay. Enable other options like Webcam to overlay it or a Microphone to record your voice.
Step 3To keep the LoL replay recording smooth and of excellent quality, click the Gear icon to adjust the frame rate and quality. Click the OK button to save changes.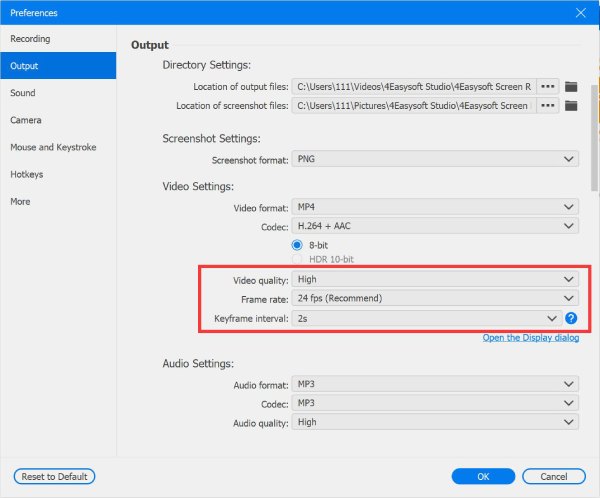 Step 4Once done customizing, you can now start recording LoL gameplay by clicking the REC button. You will have a 3-second countdown to go back to the LoL window. Alternatively, press Ctrl + Alt + R keys for an easy start recording without exiting the LoL window.

Step 5Click the Stop red button once finished. You will be navigated to the Preview to do some trimmings if you want to. Tick the Export button to save it on PC and watch the LoL replays.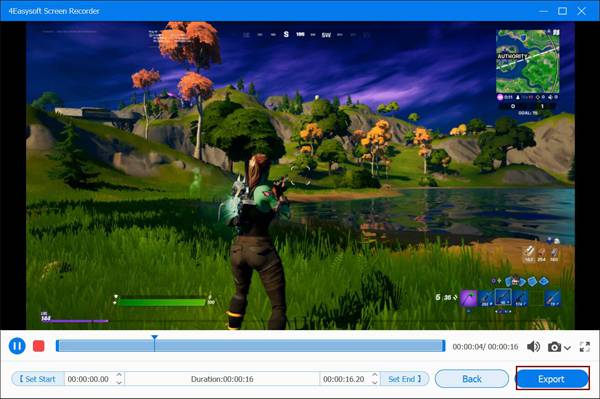 Part 3: FAQs about LoL Replay Files
How long will the LoL replay last?

You can watch it until the end of the cycle. For example, you had the LoL replay for the last patch update; all replays will expire in the next LoL patch update.

Can I watch LoL replays on my phone?

It is now possible to watch replays on Android devices, and it appears in League Plus. However, it is convenient to watch replays online and on a PC.

Is the game chat included in LoL replays?

No, a replay in League of Legends only shows the gameplay and not contains any chats or other windows.

How to change the location folder or LoL Replays?

Go to the Replays option in LoL Settings, then click the Replays Location to select your preferred folder to save all downloaded LoL Replays.

What format are the LoL replay files?

All downloaded replays are saved in ROFL files, but after downloading them, you can consider converting them to another format like MP4.
Conclusion
That's all about finding and downloading LoL Replays. After your excellent performance in the gameplay, you can find the replay easily to watch and share it with others. But for more convenient use, record the LoL gameplay without watching and download the replay with 4Easysoft Screen Recorder. This easy-to-use recording tool will let you record gameplay and other screen activities in excellent quality and share easily on social media platforms. Enjoy recording!
Related Articles: