3 Walkthrough Guides to Screen Record Genshin Impact [Tutorial]
Genshin Impact is an open-world 3D game focused on virtual-role playing with an excellent storyline and characters. Recording Genshin Impact with its magical adventure and action is very became popular among gamers due to its ability to give users a Since you are here, you might look for a workable way to store your excellent gameplay or share it across various platforms. Well, you are on the right page! In this post, we featured 3 hassle-free ways to record Genshin Impact gameplay with high quality!
Part 1: The Best Way to Record Genshin Impact Gameplay with High Quality
One of the easiest ways, yet best among other recommendations, is to record Genshin Impact gameplay using the 4Easysoft Screen Recorder tool. This user-friendly tool offers easy-to-use features that enable you to record your on-screen Genshin Impact highlights and gameplay skills. Additionally, it is integrated with CPU and GPU acceleration technology that will record your gameplay with high quality and without any lag issues. Moreover, its great features and functionalities are well-composed, letting you record Genshin Impact gameplay quickly and efficiently.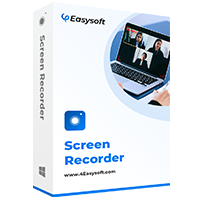 4Easysoft Screen Recorder
Support Output Tweaking options that you can use to enhance the overall quality of your recorded Genshin Impact.
Offer various customizable keyboard shortcuts which let you initiate start, pause, stop, or take screenshots quickly.
Equipped with an Area Selection feature that enables you to select the desired area of your screen.
Capable of recording your Genshin Impact gameplay and your webcam simultaneously.
How to Screen Record Genshin Impact Gameplay with High Quality using 4Easysoft Screen Recorder:
Step 1Download and install the 4Easysoft Screen Recorder tool on your Windows or Mac desktop. Then, launch the tool and click the Game Recorder button.

Step 2Next, the tool will then automatically detect your Genshin Impact game. You can also click the Select the game button and tick the Genshin Impact. To capture the game and your reaction simultaneously, click the Webcam and Microphone Switch buttons to turn them ON.
Step 3After that, to ensure a high-quality result, tick the Record setting button with the Gear icon. On the Preferences window, select the Output tab. Here, you can set your output frame rate to 60 fps and Video quality to Lossless. Then, once you are done setting it up, click the OK button beneath the Audio Settings.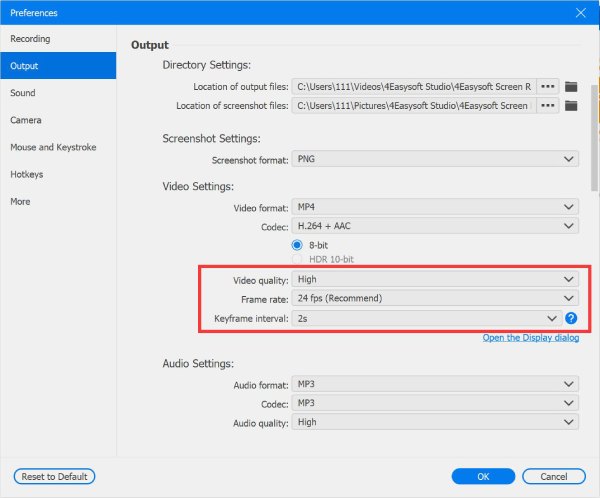 Step 4Then, initiate the recording process of Genshin Impact by clicking the REC button. Before the 3-second countdown ends, go back to your Genshin Gameplay.

Step 5If you are finished recording your Genshin Impact gameplay, tick the Stop icon. After that, the tool will bring you to its built-in preview feature. Here, you can watch your output if you want to before clicking the Export button.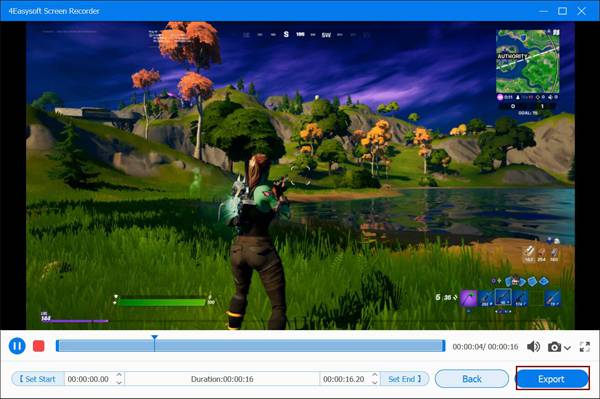 Part 2: How to Record Genshin Impact through OBS on Windows/Mac
Now that you have discovered the best way to record Genshin Impact gameplay, the OBS Studio is another screen recorder tool that could help you. This lightweight, accessible, and open-source screen recorder tool is infused with the ability to record Genshin Impact gameplay with high quality. Moreover, it can provide a screen-recorded output with high compression while maintaining the original quality. Furthermore, it is also programmed to provide you with high performance during the screen recording process. If you ask if OBS supports webcam recording during gameplay, the answer is yes! It can! Now, how to record Genshin Impact on OBS Studio? Here are the steps to tell you how:
Step 1Download the OBS Studio on your Windows or Mac computer. After that, launch it, click the Add button with the Plus icon under the Source section, and select Game Capture from the options. After that, leave the label as Game Capture and tick the OK button.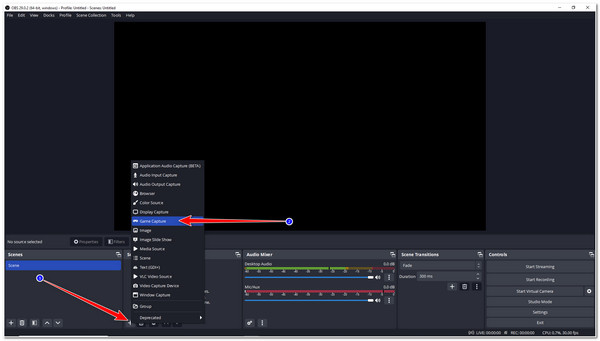 Step 2On the Properties for 'Game Capture' window, click the Mode dropdown menu and select Capture any fullscreen application and tick the OK button.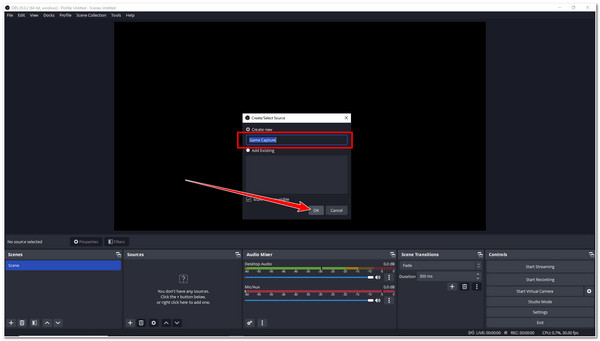 Step 3Afterward, head to your Genshin Impact, launch it on Fullscreen and return to your OBS Studio. Once your gameplay appears on the OBS window, the tool is recognized and starts recording it.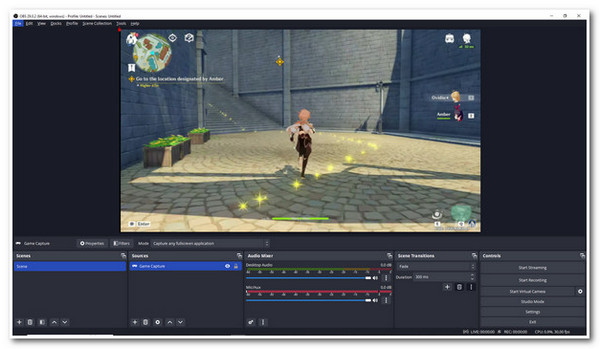 Part 3: Steps on Recording Genshin Impact with GeForce Experience
Aside from OBS Studio, GeForce Experience is also one of the best-pick tools to record Genshin Impact gameplay! This screen recorder tool is outstanding because it can enhance the looks of your recorded on-screen gameplay. Using its excellent filters, you can bring your Genshin Impact recordings to the next level. It is also equipped with Game Settings optimization, automatically optimizing your computer's GPU, CPU, and display. This feature lets you enjoy capturing your on-screen Genshin Impact gameplay with the best performance and image quality balance. So how to record Genshin Impact gameplay using GeForce Experience? Here are the steps you need to go after:
Step 1Launch the GeForce Experience on your computer, and access the Record option from the overlay by pressing Alt + Z on your keyboard. After that, click the Settings button to customize your desired Video capture setups.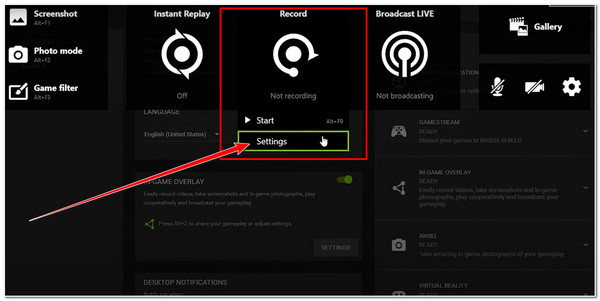 Step 2Then, select your preferred Quality, Resolution, Frame Rate, and Bit rate on the Video Capture window. Once satisfied with your setups, tick the Save button at the upper right-hand corner of your screen to save your setups.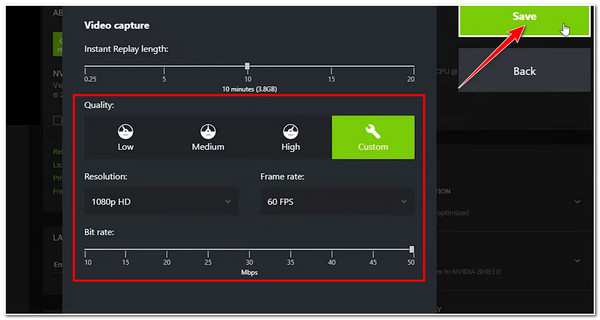 Step 3After that, start the recording process by clicking the Start button under the Record option. Then, GeForce Experience will automatically initiate the recording process.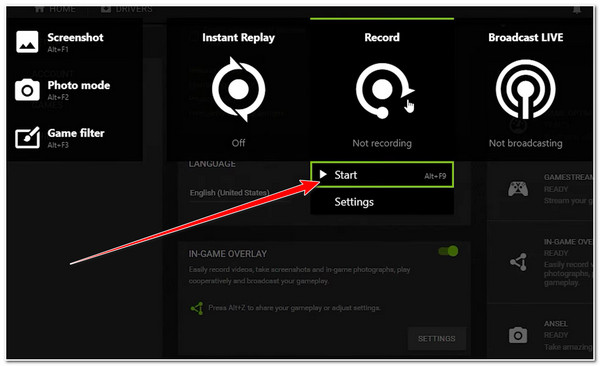 Part 4: FAQs about How to Record Genshin Impact
How to screen record Genshin Impact mobile?

You can use your device's built-in screen recorder feature on Android or iPhone. You can easily access them on your Android device controls or your iPhone's control center.

Does OBS Studio support hotkeys to start recording Genshin quickly?

Yes, it supports customizable hotkeys! If you don't know where to add your desired shortcut keys to initiate specific processes, just go to your OBS Studio and click the File tab. Then, from the options, select Settings, and on the new window, tick the Hotkeys. Now, you can add various short keys for each functionality or process.

How to record Genshin Impact with high quality?

Since Genshin Impact provides 4K resolution and 60 fps frame rate when playing the game, you should also adjust the same settings on the recorder.
Conclusion
There you have it! Those are the 3 excellent ways to record Genshin Impact gameplay. Now, you can store and share the magical adventure and thrilling action you've experienced on the open world of Genshin Impact. Among the three options, the 4Easysoft Screen Recorder tool is the best! Thanks to its straightforward onscreen recording process, which provides high-quality results! Start your journey on Genshin Impact and record your gameplay highlights with 4Easysoft Screen Recorder today!
Related Articles