Why Won't Kik Let Me Join Groups? Reasons and the Best Solution Here!
Are you trying to join groups on Kik — a messaging application that allows you to discuss topics with other users — but, unfortunately, unable to join? For this reason, knowing what causes these issues is vital for you to fix the problem quickly. "Why won't Kik let me join groups?" has been raised; you could have been banned without noticing it or do have bugs on your device. Whatever it is, this post will give you all possible reasons why you can't join groups on Kik and how you can get out of this problem.
You may be thinking why you're unable to join the Kik groups if the app works perfectly but only restrict you. In this case, consider knowing the reasons first before looking for solutions. Fortunately, you will learn both in this part, so keep reading.
Before knowing why Kik won't let you join groups, you can get to know Kik first. The application, Kik, is a famous social messaging service where you can join different groups and interact with others. Similar to other messaging platforms, you can send messages, videos, photos, and files to others. However, many users complained about how they are unable to join groups on Kik. So, without further delay, let's get into the reasons.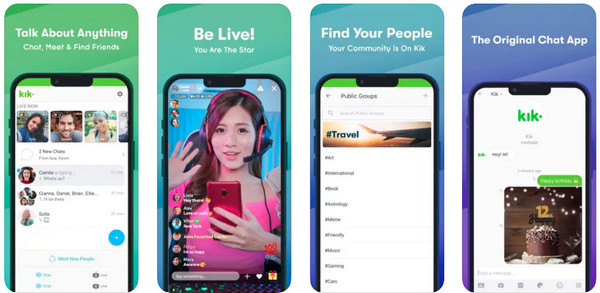 Banned from Kik

. You might have been banned from the application because of violations and inability to comply with terms and regulations, resulting in the inability to use some features. Or the group you wish to join has been banned by the Kik app and cannot continue anymore.

Inability to Join Groups

. Getting banned from joining the groups is possible; someone might have to report you to other groups because of your behavior.

Device Issue

. Aside from issues inside the app, device glitches might be guilty as well. An outdated version may cause the Kik won't let you join groups problem since the app may get bugs and issues. And all other apps besides Kik might also be affected.

The Kik Server is Down

. If this is the reason, even how many times you try to join groups, you can't at the moment. There's no official way to join groups on the app if the server is the reason behind the problem.
Because of those possible reasons, how will you fix the 'Kik can't join public group' problem of yours? Below are the quick and safe methods you can consider trying to get out of the issue.
Solution 1. Check if the Kik Server is Down. Similar to the already mentioned reason, there are times when the app's server is the cause. It might be facing an issue at the same time you're trying to join groups, so you're unable to. You can search for a detector to know if the Kik system is down or not.
Solution 2. Wait for the Group Creator to Add You. If the app itself is not the reason why Kik won't let you join groups, private groups may be the issue here. All groups that have been private by the creator won't let you join unless the group creator adds you to the group. You can contact someone in the group, then wait until they add you.
Solution 3. Try Logging Out. After you've done the two and still not worked, the next thing you need to do is log out and then log back in on the app. Kik might experience some minor issues; refreshing it by logging out can help.
Solution 4. Clear the App Cache. When you have logged back in yet can't join groups on Kik, glitches from the app caused by cache may be why Kik can't operate properly. Clear the cache effectively through your device's Settings, find your way to the Apps & Notification or General, then go to App Info or iPhone Storage. After that, locate the Kik app, and tap on Clear Cache or Offload App option.
Solution 5. Update the Version. As said, outdated apps and versions of devices may cause the issue. Therefore, updating the version of your device and the app's version is essential. Update it through Google Play Store for Android, while App Store for iOS users. It eliminates the problem you're experiencing in the previous version.
Solution 6. Reinstall the Kik App. If none of those above methods fix why Kik won't let you join groups, try deleting and then reinstalling Kik on your device. This method won't lose any data you have on Kik. To do this, long press the app whether you're using iPhone or an Android device. Then, reinstall it by heading over to the App Store or Google Play Store.
Bonus Tips on How to Record the Meeting of Your Kik Group
Now that you know why Kik won't let you join groups alongside the solutions, you can try to fix the issue. And if you want to record the Kik meetings for someone who can't join at the moment, or for saving it for yourself, 4Easysoft Screen Recorder is the best help. It can record any screen activities with the option of selecting the area to be recorded. Furthermore, adding annotations, like shapes, lines, texts, etc., is supported up to selecting the desired output format. Besides, high-quality exported recordings are assured by this screen recorder, with up to 60fps and 4K resolution.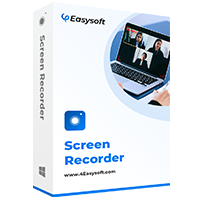 4Easysoft Screen Recorder
With the floating toolbar, you can take screenshots while recording a meeting.
Adding real-time drawings can be accomplished without affecting the quality.
Have a set of customized hotkeys for quickly starting, stopping, resuming, pausings, and other recording controls.
Let users trim recordings in the preview window, cutting out extra parts before saving.
Part 2: FAQs about How to Fix Kik Won't Let You Join the Group
Is there any other way to join a Kik private group?

Aside from waiting for the group creator to add you to the private group chat, you can use a group link or scan the group code.

Are public groups on Kik can be quickly joined?

Joining public groups is relatively easy since it can be done once you search for a group hashtag and tap on Join. If you can't somehow join, you might be using the wrong key, so try checking with the group members regarding the issue.

Is it not having a phone number cause the Kik won't let me join groups?

Fortunately, Kik doesn't require a phone number when joining. All they demand is your name and email; they will maintain these private and only show your username and the name you use.
Conclusion
Indeed, joining Kik groups can be challenging, mainly if you're facing the Kik won't let you join groups problem. Hopefully, this post helped and made it easy for you to overcome it. You can now enjoy talking with other people who share similar interests, and it can be fascinating if you cherish those moments with the 4Easysoft Screen Recorder. While conversing and enjoying each other's company, you can record it quickly and conveniently with the program's excellent recording features.
Related Articles: