How to Erase a iPhone 14/13/12/11? - 10 Best iPhone Erasers Here
At some point, you want to sell your iPhone, free up space, or donate it. You need a professional iPhone eraser since a phone includes photos, SMS, social media apps, videos, and more personal information. Although there is an official way that can be achieved directly through Settings, it is not certain that all data is safely removed. For this, the following parts will walk you through the top ten best iPhone erasers. Enjoy reading!
Part 1: Top 10 iPhone Erasers for All Models and Versions [iOS 16 Supported]
Let's start with the powerful iPhone eraser named 4Easysoft iPhone Cleaner, which is capable of safely removing all data on iOS devices. It includes all junk files, unused applications, duplicated photos, and all unwanted data. With the three erasing modes, which are Low, Medium, and High, you are guaranteed that it will meet your requirements for cleaning your iPhone.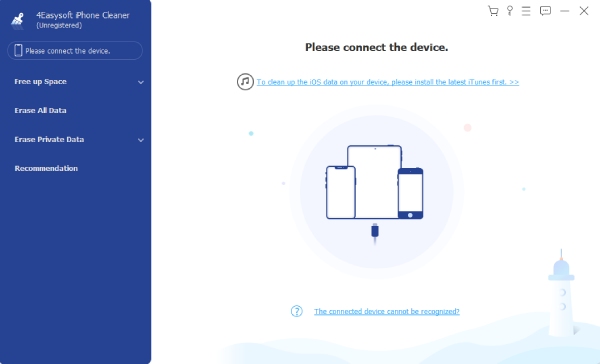 Pros

iOS devices such as iPhones, iPad, and iPods are supported.
Three cleaning modes are offered with high security.
Have a real-time preview before erasing all data.
Erasing data can be achieved instantly.
Cons

To fully enjoy all features, getting the pro version is required.
2. CleanMyPhone
This iPhone eraser application allows users to quickly clean up their iOS data, such as files like messages, photos, videos, contacts, and other junk files. It works perfectly on Mac OS to keep your iPhone organized and clean at the same time. It also provides a view of how much space is being eaten up for each data in different categories.
Pros

Preview of data before removing is offered.
Finding large files can be done with one click.
Manage files and all apps on iPhone, iPad, or iPod.
Cons

Don't offer much guidance for features.
Pay to upgrade to avoid too many limitations.
3. Vibosoft FoneClean for iOS
The following is the Vibosoft FoneClean for iOS. It thoroughly scans all iOS data and completely removes cookies, cache, unused apps, and unwanted files. You will also find out how to erase history on phone as it clears detailed browsing history and other network traces. Furthermore, deleting personal information is secured using this software.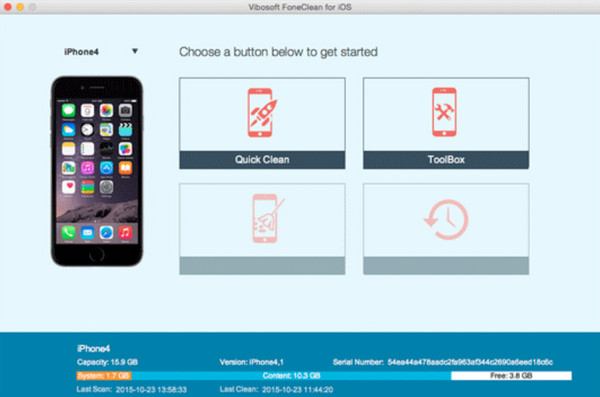 Pros

Eliminates all types of files and caches.
Support all models of iOS devices.
Work well with Windows and Mac OS.
Cons

Sometimes have a slow removal speed,
4. Macgo Free iPhone Cleaner
Macgo iPhone Cleaner is an excellent iPhone eraser that removes almost junk files to free up space in just three clicks. These include notes, call history, contacts, photos, history, app cache, and more. It will save you a lot of time as the operation of cleaning your iPhone can be achieved quickly.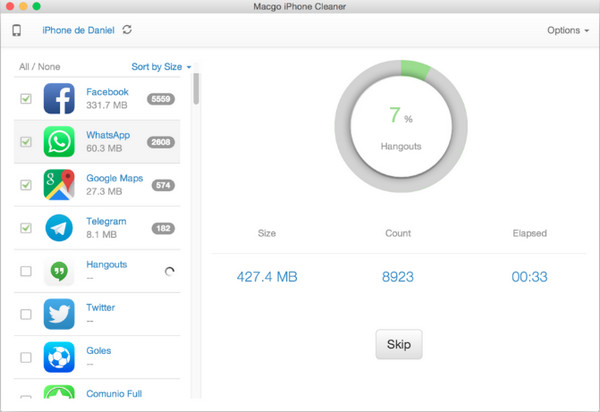 Pros

Detect all private files to free up space.
Remove all junk files to speed up iOS devices.
Display the size of your files to select which one will be deleted.
Cons

Outdated iPhone erasing technologies.
Take a long time to scan the device.
5. Coolmuster iOS Eraser
Next in line is the Coolmuster iOS Eraser, which works like the mentioned iPhone eraser software. It ensures that all data are permanently deleted and cannot be recovered. With its advanced scanning technology, all data from your iOS device is quickly scanned, including settings, junk files, private data, etc.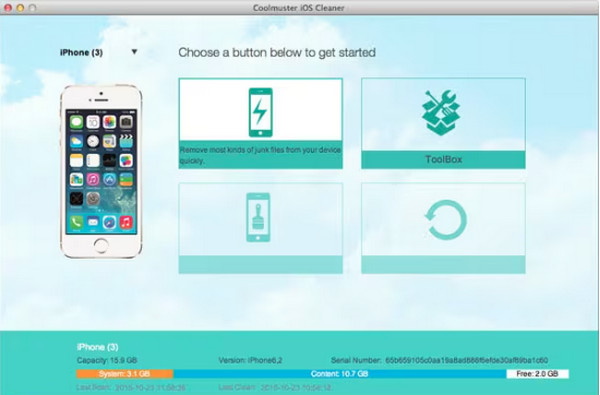 Pros

Three erasing levels are provided to erase contents.
All file types are widely supported.
One click erases all data from your iPhone permanently.
Cons

Don't have details of deleted files.
Required to pay for a subscription.
6. iOS Data Eraser
Another excellent iPhone eraser software is the ISO Data Eraser which provides users with erasing options through five models, satisfying the deletion you want. All iPhone data, such as messages, history, emails, contacts, and so forth, can be removed to create more space on your phone.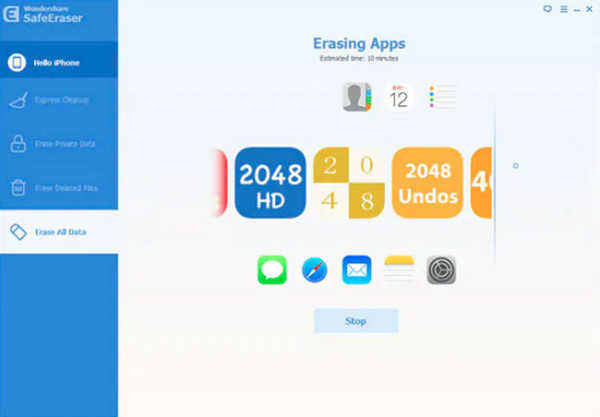 Pros

Efficiently clear all personal data.
It safely traces deleted files.
Have five data-erasing models.
Cons

Not free; it requires you to upgrade.
Not all models of iPod touch are supported.
7. iShredder
This application is also a top best iPhone eraser that has the ability to clean up your device by removing unwanted files and private data. It deletes messages, system cache, logs, photos, history, and other data from iOS devices. When deleting files with this app, there is no way you can recover those.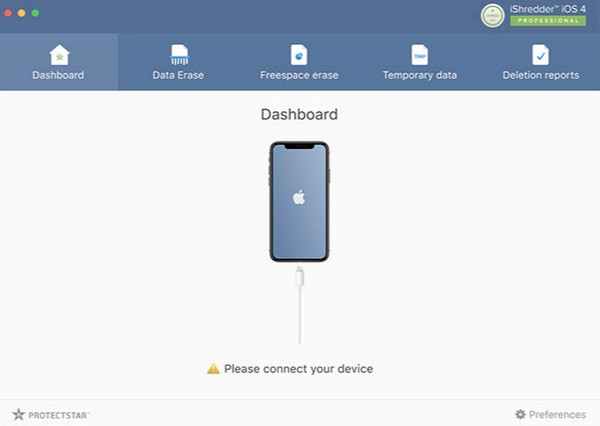 Pros

Available for iOS, Android, Windows, and Mac.
Visible data preview before removal.
Have multiple deleting data methods.
Cons

Quality removal features are present in pro.
Too many limitations in the free version.
8. Syncios iOS Eraser
One-click erasing is what you can do with the iPhone eraser, Syncios. It supports the deletion of temporary and junk files, cache, unused applications, photos, videos, and more. It also has five options for erasing data: Free Up Space, Erase All Data, Deleted Files, Private, and Erase Private Fragments.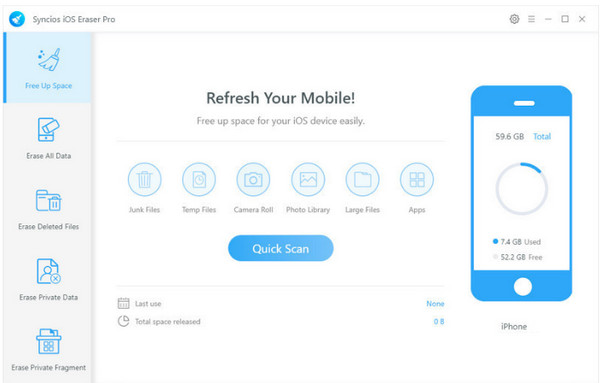 Pros

Bulk deletion of unused applications.
Permanently erase all personal and sensitive data.
Have three erasing modes.
Cons

Removing process is slow.
9. PanFone iOS Eraser
PanFone is another one-click clean-up iPhone eraser application. It erases all data from your iPhone and other iOS data that you can never be recovered. In addition, it supports more than 10 social media applications in the cleaning process.
Pros

More than 30 types of data can be removed.
100% wipe all third-party applications
Erase history on the phone completely.
Cons

The removal process may take time.
Its navigation bar needs to be simplified.
10. Stellar iPhone Eraser
Finally, there's Stellar iPhone eraser that removes every data on iPhone and iPad. You can remove data from third-party apps like Facebook, Netflix, Instagram, etc. Similar to the first ones discussed, this iPhone erasers a one-click operation to erase iPhone data.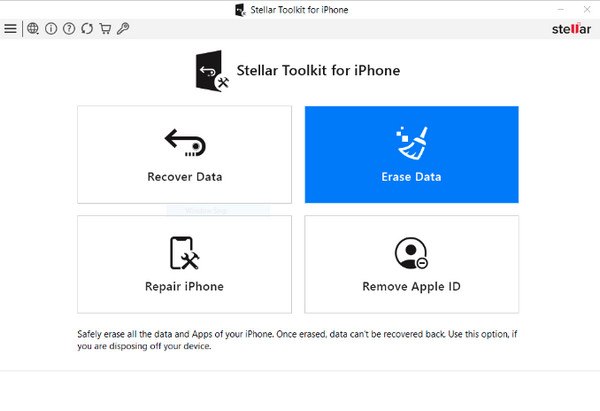 Pros

Wipe all third-party apps data on iOS devices.
Let users view the data before clearing.
Support many types of data.
Cons

Scan data slowly.
Options, like select and erase, can't be found.
Part 2: FAQs about the Best iPhone Eraser on Windows/Mac
How to erase cookies on my phone Safari directly?

To clear cookies on Safari, go to Settings, then locate Safari. Tap the Clear History and Website. However, if you don't want to remove browser history, go to Advanced, then Website Data. Tap then the Remove All Website Data option.

Can I erase all searches on this phone with Vibosoft FoneClean for iOS?

Fortunately, the Vibosoft FoneClean for iOS fly deleted all data, browser history, and searches on your iPhone and other iOS devices.

Does erasing files with iPhone eraser require no passcode?

Unfortunately, you can't remove files from your iPhone if you don't remember your iPhone passcode since the tool might require entering a password to verify the action. One way to erase iPhones is through the Recovery mode method.

How to erase data on my iPhone?

Head to Settings, then General. Find the Transfer or Reset iPhone option by scrolling down, then among any other options, tap Erase All Content and Settings. All your data on your iPhone will indeed be deleted.

Can Panfone iOS Eraser erase history on phone?

As said, with this iPhone eraser, you can permanently remove over 30 types of data on an iOS device, including browser history or any search history.
Conclusion
Regardless of how many iPhone eraser software are available today, consider the recommendation in this entire content. All will let users erase all iPhone data wholly and securely. However, the program that can protect your privacy very well is the 4Easysoft iPhone Cleaner. This application offers three erasing modes with different security and levels of cleaning. Enjoy freeing up your storage space with this reliable software.
Related Articles: