iPhone Unlocker
Unlock all your iPhone/iPod/iPad by wiping passcode and remove Apple ID completely.
How to Fix Bugs and Customize your iOS 15 iPhone Lock Screen
The new iPhone iOS 15 offers many new features, including iOS 15 lock screen customization, wherein you can customize its layout and live wallpaper. However, the iOS 15 lock screen might experience any glitch or a black screen after updating it. Some programs can help you with these problems. Check out below the solutions for your iOS 15 lock screen - learn how to customize and fix lock screen bugs.
Part 1: How to Customize Your iOS 15 Lock Screen on iPhone/iPad
Your iPhone's lock screen is the first thing you'll see when you open your phone. On the new iOS 15 lock screen, users could customize the lock screen of their iPhones and iPad. It also gives an easy way to access the other features on your iPhone, such as the Camera, Siri, Stopwatch, Flashlight, Screen Recording, and so forth. With the new iOS 15 lock screen, you can experience a completely different lock screen as you can customize your wallpaper layout and much more. Below is how you customize your lock screen on your iPhone/iPad.
Go to Settings, select Wallpaper, and then choose a new wallpaper as you like.
Changing your Wallpaper
Step 1Choose an image from your library, or you can select from the built-in Stills, Dynamic, and Live wallpaper options. Drag to pan, adjust the image on your screen, and pinch to zoom in or out.
Step 2If satisfied, click Select at the bottom-right corner to change your wallpaper, then choose from the options below where to set the wallpaper, whether as your Lock Screen, Home Screen, or Both. Choose Lock Screen.
The built-in Still, Dynamic, and Live Wallpaper supporting Perspective Zoom, which allows you to put a parallax effect on your lock screen that appears as if they are floating above the wallpaper. You can tap on the circular icon in between the Cancel and Set at the bottom of the screen.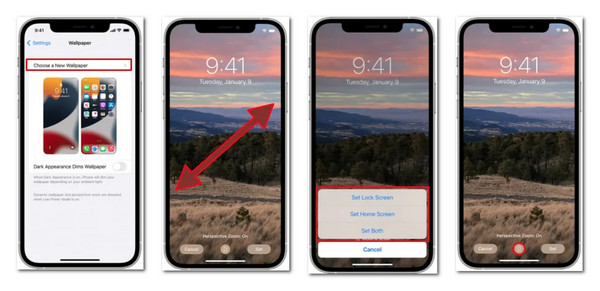 Switching between Light and Dark Wallpapers
Step 1Choose the Stills or Live option, then tap one wallpaper marked with the light/dark icon.
Step 2Click Set at the bottom-right of your phone to set the image as your lock screen. To toggle the dark mode on/off, you can tap the light/dark globe icon in the Control Center.
You can also dim your wallpaper appearance while Dark mode is enabled. Go to Settings > Wallpaper, then toggle the switch button of Dark Appearance Dims Wallpaper.

Using Live Wallpapers
Step 1Click Live, then click Select at the bottom-right corner of your phone. Then, choose Lock Screen from the three onscreen buttons.
Step 2Turn off your iPhone, then turn it on. Tap and hold the lock screen to watch your wallpaper animate.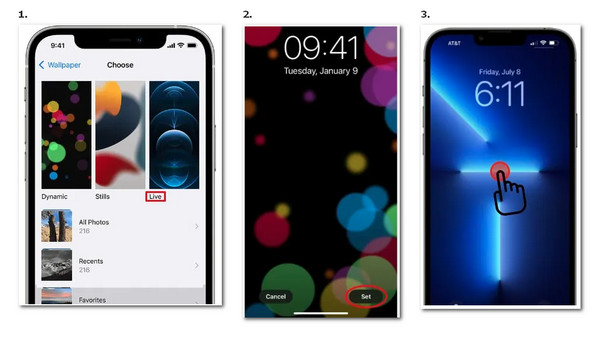 Part 2: How to Fix iOS 15 Lock Screen Bugs [4 Easy Ways]
1. 4Easysoft iOS Unlocker
No need to worry if your new iOS 15 lock screen has problems, for the 4Easysoft iPhone Unlocker is there to help. You can use this tool to solve your problem regarding your iOS devices being on disabled status. Whatever your situation, this powerful unlocker can safely wipe and help you access your iPhone and other iOS devices again. Furthermore, this iPhone unlocker supports almost all iOS models, even the latest iPhone 15/14. So, download and install this software to help you fix problems on your iOS 15 lock screen.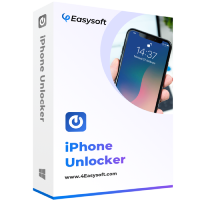 4Easysoft iPhone Unlocker
Allows you to unlock your iPhone/iPad in any scenario, such as opening an old iPhone, forgetting a password, etc.
IThis unlocker can help you access your locked iPhone, whether it is a Face ID, Touch ID, or Apple ID.
It is available on all iOS models, even the latest iPhone 15/14.
You can safely unlock your iPhone quickly with its easy operation and interface.
Step 1Launch 4Easysoft iPhone Unlocker, then click Wipe Passcode on the main interface. Remember to connect your device to the computer, then click Start.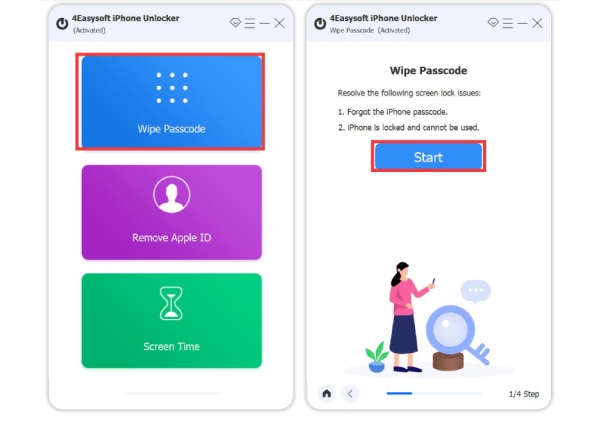 Step 2The computer will automatically scan your iOS device, confirm the information, and click Start to download.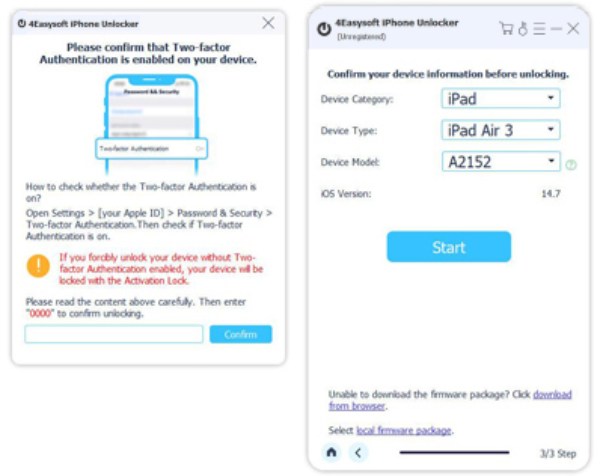 Step 3After the downloading process, enter 0000 to confirm your operation and click Unlock to start wiping your lock screen password.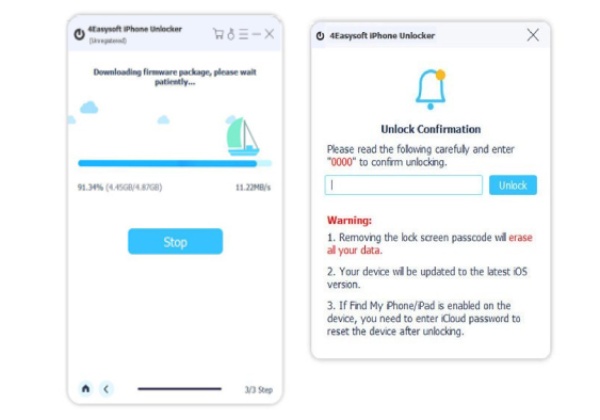 2. Restart iPhone
Restarting your iPhone is an easy way of removing bugs on your lock screen if you do not want to use any software. To switch off your iPhone, follow the simple steps below.
Step 1Press and hold your iPhone's power button for a few seconds until a slide to power off notification appears on your screen. Then slide the switch to your right.
Step 2After turning off your iPhone, wait a few seconds to turn it on. Press and hold the power button again until the Apple logo appears. Wait for a few seconds.
3. Check for iOS and Pending App Updates
If your iPhone is not updated on the latest version, you may experience problems with your iPhone lock screen. You may need to update something to help you fix an existing bug. There goes the same with your applications; if you still need to update some of them, make sure to update them. It would help you fix the iOS 15 lock screen notifications issue completely.
For iOS Update:
Go to Settings app and tap General. Then choose Software Update. If there is an available update, tap on Download and Install.
For Pending App Update:
Go to the App Store, tap on the Profile icon from the top right corner, and then scroll down to refresh the page.
4. Reset Network Settings
If you want to clear out glitches or bugs on your iPhone completely, you should consider Reset Network Settings. Sometimes, an issue can cause multiple problems with the app operations or notifications.
Step 1Go to Settings app and choose General, then scroll down and tap Reset.
Step 2Choose Reset Network Settings, and wait for the process to finish. This method should help you completely resolve the app notifications not appearing, or some bugs appearing on your iPhone.
Part 3: FAQs about iOS 15 Lock Screen
How do I turn off auto-lock on iOS 15?

Go to Settings and find Display & Brightness. Make sure the Low Power Mode is disabled. Then go to Auto-Lock, choose a length of time, or select Never.

Why does the Perspective Zoom option not appear on my iPhone?

If Low Power Mode and Reduce Motion are turned on, you won't see the Perspective Zoom option on your iPhone. Make sure to disable both features in the Settings app.

How do you get notifications on the iOS 15 lock screen?

Go to Settings and choose Face ID and Passcode (an iPhone with Face ID) or Touch ID & Passcode. Enter your passcode, then scroll down and turn on Notification Center.
Conclusion
That's all there to say about the iO5 15 lock screen. You may want to customize your lock screen with built-in features like Stills, Dynamic, and Live Wallpaper. You can use the four methods above if you have a problem with your iOS 15 lock screen. With the four methods, having software to help unlock your iPhone is easy and quick. The 4Easysoft iPhone Unlocker will help you resolve your problem on your iOS 15 lock screen.
Related Articles