From Idea to Earbuds: How to Start a Podcast with High Quality
Are you intrigued by the world of podcasting and eager to share your thoughts, stories, or expertise with a global audience? The journey to start a podcast from an idea to earbuds is an exciting one, and it all begins with taking that first step. Whether you're an aspiring storyteller, an industry expert, or simply someone with a unique perspective to share, this article will guide you through how to start a podcast.
Why You Need to Start a Podcast? – 5 Purposes
Making a podcast, which will share passion, knowledge, and creativity, has exploded in popularity over the past decade. Hearing them must somehow get you interested in starting a podcast, and you can even promote your brand or attract more fans. If you have no idea, you can find your purpose with the following reasons.
1. Share Your Passion: Podcasting allows you to delve into topics you're passionate about, whether it's a hobby, a cause, or an area of expertise. It's a medium that welcomes niche content, giving you the opportunity to connect with like-minded individuals.
2. Build an Audience: Podcasts offer a chance to build a dedicated and engaged audience. Over time, your listeners can become loyal fans who eagerly anticipate your new episodes.
3. Amplify Your Brand: If you're a business owner, influencer, or expert in your field, podcasting can help you amplify your brand and establish authority. It's a powerful tool for personal and professional growth.
4. Creative Expression: Starting a podcast is a versatile form of creative expression. You can experiment with storytelling, interviews, discussions, and more. It's your platform to shape as you see fit.
5. Connectivity: Podcasts create a unique sense of intimacy with your audience. Your voice can be a companion to listeners during their daily routines, fostering a sense of connection.
Whether you're motivated by a desire to educate, entertain, or simply share your experiences, starting a podcast offers an accessible and compelling way. In the following sections, the post will guide you through the process from constructing your ideas to recording and editing your podcast, leading you to a podcast with high quality.
How to Start a Podcast with All Preparations
Before diving into the actual process of starting a podcast, you should be equipped with a blueprint. Proper preparation will make your podcast more attractive with high quality. Here's a step-by-step guide to getting everything ready:
1. Define Your Podcast's Concept
Begin by clarifying your podcast's purpose and target audience. What topics will you cover, and what value will you provide to your listeners? A well-defined concept will guide your content creation.
2. Craft Your Content Plan
Create a content plan outlining your episodes to start a podcast. Decide on the format (interviews, solo shows, storytelling, etc.) and plan episode topics in advance. A well-structured plan helps maintain consistency.
3. Secure Necessary Equipment
Invest in good-quality audio equipment. At a minimum, you'll need a microphone, headphones, and audio recording/editing software. Consider acoustic treatments for your recording space to reduce background noise.
4. Choose a Hosting Platform
Select a podcast hosting platform where you'll upload and store your episodes. Popular options include Libsyn, Podbean, and Anchor (which belongs to Spotify now). Ensure it provides the analytics and distribution options you need. After making a podcast, you can upload on many platforms.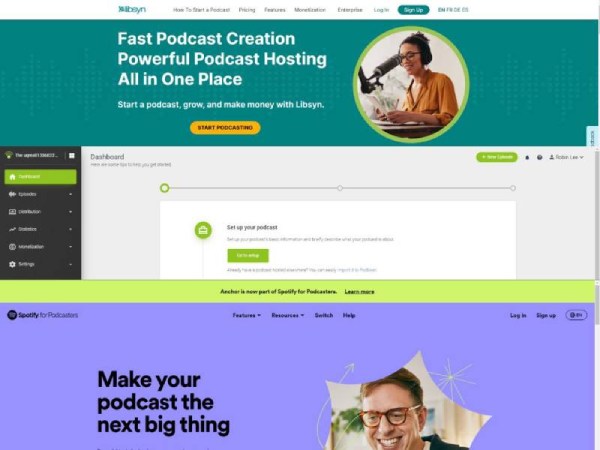 5. Create Artwork and Branding
Design eye-catching podcast artwork and establish branding elements with so, for example logos, colors, and a website. Your podcast's visual identity is crucial for attracting and retaining listeners.
6. Set Up Recording Space
Create a quiet, comfortable, and acoustically friendly recording space. Use soundproofing materials, if possible, to minimize external noise.
7. Script and Outline Episodes
While spontaneity has its place, scripting or outlining your episodes can help you stay on track and deliver your content effectively. It's especially helpful for interviews.
8. Plan Episode Release Schedule
Decide on a consistent release schedule, whether it's weekly, bi-weekly, or monthly. Consistency keeps your audience engaged.
By completing these preparations, you'll be well-equipped with knowledge about how to start your podcasting confidently. The next steps will involve recording, editing, and publishing your episodes, but with a solid foundation, you're on the path to podcasting success.
The Best Video Editor for Starting a Podcast
When it comes to creating a podcast, you want a tool that's versatile, user-friendly, and efficient. That's where 4Easysoft Total Video Converter shines. This software offers an intuitive solution for producing and editing podcasts, ensuring you can unleash your creativity without any hassle. Here's a step-by-step guide on how to start a podcast with 4Easysoft Total Video Converter: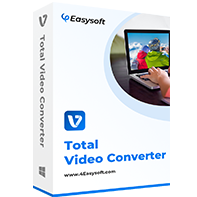 4Easysoft Total Video Converter
Effortless editing for arranging the construction of the podcast content as you wish.
Elevate audio quality to captivate your audience effectively with volume booster.
Provide a dozen kinds of audio formats to suit different needs for all podcasting.
Export audio with high quality, from rate up to 48000 Hz to Bitrate up to 320kbps.
Step 1Launch the 4Easysoft Total Video Converter and click "Add Files" to import your import the record audio to start a podcast. You can also drag and drop a batch of audio clips into the editor.
Step 2Click the "Edit" button to add the filters and effects to your podcast. Under the "Audio" menu, you can even adjust the volume, add fade in/out effect, and enhance the audio quality.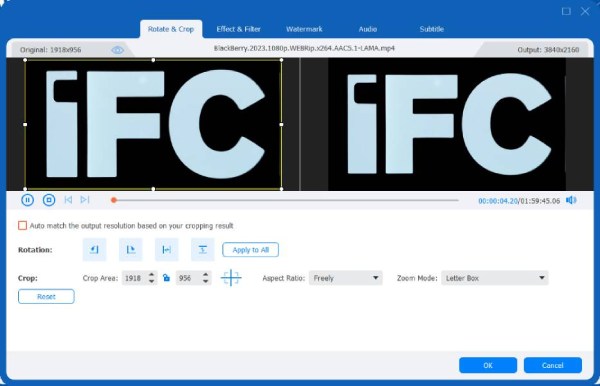 Click the "Cut" button on the main interface, you can split the audio files to several clips by clicking the "Split" button. In this way, you can also cut the unwanted parts of the podcast audio.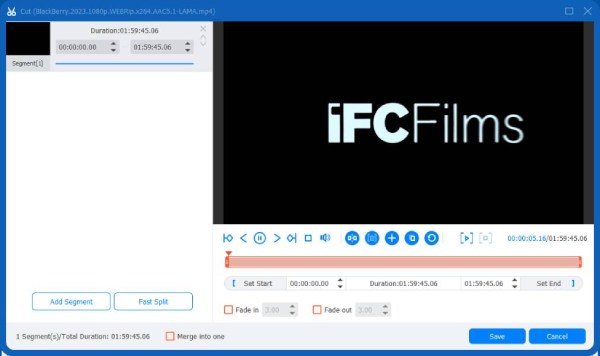 Step 3Use the built-in audio editing tools in "Toolbox" to enhance your podcast, in which you can find some useful tools like "Noise Remover", "Volume Booster" to enhance the audio quality of your podcast.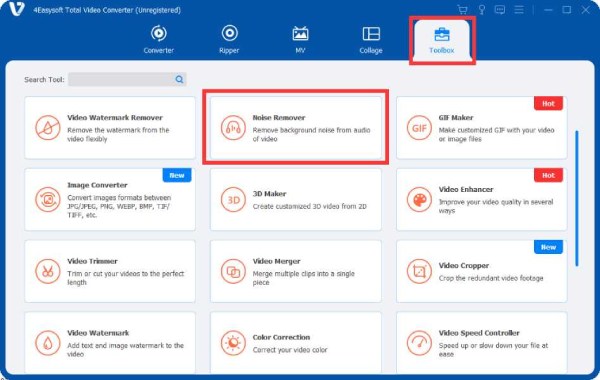 Step 4When you're satisfied with your podcast, choose the MP3 or M4A format to export, which is compatible with podcast hosting platforms. At last, click the "Convert All" button to start exporting your podcast.
By choosing 4Easysoft Total Video Converter, you'll have a reliable companion for creating, editing, and enhancing your podcast content, making your podcast journey smoother and more enjoyable. Knowing about how to start a podcast is not all stuff you need to know, it's also essential to do it right from the beginning to ensure its success with some skills.
Some Tips for Starting a Podcast with Engaging Content
The following part will provide some useful tips for you to better start a podcast as a beginner. Here are some valuable tips to consider:
1. Define Your Niche and Audience
Identify a specific niche or topic that you are passionate about and that resonates with your target audience. Understanding your audience's interests will help you create relevant content. Networking and collaborating with others in your niche can also help.
2. Plan Your Content
Outline your podcast episodes in advance. Plan the topics, structure, and key points you want to cover. A well-organized show will keep your listeners engaged. Use social media, email newsletters, and other promotional channels to reach your target audience. And don't forget to preview your own content in any formats.
3. Create Engaging Artwork and Branding
Design eye-catching podcast cover art and create a compelling podcast description. Your branding should reflect the essence of your show. A great title and thorough description could be helpful to attract new audience.
4. Consistency is Key
Stick to a regular release schedule. Consistency helps build a loyal audience who can rely on your content. Make sure you are able to accomplish as much as possible after making a schedule.
5. Stay Committed
Podcasting requires dedication and persistence. Be prepared to put in the effort required to produce consistent, high-quality episodes.
Starting a podcast can be a fulfilling creative outlet and a valuable way to share your knowledge or passion. By following these tips and staying committed, you'll be well on the right way to the secret of how to start a podcast.
FAQs About How to Start a Podcast
1. What equipment do I need to start a podcast?

You'll need a good-quality microphone, headphones, and a computer to begin. Additional items like a pop filter and audio interface can enhance audio quality.

2. Do I need technical expertise to edit my podcast?

No. User-friendly software like 4Easysoft Total Video Converter simplifies the editing process, making it accessible to all.

3. Is it necessary to find a professional studio to record a Podcast as a beginner?

No. As a budding podcast producer, your first task is to make sure your podcast gets noticed by your audience. The quality of the content is always more important than the quality of additional aspects.

4. Can I start a podcast with no experience?

Yes, absolutely! Passion, research, and dedication can help you learn the ropes and create compelling podcast content.

5. What's the best way to monetize my podcast?

Consider ads, sponsorships, merchandise, or Patreon. Build a loyal audience first to attract potential revenue sources.
Conclusion
Now you've learned why and how to start a podcast which allows you to share your passion, expertise, or creativity with a global audience. And 4Easysoft Total Video Converter is your trusted friend. With its powerful features, you can ensure your podcast sounds professional and polished, attracting even more listeners. So, don't hesitate about downloading 4Easysoft Total Video Converter to start your podcast. Happy podcasting!
Related Articles: