How to Recover Deleted Instagram Photos on iPhone [100% Workable]
Instagram is one of the platforms where you can share everyday photos through a story or post it on your feed, and a scenario like removing Instagram photos commonly occurs. Maybe you want to clean the feed, but how to recover deleted Instagram photos with those precious moment? If this happens to you, don't worry since there is a solution available. Do you have any idea how to recover deleted Instagram photos without contacting IG for support? Read on to see the three ways to get back Instagram pictures immediately.
Part 1. How to Recover Deleted Instagram Photos Directly Within 30 Days
Similar to how photo deletion on the phone will be kept in a folder called Recently Deleted, Instagram will also store recently deleted photos for up to 30 days. This is the quickest way to recover deleted Instagram photos before the day expires. During those days, you can access all deleted content from your Instagram account, whether using an iPhone or Android device. Here's how to find Instagram's Recently Deleted to recover deleted Instagram photos.
Step 1Tap the Person or Profile icon on your phone screen. Then enter the three-line icon in the top right, and select Your activity.
Step 2Go for the Recently deleted with a Trash can icon; it is worth remembering that you can only see something here if you have done deletions.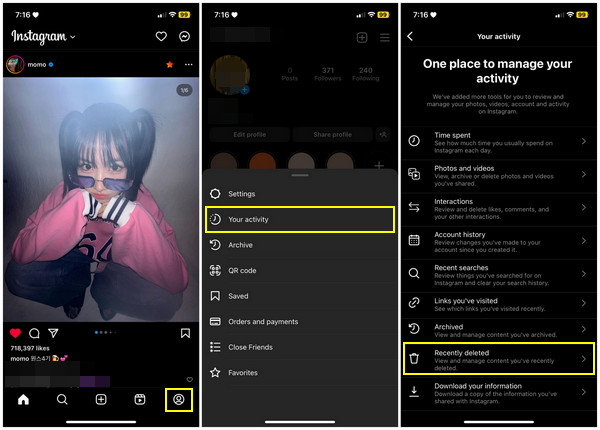 Step 3From the folder, tap the content you wish to restore or delete permanently, such as Profile posts, Videos, Reels, and Archived Stories. At last, go for Profile posts, then tap Restore to profile or Restore. This is the easiest way to recover recently deleted Instagram photos on iPhone.
Part 2: How to Recover Deleted Instagram Photos on iPhone via Photos
You can also use the default Photos app to recover deleted photos from Instagram. As already mentioned, deleting photos on the phone is not gone forever since it will be saved into the Recently Deleted. As how IG keeps the removed posts for 30 days, it goes the same with the Photos app. Now, if you made your photos on Instagram be duplicated in the Photos app, expect that it is in the Photos' Recently Deleted folder; here's how to recover deleted Instagram photos on iPhone.
On your iPhone, open the Photos app. Scroll down to see many other albums, where the Recently Deleted folder can be seen. Select the Instagram photo you want to recover, then tap the Recover option.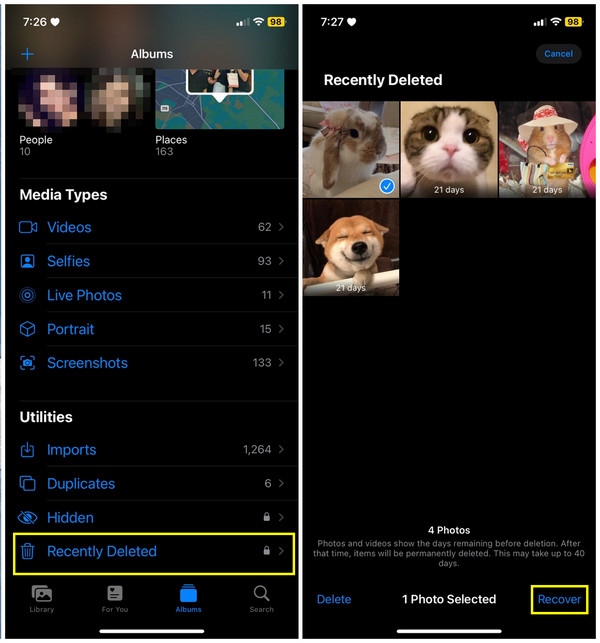 Part 3: The Easiest Way to Recover All Deleted Instagram Photos on iPhone
Although the two methods are easy to accomplish to recover deleted Instagram photos on iPhone, you might be tired of getting them back individually. If you want a one-click solution, search for 4Easysoft iPhone Data Recovery. The program recovers all lost data from your iOS devices and has support for iTunes and iCloud backup as well. Besides recovering deleted Instagram photos on all iOS devices, you can also get more than 20 kinds of files back, such as call history, messages, contacts, third-party apps, and built-in programs.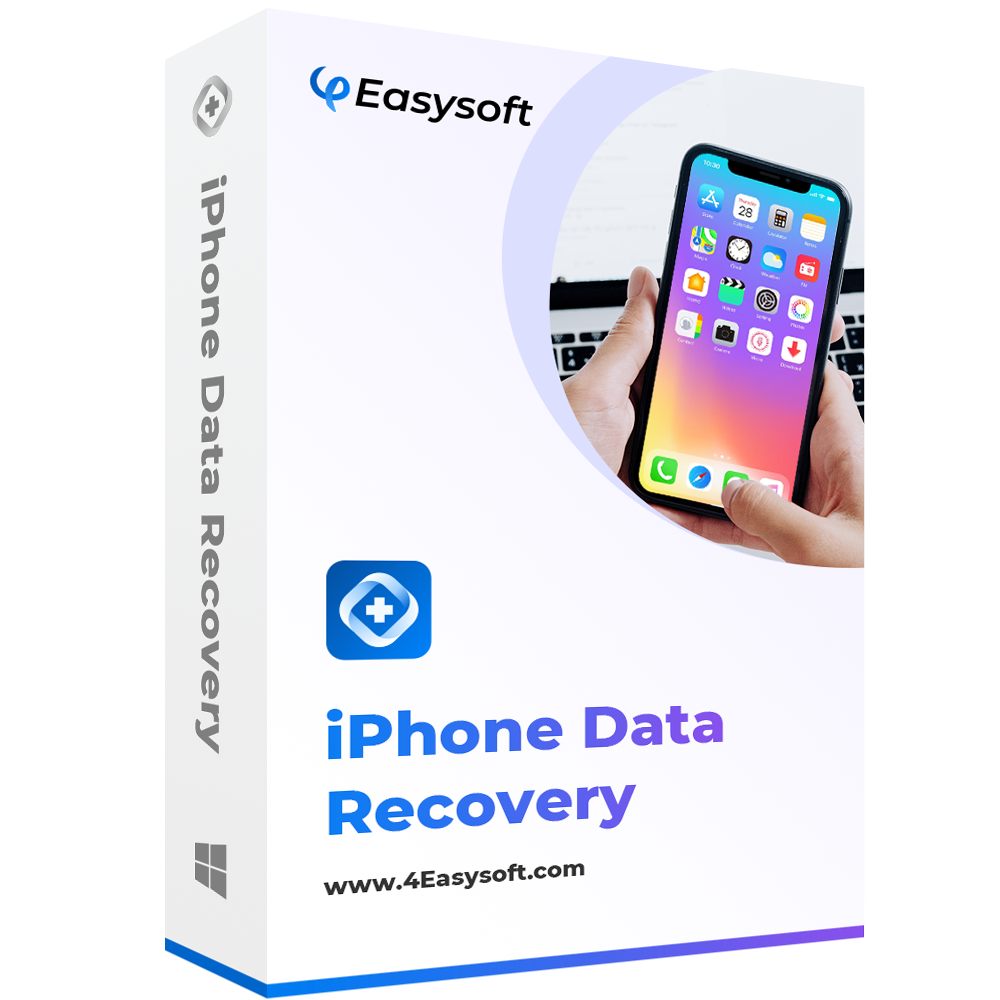 4Easysoft iPhone Data Recovery
Work well with iPhone models and versions, including the latest iOS 16.
In-depth scan of your device, even the built-in or third-party programs.
Offer a preview function to see the data you desire to recover.
Guarantee a high success rate of fixing iOS devices without data loss.
Step 1Free Download the 4Easysoft iPhone Data Recovery, then launch it on your desktop. Link your iOS device to your PC via a USB cable. Tap the Trust option on your phone to allow the computer to access your data and recover deleted Instagram photos easily.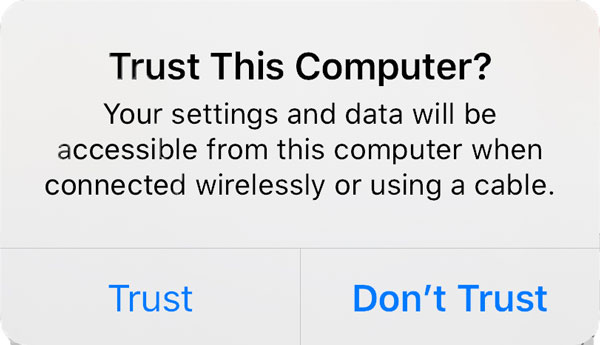 Step 2Start recovering by clicking the iPhone Data Recovery, then select Recover from iOS Device. Click Start Scan afterward to scan all deleted files, including apps' data. Expect a longer process if you have a large number of files.
Step 3If the scanning process is completed, all files will be visible on the computer screen, classified into specific file types. To check which one is to recover or not, double-click each, then click the checkbox to select.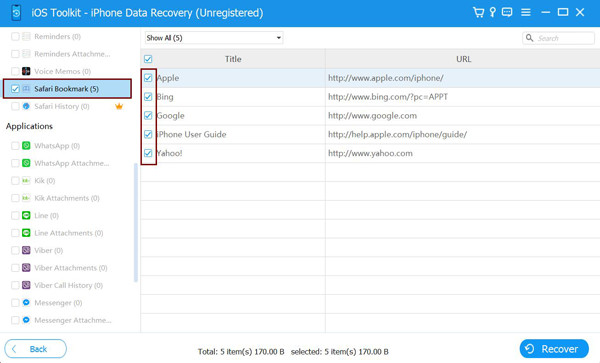 Step 4Once finished selecting, click the Recover button to start recovering all selected Instagram photos simultaneously.
Part 4: FAQs about How to Recover Deleted Instagram Photos on iPhone
How long will the recently deleted photos stay on Instagram?

When you choose to delete a photo on your Instagram account, it will be moved to the Recently Deleted folder of IG. And those deleted ones will be kept for 30 days.

Can I recover disappearing photos on Instagram?

You don't need to recover them since they won't be deleted after you watch them once. When you're the one who receives it, you can replay the disappearing photo repeatedly if the sender allows you to.

How to recover deleted photos from Instagram?

On the Instagram application, go to your Profile, then tap the three lines located in the right corner of your phone screen. After that, tap Activity, then scroll down to locate Recently Deleted among other folders. Then, select the photo you want to be recovered.

Where do all disappearing photos go after sending them on Instagram DM?

All disappearing photos you've sent are in the conversation you sent them with. They won't be deleted on the chat, but from the receiver's point of view, the disappearing photos are not visible to them unless you enable them to be replayed.

Why can't I see my deleted Instagram photo in the Recently Deleted folder?

Since you only have 30 days to consider recovering deleted photos on Instagram, if you somehow don't find the content you wish to get back, maybe the post surpassed the 30 days limit.
Conclusion
Using the Recently Deleted folders of both the platform and the Photos app is undoubtedly effective in recovering deleted Instagram photos. It is no doubt that both methods are easy to achieve and with the complete guide given in this post, you can now recover deleted Instagram photos effortlessly. However, we highly suggest using the 4Easysoft iPhone Data Recovery for a one-click solution. You can take advantage of its recovering features as it supports almost all data file types with a high success rate. Don't have a second thought, and get it now!
Related Articles