If It is the Best Choice to Use Handbrake Rip DVD [Alternative Given]
Handbrake is always the choice for many people to rip a DVD. But they will find that there will be some problems when using the Handbrake to rip a DVD, such as the Handbrake refusing to rip the DVD. Many problems have the same reason that the DVD is protected. Luckily, this post will tell you how to use the Handbrake to rip a DVD without any limitations. And if you think the steps are too complex for you, an easy DVD ripper is recommended.
Part 1: Install Libdvdcss to Use Handbrake to Rip DVD
Handbrake can rip any DVD that isn't copy-protected, but almost all DVDs you buy in the store are copy-protected. So, this part will teach you to use the Handbrake to rip all kinds of DVDs without limitation.
1. Install Libdvdcss
There is a free DVD playback library called libdvdcss. This will let Handbrake read your encrypted DVDs and rip them to your computer. Note that you don't have to do this every time you rip a DVD. Once libdvdcss is installed, you can directly rip a new disc.
How to Install libdvdcss on Windows
First, you'll need to download libdvdcss to your computer. Copy the .dll file to your Handbrake program folder. If you used the default installation settings, this should be in C:Program FilesHandbrake. After this, Handbrake will be able to read your encrypted DVDs.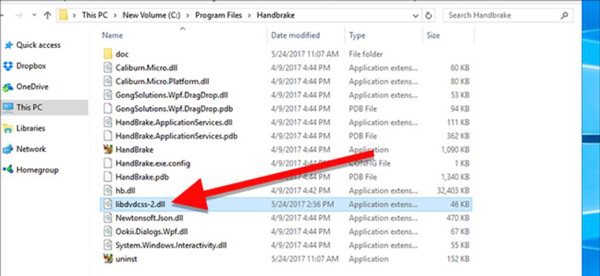 How to Install libdvdcss on macOS
Installing libdvdcss is a little more complicated on macOS because El Capitan introduced a security feature called System Integrity Protection that won't let you install libdvdcss without a little help. If you're on Yosemite or older, you can download the libdvdcss package file here and double-click it to install it.
To install libdvdcss, press Command + Space and search for Terminal to launch a command line window. Then, type in brew install libdvdcss, and hit enter.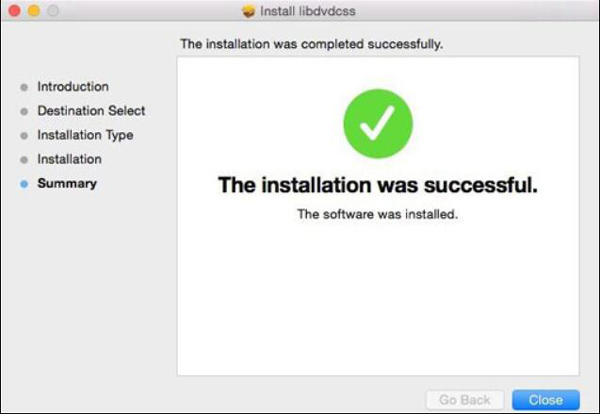 2. Use the Handbrake to Rip the DVD after Installing Libdvdcss
Once you've installed libdvdcss, it's time to get ripping. And here are the steps to use the Handbrake to rip a DVD:
Step 1Open the Handbrake and choose your DVD drive from the sidebar that appears. Handbrake will take a moment to scan the titles on your DVD. If libdvdcss wasn't installed incorrectly, you'll see an error saying that the disc can't be read here instead.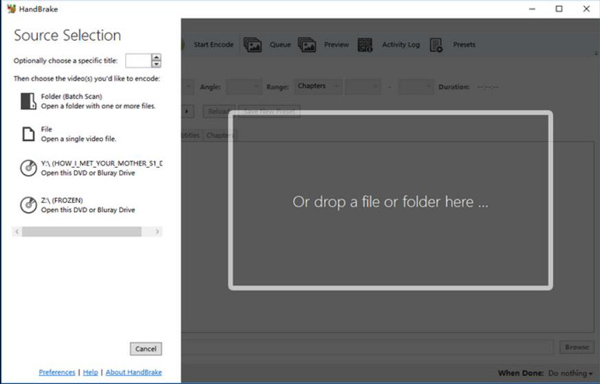 Step 2Once your DVD is open, head to the Title dropdown menu and choose which title you want to rip. By default, Handbrake will choose the movie, but if you want to rip any special features or deleted scenes, you can change the target you want to rip here. You can also change which chapters you want to rip if you only want part of the movie.
Step 3Next, you'll need to decide the quality of your output file. You only need to click the Preset button and adjust your preference. There are presets for nearly anything you could need: Apple TV, Android phones, PlayStation, and lots more.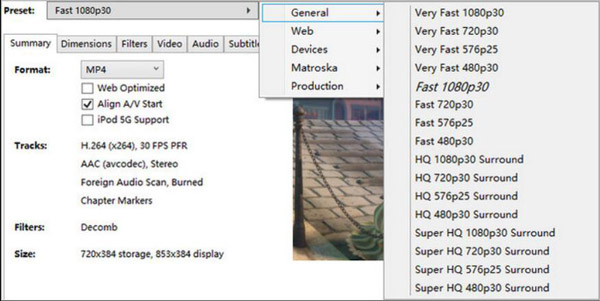 Step 4Once you've chosen your Title and Preset, click the Start Encode button at the top of the window. You'll see a progress bar along the bottom that will let you know how much time you have left in the rip. Higher-quality rips will take longer, so you'll want to let your computer run for a while.
Part 2: The Alternative to Handbrake for Saving Physical Video
If you think that you have to install libdvdcss to use Handbrake to rip DVDs is very troublesome. There is an alternative 4Easysoft DVD Ripper that could help you rip all kinds of DVDs without complex steps and limitations. You do not have to download any other extension software on your computer. All you need to do is to insert your DVD and choose the output preference to start ripping the disc.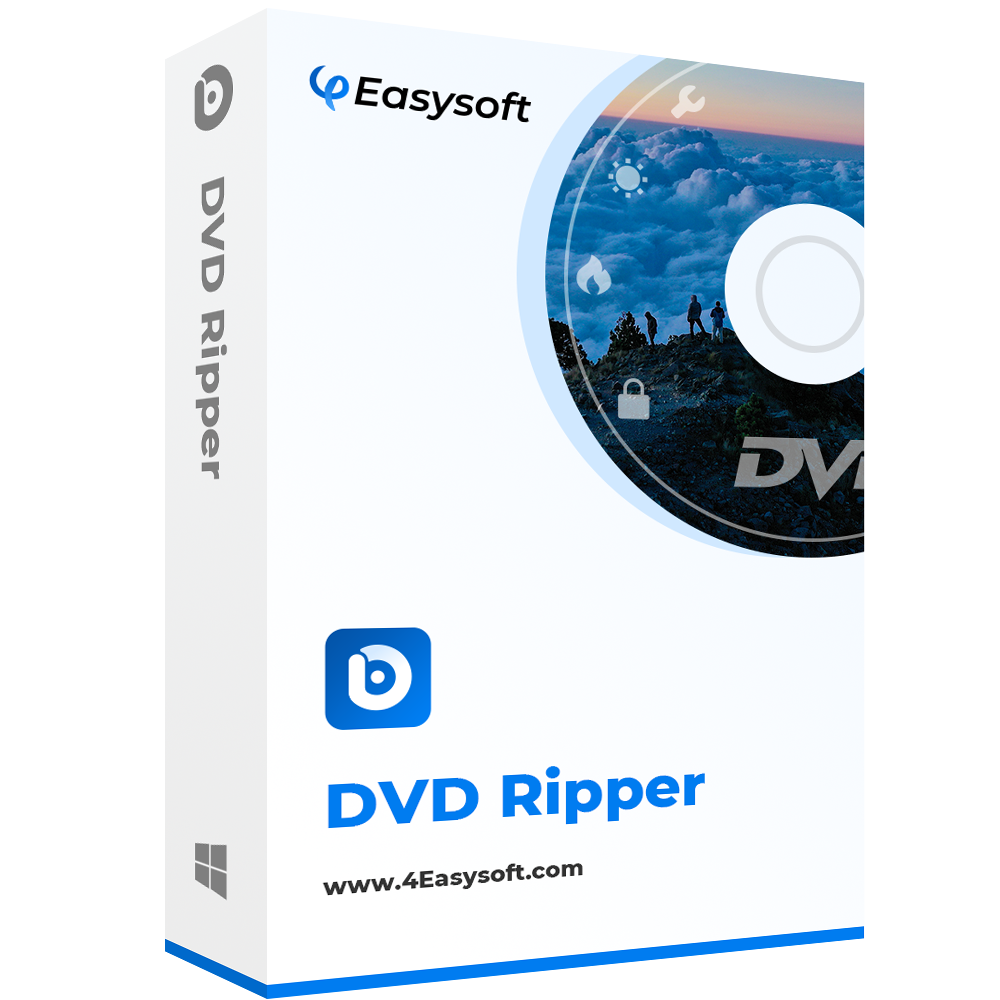 4Easysoft DVD Ripper
Support more than 600 file formats and device presets.
Convert DVDs to videos at a 60X faster speed.
Give a multi-core processor with a smooth, flawless.
Clone DVD to ISO Image and DVD Folder 1:1 with original quality.
Here are the brief steps to use 4Easysoft DVD Ripper:
Step 1When you launch the program, click Load DVD to choose Load DVD Disc, Load DVD ISO, or Load DVD Folder from the three dots options.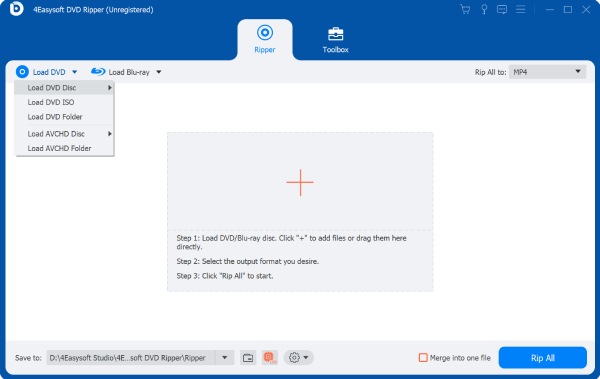 Step 2Next, it will load the main title of the DVD files without your operation. But you can also click the Full Title List button to load the chosen titles.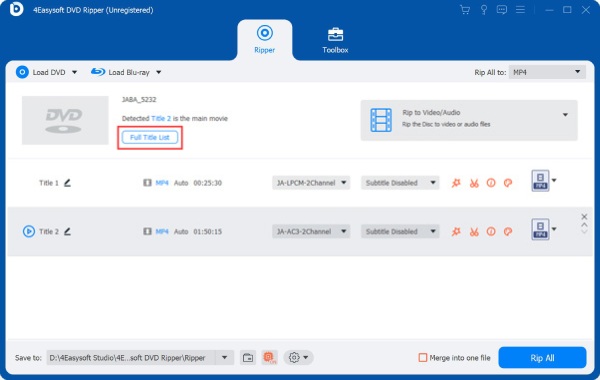 Step 3All the titles will be shown. You can check the box of the titles you want to add, and then click the OK button to confirm your selection.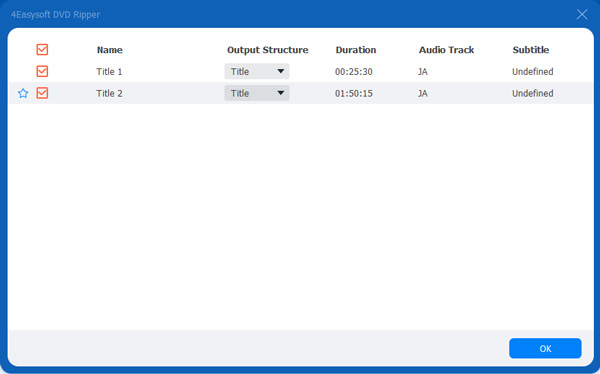 Step 4There are 3 types of options for the output file: Rip to Video/Audio, Rip to DVD Folder and Rip to DVD ISO File. If you want to rip the DVD to a folder, you can select Rip to DVD Folder from the drop-down list.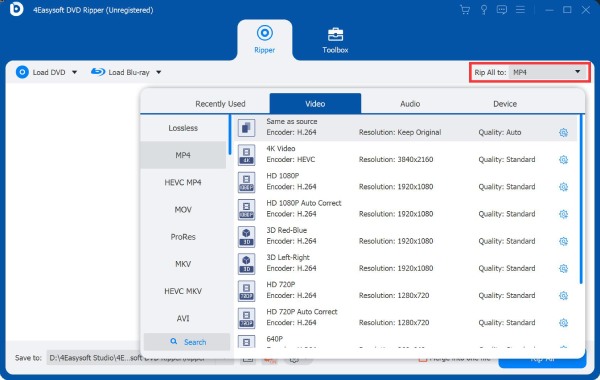 As you can see, the steps are much easier than using the Handbrake to rip a DVD. No matter what kinds of DVDs you want to rip and what formats you want to output, you can do them in 4Easysoft DVD Ripper.
Part 3: FAQs about Handbrake Rip DVD
What is the best setting for Handbrake to rip a DVD?

Medium presets would be your best Handbrake settings. If you still can't be sure about those presets, encode a few minutes, like 3-5 minutes, or a few chapters of the DVD source to have a try. And then choose the Handbrake settings that suit you most.

What resolution should I choose when using Handbrake to rip DVD?

If you're ripping a DVD sold in the US, choose the 480p preset. European DVDs are usually 576p. Don't choose larger presets like 720p or 1080p for when you rip DVDs to digital formats like MKV - they won't make your video look any better, they'll just make the file bigger.

Why does my Handbrake not rip the DVD?

Maybe your DVD is damaged, its surface is quite scratched. And if the DVD is copy-protected and you did not install Libdvdcss successfully on your computer, then Handbrake will refuse to rip that DVD.
Conclusion
After reading this article, you must know how to use the Handbrake to rip a DVD, and even for copy-protected ones. But if the libdvdcss file is corrupted or you cannot install the file successfully, you cannot rip most DVDs with Handbrake. In that case, 4Easysoft DVD Ripper seems the best choice for you to rip a DVD and save it to the computer. No extra file downloading, only a few clicks could rip a DVD perfectly.
More Related Articles: