Rip DVD to Xvid - 2 Methods to Achieve it!
Do you want to watch a DVD movie on other portable devices? And with a much smaller file size but with excellent quality? With the help of the methods below, you can rip your DVD to Xvid which enables you to play your video files on any popular media player. You can complete the entire process without using any third-party programs. Check out the two DVD Rippers with detailed steps in the following.
Part 1: The Detailed Steps to Rip DVD to Xvid on Windows/Mac
A free DVD converter that allows you to rip DVD/ISO/DVD folders in up to 600 plus high-quality formats and devices is the 4Easysoft DVD Ripper. It has GPU Acceleration to convert DVDs to videos at 60x faster. Moreover, it also offers Advanced Video Editing Features wherein you can add subtitles and audio tracks and apply video effects such as brightness, contrast, saturation, and more. Plus, it copies and backs up DVDs without any quality loss. With this DVD to Xvid converter, you are free to enjoy DVD videos on your mobile and portable devices whenever you like.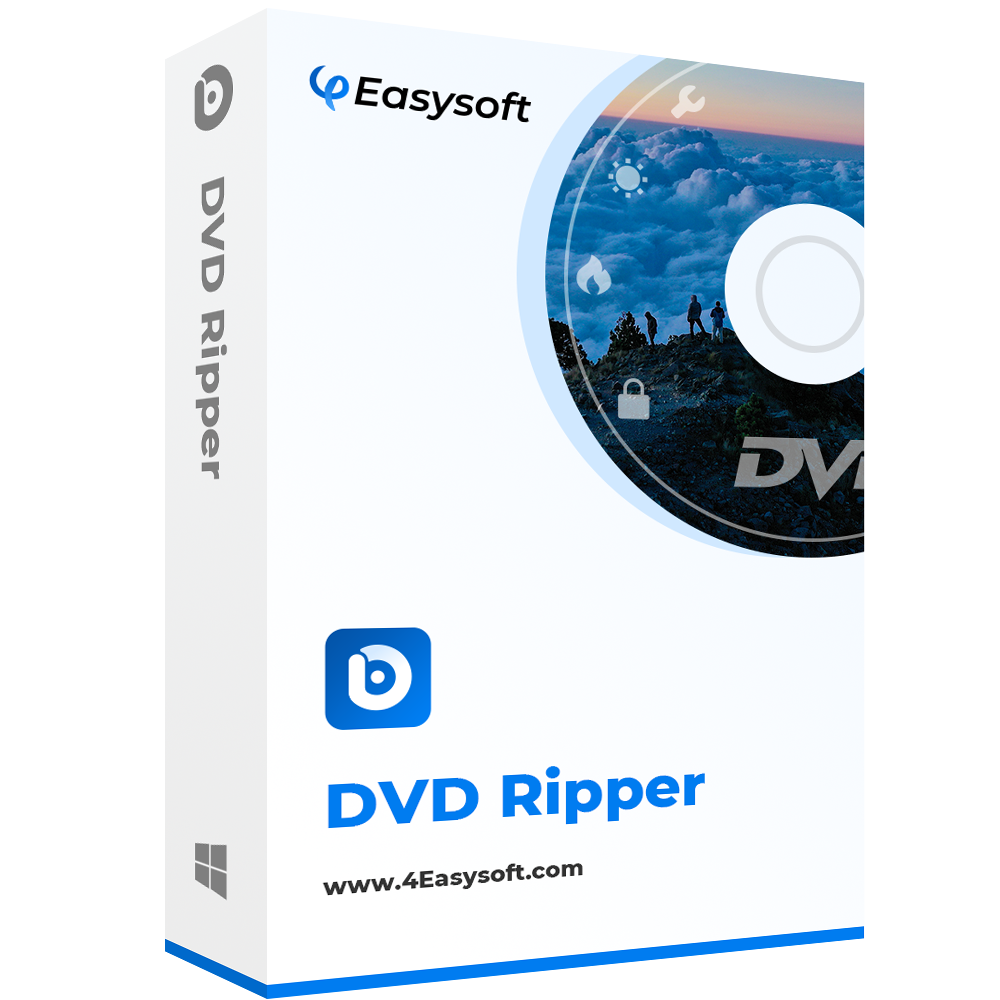 4Easysoft DVD Ripper
It provides multiple settings to compress the video size but still preserve the original quality
Convert video/audio to any media format or device presets
Enables you to convert DVDs, ISO images, and DVD folders to iOS and Android devices and online streaming sites.
You can set the cropping area value or directly drag the frame border to crop the blank edge of the video and change the aspect ratio and zoom mode.
Step 1To start converting your DVD to Xvid, download the DVD Ripper, 4Easysoft DVD Ripper, then launch it on your computer. Click Load DVD to choose from three options provided: Load DVD Disc, Load DVD ISO, or Load DVD Folder. Remember to insert your DVD into the computer's drive, and then it will load the titles of the DVD files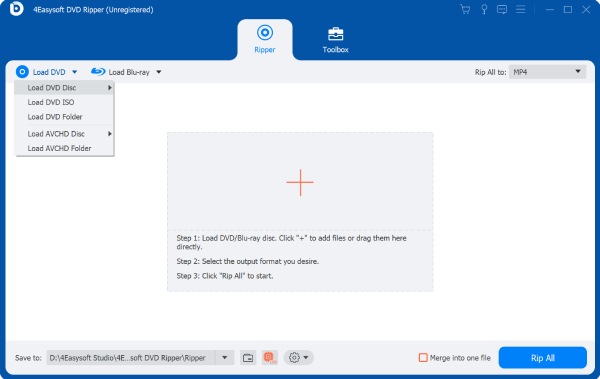 Step 2There are three options for the output file: Rip to Video/Audio, Rip to DVD Folder, and Rip to DVD ISO File. Select Rip to Video/Audio to rip the DVD to the digital format.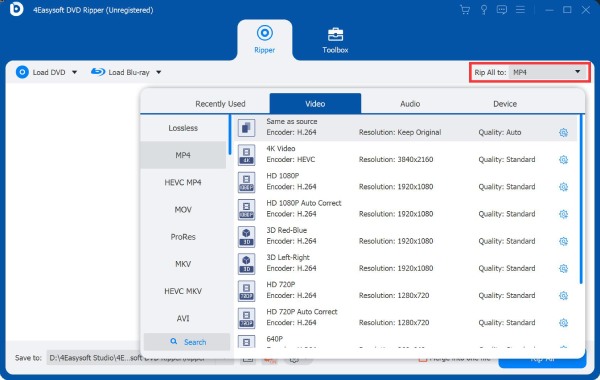 Step 3Choose the output format by clicking the drop-down button next to Rip all. Go to the Video section, scroll down until you see the Xvid, and click it as your chosen output format. After choosing the output file, click Rip All at the button right corner of the program to rip your DVD to Xvid immediately.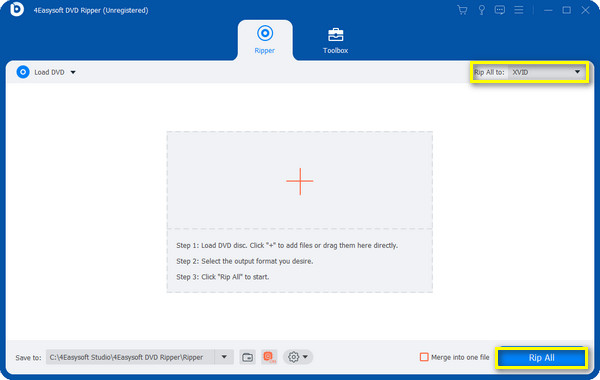 Part 2: How to Convert DVD to Xvid Free with Handbrake
To convert DVDs to Xvid for free, Handbrake is a well know converter and a free and open-source DVD Ripper. It is an excellent tool for converting and ripping DVDs into whatever form you need. It supports a wide range of formats, such as H. 264, MPEG-2, MPEG-4, and formats compatible with Xvid, like MP4 and AVI. Its supported audio output formats include AAC, MP3, AC3, and more. With this DVD Ripper and converter, you can convert videos into various codecs to make them more compatible with all your devices.
Step 1Download the DVD ripper and converter, Handbrake, then launch it on your computer. When you have launched it, open the program, select Source to select your DVD, and then it will scan all your files.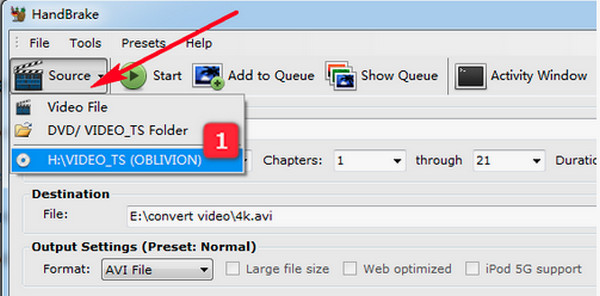 You may find Handbrake not reading your DVD, which means your DVD is copy-protected. Handbrake can't rip DVDs that have a copy-protection. Try installing libdvdcss to fix this problem.
Step 2Select the title, chapter, and preset. Next, click Browse to select the destination folder of your file.

Step 3Then, navigate to the Output Settings to select AVI as your output format. Lastly, click Start, the green button located above the program to start ripping your DVD to AVI. handbrake-choose-output-format.jpg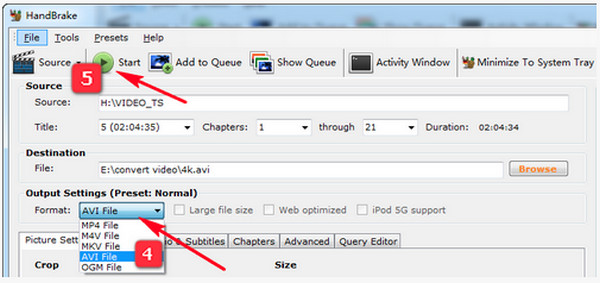 Part 3: FAQs about Ripping DVD to Xvid
Will ripping DVD to Xvid damage the disc?

Ripping a DVD does not cause any physical damage to the DVD and never alters the data inside. When you happen to meet some hiccups while playing a DVD-rip movie, it's most likely because the DVD player or drive doesn't function well.

What resolution is best for ripping a DVD to Xvid?

For the quality output, since the DVD's main content is stored in MPEG-2 VOB files, MPEG-2 MPG is the best format to rip your DVDs for high quality.

Can I rip just the audio from a DVD?

You need an excellent tool called DVD Ripper or DVD audio extractor when ripping audio from DVDs. The DVD Ripper must work in minutes to extract audio from DVDs, converting them to one of the primary and popular audio formats that can be played on a mobile device, saved on an HDD, or onto cloud storage services.
Conclusion
It is always possible to make a digital backup for your DVD collection. Now, you can rip your DVD to Xvid with the help of two converters mentioned above, Handbrake, a DVD ripper and converter simultaneously, and the 4Easysoft DVD Ripper. You can convert your DVD to Xvid for free and with high-quality output. But if you need to convert within 5 minutes without losing the original quality, 4Easysoft DVD Ripper must be for you! With this DVD Ripper, you can convert DVD to video at a 60x faster speed.
Related Articles: