DVD to Gphone - Rip Using the Powerful DVD Ripper Software
Like a PSP, iPod, Zune, and more, a Gphone can't play a DVD movie directly since it doesn't have a DVD drive like a computer. But is it possible to watch your DVD on it? Yes! Consider ripping your DVD to Gphone with a compatible format. Its supported format includes MP3, AAC, MPEG4, WAV, and so forth. If you convert your DVD to one of these formats, you can now enjoy watching your DVD movie on Gphone. Learn below the best format for Gphone and how to convert DVD to Gphone.
Part 1: Which Format is Best for Ripping DVD to Gphone?
Before you know what format is best for ripping your DVD to Gphone, understand first what the Gphone is and what formats it supports.
Gphone is a Google Android mobile operating system. It is also known as G1, HTC Dream, or the Google Phone, and it was the first mobile to be launched that used the Android platform. Google specially designs the Android name and logo, and it develops variants of Android on a range of other electronics, this includes Gphone and other game consoles, digital cameras, portable media players, and more. It also has a touchscreen and a navigation pad. Gphone supports many output formats, including H.264, 3GP, MPEG4, MPG, AAC, AAC+, WMA, WAV, MOV, AVI, MIDI, REAL, etc. But what is the best format for ripping DVDs to a Gphone?
No matter how good other videos and audio output formats are, there is one best output format you should always consider using in ripping your DVD. And that is MPEG-4. With MPEG 4, you can surely enjoy your ripped DVD to Gphone with such excellent quality video. This format is compatible with most web browsers and can be played on most media players. Furthermore, another alternative to this format is MPEG-2 since it produces high-quality results for your output formats.
With a powerful DVD to Gphone ripper, you could easily convert your DVD video into Gphone MP4 and MP3. Check out the next part to learn the best software for ripping your DVD into a Gphone.
Part 2: The Best Software to Convert DVD to Gphone MPEG
4Easysoft DVD Ripper is a powerful DVD ripper with a simple and amicable user interface. It has a GPU Acceleration, allowing you to convert a batch of DVD discs at an 60x ultra-fast speed. Moreover, aside from converting your DVD to Gphone MPEG, you can convert DVDs to more than 600+ video and audio formats, including compatible output formats playing with a Gphone. This DVD to Gphone converter also provides editing features that allow you to add subtitles and audio tracks, apply video effects to your DVD movie, add watermarks, and so on.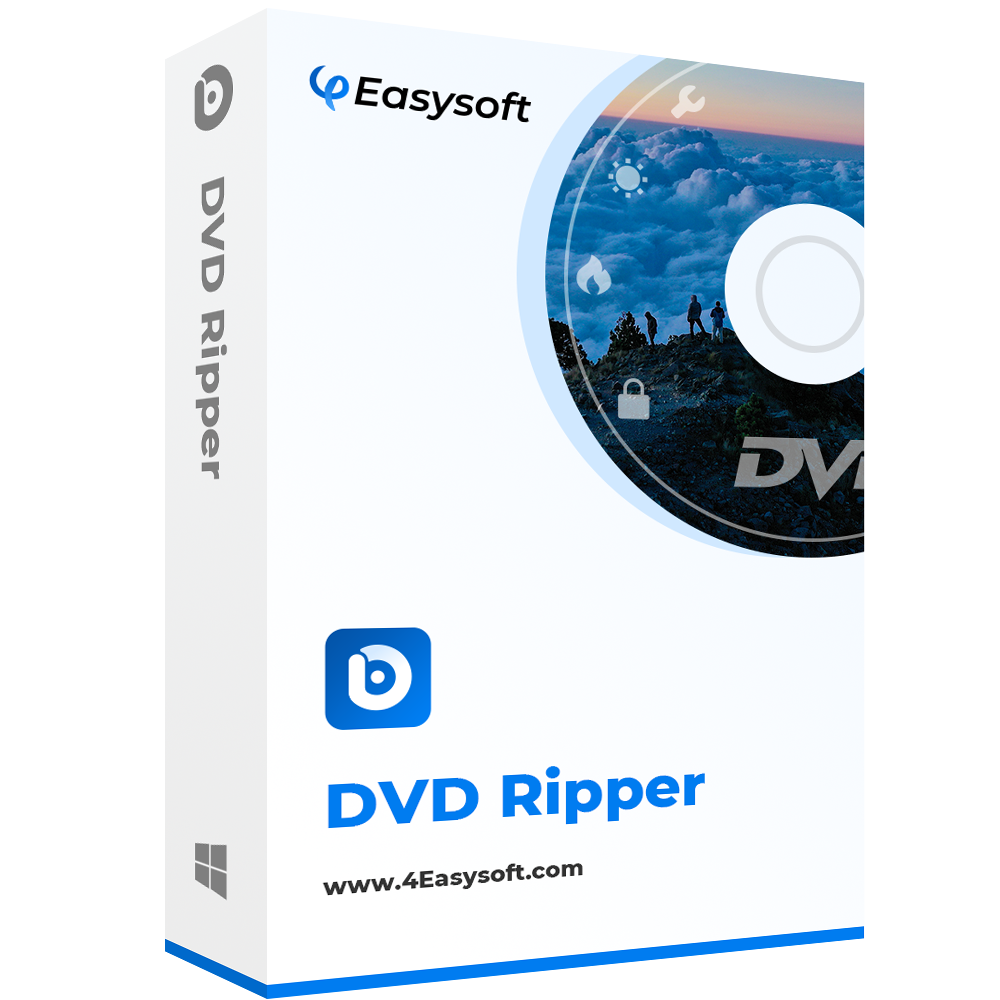 4Easysoft DVD Ripper
Allows you to convert your DVD to H.264 in just 5 minutes without losing the original quality.
Enable you to convert DVDs into many different formats, and you can playback the movies from DVD on any device without restriction.
Provide multiple settings to compress the video size depending on your need, still preserving high quality.
This DVD ripper makes a quality lossless ISO and MPG of your original DVD.
Step 1Launch the program 4Easysoft DVD Ripper on your computer. After launching it, click Load DVD to choose Load DVD Disc from the three options provided. You can rip your DVD into Gphone MPEG with just only three steps after this.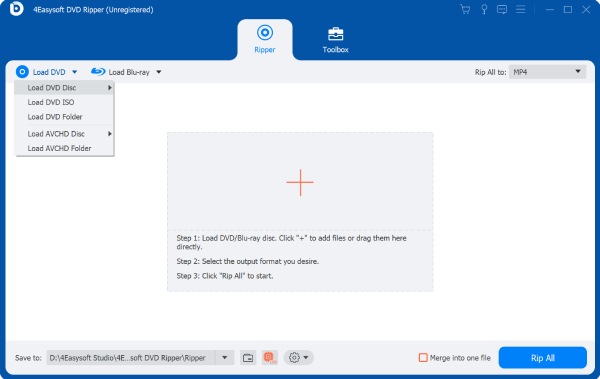 Step 2Insert your DVD into your computer's DVD drive, then it will automatically load the main titles of your DVD. You can also click the Full Title List to load all selected titles, then check the box of the titles you want to add and click OK to confirm your choices.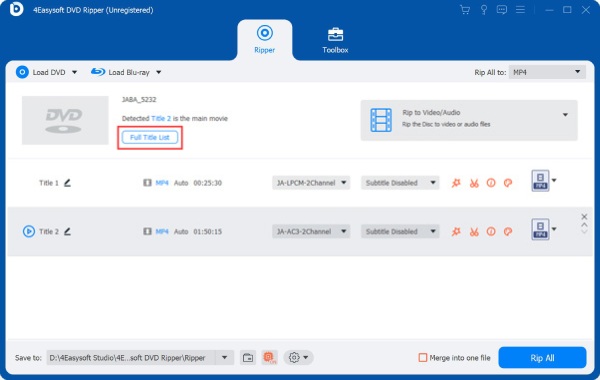 Step 3Choose Rip to Video/Audio from the three options provided for the output file. Click the drop-down button at the upper-right corner of the program. Select MPEG as your output format, or choose the recommended MPG Lossless since Gphone also supports it.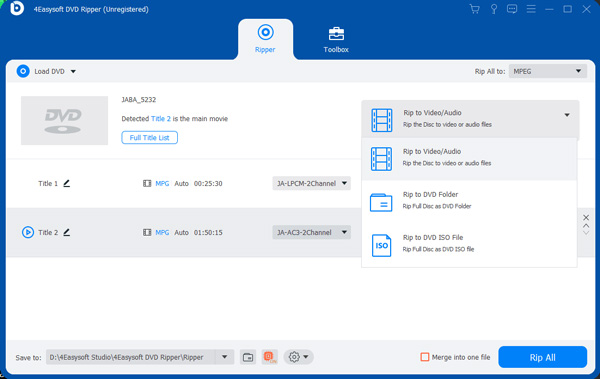 Step 4Lastly, click Rip All at the button right corner of the program to start ripping your DVD to Gphone.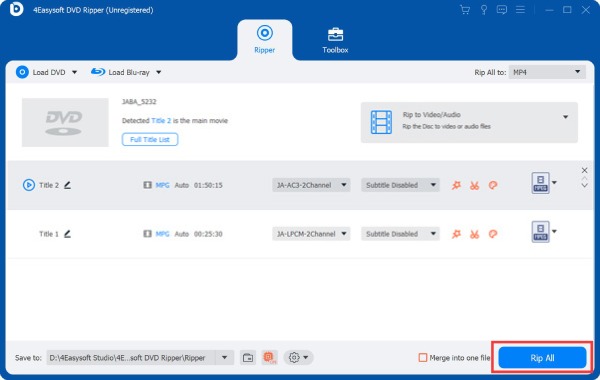 Part 3: FAQs about How to Rip DVD to Gphone
Does Handbrake handle ripping DVDs to Gphone?

Another alternative tool for ripping your DVD is a Handbrake. It is a free and publicly available DVD ripper that can convert your DVD into MPEG video codec, a compatible Gphone format. Plus, it provides many different formats you can convert with your DVD.

Can you play a DVD on an Android phone?

It is possible to play a DVD on your Android phone if it supports a USB OTG system. It allows you to connect a USB flash drive to your phone. But, many Android phones don't support OTG, and there is no DVD player for Android phones. It would be best if you ripped your DVD into a compatible format for Android to watch your DVD on your Android phone or other mobile devices.

Does Handbrake reduce video quality when you rip DVD to Gphone?

Handbrake's default settings and presets use a constant quality encoding method. It makes your DVD movie preserve the original quality from start to finish. Always use the regular rate unless you have a specific reason not to.
Conclusion
Ripping DVDs to Gphone is much easier now with the best software that allows you to rip DVDs into more than 600 video and audio formats. Now, you can enjoy watching your favorite DVD movies on your Gphone. You might encounter someone that wants to play their DVD movies on devices that don't support DVD format, consider telling them about the 4Easysoft DVD Ripper. With this powerful tool, you can rip your DVD into a much more compatible format to play with other devices and media players.
Related Articles