How to Rip DVD to Creative Zen with High Quality [Detailed Steps]
Like other portable media players, Creative Zen does not have a DVD drive where you insert your DVD. Now, you are considering ripping your DVD to Creative Zen, but what formats are supported by this portable media player? Creative Zen is a famous portable media player that can support a few video and audio formats. So, if you wish to play your DVD on a portable media player, like Creative Zen, you should know what format is supported. Check out the following parts to learn its supported formats and the program that can help rip your DVD to Creative Zen.
Part 1: Which Format Are Supported by Creative Zen?
Almost all media players support various audio and video formats, including MP3, MP4, WMA, and more. Creative Zen can also support these formats, but there are still video and audio formats that it doesn't support, such as WOV, FLV, and more. Before knowing what formats are supported by Creative Zen, understand first what Creative Zen is.
ZEN is a series of portable media players designed and manufactured by Creative Technology. This series has had a strong impact in Asian Pacific markets, specifically in Singapore, where the company's headquarters are located. The first model of Zen has the appearance of a cassette player until it is updated over time; the last Creative Zen player was released at the end of 2011. Furthermore, the three Creative Zens - the Portable Media Center, Micro Photo, and Vision: M won the Best of Consumer Electronics Show award from 2004-2006.
Here are the supported audio and video formats of Creative Zen, for audio formats, MP3, WMA, WAV, AAC4, Audible, and so on. While for video formats, Creative Zen supports AVI, MPEG-1, MPEG-2, MPEG-3, WMV9, and more.
You may need an excellent converter to rip your DVD into these formats supported by Creative Zen. Continue reading to learn the best DVD to Creative Zen Ripper available on Windows and Mac.
Part 2: The Ultimate DVD to Creative Zen Ripper on Windows/Mac
Rip your DVDs to Creative Zen with this excellent program, 4Easysoft DVD Ripper. This software allows you to convert DVDs into more than 600 file formats and devices and make a quality lossless of the original DVD. This DVD to Creative Zen Ripper also enables you to convert at 60x faster speed as it supports GPU Acceleration. Plus, it provides users with a multi-core processor with a smooth, flawless DVD-ripping process.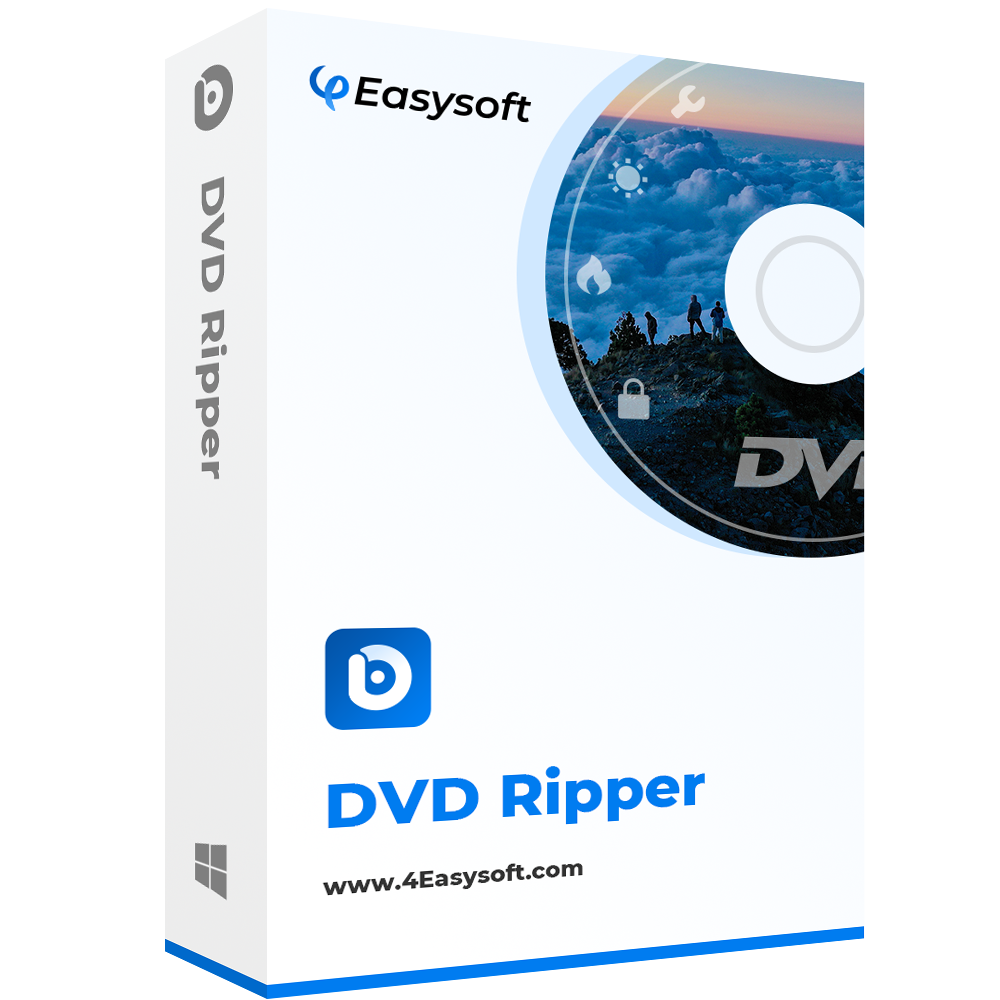 4Easysoft DVD Ripper
It makes a quality lossless ISO and MPG of your original DVD.
Provide multiple settings to compress the video size for you to watch on your iPhone or other devices without losing the quality.
Convert a batch of your DVD to MP4 (H.264) for Creative Zen within several minutes.
Support many output formats, such as MP4, AVI, MP3, and WMV for all popular devices, including, iPhone, iPad, Samsung, Huawei, and so forth.
Step 1Download and install the 4Easysoft DVD Ripper, then launch it. After launching, on its main interface, click Load DVD to choose Load DVD Disc, Load DVD ISO, or Load DVD Folder from the options.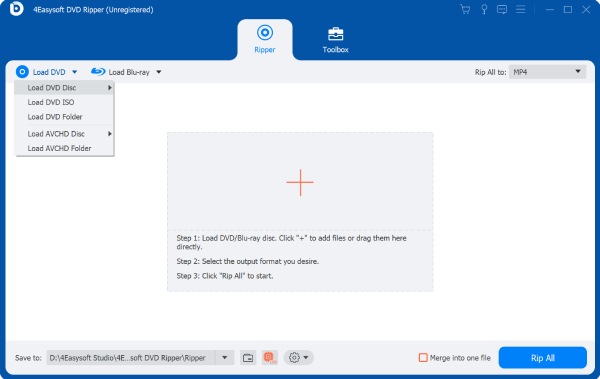 Select Load DVD Disc, and do not forget to insert your DVD into your computer's DVD drive to load your files. You can also click Full Title List to load all titles, then check the box of the titles you want to add and click OK to confirm.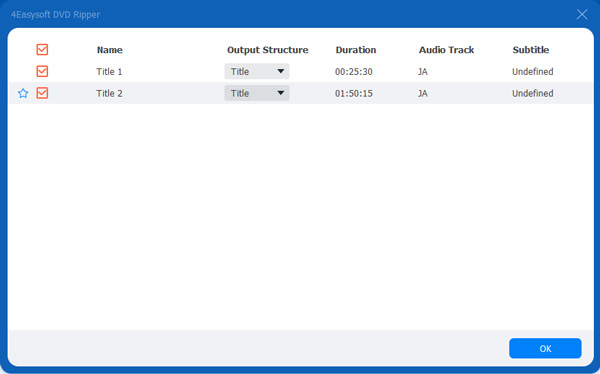 Step 2Now, you have to choose your output file and select Rip to Video/Audio from the three options provided: Rip to Video/Audio, Rip to DVD Folder, and Rip to DVD ISO File. Click the drop-down button at the upper-right side of the program. Select AVI as your format.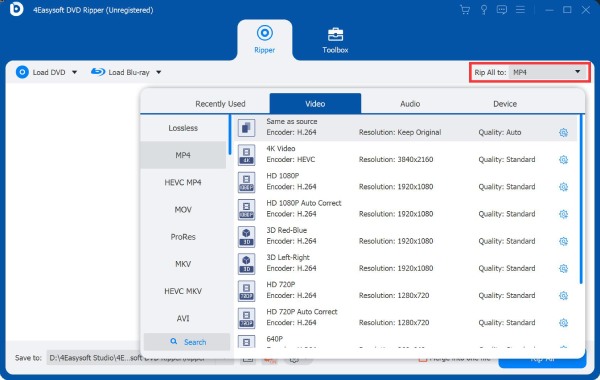 Step 3For the final step, you can click Rip All at the bottom right corner of the program to start ripping your DVD to Creative Zen format, AVI.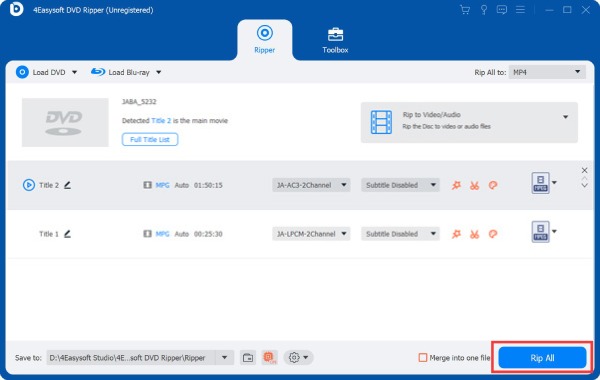 Part 3: FAQs about How to Rip DVD to Creative Zen
Can Handbrake rip DVDs to Creative Zen?

Since AVI has been removed from Handbrake container formats options, Handbrake now supports container formats MKV and MP4, sometimes seen in Handbrake as M4V. You can choose MP4 as your output format, then customize it as MPEG-4 or MPEG-2.

Is AVI better than MPEG-2 at ripping DVDs to Creative Zen?

Both are compatible with Creative Zen, but AVI is recommended to use on Creative Zen since it is highly compatible with this portable media player. Even if it is significant in file size, AVI offers the highest quality, so expect a high-definition video to your ripped DVD to Creative Zen.

How to convert copy-protected DVDs to Creative Zen with Handbrake?

As Handbrake cannot handle copy-protected DVDs, you must install a third-party tool. Handbrake requires you to download a libdvdcss-2 file to help you decrypt DVDs encrypted with copy protection. And this file is used by VLC Media Player, which is why this software can help Handbrake to read copy-protected DVDs.
Conclusion
Knowing what formats are supported by Creative Zen makes it easy for you to quickly and easily convert and enjoy watching your DVD movies on it. Of course, you can rip your DVDs with the help of the excellent 4Easysoft DVD Ripper. Although many DVD Rippers out there can convert your DVD to Creative Zen, you can use this program to rip many video files to Creative Zen-supported formats and more than 600 file formats and devices. Enjoy your DVD movies on Creative Zen anytime and anywhere.
Related Articles