4Easysoft DVD Ripper: Powerful Tool to Rip and Convert a DVD to WMA
Have you ever thought about extracting a music track from a concert or movie stored on your DVD and transferring it to your computer for a much more convenient way of playing it? Thinking if it is possible? Yes, it is! You only need to convert DVD to WMA format to make it compatible with your device. This article is for you if you are searching for the best DVD ripper! Continue reading this article to witness the great functionality and features of the 4Easysoft DVD Ripper. Learn from its simple ways to rip and convert your DVD.
Part 1. How to Rip DVD with the Best DVD to WMA Converter on Windows/Mac
4Easysoft DVD Ripper is a free tool compatible with Windows and macOS platforms. This tool enables you to convert DVDs into a digital format like DVD to WMA on your Mac or Windows without hassle. Moreover, if you are worried about the quality of your audio after ripping or converting it, this tool is capable of helping you with that. 4Easysoft DVD Ripper can provide you with a lossless quality DVD ripping and conversion process. With that, you can ensure you can still listen to high-quality audio tracks. Furthermore, it also supports batch conversion, meaning you can convert a bunch of DVD files all together at the same time.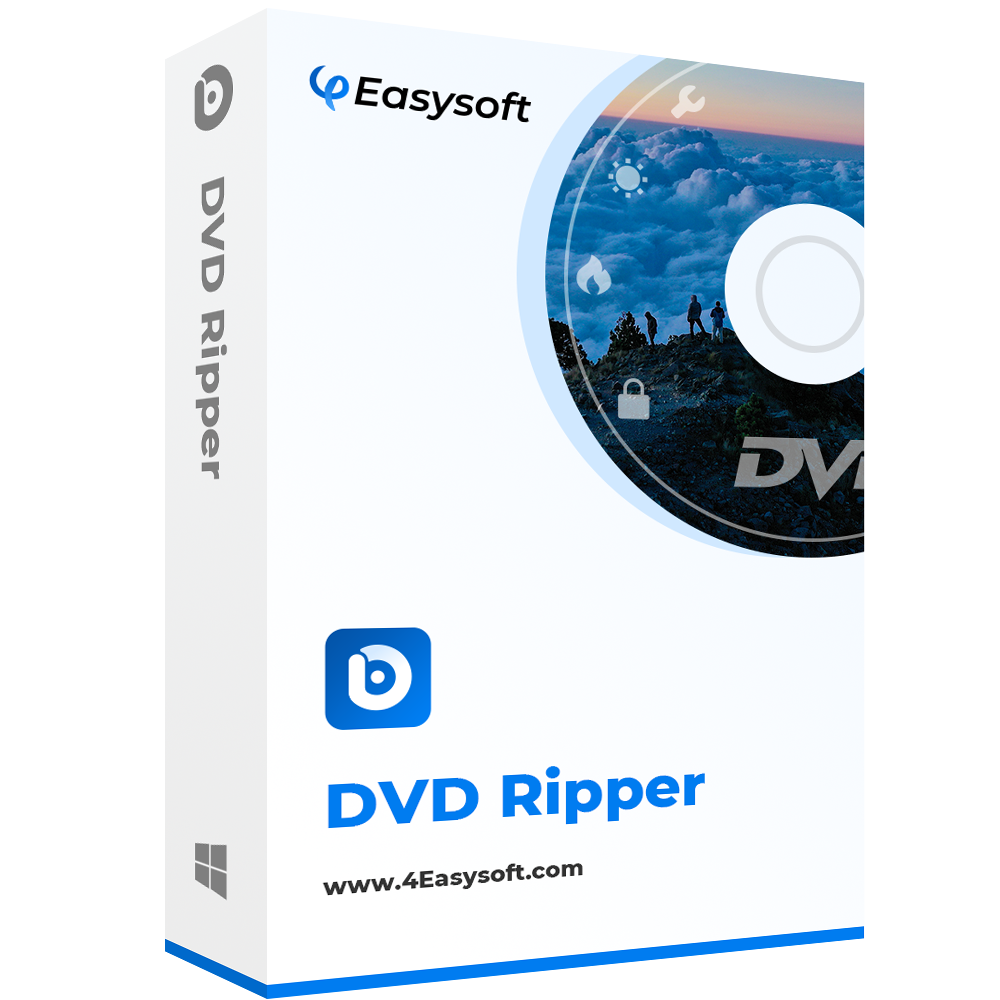 4Easysoft DVD Ripper
Extract DVD files to WMA and more than 600 plus audio and video formats.
Supports various optimal presets for portable devices and mobiles.
Compact with GPU acceleration to convert DVD to WMA format 60X faster.
Capable of applying adjustments with audio's encoder, channel, sample rate, and bitrate.
Here are the simple steps to rip your DVD and convert it into WMA format:
Step 1Download and install 4Easysoft DVD Ripper on your device. Import your homemade DVD files by clicking the Load DVD dropdown list and selecting your preferred options, whether Load DVDDisc, Load DVD ISO, Load DVD Folder, etc. Make sure that your disc is already inserted into your DVD drive.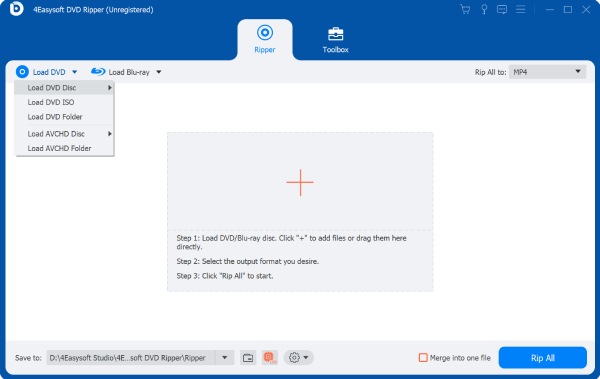 Step 2To convert DVD to WMA, click the Rip to Video/Audio button and tick the Audio tab. Look for the WMA format as your output format and click.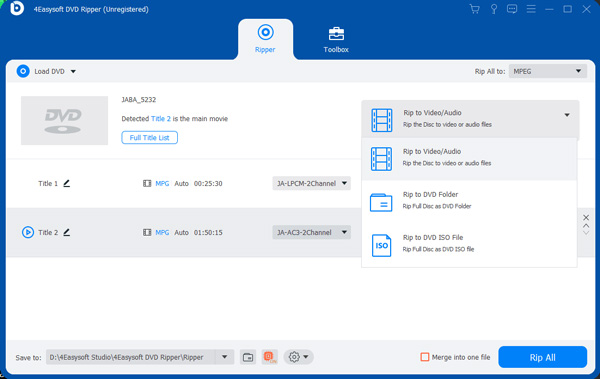 Step 3If you wish to select only a few DVD files, click the Full Title List button so you can proceed to the Title list selection and pick only those you want to load.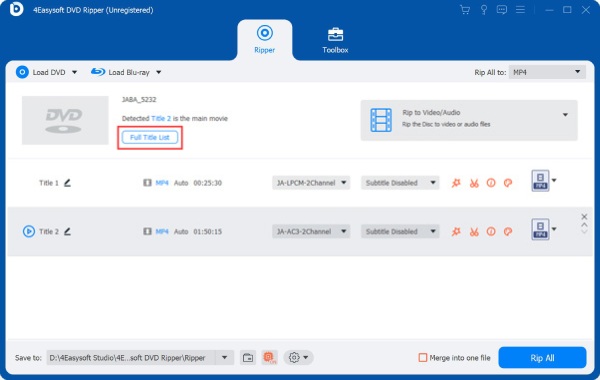 Step 4After applying your preferred output customization, you can start the DVD to WMA conversion on your macOS or Windows 11 by clicking the Rip All button. Then wait for the tool to finish the process.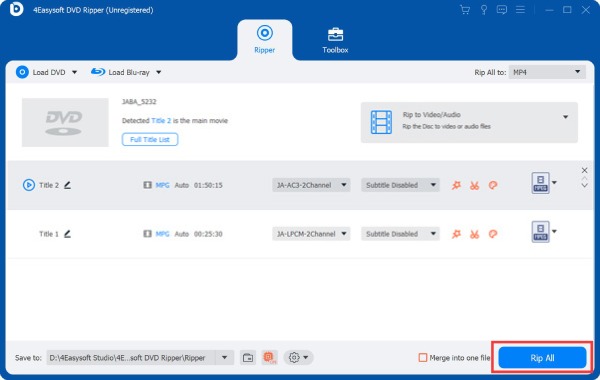 Part 2. More Options to Edit, Compress, and Boost WMA Audio from DVD
4Easysoft DVD Ripper is indeed a powerful DVD audio extractor for DVD to WMA on Mac/Windows. It is not just developed to provide you ripping and conversion services you need. It also allows you to tweak, compress or edit your DVD audio tracks from a movie or pure audio file to obtain a great-quality output. Additionally, you can also apply some changes to your audio to be ripped and converted into a WMA format by boosting it.
These are the options on how you can apply changes to your WMA audio from a DVD:
Step 1If you wish to apply modifications to your output before converting your DVD to WMA on Mac and Windows. Click the Rip to Video/Audio button, look for the WMA format under the Audio tab and tick it. After that, tick the Custom Profile button. There, you can apply your preferred output setups for the encoder, rate, bitrate, and channel.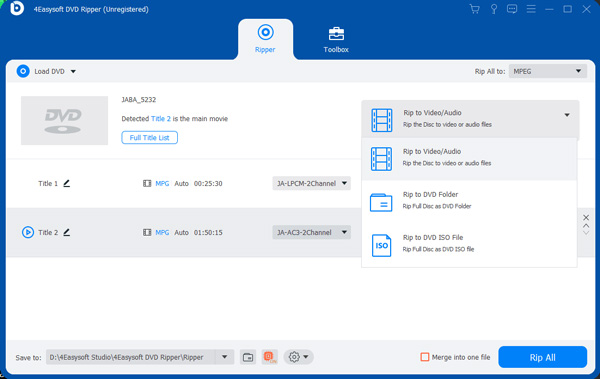 Step 2Another thing you can also add some modifications to your audio, whether from a movie or in an audio file, before converting it into WMA. Click the Edit button with the Starwand icon and tick the Audio tab; there, you can use the slider to adjust the Volume and Delay of the audio. Tick the OK button once you are finished.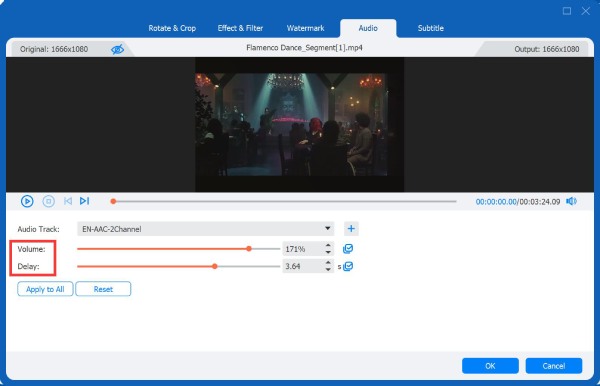 Part 3. FAQs about Ripping DVD to WMA Audio (Windows/Mac)
Do DVDs lose their stored data after ripping?

No, ripping a DVD is the same as playing it. Most modern DVDs contain protection methods that are responsible for encrypting data on a CD/DVD. Another thing, the DVD ripping process comes with circumventing copy protection in acquiring contents on a DVD. Basically, you are most likely playing a DVD; the ripping process will not cause any damage or alterations to the data stored on your CD/DVD.

Do WMA contains better quality than MP3?

Yes! WMA contains much more commendable quality than MP3. WMA is a lossless format, which doesn't lose many sonic details compared to MP3 (a lossy format) throughout the ripping or compression process. With that, guaranteed, you can obtain a perfect sound output quality.

Do VLC is also capable of converting DVDs to WMA?

Yes! You can also use VLC to rip and convert a DVD to WMA on your Mac. However, VLC supports only a few formats and is sometimes linked to failed conversions.
Conclusion
There you have it! Those are the capabilities of 4Easysoft DVD Ripper can give you in terms of converting DVD to WMA. You can use this tool to rip DVD, make GIFs, compress videos, and add effects, etc. Moreover, it enables you to adjust the audio settings to keep the high output quality. Feel free to download and try it so you can witness its abilities on your hands.
Related Articles