Learn the Best Method to Rip Blu-ray to WMV on Windows/Mac
Have you ever tried watching your high-definition Blu-ray movies on your Windows but failed due to some Windows Media Player playback issues? Failing no more! By ripping your Blu-ray to WMV format, you can enjoy watching your HD Blu-ray on your Windows Media Player easily and without any hindrances. Learn how to rip and convert your Blu-ray to WMV format with the most professional ripper tool in this post! Without any further ado, let's dive in!
Part 1.The Best Way to Rip Blu-ray to WMV Videos on Windows 10
To achieve convenient playback of your high-quality homemade Blu-ray movies on your Windows 10, you need a professional Blu-ray to WMV ripper tool to help you out, the 4Easysoft DVD Ripper. This Windows and Mac-compatible tool supports many different media formats, including WMV. Moreover, this tool is designed to rip Blu-ray discs without restrictions and convert them without any loss in quality. Furthermore, you can also apply changes to your disc before converting it into WMV through its built-in video tweaking options and advanced video editing features. Without any further ado, let's learn how to use this tool to rip Blu-ray to WMV format below.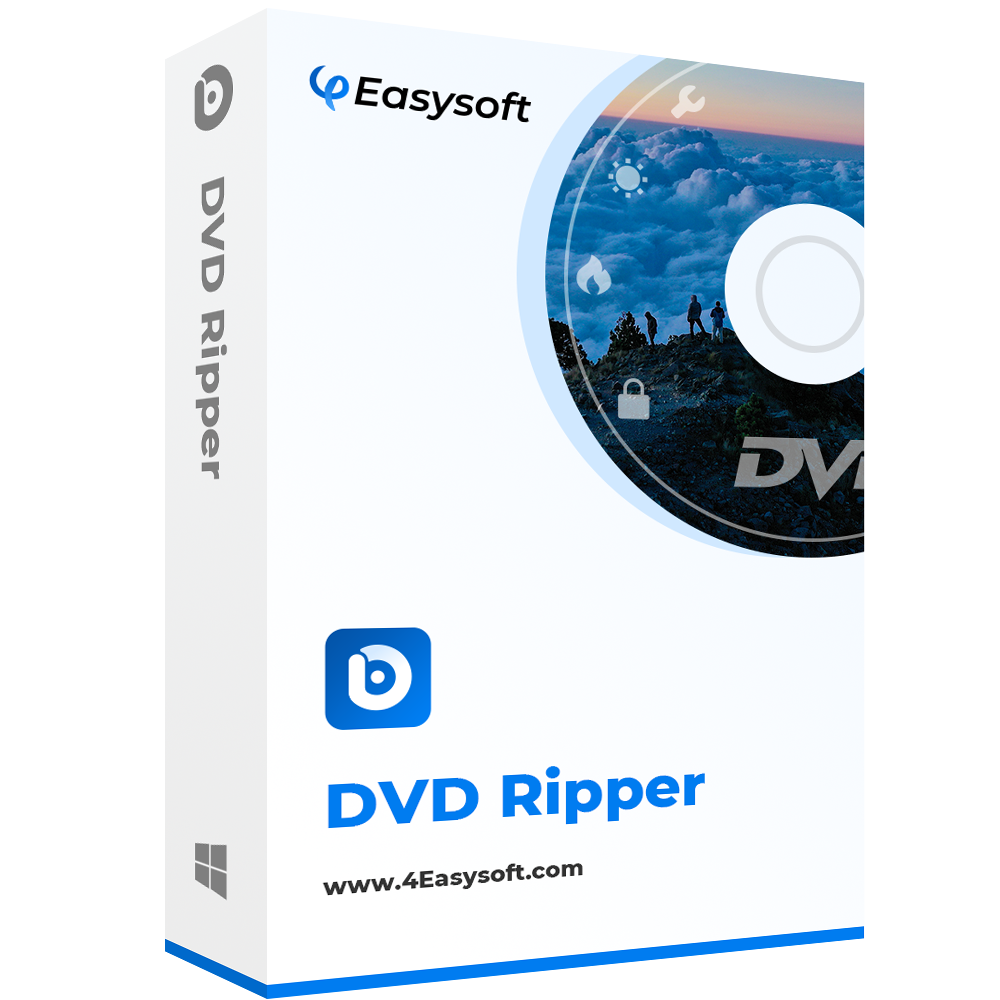 4Easysoft DVD Ripper
Rip and convert your Blu-ray at 60X faster speed with GPU Acceleration.
Support 600 plus popular media formats and device presets such as Android, Apple devices, and Samsung.
Offer multiple settings to compress your Blu-ray movie size while maintaining its original quality.
Enable you to add customized audio tracks and subtitles to your Blu-ray before the Blu-ray to WMV ripping and converting process.
Workable steps to rip and convert Blu-ray videos to WMV format 4Easysoft DVD Ripper
Step 1Visit the 4Easysoft DVD Ripper website to download and install the tool on your Windows or Mac computer. After installing the tool, launch it and insert your Blu-ray disc into your internal or external disc drive. Then, click the Load DVD dropdown menu and select the Load DVD Disc option.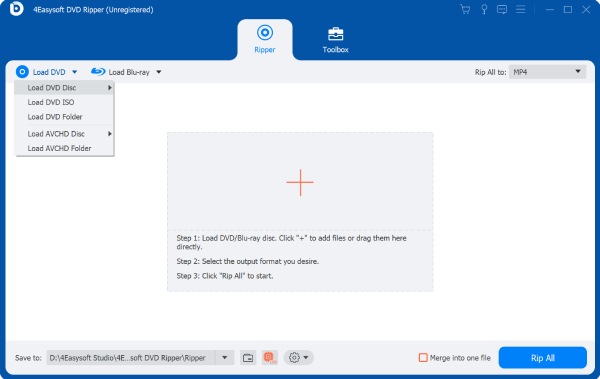 Step 2Click the Full Title List button to select those homemade Blu-ray movies you want to rip and convert. On the new window, tick the checkboxes beside the title names and click the OK button to confirm your selection.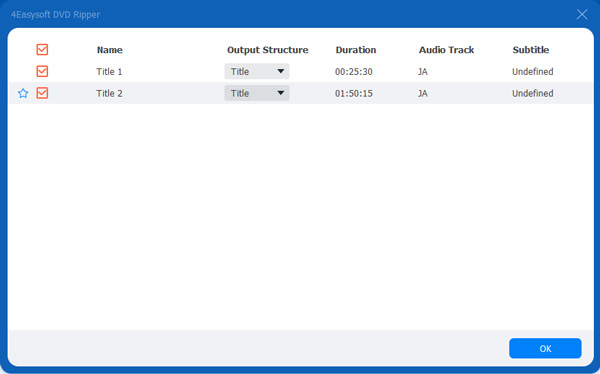 Step 3Select the Rip to Video/Audio option and choose the output format by ticking the Rip All button at the upper right corner of the tool's interface. In the new window, click the Video tab, browse down and tick the WMV format. You can customize your output before conveying it; just tick the Custom Profile button with the Gear icon. Here, you can change your output's resolution, frame rate, bitrate, etc. After that, click the Create New button.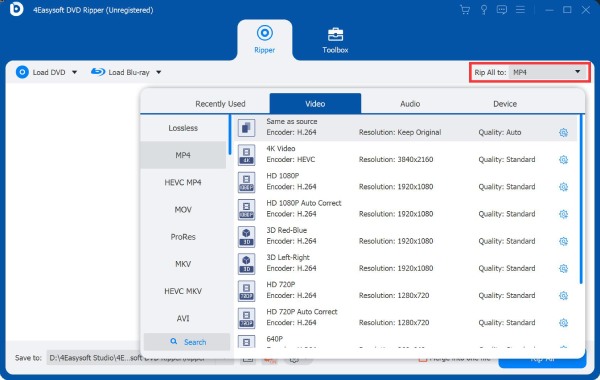 Step 4Once you are already satisfied with the setups and customizations, you can click the Rip All button to start the Blu-ray to WMV ripping and conversion process. Wait for the tool to finish the conversion which will only take a little time, depending on the size of your Blu-ray movie file.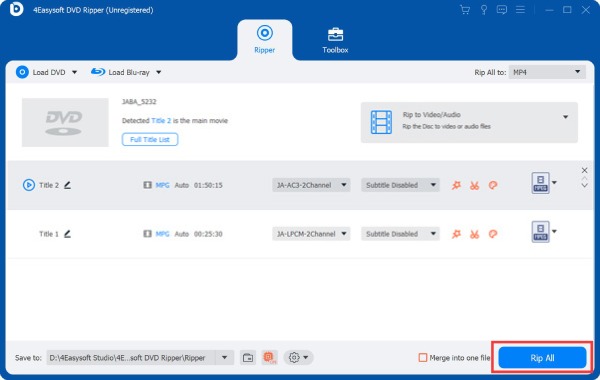 Part 2. Can You Play Blu-ray on WMP without Ripping Blu-ray to WMV?
Playing Blu-ray on Windows Media Player without doing the process of Blu-ray to WMV ripping and conversion is impossible to happen. Windows Media Player (WMP) is designed only for you to play audio and data CDs as well as audio and data DVDs. Because Windows Media Player doesn't support Blu-ray codec, and WMP usually supports playing video formats such as WMV, MP4, and AVI, which on the other hand, fail to support Blu-ray disc formats. Aside from those reasons, Microsoft doesn't invest in the ability to play Blu-ray discs; this is because Microsoft will require to pay licensing fee to play every Blu-ray disc. So to wrap up, WMP can't possibly play Blu-ray due to WMP-supported codecs, video formats, and licensing functionality.
Some people overcome this issue by investing in third-party software capable of playing Blu-ray or downloading a massive codec. We must admit that most third-party software is not safe to use and is not 100% reliable. Moreover, downloading massive codecs will require you to spend time searching and downloading appropriate and suitable ones. Additionally, both are challenging tasks to do. We still recommend you use a ripper tool to simply rip and convert Blu-ray to WMV to ensure that you can have a suitable and compatible format and codec. Furthermore, through a ripper tool like 4Easysoft DVD Ripper, you can convert it in just a few clicks and with a fast-speed conversion process.
Part 3. FAQs about Ripping Blu-ray to WMV Format
1. Can I still enjoy watching Blu-ray movies after ripping them with WMV format?

Yes, you can still enjoy watching Blu-ray movies after the ripping process. With WMV format, it is capable of containing high-quality videos like HD. So even if it is ripped and converted to WMV, you can still acquire admirable quality after the said process. Moreover, you can use 4Easysoft DVD Ripper to select your preferred WMV video quality up to 1920x1080 and enhance your output's quality, resolution, bitrate, and more.

2. Does WMV format is compatible with iPhone?

Sadly, Apple devices don't support WMV video format. However, if you wish to play your Blu-ray movies or personal video files, you can rip and convert your Blu-ray media files to MOV or MP4 format.

3. Does ripping Blu-ray to WMV damage the disks?

No, ripping can't damage your Blu-ray files, even the physical disc itself. Ripping and converting will only copy the movies or personal video files on your Blu-ray and convert them into your preferred video format. Additionally, this ripping and converting process will not apply any alterations to your Blu-ray file, even file deletion.
Conclusion
That's it! That is how you rip and convert Blu-ray to WMV format. After reading this post, you know how to rip your homemade Blu-ray movies to a WMV format supported by your Windows 10 Media Player. With this 4Easysoft DVD Ripper tool, you can make your Blu-ray playable on your Windows Media Player with a fantastic movie-watching experience. Download and install it now!
Related Articles