Convert WebM to MP3 with High-quality Audio
When you download video audio from your web browser, most will be in a WebM file. And, you know that media players do not widely support this format, so you cannot play your music or any soundtracks from the WebM file. Nothing could be your best option but to convert WebM to MP3. And today, the best of the best ways to convert WebM to MP3 are shared in the following parts. By the end of this post, you can listen to the audio from your WebM file whenever you want. Check them all out now!
Part 1: The Easiest Way to Convert WebM to MP3 with High Quality
For the easiest way to convert WebM to MP3, go for a tool that, besides supporting these formats, provides you more than you expected. And this is the 4Easysoft Total Video Converter. This program offers more than 600 formats, including MP3, AVI, WMV, AAC, etc. In addition, it provides many device presets for all popular Android and iOS devices. Other than conversion, it also enables you to do some customization in the settings to maintain the high-quality output you desire. So, if you're ready to explore more about this program, read on to learn to convert WebM to MP3.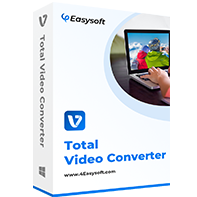 4Easysoft Total Video Converter
Provide more than 600 formats with a customized resolution, and many device presets for Android and iOS.
Allow you to customize the settings in its Custom Profile button to adjust video and audio parameters.
Support batch conversion to convert multiple WebM files to MP3 and get them all at once.
Offer an ultra-fast conversion speed, allowing you to get your converted file in no time.
Step 1Head to the 4Easysoft Total Video Converter to have the latest version and convert WebM to MP3. After launching, on the main interface, click Converter from the above menu. After that, add your file by clicking Add Files with a Plus icon on the upper-left corner, then hit Open.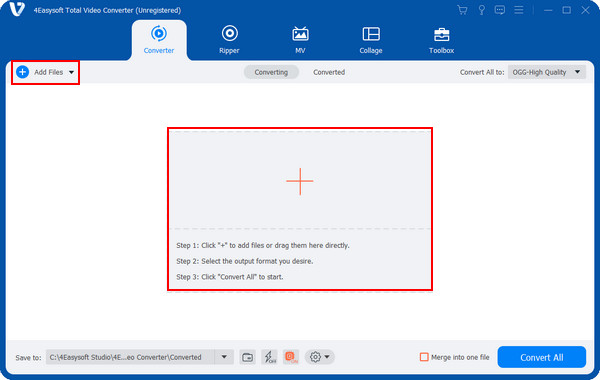 Step 2Now, to choose the format, navigate to Convert All to the drop-down menu, then click it. Aside from the audio formats, you will also see a list of Video formats with a customized resolution and Device presets for Apple, Android, game consoles, and others. Select MP3 in the Audio section.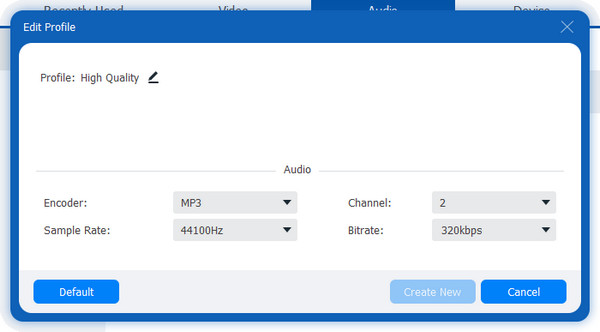 Step 3After converting WebM to MP3, You may want to adjust some settings. You can do this by clicking Custom Profile with a Gear icon on the right side of the format.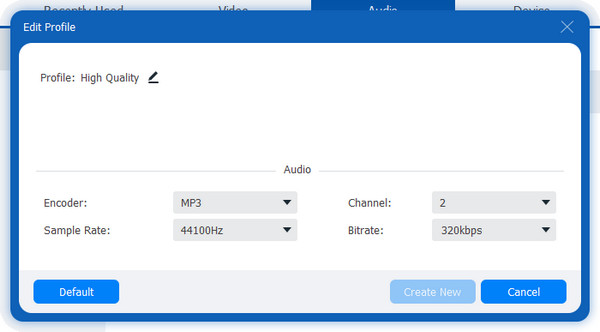 Step 4If done customizing, select the file destination in the Save to drop-down list. Finally, click Convert All to get your files; the process of saving will depend on your file size.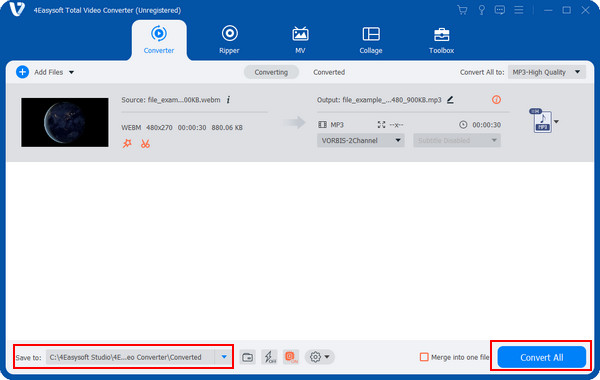 Part 2: How to Convert WebM to MP3 through VLC Media Player
For the following way, there's VLC Media Player. Aside from being a famous media player today, it can also assist you regarding conversion. It is also one of the simplest ways to convert WebM to MP3. Moreover, it is an open-source program and supports most operating systems and formats. You also don't need an internet connection or any specific service online to access VLC and use its features. When you get this program installed on your computer, you can start converting WebM to MP3 with the accompaniment of the guide below.
Step 1Launch the VLC Media Player on your computer. Once it is ready, click on Media from the menu bar above, then Convert/Save from the drop-down.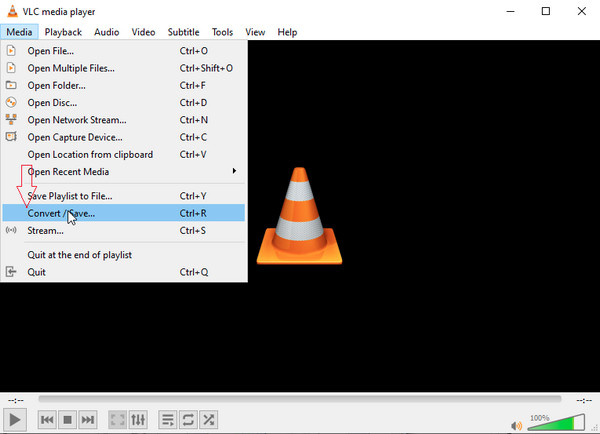 Step 2In the Open Media window, hit Add with the Plus icon to import your WebM file. After adding it, click on the Convert/Save button.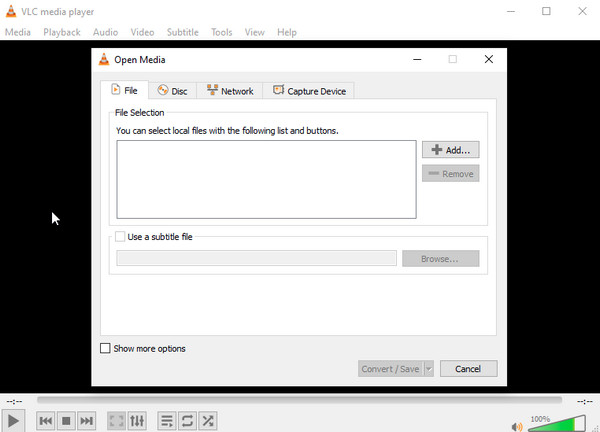 Step 3After that, navigate to the Profile menu, then select MP3 audio as your format. You can make some adjustments in the Gear icon beside it.
Step 4Then, go to the Destination below, and click on Browse to select the file destination. If satisfied, you can click on Start to convert WebM to MP3. When the conversion completes, go to the folder where you saved your converter MP3 file.
Part 3: How to Use FFmpeg to Convert WebM to MP3 Audio
The second method to convert WebM to MP3 is through a smart-command tool, FFmpeg. You can quickly convert your WebM file with it since it automatically chooses the proper codec and container. Plus, you can use it for Windows, Mac, Linux, and other operating systems. To convert your files with FFmpeg, see below the detailed guide.
Step 1Download and launch FFmpeg from the official website. Go to the Start button on the bottom-left corner of your screen, then type cmd. Click on the Enter key to enter a new window.
Step 2The command-line window will appear, which you have to write at the cd then press Enter on your keyboard. After that, type cd FFmpegTool to enter the FFmpegTool folder.
Step 3Finally, enter the command to convert WebM to MP3 - ffmpeg -i myvideo.webm output.mp3

The "myvideo" is the name of your WebM file.
Part 4: Detailed Steps to Transfer WebM to MP3 Online for Free
After knowing all the programs you can use to turn your WebM file into MP3, you can also do it online! The 4Easysoft Free Video Converter is an online converter that provides over 300 video and audio formats, including MOV, VAI, MO3, WAV, and more. Plus, adjusting video and audio settings, such as the resolution, frame rate, audio codec, etc., are supported. And, in contrast with other online converters out there, this online tool lets you convert video with high quality at ultra-fast speed and provides you no limit in file size. Go to the 4Easysoft Free Video Converter main page to convert WebM to MP3.
Besides supporting the MP3 format, it supports more than 600 file formats and lets you extract audio from video.
Enable you to customize video and audio settings, including resolution, audio codec, channels, etc.
Convert video to other formats at a fast speed but still ensures to give you a high-quality output.
Support batch conversion to get all your converted multiple files at once without signing up and downloading.
Step 1On the main page of 4Easysoft Free Video Converter, click on the Convert Video Now button to start. If you're using it for the first time, you may need to install the 4Easysoft Launcher; it is quick to download and completely safe. Then, add your file.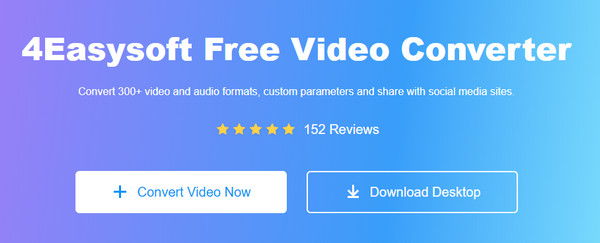 Step 2Select your desired by going to the Musical note icon on the right. Then, audio formats will be there; click the radio button of MP3. If you want to change some settings, you can click on the Settings button with a Gear icon.
Step 3Once done, hit the Convert button below to save the converted MP3 file to your computer.
Part 5: FAQs about How to Convert WebM to MP3
What type of compression does WebM support?

WebM uses VP8 or VP9 compressed video streams. It also has VP8 or VP9 audio streams with a Vorbis or Opus codec.

How to convert WebM to MP3 on Mac?

Fortunately, you can download the VLC Media Player on your Mac, so you can use it in converting WebM to MP3. Furthermore, you can also consider using other applications available on your Mac to help you convert; consider using the one discussed in Part 1, which is the 4Easysoft Total Video Converter.

Does converting your WebM file to MP3 affect the audio quality?

If the WebM file has low resolution, the converted MP3 can result in low-quality output also, regardless of how good the converter is. So, ensure you have a high-resolution WebM video with an excellent audio quality output.
Conclusion
And that's it! You have learned how to convert WebM to MP3 using excellent programs, like VLC and FFmpeg, and one online tool, the 4Easysoft Free Video Converter. This post has shared all the best and easy methods to convert. However, you can choose based on your needs and wants, but for professional and secure software, go to 4Easysoft Total Video Converter. The program provides no size limit, high-quality output, and ultra-fast conversion speed. You can also edit and customize your video and audio settings and ensure you will get the desired quality.
Related Articles