MOV VS. MP4: Explore Which One is Ideal in Every Aspect [Comparison]
If you search for the best format on the internet, you may encounter MP4 or MOV format. They are both commonly-used video formats in our daily life. Now, which of them is the best? Let this article answers that question! This post highlights the differences between MOV vs MP4 in different aspects. It also features the best tool to convert them! Explore them now!
Part 1: Introductions to MOV and MP4: What Are Their Differences?
These two come with similarities, but they also vary in different aspects. Before exploring the differences between MOV VS. MP4, let us first explore their definitions.
What is MP4? MP4 is a multimedia file container created by Motion Picture Experts Group or MPEG. Today, this format is considered the Universal format for which most devices and platforms support it. Moreover, this format contains video, audio, and other components for video playback. Furthermore, it is a compressed format, but it enables you to choose compression to get the best quality, even in small sizes.
What is MOV? MOV, on the other hand, is also a digital container that holds video, information, media chapter, etc. Apple developed this format which is compatible to play across Apple devices, platforms, and players such as QuickTime. Moreover, just like MP4, this format also utilizes lossy compression, reducing video sizes with minimal quality loss.
Now those are some of the brief definitions between these two formats; it's time to explore their differences in Size, Quality, Usage, and Platforms.
File Size MOV VS. MP4 - When we talk about file size, MP4 is typically much more compressed than MOV; this means that MP4 files are smaller than MOV. Additionally, MOV is not ideal for video sharing, uploading, or storing due to the amount of its size.
MOV VS. MP4 Quality - Despite having the largest file size, MOV is the best pick format when we talk about high-quality. This is because MOV often contains a high bitrate with little or sometimes no quality loss in every compression. So, MOV comes with high quality than MP4.
Usage MP4 VS. MOV - MOV is a proprietary Apple format intended for media playback under QuickTime and other Apple devices. On the other hand, MP4 is an international standard, meaning it is made to support various media players, devices, and social media or video-sharing platforms available today.
MP4 VS. MOV Platforms - MP4 has a great range of compatibility, and most streaming platforms recommend it over MOV Platforms that are accessible online suggest users upload videos in MP4 format; this is because, although MOV's quality is better than MP4 and it is also a format that can be streamed, MP4 is much lighter and easier to upload and stream.
Part 2: Best Way to Convert between MOV and MP4 Formats
Now that you know the differences between these formats after exploring the MOV vs MP4 with different aspects, it is more transparent for you now which one really suits your needs. If you need to convert them, whether MOV to MP4 or another way around, the 4Easysoft Total Video Converter tool is your best pick! This tool can convert video files into 600+ formats and devices. Additionally, it converts several video files in MP4 or MOV format at ultra-fast conversion speed without limitations. Moreover, it is also infused with output tweaking options where you can enhance your video's quality further.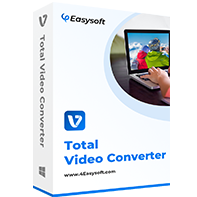 4Easysoft Total Video Converter
Infused with machine learning computations and Blu-Hyper technology responsible for converting your videos at Ultrafast speed while maintaining the quality.
Equipped with tweaking features that you can use to modify the quality, resolution, frame rate, bitrate, etc., of your video.
Capable of converting a bunch of video files simultaneously without lagging issues.
Support video redefining features you can use to bring your video to another level by applying filters, themes, audio tracks, etc.
How to use the 4Easysoft Total Video Converter tool to convert MOV to MP4, Vice Versa, or with other formats:
Step 1Visit the 4Easysoft Total Video Converter tool on your Windows or Mac computer. After that, launch it and click the Add button to import the file you wish to convert either into MOV or MP4. Select the file from the folder window and tick the Open button.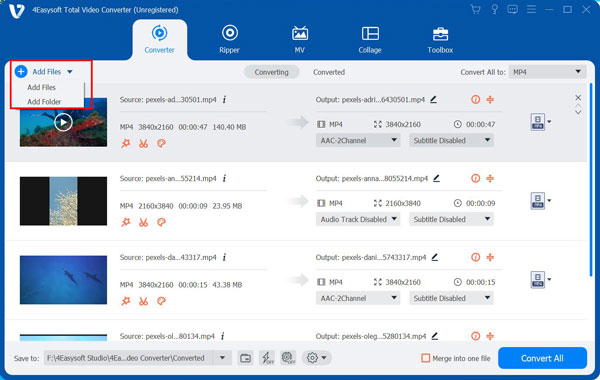 Step 2Next, click the Convert All to dropdown menu option at the upper right corner of the tool. On the pop-up window, select the Video tab. If you want to convert an MP4 file into MOV, select MOV format from the list, and vice versa, tick the MP4 format if you wish to convert MOV to MP4.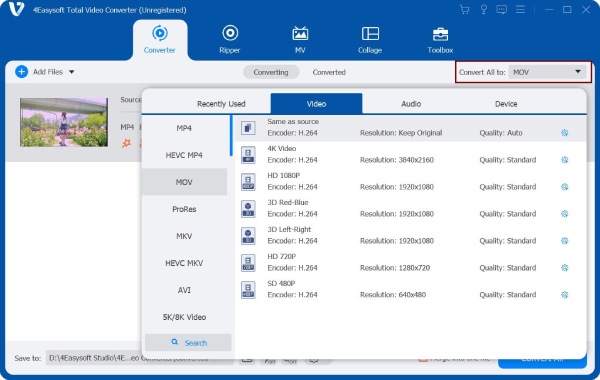 Step 3To ensure you'll have the best quality, click the Custom Profile button with the Gear icon. On the Edit Profile window, select High Quality under the Video Quality; you can also select your preferred Encoder, Frame Rate, Resolution, and Bitrate. If you are satisfied with the arrangements, click the Create New button.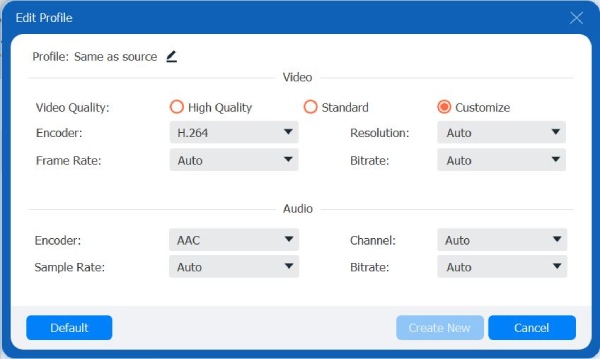 Step 4After that, choose your preferred storage path by clicking the Save to dropdown menu. Then, once satisfied with your setups, tick the Convert All button.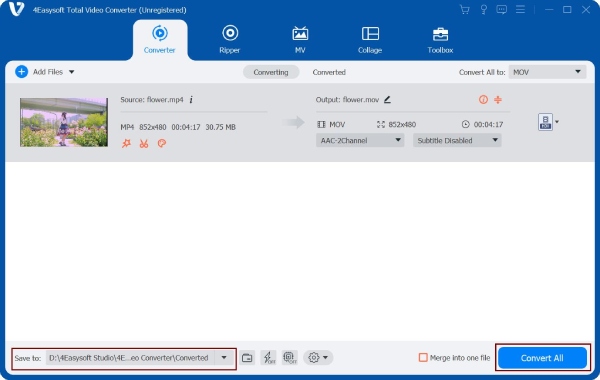 Part 3: FAQs about MOV VS. MP4 Formats
Which is the best format between MP4 VS. MOV?

It greatly depends on your needs. If you wish to have a high-quality video for watching movies on your computer or TV, then you must utilize MOV. Conversely, if you want to upload a video or watch it without considering a media player, then MP4 is what you are looking for.

Can I play MOV on Windows?

Yes, you can! MOV can also be played and stored on Windows computers. However, you can't possibly open it under Windows Media Player if you don't have 3ivx codec software installed.So, you can convert MOV to MP4 to solve the playback isue.

Is it possible to play MOV files on Android?

Unfortunately, you can't. Android doesn't have a built-in MOV player. But you can use VLC Media Player to play them or convert them using the 4Easysoft Total Video Converter tool, which supports various device presets, including Android.
Conclusion
That's it! Those are the differences between MP4 VS. MOV. With the information above, you'll clearly see which is the best in terms of quality and which comes with a wide range of compatibility. It might be hard to choose which one to use, but at the end of the day, it still depends on what you need. If you need to convert whether from MP4 to MOV or vice versa to meet your needs, the 4Easysoft Total Video Converter tool is your best pick ally! Feel free to visit the tool's official website to explore more about it today!
Related Articles: