iPhone Unlocker
Unlock all your iPhone/iPod/iPad by wiping passcode and remove Apple ID completely.
Disconnect iPad from iPhone - 4 Ways to Do it with Alternatives
"How do I disconnect my iPad from my iPhone?" Although, syncing an iPad to your iPhone is a substantial way to connect with your files even if you don't have one. However, this might also cause confidential data leakage. That means syncing could be a threat to your data. Luckily, you found this page! Continue exploring this article until the last part to see the easiest ways to "disconnect iPad from iPhone" and the excellent tool to help you!
Part 1. 4 Easy Ways to Disconnect iPad from iPhone [Detailed Steps]
1. Ways to disconnect the iPad from iPhone using iTunes.
Looking for a way to stop songs, playlists, movies, TV shows, etc., from syncing on your iPad from your iPhone? Then you need iTunes to disconnect your iPad from iPhone. Aside from those media files, you can also unsync contacts to hide them from your other iOS devices. You can sync files through iTunes; you can disconnect them through iTunes as well. These are a few steps to do it.
Step 1On your computer, launch the iTunes app and log in with your Apple ID.
Step 2Tap the Account button beside the Controls option and click the View My Account.
Step 3Then, enter your password and click Manage Devices under Downloads and Purchases to see the various devices associated with your Apple ID. After that, tap the Remove button next to the device.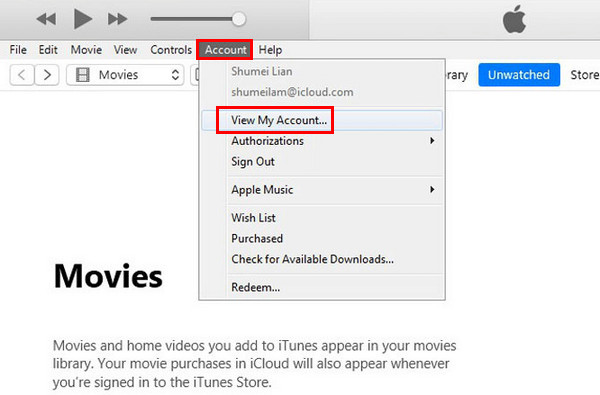 2. How to disconnect iPad from iPhone with iCloud.
If you only need to do the "disconnect iPad from iPhone" process without unlinking them thoroughly, then disconnecting them through iCloud is what you need to do. This option enables you to disable some files by turning them off according to your preferences. Here are the steps to do it.
Step 1Open the Settings app on your iPad device.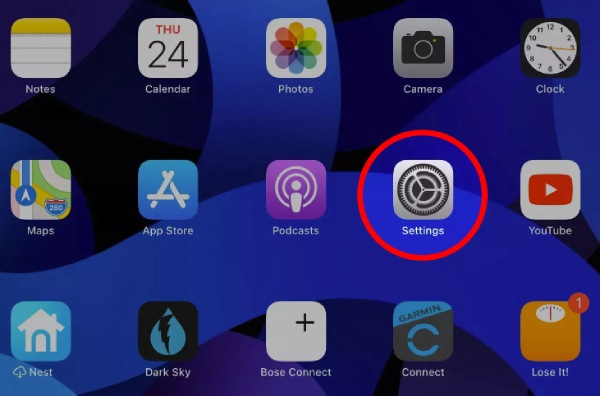 Step 2Tap your Apple ID user name to open the Apple ID setting options.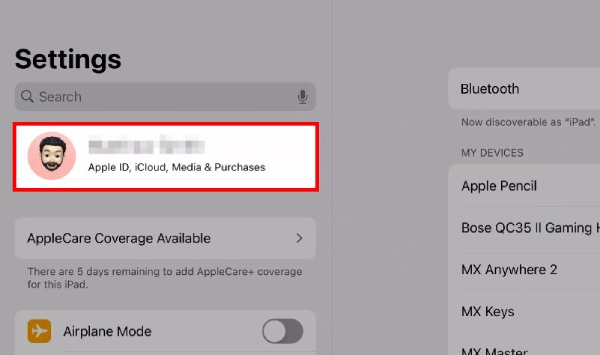 Step 3Tap iCloud, and there you will see a list of different applications. Select the apps you don't want to be synced on your iPhone. Tap the corresponding switch toggle to turn them off. In this way, you can be able to manage data syncing between iPad and iPhone.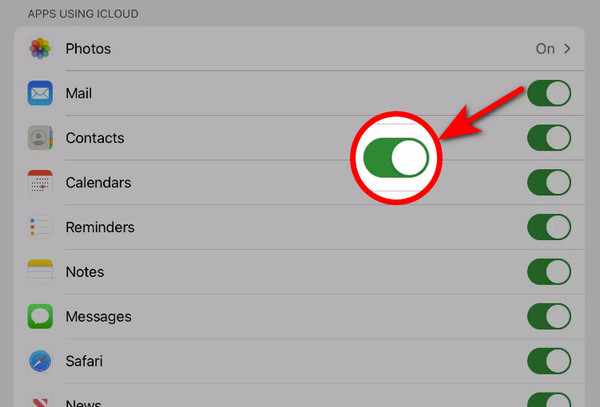 3. Four steps to disconnect iPad from iPhone through Apple ID.
Eradicating your Apple ID on your iPad will disconnect it from your iPhone. Also, this process will no longer be synced files and settings between these two iOS devices. To do it, here are the simple steps to follow. The simple steps below will show you how you could disconnect iPad from your iPhone:
Step 1Go to your iPad's Settings app and tap Apple ID user name.
Step 2Select iTunes & App Store and go to Apple ID.
Step 3Click the View Apple ID, and input your Apple ID password if it requires you to.
Step 4To finally stop data sharing between your two iOS devices, tap Remove This Device.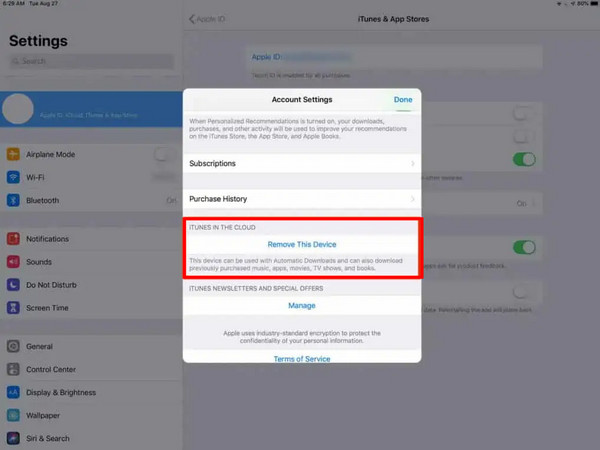 4. Here are the basic way to Disconnect iPad from iPhone from Handoff.
Handoff is an Apple feature used to sync various applications across other devices. This Apple feature enables you to continue sessions you've done on your iPad or iPhone on other devices like Mac. That means all of your activities are being transferred to other devices. You can turn this off to disconnect your iPad from your iPhone; here are the steps.
Step 1Tap the Settings app on your device and hit General.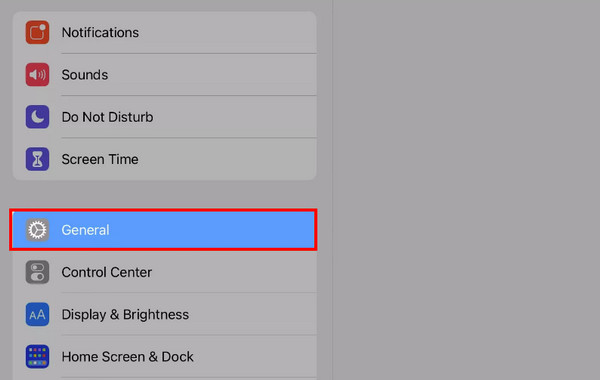 Step 2To turn off the Handoff feature. Click the AirPlay & Handoff option and toggle the Handoff switch.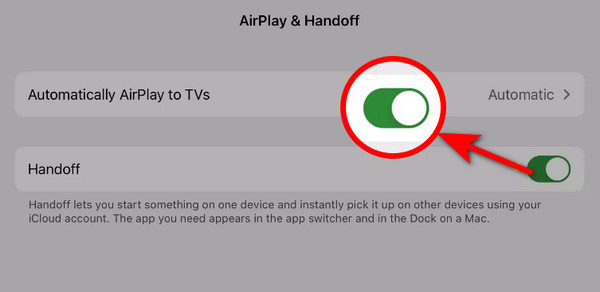 Part 2. How to Disconnect iPad from iPhone without iTunes/iCloud/Apple ID
If you need to have a hassle-free and direct;y disconnect of your iPad from your iPhone, 4Easysoft iPhone Unlocker is the suitable tool. This tool enables you to remove Apple ID on your iPad or iPhone to disconnect them and prevent files and setting syncing. Moreover, you can ensure of best result with only a few clicks. Furthermore, this tool is also infused with other features you can use for free and with Windows and Mac platforms.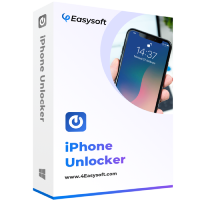 4Easysoft iPhone Unlocker
Support many different iPhone, iPod, and iPad models or versions.
Offer three different and practical features to regain iPhone or iPad in any situation: Wipe Screen Password, Remove Apple ID and Unlock Screen Time.
Capable of bypassing screen time issues without any data loss.
Infused with the ability to remove Apple ID from a specific iOS device.
How to disconnect iPad from iPhone using 4Easysoft iPhone Unlocker
Step 1Free download and install 4Easysoft iPhone Unlocker on your Windows or Mac platforms. After that, connect your iPad to your computer. Then, launch it, click Remove Apple ID, and tick the Trust button on your iOS devices.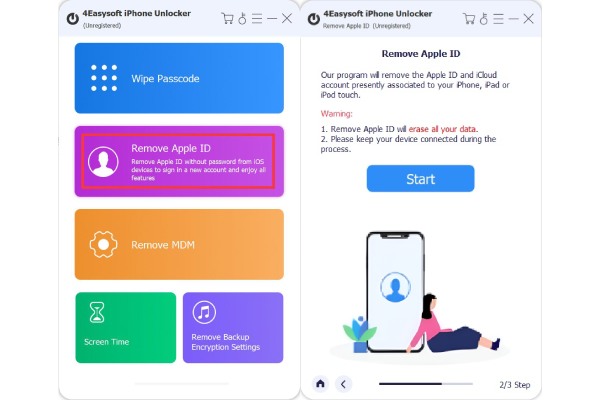 Step 2Start removing the Apple ID on your iOS device by clicking the Start button. The tool will undergo some processes which will take a few minutes only if the Find My iPhone/ iPod function is on or off.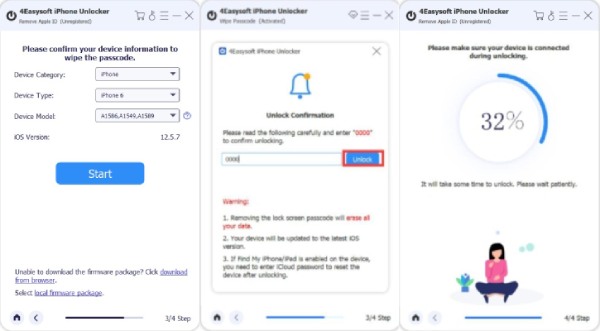 Step 3Enter 0000 in the input box and click the Confirm button beside it. Check the information related to your device, and then tick the Start button to download the firmware package.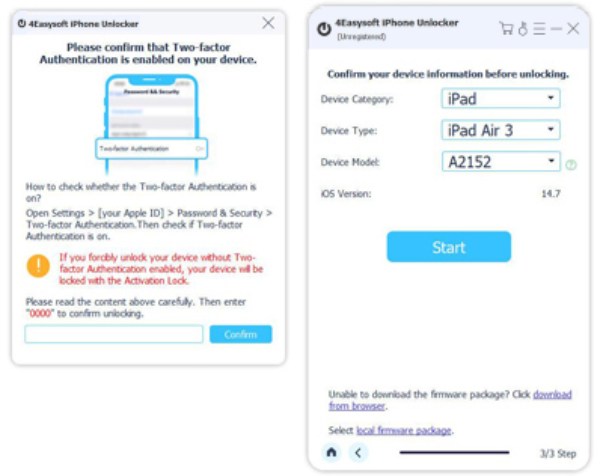 Step 4After downloading, enter the 0000 again and click the Unlock button to start the removal. Please follow the instruction carefully for the successful activation of your iOS device.
Part 3. FAQs about How to Disconnect iPad from iPhone
Can I delete a photo on my iPhone but keep it on my iPad?

Unfortunately, you can't. Once you delete or remove a photo from your iPhone, it will also take effect the same way on your iPad. This scenario happens when iCloud sharing is on, so you need to turn it off so you can still preserve or keep your photo on iCloud, which can access through your iPad.

When I uninstall an application from the iPad, will it also be uninstalled from my iPhone?

The answer is no. Deletion of an application by uninstalling it on your iPad doesn't affect the same application on your iPhone, whether they share the same iTunes Store or iCloud account.

How do I disconnect the iPad from iPhone phone calls?

Launch the Settings app on your iPhone to disconnect your iPad from iPhone phone calls. Scroll down and tap the Phone option. Then, select Calls on Other Devices and toggle the Allow Calls on Other Devices switch to turn it off.
Conclusion
There you have it! Those are the ways to help you disconnect iPad from iPhone easily. Try those four workable ways and see the best method to help you achieve your desired iPad-to-iPhone disconnection. As you have noticed, we also recommend 4Easysoft iPhone Unlocker for you to use. This tool can directly remove Apple ID on your iPad or vice versa. Aside from that, it offers many other features to solve any other iPhone and iPad issues. It is the best tool to help you with "how do I disconnect my iPad from my iPhone?". Feel free to download and use it now!
Related Article