How to Copy and Backup Your Old DVD Discs [A 2023 Update]
Having a large collection of DVDs, you probably realize that DVDs are prone to damage and content loss. To avoid these things, developers created DVD Copiers that let users copy and backup DVDs to digital format storable on multiple devices. If you have tried looking for this tool, you might get overwhelmed by how many of them! Luckily, you are here! This post featured 8 of the best DVD Copier tools with their pros and cons for you to copy and backup DVDs. Explore them now!
Part 1: The Best Way to Rip/Copy/Backup DVDs on Windows/Mac
If you are looking for a DVD Copier tool that provides you with advanced DVD ripping, copying, and backup contents along with its powerful features, then the 4Easysoft DVD Ripper tool is what you are searching for. Without limitations and restrictions, this tool can rip homemade or commercial DVDs at 60X faster. Moreover, it can copy DVD contents and transfer them into a new format while preserving their original quality. Furthermore, if you wish to back up those ripped and copied DVD contents into a specific device, you can choose from this tool's offered device presets. These are just a glimpse of this DVD Copier tool's features and capabilities; it still has much to offer!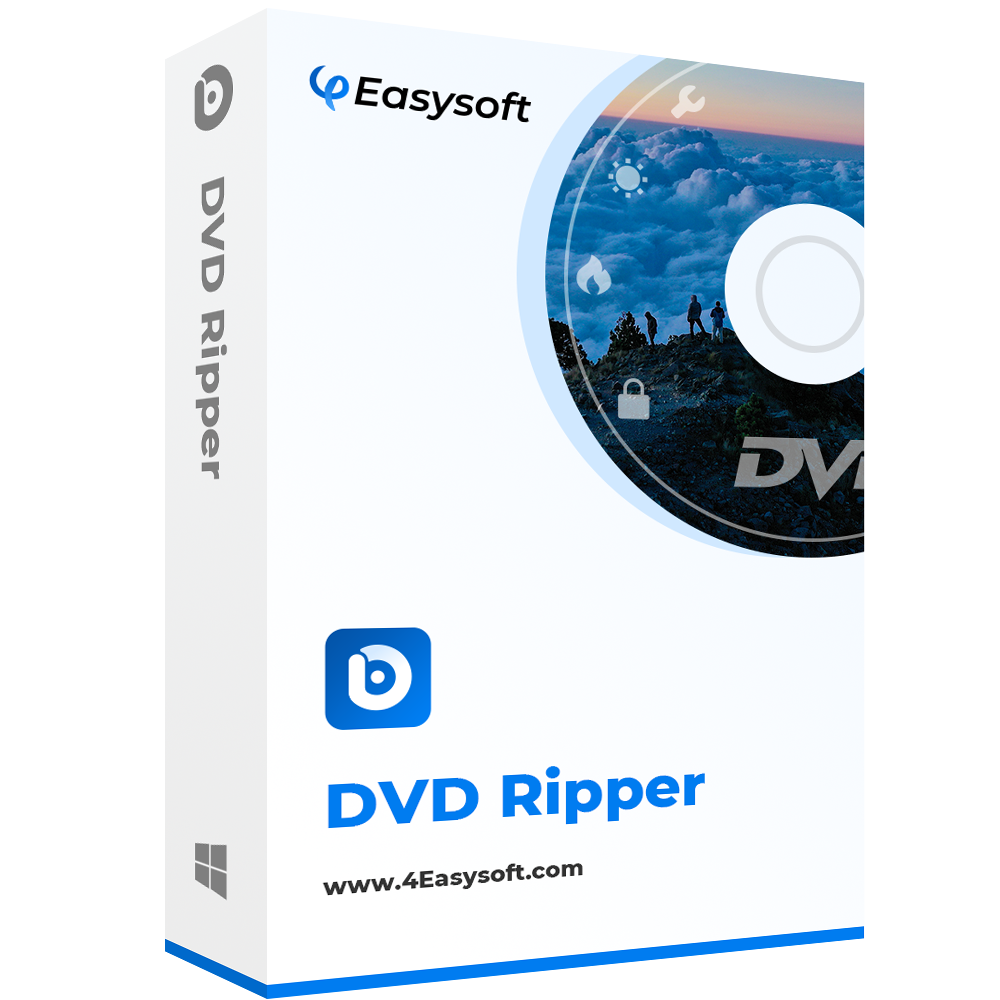 4Easysoft DVD Ripper
Integrated with Hardware Acceleration Technology by Intel CPU, Nvidia GPU, AMD, Multi-core CPU & Hyper-Threading that provides 60X DVD ripping speed.
Offer 600+ digital formats and device presets to convert homemade and commercial DVD content.
Support DVD conversion of those comes from Amazon, DVDs with region code CSS, APS, RC, Sony DADC, etc., without any restrictions.
Equipped with the ability to back up DVD contents to various devices without any quality loss.
How to Copy and Backup DVDs using 4Easysoft DVD Ripper:
Step 1Download and install the 4Easysoft DVD Ripper tool on your Windows or Mac computer. After that, launch the tool, select the Load DVD dropdown menu, and Load DVD Disc. Then, insert your DVD into your computer's DVD drive.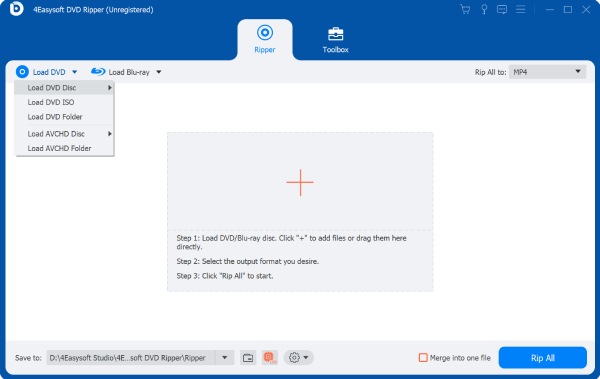 Step 2Next, your DVD contents will be automatically displayed on the tool's interface. Tick the Full Title List button and click each of the title's checkboxes you wish to copy and backup. Then, confirm your selection by ticking the OK button.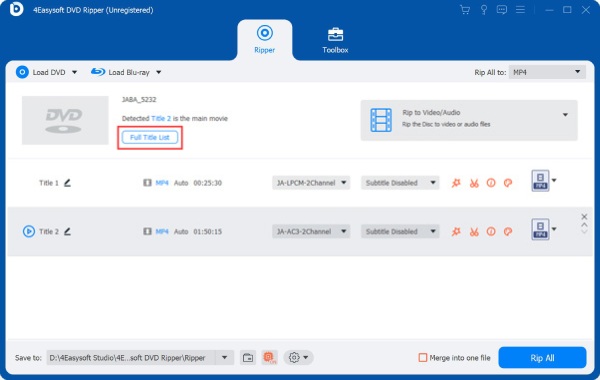 Step 3After that, select the Rip to Video/Audio option and click the Rip All to dropdown menu button at the upper left corner of the tool. Then, on the new window, select the Video tab and choose which format you want to save your DVD content. You can convert it into an MP4 format to back up your DVD content on various devices.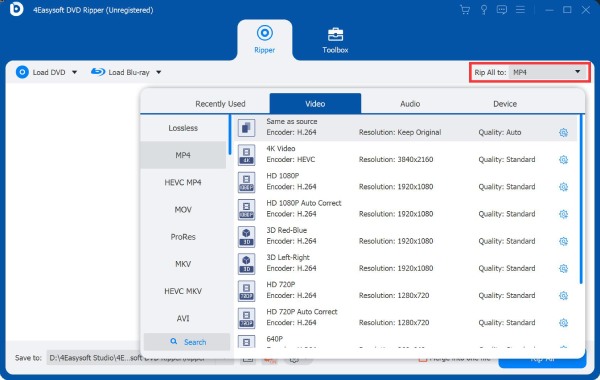 Step 4Once satisfied with your overall selection, click the Rip All button at the lower left corner of the tool to start the DVD ripping and conversion process.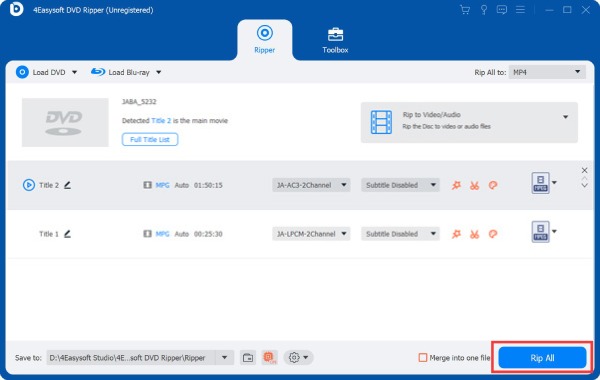 Part 2: Top 7 Software to Copy and Backup DVDs Easily
Now that you have discovered how to rip, copy, and backup DVDs using the best DVD Copier, here are the 7 other excellent tools developed to provide an easy-to-execute DVD copying and backup process.
1. DVD Cloner (Windows/Mac)
The first tool on this lineup of the best DVD Copier is the DVD Cloner. This tool is also one of the professional DVD Copier tools on the market. With its advanced features, you can copy and back up any DVD with different region codes and copy protection system. Additionally, this tool is fantastic because it provides users with various DVD copying methods such as movie-only copy, 1:1 DVD copy, and customized copy options, making the DVD copying process easy.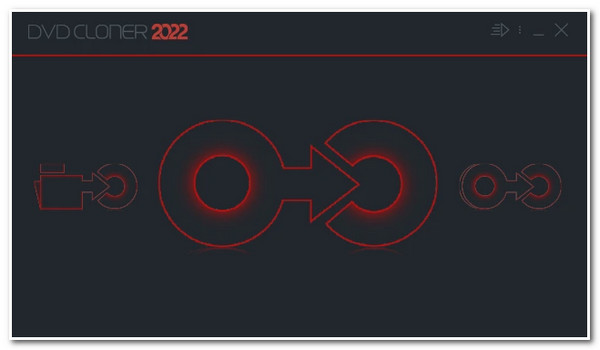 Pros

Support copying various contents from an encrypted or protected DVD.
Provide users with multiple DVD copying modes.
Offer other outstanding features, including a DVD Burner.
Cons

Come with a difficult-to-understand interface, requiring much time to learn the tool.
Not an ideal tool for average users, especially its built-in customization settings.
The upgraded version is quite expensive.
2. HandBrake (Windows/Mac/Linux)
Another tool you can use as your DVD Copier is the Handbrake. If you are looking for a totally free tool, this tool is for you. Handbrake is an open-source multi-platform tool that can easily copy, backup, and rip DVDs. Additionally, support various formats and device presets to convert your DVD contents to make it storable across different devices. Moreover, it is equipped with the ability to restore old-quality videos on your DVD, thanks to its output-enhancing features.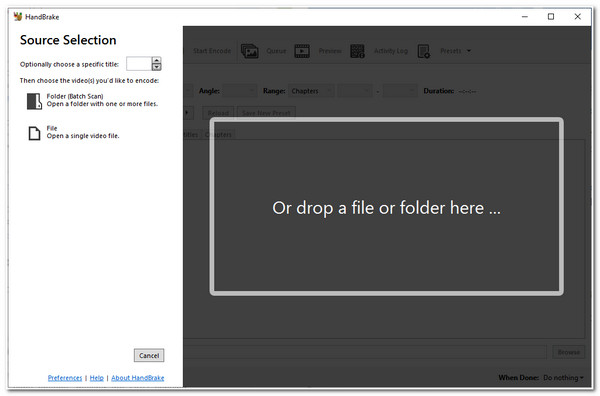 Pros

A user-friendly interface and a straightforward DVD copying process.
Support copying a batch of DVD content and converting them to a specific format.
Support a large number of presets.
Cons

Support limited digital formats to convert your DVD content.
You need to install libdvdcss before you can work with certain DVDs.
It is linked to various log errors.
3. Freemake DVD Copy (Windows)
You should also try using Freemake DVD Copy as your DVD Copier tool. This is equipped to copy DVD content and transfer it to another DVD, external drive, USB, TV, iPad, or any device. Moreover, it supports many DVD types, such as DVD+R/RW, DVD-R/RW, DVD+R DL, DVD-R DL, and Blu-ray. Insert a DVD-5, DVD-9, and DVD-10. Furthermore, this tool enables users to customize their DVD copying processes, such as choosing which video to copy, copying disc subtitles, and creating a customization menu.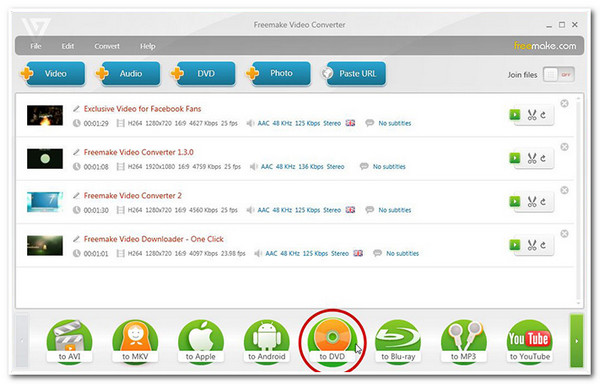 Pros

Friendly user interface.
Easy-to-use features.
Support various types of digital formats and device presets.
Cons

Support only those DVDs that are unprotected.
Offer a few features under the free version.
Come with annoying advertisements scattered on its interface.
4. DVDFab DVD Copy (Windows/Mac)
Next on the line is the DVDFab DVD Copier. Unlike other tools on the market, this tool supports various options to copy and backup DVDs. It supports Full Disc, Main Movie, Clone/Burn, Merge, Split, and Customized copying processes. Moreover, each of those mentioned options or modes comes with its functions and facilitates excellent backups. Furthermore, it is also made to support copying a batch of DVD content and converting them at lightning speed.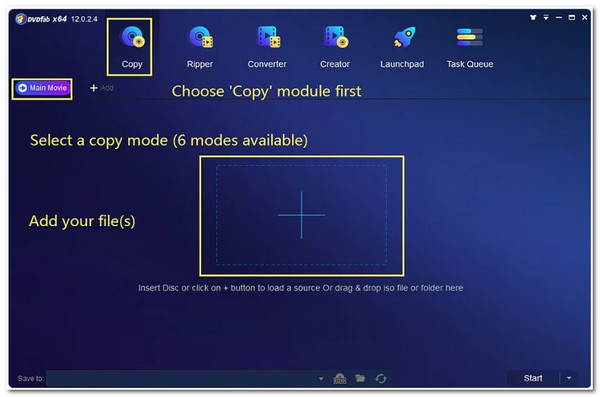 Pros

User-friendly interface with easy-to-understand features.
Offer a lot of DVD copying modes.
Support batch copying process with hardware-accelerated processing.
Cons

The free version comes with a few features.
Only the paid version supports exporting DVDs to digital formats.
5. MakeMKV (Windows/Mac/Linux)
Next is the MakeMKV DVD Copier. Unlike other tools, MakeMKV can copy DVD content and convert it into an MKV format, one of those high-quality formats available today. With that, you can assure of having the best video-watching experience. Moreover, it offers a fast conversion process without additional software for the conversion and decryption process. Furthermore, you don't have to pay before using its full features, for this tool is entirely free!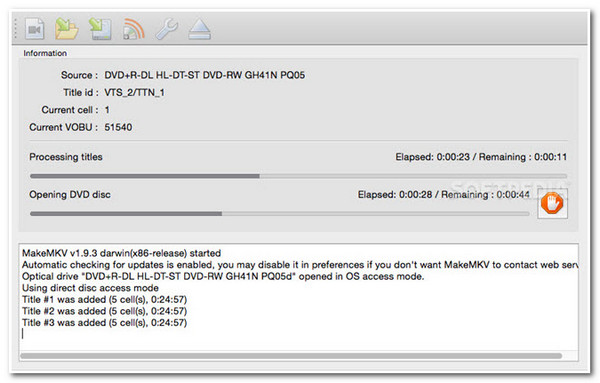 Pros

Easy-to-use feature and user-friendly interface.
After the conversion process, it preserves all the information included in the DVD content.
Cons

Offer no other format or device presets to convert your DVD content.
Automatically convert your DVD content into MKV with a large file size.
Don't support those DVDs that are protected.
6. DVD Shrink (Windows)
Similar to Handbrake, DVD Shrink is also a free-to-use DVD Copier tool that you can use to copy and backup DVD contents easily. Through this tool, you can copy DVDs to an ISO and VIDEO_TS folder. It can also handle DVDs embedded with region restrictions, copy protection, and user protection. Moreover, this tool is also infused with the ability to shrink large files from your DVD to save more space for the target device.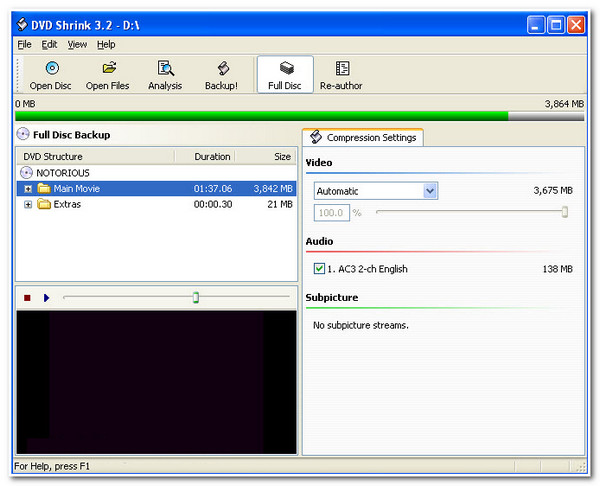 Pros

Free and user-friendly program.
Can shrink large media files on your DVD.
Cons

It is linked to video quality loss issues.
Require you to install another DVD Burning tool.
Offer a few formats to export your DVD content.
7. VLC Media Player (Windows/Mac)
You can also use a VLC Media Player as your DVD Copier. The same goes with Handbrake and DVD Shrink; VLC is also a free and open-source media player that, aside from playing various media files, you can copy and backup various DVD contents through this tool. Additionally, it supports copying content from various types of DVDs.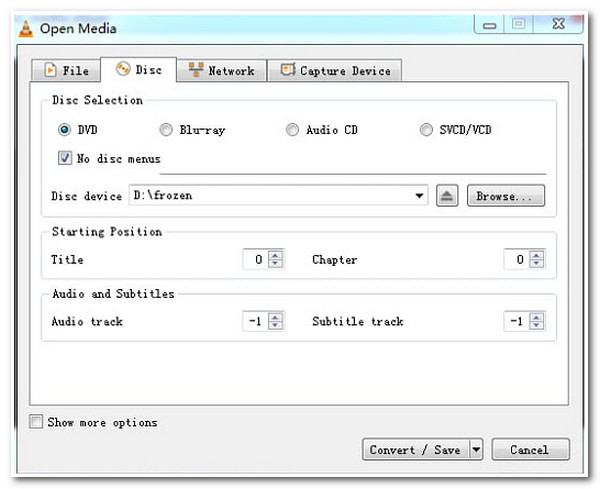 Pros

Support several digital formats.
Offer excellent decoding and encoding functionalities.
Cons

Its DVD conversion process takes a lot of time to finish.
Fail to decrypt and convert protected DVDs.
The features are confusing for some users.
Part 3: FAQs about How to Copy and Backup DVD Discs
1. Is it illegal to copy contents from a DVD using a DVD Copier?

Yes, it is. The main reason why DVDs are embedded with protection is that they want to protect the creator of that content from losing sales due to piracy. But if you keep that copied content from a DVD to yourself, there's nothing to worry about.

2. Can I copy a protected DVD using my Windows computer?

Unfortunately, you can't. Only homemade and unencrypted DVDs can be copied by your computer. If you need to copy content on a protected DVD to preserve and store it on your device, use a third-party application like the 4Easysoft DVD Ripper tool to let it do the job for you.

3. Does VLC Media Player can rip encrypted DVDs?

Yes, it can! However, similar to Handbrake, you need to install libdvdcss on its library before you can decrypt DVDs. Additionally, VLC doesn't rip contents from a DVD; it only records the content and stores the recorded file on your device.
Conclusion
Now those are the 8 best DVD Copier tools you can use to copy various content from different DVDs. With their pros and cons, picking the right tool that achieves your desired ripping, copying, and backup will be easy. But among them, the 4Easysoft DVD Ripper is still the best DVD Copier tool! With its mentioned excellent features, you'll see how this tool can really achieve your desired ripping, copying, and backup need. Feel free to download and install this tool on its official website today!
Related Articles: