9 Best Video Upscaler You Shouldn't Miss - Features, Pros, and Cons
Upscaling your videos and images is best if you want to make them look more attractive and pleasing to everyone's eyes. For you to do this, you need a great video upscaler to help you enhance video quality without much effort and save precious time. Go for an enhancer with AI technology to upscale your videos with resolution improvement, noise cancellation, shaky reduction, etc. To start upscaling, read on to learn the top nine best video upscaling software you can find today! Choose what is best for you.
Part 1: The Best Video Upscaler with AI Technology on Windows/Mac
4Easysoft Total Video Converter is the best video upscaler with AI Technology you can find today. Besides being a converter that supports more than 600 formats, it can enhance video quality, remove background noise, and apply filters with artificial intelligence. In addition, you can do more with this video upscaler with its editing toolkits; it lets you put videos side by side, apply slow-motion and fast-motion effects, add watermarks, create customized GIFs, and so forth. To try this best video upscaling tool, download it now and follow the detailed guide below.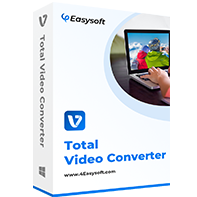 4Easysoft Total Video Converter
Offer a 60x fast speed, allowing you to have upscaled results in no time.
Let you apply professional filters, remove noise, and enhance video quality, including 1080P and 4K with AI technologies.
Optimize the brightness and contrast to make your videos more beautiful and attractive.
Remove shaky parts and dirt-like video noise to make your video more stable and cleaner.
Step 1Download and install 4Easysoft Total Video Converter, then launch it on your computer to start the upscaling process. To enhance the video, click Toolbox. There, you'll see a lot of toolkits offered by the program; click the Video Enhancer.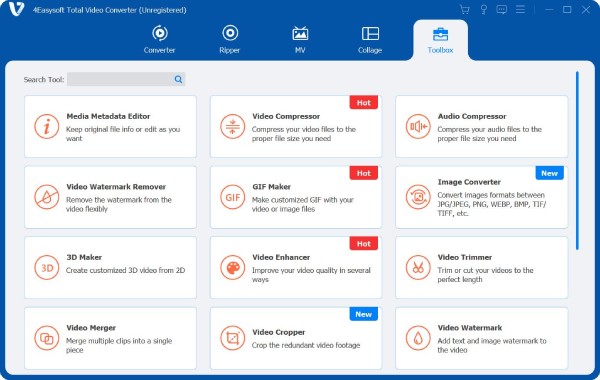 Step 2Add the video file by clicking the Plus button in the middle, then four options will appear to improve the video quality, which is Upscale Resolution, Optimize Brightness and Contrast, Remove Video Noise, and Reduce Video Shaking. Click the Upscale Resolution checkbox. You can also click other options; it depends on you.
Step 2To check the upscaled video resolution, click Preview on the right side of the program. You can also choose the resolution, output format, and edit the video by cutting. Once done, click Enhance to get your upscaled video with this video upscaler.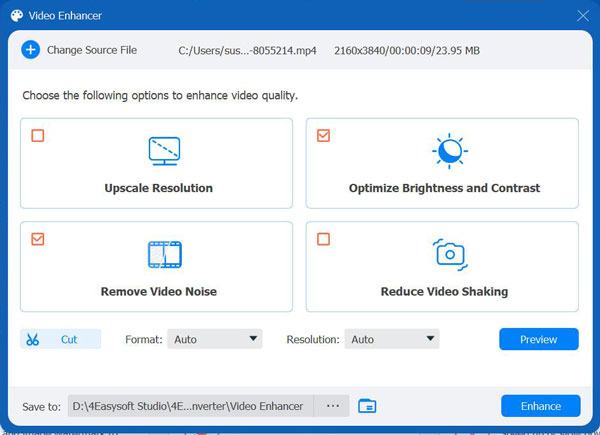 Part 2: 8 More Video Upscaler Tools: Features, Pros, and Cons
1. Topaz Video Enhancer AI
This video upscaling developed by the Topaz Labs is capable of upscaling low videos with a low resolution of up to 8K UHD - with details and consistency. Because of its AI Technology, you can enhance video with this video upscaler regardless of what camera you use to make the video more beautiful. Plus, Topaz Video Enhancer AI users can upscale video images up to 600% losslessly.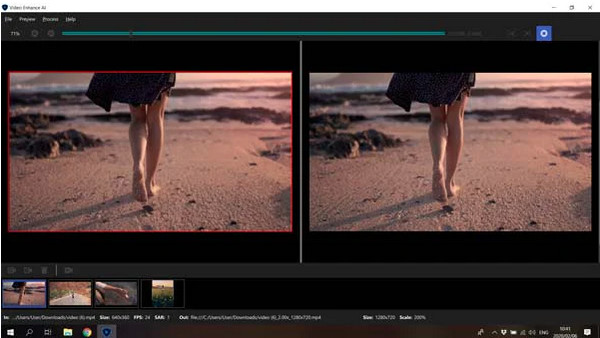 Pros

Supports HD to 1080P or 4K, up to 8K.
Sharpen the edges of your video clips to make them clearer.
Improve colors and tones in your videos, making them more realistic.
Cons

Isn't a price-friendly application.
In the free trial, videos come with watermarks.
2. DVDFab Video Enhancer AI
The following excellent video upscaler is the DVDFab Video Enhance AI. It supports artificial intelligence to improve the quality of all your videos. Additionally, this program offers an intuitive interface, allowing anyone to quickly understand and memorize its tools and functions for video upscaling. With DVDFab, you can enhance videos with a low quality resolution to 4K. It also supports many formats, so you can use it with almost any video file.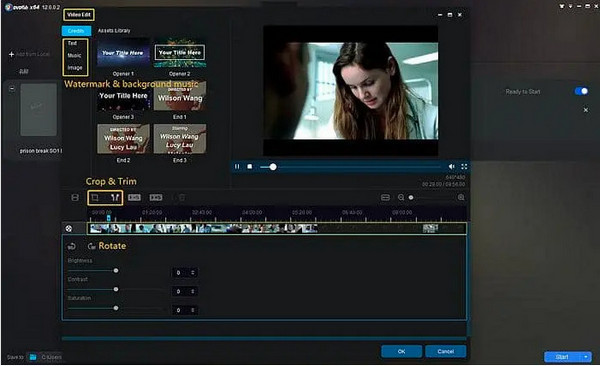 Pros

Easy-to-manage and memorize interface
Supports 4K UHD resolution.
Support a wide range of formats to export upscaled videos.
Cons

Support Windows platform only.
Limited upscaling options and low speed to upscale.
3. Pixop
Pixop is a video upscaler with a great AI option. If you want the highest video quality, Pixop's AI and ML filters make it easy to upscale videos from SD to 8K UHD. It has AI denoising, Ai deep restoration, AI deinterlacing, and more. Furthermore, no downloads, other applications, or editing knowledge are required for you to upscale videos with Pixop. All you need is this video upscaler and a strong internet connection.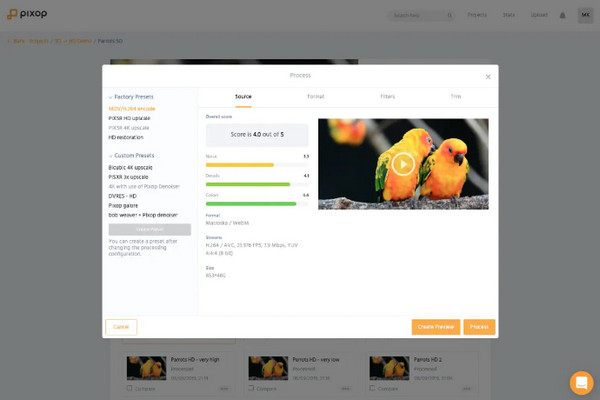 Pros

Fast video upscaling makes you see the result immediately.
Supports upscaling videos up to 8K.
Able to to compare the original video to the upscaled one.
Cons

Only support four formats, MP4, MXF, M2TS, and MOV.
Few editing tools are provided.
4. Video 2X: Free and Open Source AI Video Upscaling
Another excellent video upscaler is Video 2X. Its AI Technology allows users to upscale videos to 4K resolution, enabling them to watch all videos on high-resolution screens. Plus, it not only can upscale videos but it can also increase the resolution and frame rates of images and GIFs. If you don't want to wait for a long time waiting for the upscaled results, use Video 2X, as it offers a fast upscaling video process.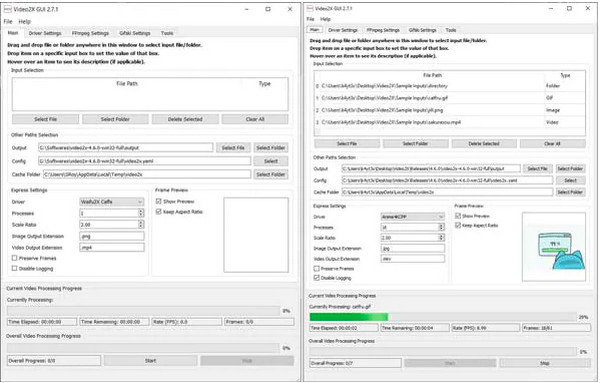 Features:
It supports many video formats, allowing you to upscale videos no matter what the format is.
Uses advanced algorithms that improve the quality, resolutions, and sharpness of your video.
It provides realistic results without pixelation and any other artifacts.
Fast video upscale so that you won't waste time waiting for the results.
Pros

Can upscale videos to 4K.
It provides a preview pane.
Cons

May experience loss of files.
5. AVCLabs Video Enhancer AI
AVCLabs Video Enhance AI is one of the best video upscaler with AI available today. It provides users with sharper and more realistic videos through the use of its artificial intelligence. The AI solutions include Video Upscaler and Enhancer, Background Removal, Denoiser, and more. You can quickly achieve the high-quality result you need because of its batch processing and upscaling process speed.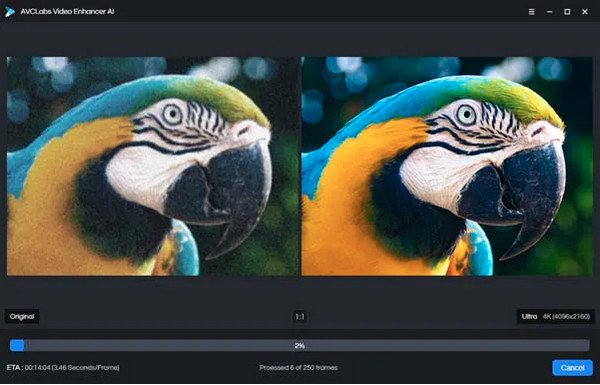 Pros

Enhance videos 4 times from 720P to 4K.
Allow you to remove noise and blurriness.
4 modes to upscale: Standard, Ultra, Single-image, and Multi-frame.
Cons

Only works with Windows.
Upscaling speed is relatively slow.
6. iSize
A video upscaler that provides the highest quality for users is the iSize - another great video upscaling program. Developed by iSize technologies, it can process any input content, like videos from sports, games, footage, entertainment, etc. The iSize video upscaler lets you watch your videos in resolutions up to 4K and 8K and is compatible with formats like MP4, MKV, WebM, and more.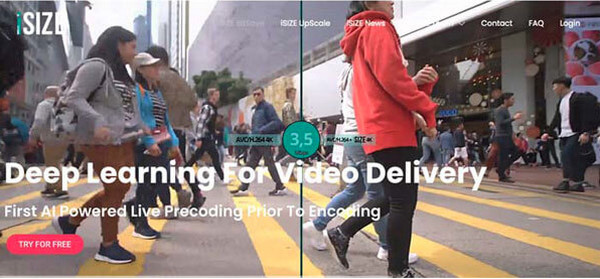 Pros

Upscale both videos and images up to 4K and 8K.
Fast conversion process of batch videos.
Adjust the video parameters, like details, sharpness, etc.
Cons

It has a complicated interface - not for beginners.
Hardware is not regularly updated.
7. MiniTool Video Converter
Minitool Video Converter is a video upscaler that supports using AI Technology. Aside from turning audio to video and vice versa, it can also be used to upscale videos. It supports more than 1000 formats and resolutions, such as 4K, FHD, HD, etc. You can also use this program to record screens with audio from both the computer and microphone and have a higher exported video quality.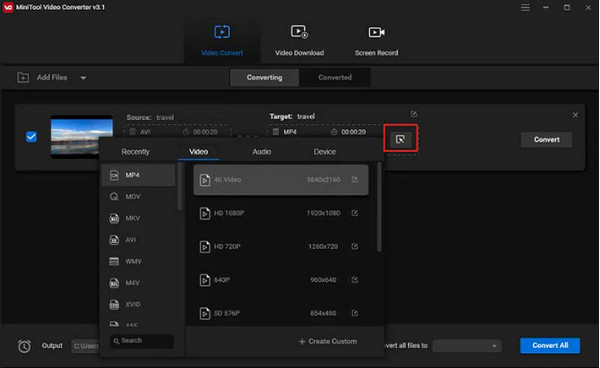 Pros

Support 1000+ video and audio output formats.
Allows you to record screen without a watermark.
It enhances both video and audio.
Cons

High-end PC specifications are needed to run.
Works with Windows only.
8. GDFLab
GDFLab is one of the best choices if you choose to upscale videos. With artificial intelligence, this video upscaler lets you take low-resolution videos to high quality. You can watch your old movie and shows with HD quality without blurriness and pixelation. Besides having an AI Upscaler, it also has AI Denoise, AI Detection, and AI Super Resolutions with AI Boost Engine, making the AI perform faster.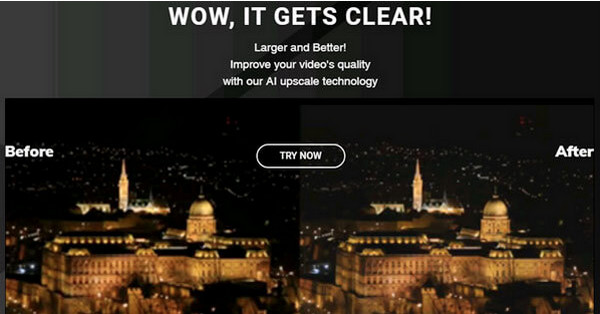 Pros

Upscale videos up to 4x to a high resolution.
Uses cutting-edge technology to improve the quality of your video.
A cloud-based video upscaler without any hardware limitation.
Cons

Requires registration before use.
Too complex interface for beginners.
Part 3: FAQs about the Best Video Upscaler
Is Topaz Video Enhancer AI free?

When you first try the Topaz Video Enhancer AI, you must log in before using it. You will have a 30-day free trial.

Does AVCLabs Video Enhancer AI support upscaling to 8K?

The program can upscale videos from 480P to 1080P, 720P to 4K, and up to 8K. With AI, you can get high-quality video with AVCLabs.

How can I enhance video quality for free?

If you are looking for a free video upscaler, try Video 2X. AI Technologies let you upscale videos to 4K, allowing you to watch on high-resolution screens. To know more, you can read the review about this video upscaling software above.
Conclusion
Upscaling video is one of the best ways to bring amusement to society as it offers high-quality videos. If you are still searching for software to help, consider using the best video, more upscale with AI, discussed in this post. With AI Technologies, each software will bring you the best quality you need. You may want an excellent and powerful video more upscale, then use the 4Easysoft Total Video Converter! With more than 15 toolkits, one is the Video Enhancer, which lets you improve the video quality with four options to choose from. Enjoy your upscaled videos now with 4Easysoft Total Video Converter - the best video upscaler.
Related Articles