How to Convert Twitter Video to GIF to Make Memes on Desktop/Online
Sharing video memes can be part of your daily life as it brings your friends happiness. If you're a Twitter fan, you know you can find many funny videos on it and would want to make a GIF by converting Twitter videos to GIF. Luckily, this post got you! You know it is best to share funny videos turned into GIFs with your friends. So, in the following parts, you will see the incredible ways to convert Twitter video to GIF. Check them all out now!
Part 1: The Easiest Way to Convert Twitter Videos to GIF in Batch
You can now stop searching for the easiest way to convert a Twitter video to GIF since your trouble ends today. The 4Easysoft Total Video Converter is ready to give you what you need. This program consists of more than 20 toolkits in the Toolbox, and that includes the GIF Maker tool. The tool lets you add videos or images and convert them to GIFs. Furthermore, you are also allowed to do some edits like rotating, cropping, adding effects, and more. Besides supporting the GIF format, the program supports over 600 file formats without limitations. Start converting a Twitter video to GIF now with this excellent software.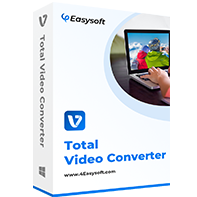 4Easysoft Total Video Converter
Designed GIF Maker tool, allowing you to convert your videos to GIFs with high quality quickly.
Enable you to add filters, text, crop, trim, and do additional edits to make your GIF look attractive.
Equipped with a preview function that lets you monitor the changes you have made before generating your GIF.
Allow you to customize the Output size and Frame Rate, maintaining the high quality and smoothness of your exported GIF.
Step 1Free download and install 4Easysoft Total Video Converter, then launch the program on your computer. On the main interface, go to the Toolbox in the above menu. Then, select GIF Maker to convert Twitter to GIF.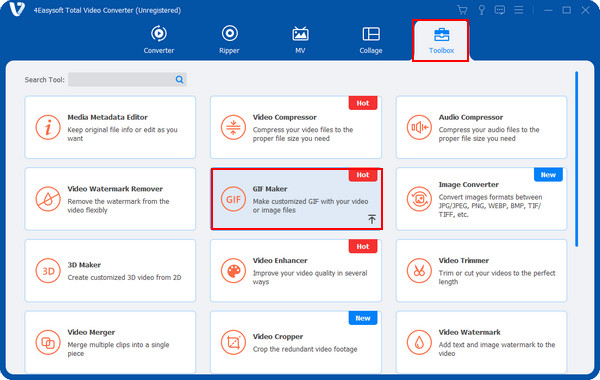 Step 2Add your video file by clicking the Add button of Video to GIF, then start editing. After that, you can click the Edit button with a star-shaped icon to rotate, crop, apply effects, and do additional edits to your video. Tick on the Loop Animation checkbox to play it continuously.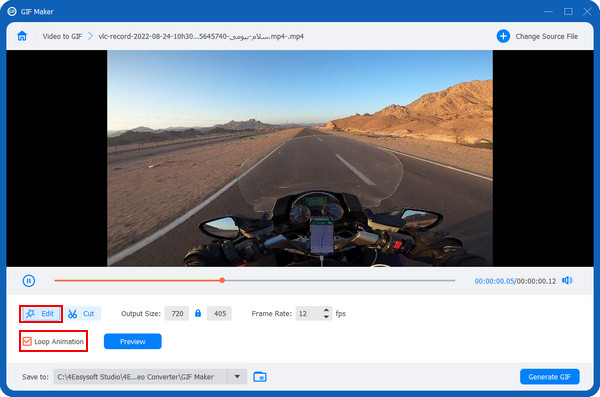 Also, you can hit on the Cut button with a Scissors icon to trim your video if you think it's too long and contain some unwanted beginning or ending parts.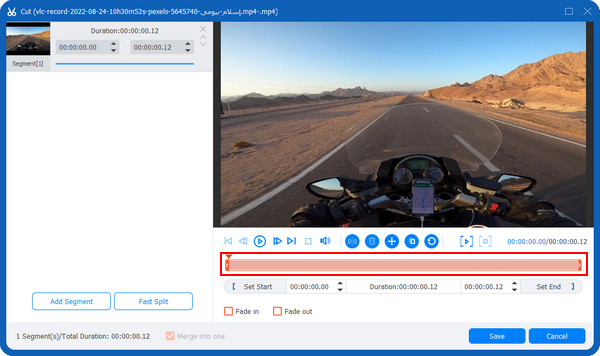 Step 4Before generating, select a file destination and change the Output Size and Frame Rate to preserve the high quality. Finally, you can click the Generate GIF button to save your Twitter video as GIF.
Part 2: How to Convert Twitter Videos to GIF Online - 4 Ways
After learning the program that can help you convert a Twitter video to GIF, this part will share the four online converting tools with you. If you want to get to know them, read on and learn how to use each to convert a Twitter video to GIF.
1. 4Easysoft Free Video Converter
The first on the list of the best four online tools is the 4Easysoft Free Video Converter. This online tool is more than what you think, as it can convert more than 300 video and audio formats, adjust settings and share your exported file on social media platforms. Plus, you can do a batch conversion with this online tool, which is not offered by other converters. Convert your Twitter video to GIF now without any limits with 4Easysoft Free Video Converter.
Step 1Go to the official website of 4Easysoft Free Video Converter on any web browser. Then, click on Convert Video Now, but you must first launch the 4Easysoft Launcher—no need to worry since it is quickly downloaded.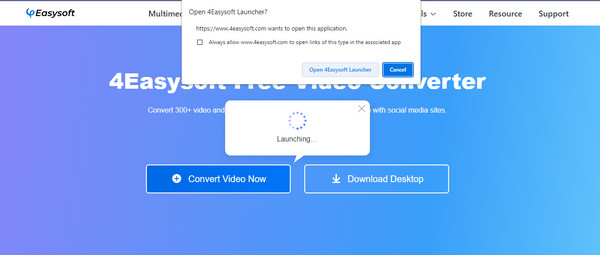 Step 2After that, select the video file you wish to convert to GIF, then click Open. Then, you can see several different formats below, including MP4, AVI, FLV, etc.; click the radio button of GIF to convert Twitter videos to GIF.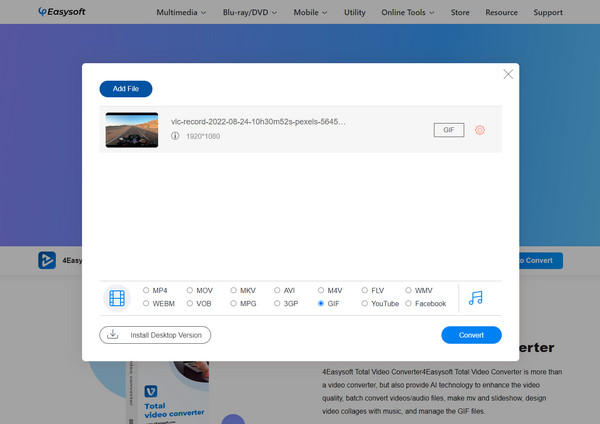 Step 3Moreover, you can hit on the Settings button with a Gear icon to adjust video settings like Frame Rate, Resolution, etc.If finished, click the Convert button below to save your converted GIF to your computer.
2. EZGIF
In EZGIF, you can easily create animated GIFs and do further edits. You can resize, crop, reverse, and apply some effects. Plus, it supports several formats and converts transparent video to transparent GIF. Dig deeper into EZGIF by following the guide below on converting a Twitter video to GIF.
Step 1Add a file to the EZGIF main site by clicking the Choose File button or pasting the Twitter video URL.
Step 2Simply click on the Upload video button below to get your Twitter video turned into GIF.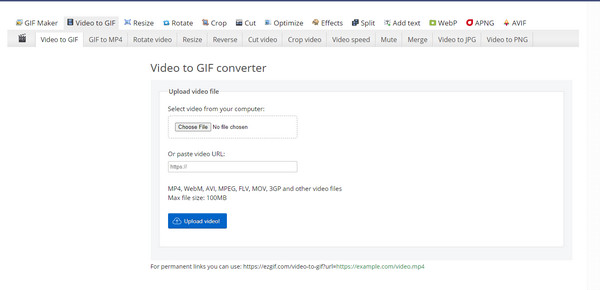 3. Clideo
Another straightforward online tool to convert videos to GIFs is Clideo. This tool has various editing features, such as resizing, cropping, rotating, etc. Also, it is a very easy-to-use tool and can edit different video formats. If ready, go to Clideo's main page, then go after the step on how to turn a Twitter video to GIF below.
Step 1Open Clideo's GIF Maker on any web browser, then click the Choose file button to select a video. Or, you can get a video from Google Drive or Dropbox.
Step 2Transform your video into GIF by clicking the infinity symbol on the right panel. Then, you can also select how many times the loop will be in the five more options left.
Step 3Before saving, select GIF format on the bottom left. Lastly, click on Export to get your exported GIF.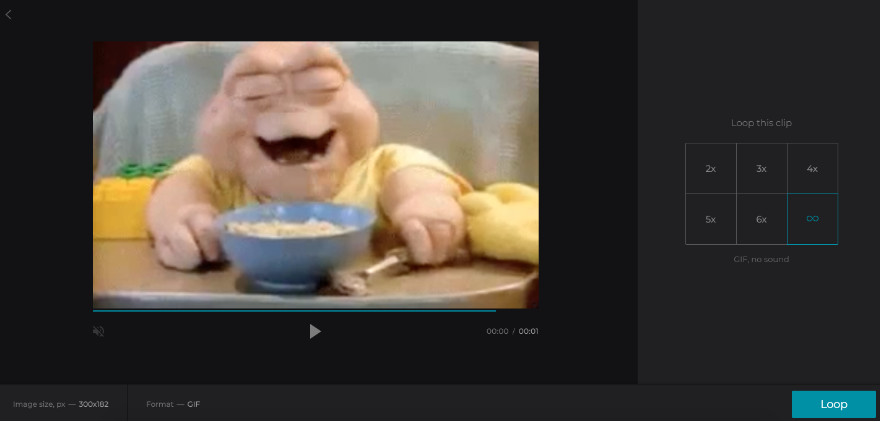 4. RedKetchup
The online tool, RedKetchup, can simultaneously be your image resizer, converter, editor, and more. You can easily convert videos to GIFs with this online tool and customize your video. The detailed step below will accompany you in learning how to transform a Twitter video to GIF with RedKetchup quickly.
Step 1Click the GIF Converter on the RedKetchup main site. Then, upload your file to the page by clicking the Browse button or dragging and dropping it.
Step 2The format will automatically be in GIF. Adjust video settings like Quality, Speed, Frames, etc.
Step 3If done, click the Download button below to save your Twitter video converted to GIF on your computer.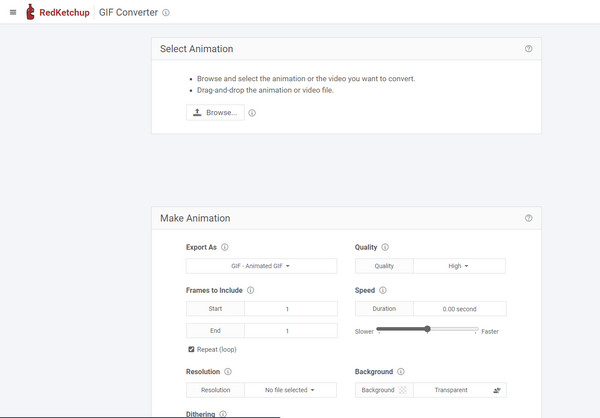 Part 3: FAQs about How to Convert Twitter Videos to Animated GIF
How do you turn a Twitter video into a GIF in VEED.IO?

Paste a URL of the video or upload it through a video file. After that, you can trim and customize your video by adding text, effects, etc. Select GIF as an output format, then Export.

Does converting a video to GIF ruin the quality?

After converting into GIF, loss of quality is unavoidable. If you want to save it in high quality, it is suggested to use an excellent program to assist. You can go for a reference in Parts 1 and 2 of this post.

Can I convert a Twitter video to GIF on iPhone?

You will be glad that you can convert a video to GIF on your iOS devices using third-party applications. Fortunately, there are good apps you can download on your phone to create GIFs from videos.
Conclusion
So that's it! That is how to turn a Twitter video to GIF using the five ways mentioned above. Online tools, such as RedKetchup, EzGIF, and Clideo, are among the best but go for 4Easysoft Free Video Converter for easy converting and high-quality output. However, if you want to download a program because you'll use it most of the time, have the 4Easysoft Total Video Converter downloaded on your Windows PC or Mac computer. You will discover much about this program as you use it in different situations, such as converting, editing, and enhancing.
Related Articles