Top 8 Effective Programs Like ImgBurn You Should Get to Create DVDs
A program like ImageBurn is an effective tool for the purpose of burning digital files into optical discs. However, you'll notice that ImgBurn's last update is linked with many deficiencies and issues. With that, choosing the best program like ImgBurn is recommended to meet your burning demand still. Well, fortunately, you are on the right page! Keep reading this article and see the eight noteworthy tools to substitute ImgBurn.
Part 1. Best 8 Programs Like ImgBurn to Convert Videos to DVD
Imgburn is an easy-to-use disc-burning tool designed for the Windows platform. It is also the most used editor by those who want to burn images out of their saved files. Through this tool, you can burn files into DVDs, CDs, HD DVDs, and Blu-ray optical discs. Moreover, it supports image file formats such as .img, .nrg, .bin, etc. Despite those capabilities, some users are already questioning this tool, like "Is ImgBurn safe?" for its latest version contains adware.
Furthermore, users find the tool needs some features, which makes ImgBurn unable to accommodate most of their demands. To make it specific, ImgBurn contains drawbacks which include this tool cannot make an ISO file for images and taking a lot of time to finish burning videos to DVD/CD. Users also encounter tool crashes, unresponsiveness, not detecting USB drives and DVDs, and not working on Windows 10. With those mentioned drawbacks, users considered this tool problematic.
So if you are looking for a program like ImgBurn, you must consider the following lineups. And to help you choose the best tool, this article will show you a comparison chart to see which stands out the most.
1. 4Easysoft DVD Creator
If you are looking for a program like ImgBurn containing several different features and commendable output quality, then 4Easysoft DVD Creator is what you are looking for. This free DVD creator tool is applicable on both Windows and Mac platforms. Moreover, it supports lots of different input formats, including images such as JPG, PNG, BMP, TIFF, and GIF. Lastly, in terms of output quality, this tool also won't let you down, for it can provide you with high-quality output and enables you to maintain the original quality if you wish to preserve it. With those great points, this tool is the best alternative to ImgBurn.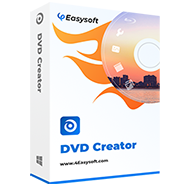 Excellent Features of 4Easysoft DVD Creator:
Infused with customized menu features and various themed templates, whether for weddings, holidays, or travel.
Convert media files to a DVD with a maximum quality of 720P, Blu-ray with 1080P, and high-quality ISO files.
Support a variety of disc types, including DVD-5 and 9, DVD-ROM and RAM, DVD-RW, and more.
Capable of applying media effects and watermarks on your file before converting it into a DVD.
Pros

Comes with a straightforward interface suitable for beginners and advanced users.
Infused with output quality tweaking options for converting images and videos to DVD.
Offers built-in editors to redefine your file before converting them.
Works for both Windows and Mac computers.
Cons

Payable upgrade to obtain other features.
2. BurnAware Free
This tool is another alternative to ImgBurn that supports most different types of files, including images, videos, documents, music, and more. This tool is also designed to burn or convert those mentioned files into CDs, DVDs, Blu-ray discs, and ISO folders. Moreover, this tool comes with a simple, easy-to-understand user interface with many other features. Features that support this tool, such as it can extract audio tracks and burn bootable and multisession discs. In addition, this also enables you to read still or recover unreadable discs, which could help you if you have one.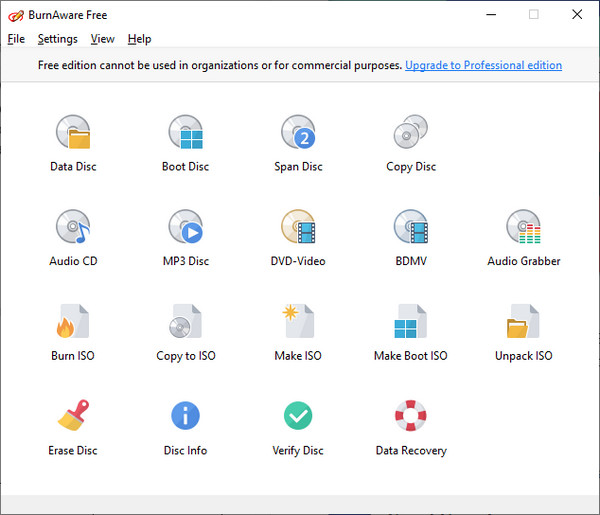 Pros

Fast and reliable video-to-DVD converter or burner.
Lots of disc-burning functions to offer.
Capable of writing already-used discs.
Cons

Doesn't capable of compressing a movie into a small disc.
Customization options are not available or offered.
Advanced features are attainable only if you pay for them.
3. WinX DVD Author
This WinX DVD Author tool is also worth putting on your list as an program like ImgBurn. This tool can also provide you with converting or burning with popular formats, including MOV, FLV, MP4, VOB, etc. Moreover, it also enables you to add subtitles to your video files and provides customization settings for selecting your desired aspect ratio, which applies to your disc player. Furthermore, despite having a simple interface and easy-to-understand features, this tool lacks file editing features, such as adding arrangements to your video's volume.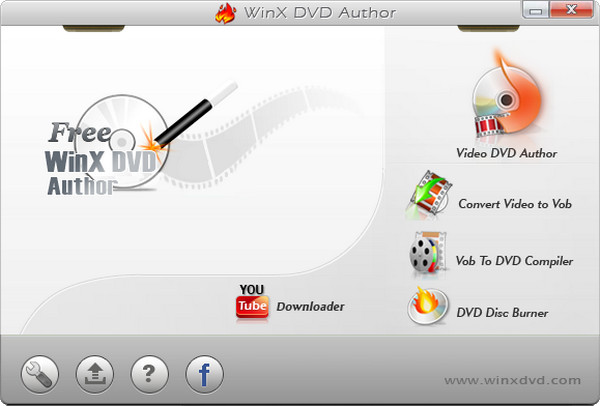 Pros

Fairly straightforward tool to use.
Supports YouTube downloading, which you can use to acquire videos from YouTube.
Cons

Doesn't support MP4 and other popular formats as an output file.
Doesn't have many advanced file options to offer.
4. AShampoo Burning Studio Free
Like ImgBurn, this tool also supports burning or converting media files to CD, DVD, and Blu-ray discs. However, it is also the best alternative to IMgBurn, for it is infused with some functionality that ImgBurn doesn't have. This tool lets you burn or convert data into discs, create backups, rip your audio CDs, or burn video files to Blu-ray discs conveniently. Also, you can use this tool to burn images from particular data files. Additionally, this free tool is a beginner and advanced user-friendly, which definitely will not requires you to spend time learning the tool. Moreover, this tool can also extract ISO image files and convert them into your preferred disc type.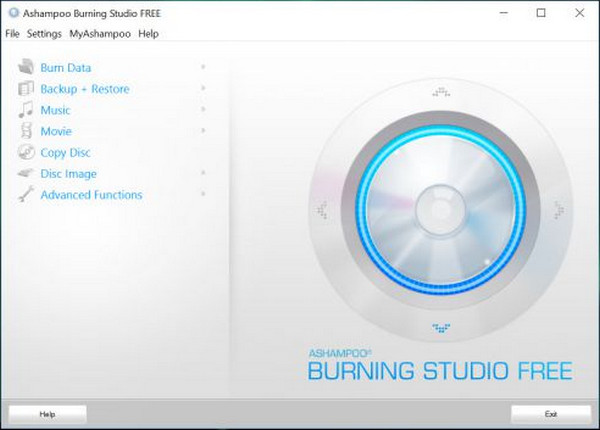 Pros

Clear and direct interface.
Enables you to create password archives on your discs and data.
Cons

Customization settings and compression options are not available.
Requires you to provide your email address before using the tool.
Contains an Inconvenient tool to install and set up.
5. InfraRecorder
This tool is also considered a program like ImgBurn; the difference is that this tool comes with few direct features and functionality. This tool carries various burning services such as Data to DVD, Video to DVD, and, Audio to DVD. Like other tools, you can also make image files from your disc or with any other files, and it supports disk rewriting and dual-layer DVDs. Aside from that, this tool also enables you to burn a disc from an ISO image. You'll see this tool is very straight to the point; however, it doesn't support both Blu-ray and HD-DVD discs and offers fewer features.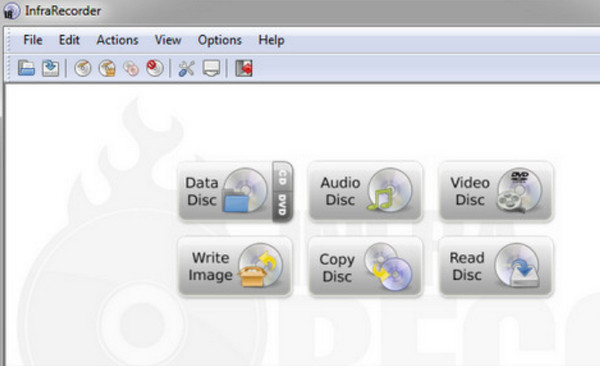 Pros

Supports inputs of popular media formats.
Offers direct burning process, whether for a video, image, or music.
Comes with a fast burning process.
Cons

Fewer supported discs.
Lacks advanced features.
6. AnyBurn
Another program like ImgBurn lightweight tool that can burn all images to a CD, DVD, or Blu-ray. This tool contains an almost complete set of burning solutions. You can also rely on its capabilities of making image files from hard disk files, ripping audio CDs to a digital audio format, and converting disc images. Aside from that, through this tool, you can also back up and convert videos to your preferred optical discs.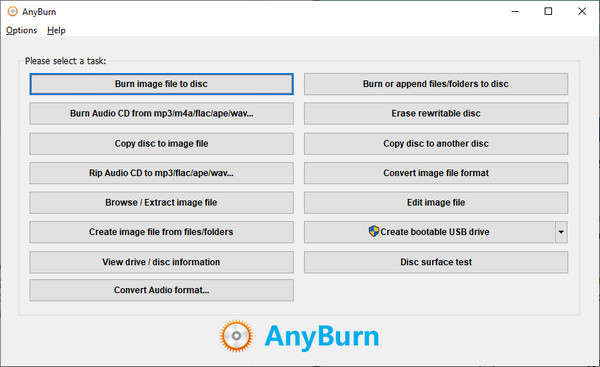 Pros

Easy and light to use.
Fast rendering capabilities.
Promotes an easy conversion process with your media files into numerous formats.
Cons

Linked with lagging issues.
Comes with an unattractive interface.
7. CDBurnerXP
CDBurnerXP is also a suitable tool to use as an program like ImgBurn. This tool is comprised of different features that come with various functionalities. This tool can produce video DVDs, burn ISO images to discs, create audio discs, and more. However, in terms of video dvd creation, this tool only supports Video_TS folder input, and you might find that the tool requires a Microsoft .NET framework. But then, CDBurner is still a reliable tool to store media files, whether on a DVD or audio CD.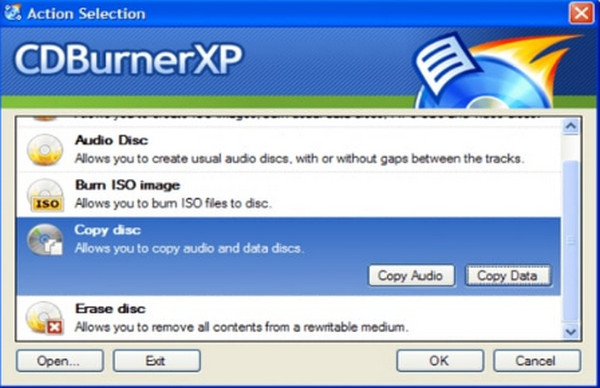 Pros

Comes with a multi-language user interface.
Equipped with several great features.
Cons

Capacity in terms of video burning is not satisfactory.
Outdated interface looks.
8. Free ISO Burner
Last on our list of alternative ImgBurn is the Free ISO Burner. This tool comprises basic functionalities that can burn ISO files into formats you commonly find on DVD and CD. It comes with a point interface, and you can finish the burning process within a few clicks. Even though this tool doesn't have additional editing features aside from its infused burning settings, you can still rely on its easy and imperial ISO images burning to discs.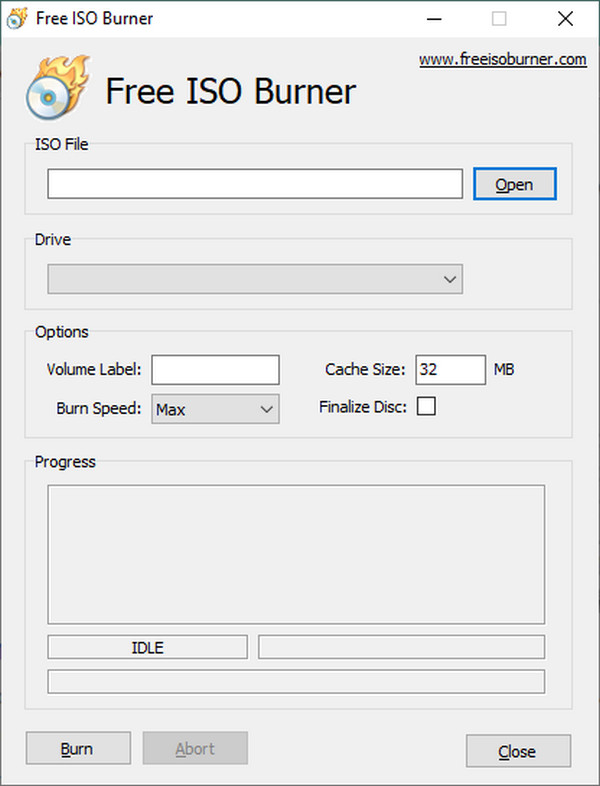 Pros

Compact with disc volume adjustment and burn speed.
Capable of emulating CD and DVD without a virtual drive.
Cons

The interface looks outdated and is mistakenly thought of as a file folder.
Here is the comparison chart to help you choose and decide on the program like ImgBurn.
Comparison Chart
| | | | |
| --- | --- | --- | --- |
| | Supported Platforms | Video Editing Features | Create or Add Chapters or Subtitles |
| 4Easysoft DVD Creator | Windows and Mac platforms with all versions. | Equipped with basic editing functions and effects adjustments. | Capable of creating chapters and adding SRT, ASS, or SSA subtitles. |
| BurnAware Free | Downloadable only with Windows Operating System. | Video editing features are not available. | Doesn't support adding chapters and subtitles. |
| WinX DVD Author | Designed to support Windows Platforms. | Offers limited basic editing functions. | Useful tool for adding subtitles. |
| AShampoo Burning Studio Free | Available only with Windows 11, 10, 8, and 7. | Infused with a built-in video editor. | No subtitles and chapters are available. |
| InfraRecorder | Supports only Windows OS. | No video editing features are available. | Doesn't have subtitles and chapters infused. |
| AnyBurn | Windows-supported tool. | Doesn't infuse any video editing features. | There are no subtitles or chapters included. |
| CDBurnerXP | Compatible with Windows OS. | Not capable of editing video. | Doesn't offer a feature that adds subtitles and chapters. |
| Free ISO Burner | Usable under Windows platforms. | No video editing is available. | No subtitles and chapters offer. |
Part 2. FAQs about Programs Like ImgBurn
Does ImgBurn for Mac available?

Unfortunately, no. ImgBurn is developed only to use under Windows and Linux platforms. Specifically, it supports Windows 95, 98, Me, NT4, 2000, XP, 2003, etc. But if you wish to use a program like ImgBurn, you can utilize 4Easysoft DVD Creator, which contains many more advanced features than ImgBurn

How can I identify if a tool like ImgBurn contains adware?

There are various ways to identify if a tool contains infections caused by the adware. If you visit a site and suddenly notice that it doesn't display correctly, it is a sign that it contains adware. You'll also experience unexpected changes to your web browser's home page, overwhelmed with pop-up ads, crashing, and slow device performance. You can get rid of it on your computer if you acquire one by removing suspicious applications t from your Apps & Features.

Does ImgBurn capable of burning videos to DVD capable of playing on TV?

Unfortunately, it can't. ImgBurn doesn't support NTSC/PAL standards. You can use 4Easysoft DVD Creator as an program like ImgBurn since it was designed to support NTSC/PAL and can set up your videos for playing them on TV or DVD players.
Conclusion
That's it! Those are the best tools you can use as your program like ImgBurn. Choose the best one that you think fills up the deficiencies of ImgBurn - highly recommended to pick a tool enriched with essential features, functionality, and capabilities and the 4Easysoft DVD Creator. Feel free to visit our website to download and install it today!
Related Articles