How to Play WMV Files on iPhone Easily with High Quality
"Can you play WMV on iPhone?", well WMV is a format developed by Microsoft which are only playable on Windows computers, not on Apple devices like iPhone. But despite that, there are still ways to make WMV playable or compatible to play on iPhone, and that is through these 4 solutions we featured here! Continue reading this post until the end to see how these solutions provide easy ways to play WMV files on iPhone.
Part 1: The Best Way to Play WMV on iPhone by Converting to MOV
As mentioned above, there are 4 ways to play WMV on iPhone, one of which is to convert WMV to MOV format, which will solve WMV not playing on iPhone completely. The default video format for Apple devices is MOV, thus converting WMV format to MOV is the best way to avoid incompatibility issues and keep high quality. To play WMV videos on iPhone through this way, 4Easysoft Total Video Converter is necessary. This tool supports converting WMV to 600+ formats, including MOV, lossless formats, and device presets. Additionally, it converts WMV with 60X faster speed conversion process with the original quality. With these capabilities, you can enjoy watching WMV files on your iPhone without considering incompatibility limitations.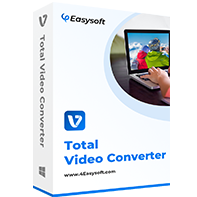 4Easysoft Total Video Converter
Tweak your WMV video's quality, resolution, frame rate, bitrate, and more to play WMV on iPhone with admirable quality.
Integrated with Blu-Hyper technology to convert WMV to MOV at ultrafast speed conversion process.
Offer video enhancing and editing features you can use to bring beautiful changes to your WMV video.
Infused with GPU Acceleration, designed to manipulate and alter memory to accelerate the conversion processing more smoothly.
How to use it to Convert WMV to MOV and Play WMV on iPhone:
Step 1Download and install the 4Easysoft Total Video Converter tool on your Windows or Mac computer. After that, launch the tool and click the Add button to import the WMV file you wish to convert into MOV. Select the file on your file folder and tick the Open button.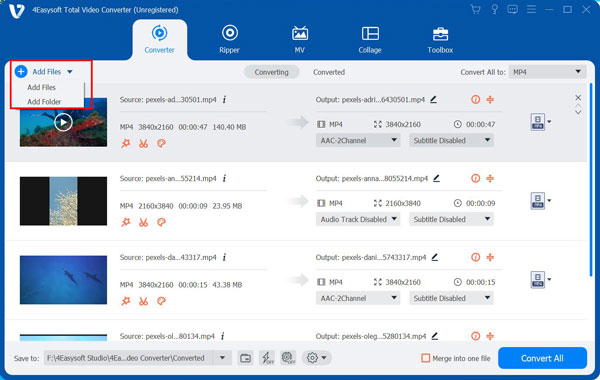 Step 2Next, click the Convert All to dropdown button to access the group of formats and device presets the tool offers. Then, select the MOV format from the options under the Video tab. You can also convert WMV to MP4 format.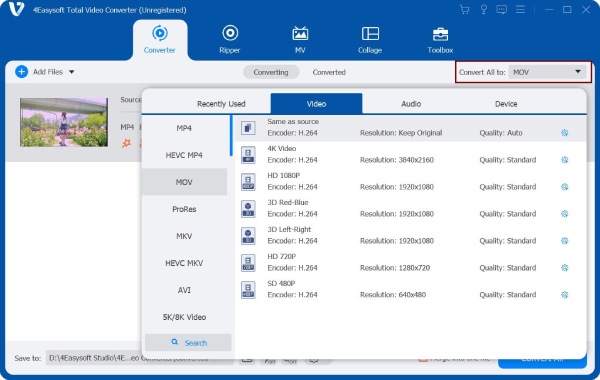 Step 3After that, tick the Custom Profile button with the Gear icon. You can tweak your output's encoder, frame rate, resolution, bitrate, and more on the Edit Profile window. In this way, you can maintain the high quality of the WMV file during the conversion process. If you are satisfied with the setups, tick the Create New button.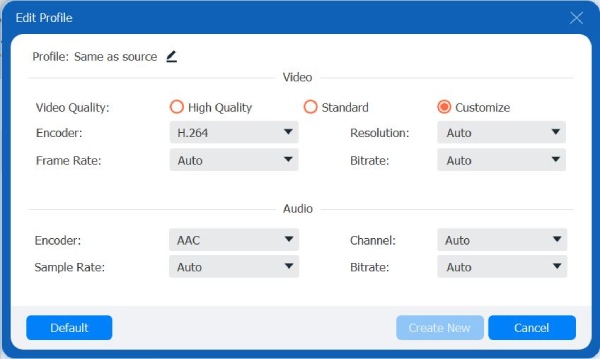 Step 4Once satisfied with your setups, click the Convert All button to initiate the conversion process of WMV to MOV. That's it! By converting WMV to MOV, you can play WMV on iPhone quickly and efficiently.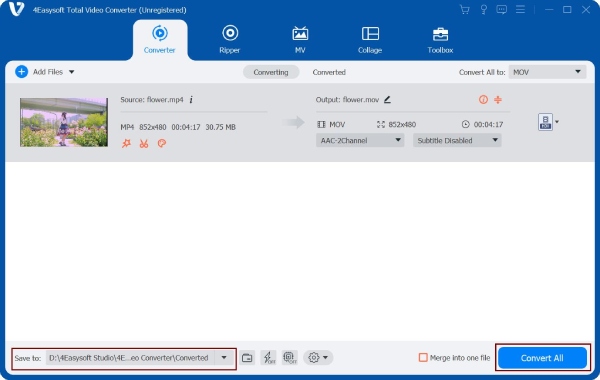 Part 2: 3 Easy-to-use Players to Play WMV on iPhone Easily
Now that you have discovered the best way to play WMV on iPhone by converting it into a MOV file format. Another great way to play WMV on your iPhone is using a third-party application or tools supporting WMV playback. Here are the three WMV Players you can use on your iPhone.
1. First on our list is the VLC Media Player. This open-source and free media player supports various Windows, Mac, and Linux platforms and Android and iPhone. VLC supports various video formats and plays them directly without conversion. It also supports advanced subtitles and playback speed control, which you can conveniently use to play WMV on iPhone.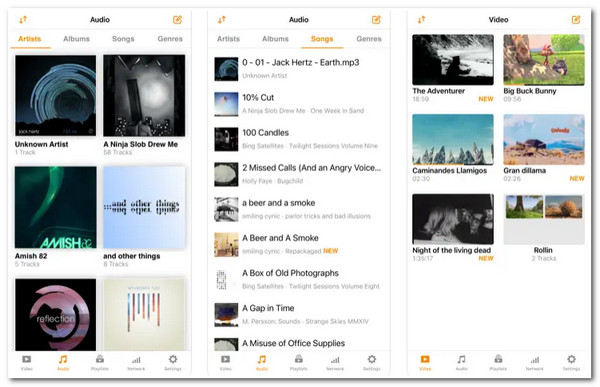 Features of VLC Media Player
Support File Synchronization with various Cloud Storage Services, such as Dropbox, OneDrive, GDrive, iCloud, and more.
Enable you to download files from Cloud Storages through Wi-Fi sharing and also streaming from various platforms.
Capable of supporting advanced subtitles like SSA compatibility.
Offer video filters, playback speed modification, and fine-seeking capability.
Pros

Come with a user-friendly interface.
Easy-to-use features to play WMV files.
Users can customize the interface, video, subtitle display, audio, and casting according to their preferences.
Allow users to arrange their music and video files.
Cons

Often fail to detect files from external storage.
2. Another tool you can use to play WMV on iPhone is Waltr Pro. Unlike VLC, which you can use directly on your iPhone, this tool should first be downloadable on Windows or Mac platforms before you can use it. This tool will act as a bridge to transfer the video with WMV format to your iPhone. You just need to link your iPhone to the computer where you install it and bring the video on the Waltr Pro platform, and that's it! This is possible through Waltr Pro's ability to convert files and hand them over to your iPhone. It is one of the great solutions for file-to-iPhone incompatibility issues.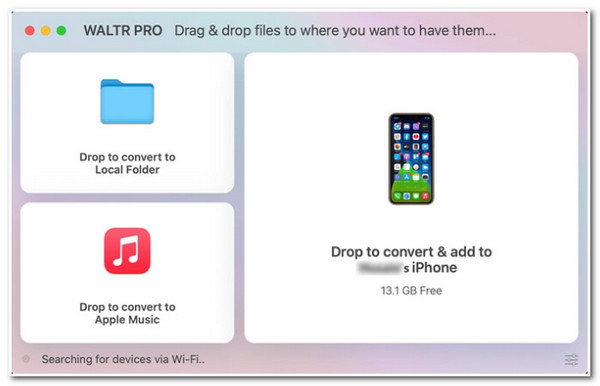 Features of Waltr Pro
Infused with the ability to transfer files aside from media files such as documents, pictures, comics, etc.
Capable of transferring files to other third-party applications such as VLC or other music or video players.
Support converting WMV to iPhone-compatible format with high-quality output.
Enable users to add various files to Apple Music.
Pros

Easy to use tool to transfer data.
Come with a clean and well-composed interface.
Support transferring all types of iPhones by the converted WMV file.
Cons

Come with a trial period that only takes a short time.
Often take a long time to connect over Wi-Fi.
3. Last but not least of this lineup of easy-to-use players is the iVideo Player HD. This application can play WMV on iPhone as well as other file formats. Additionally, it allows users to import WMV files from various Cloud Storages and your iPhone's built-in Camera roll. Moreover, this app lets users manage their videos easily and automatically organize them in a categorized manner. Furthermore, if you want to share them with your friends, this app is integrated with various social media platforms to share WMV files like Facebook, WhatsApp, and Twitter, or you can upload them via YouTube.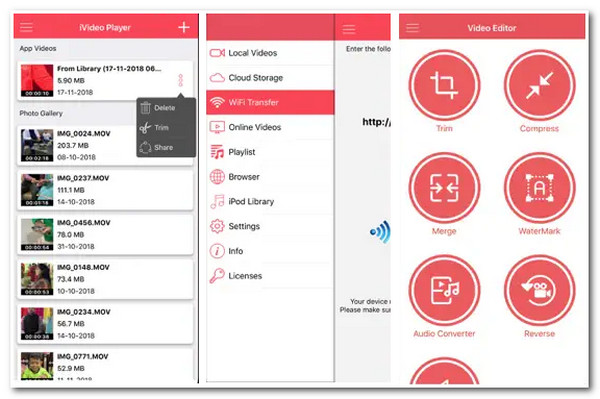 Features
Support playing 10+ video formats, including WMV files.
Capable of compressing large WMV files to small file sizes.
Enable you to play WMV videos online directly using the app.
Offer an advanced video trimming feature to cut off specific parts of your videos.
Pros

Easy-to-use tool and user-friendly interface.
Easy-to-use playback controls.
Have a large number of capabilities and features.
Cons

Linked with various issues in displaying videos.
Come with an issue in terms of unsynchronized video and audio.
There are instances when the app freezes when opening it.
Part 3: FAQs about How to Play WMV on iPhone
Does iPhone support playing MP4 format?

Yes, iPhones do support MP4 format. However, unlike WMV, MP4 has a large file size. Additionally, MP4 and WMV have the same quality. So if you plan to convert WMV to MP4, collecting many of them will occupy ample space in your storage.

Does MOV comes with the same quality as WMV?

Yes, both of them come with admirable quality. However, they differ in terms of file sizes. WMV comes with high quality and is compressed to reduce file size. On the other hand, MOV offers high-quality as well, but larger.

What parameter should I tweak to improve the quality of the video?

When you want to play WMV on iPhone with high quality, the parameter you should tweak is the resolution. Resolution is one of the main factors or aspects to consider when enhancing your video's quality. The higher the resolution is, the more it contains pixels. In this case, it displays clear and shaper visual information, making it considered high-quality.
Conclusion
Now that you have discovered those 4 easy ways to play WMV on iPhone, you can enjoy watching all the videos and movies in WMV format without considering incompatibility. If you want to solve the compatibility problem completely, then the 4Easysoft Total Video Converter tool is your best pick! This tool can quickly convert WMV files into high-quality MOV format for a better watching and editing experience. Additionally, it supports batch conversion; you can convert several WMV files simultaneously and play WMV videos on iPhone well.
Related Articles