MP3 to MP4 Converter – 3 Simple Methods to Convert MP3 to MP4
Both MP3 and MP4 are two popular file formats. When you need to share some music files to a social media site, you have to convert MP3 to MP4 beforehand. MP3 files are also known as MPEG, which stands for Moving Pictures Expert Group. Because some social media sites like Facebook and YouTube do not support MP3 files, converting MP3 to MP4 should be the right choice. Please continue to read as we compiled the 3 best MP3 to MP4 converters.
Part 1: A Simple Method to Convert MP3 to MP4 with Pictures
When you need to convert MP3 to MP4, you can use some online MP3 to MP4 converters to turn the music into a video without pictures. Whether you need to add videos or pictures to go with the MP3 files, 4Easysoft Total Video Converter is the best choice to convert MP3 to the desired format on Mac and Windows. It not only enables you to tweak the different video/audio settings but also adds MP3 to muted video/pictures to make a movie.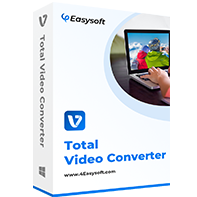 Steps to Follow:
Step 1Once you have installed 4Easysoft Total Video Converter, you can launch the program on your computer. After that, you can import the different MP3 files, click the Cut icon to cut out the desired audio clip, and merge them into one audio file.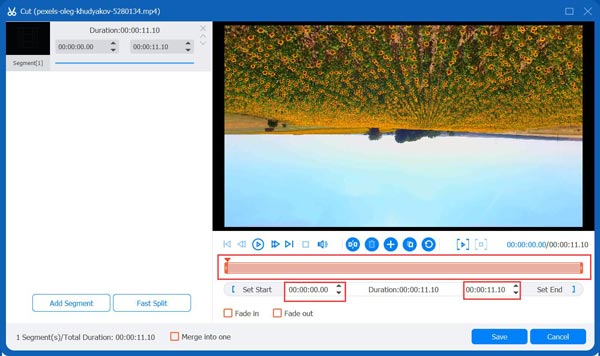 Step 2Choose the MV in the menu above. Click the Add button at the lower left of the program to import video clips or images as the pictures of MP4. Just arrange the order of the pictures or mute the video before converting.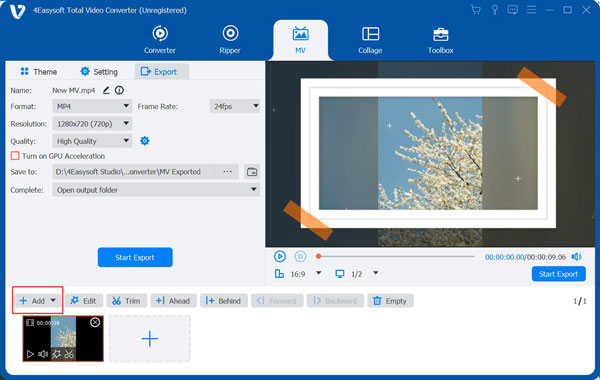 Step 3Go to the Setting menu and choose the Audio Track option, in which you can click the plus sign next to the Background Music to import the MP3. It will turn the MP3 file into an MP4 video for different devices.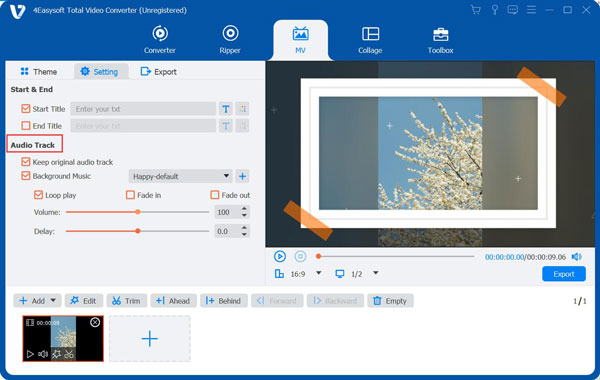 Step 4Select the Export section and click the drop-down icon in the Format blank. In this section, you can configure other settings like Resolution, Quality, and Frame Rate. After that, you can click the Start Export button to convert MP3 to MP4.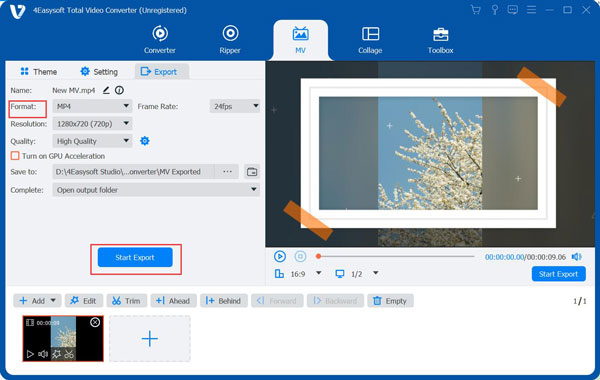 Part 2: How to Convert MP3 to MP4 with Windows Movie Maker
Windows Movie Maker is an editing tool to enhance videos and includes Windows XP. It also allows users to modify videos, customize background music and still images easily. Due to its straightforward interface, beginners will enjoy using it. So if your problem is converting MP3 to MP4, Windows Movie Maker is the right one for you!
Steps to Follow:
Step 1You have first to download and run Windows Movie Maker on your device. After that, open the software to get on its main interface.
Step 2To add your MP3 files, click the Tap videos and photos in the menu, or drag and drop your desired MP3 file.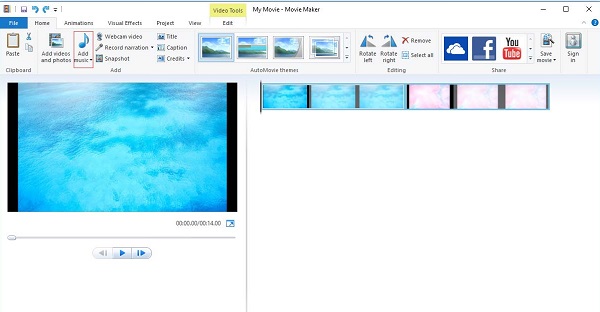 Step 3Click the Options button in the menu, then click the Split button to reduce or cut the unnecessary part; ta Delete or Remove button to remove this part.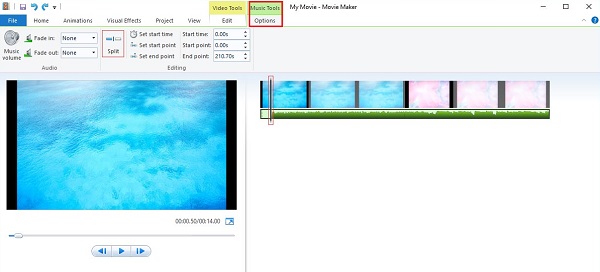 Step 4After ridding the unnecessary part, modify your conversion by clicking the Edit button in the Video Tools tab. You need to customize each photo's duration by clicking on the Adjust button.
Step 5Choose the Save movie option on the File button, and then scroll down to find the YouTube option.
Step 6Once you have chosen the YouTube option, modify the destination of the files and click the Save button. Wait for the process, and it will convert MP3 to MP4 automatically.
Part 3: How to Convert MP3 to MP4 via iMovie
The professional filmmakers recommend iMovie. Because, in this tool, you can edit music, graphics, and videos with the Mac without losing your file quality. The good thing is that you can do so while maintaining your original files. Unlike Adobe Premiere Pro and Final Cut, which are a little pricey, iMovie can be downloaded free. First-time users who want to convert MP3 to MP4 will not have any headaches using it due to its very simple interface.
Steps to Follow:
Step 1Download the iMovie on your iOS device, then launch it. After that, tap the File button, then choose the New Movie.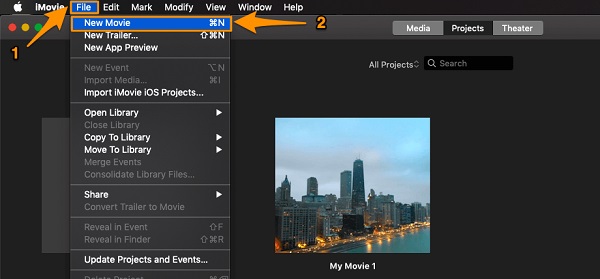 Step 2Tap on the Import Media button to import the MP3 files you want to convert to MP4 format.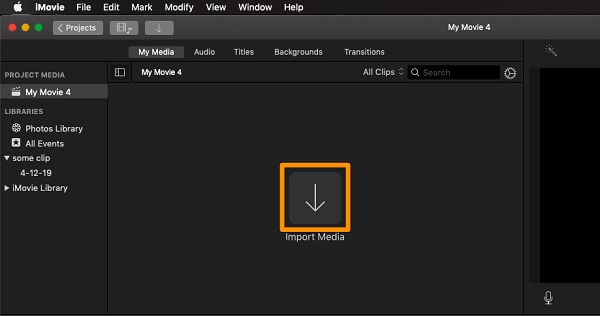 Step 3When you have already imported your files, click the File option, choose the Share button, and select the File button.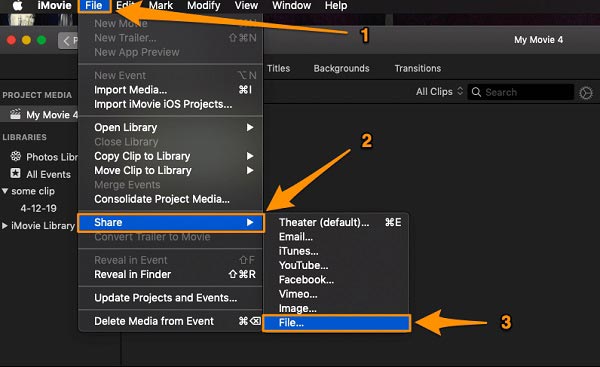 Step 4A new window will pop up. You can edit the export settings optionally. After that, click Next.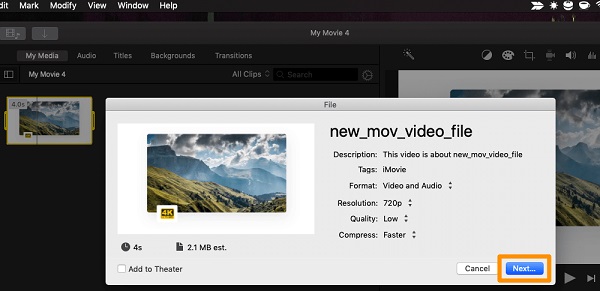 Step 5Lastly, select now where you want to place your video. Once you are satisfied with your output, tap the Save button.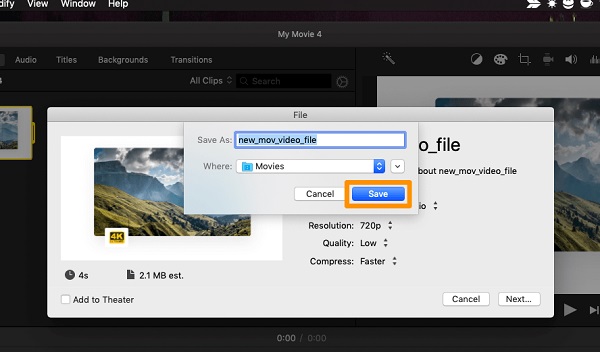 Part 4: FAQs about How to Convert MP3 to MP4
What are the differences between MP3 and MP4?

MP3 file is also known as lossy audio format due to its irreversible compression. It only holds audio tracks, so it is only tiny in file size. MPEG 4, Part 14 is what MP4 means, which stands for Motion Pictures Expert Group. After all, it is a container of digital multimedia because it can support images, texts, videos, and audio.

Can I upload MP3 to YouTube directly without converting to MP4?

No. YouTube doesn't accept or recognize common audio files, including MP3 files. However, there are two alternative methods to upload MP3 to YouTube, you can either convert MP3 to MP4 or upload MP3 with an image online. Of course, you can mute a video and add the MP3 as the background music.

How to preserve the original quality of audio when converting MP3 to MP4?

Whether you need to convert MP3 to MP4 directly, or make a video and use the MP3 as the background music, you should choose the audio codec as MP3. It will preserve the original quality. Moreover, you can also use some advanced audio enhancers to adjust the volume and other settings.
Conclusion
Hopefully, we helped you analyze which is the best MP3 to MP4 video converters to use for both Mac and Windows users. If you need to convert MP3 to MP4 for YouTube or other social media sites, you have to add pictures or videos to the MP3 files. Here is the ultimate guide you should follow. Any queries about how to make the video files, you can leave a comment in the article.