4Easysoft DVD Ripper
Rip DVD to AVI, MP4, MOV, and other popular formats with Original Quality for Windows/Mac
3 Powerful Methods to Rip DVD to AVI without Losing HD Quality
You might notice that DVDs are getting out of place today; most people see DVDs as too inconvenient, and the newest devices deprecated disc drivers. Thus, you can convert DVD to AVI format for Windows/Mac/Android/iPhone, which will also save the chapters, multiple tracks, etc. This new way will help you play your best-loved DVD movies saved on most devices. Good thing you landed on the right page. Continue exploring this article to see the best DVD to AVI with their basic steps!
Part 1. The Professional Way to Convert DVD to AVI with High Quality
4Easysoft DVD Ripper is a powerful Windows/Mac tool to use as a DVD to AVI converter you shouldn't miss. This tool includes ripping, converting, advanced video editing, and enhancing features. Moreover, this tool offers 600+ formats and most popular devices with the preset settings. Furthermore, this tool also enables you to compress homemade DVD video size while maintaining its original quality. You can also edit your videos with filters, effects, and watermarks after ripping DVD to AVI on Windows/Mac.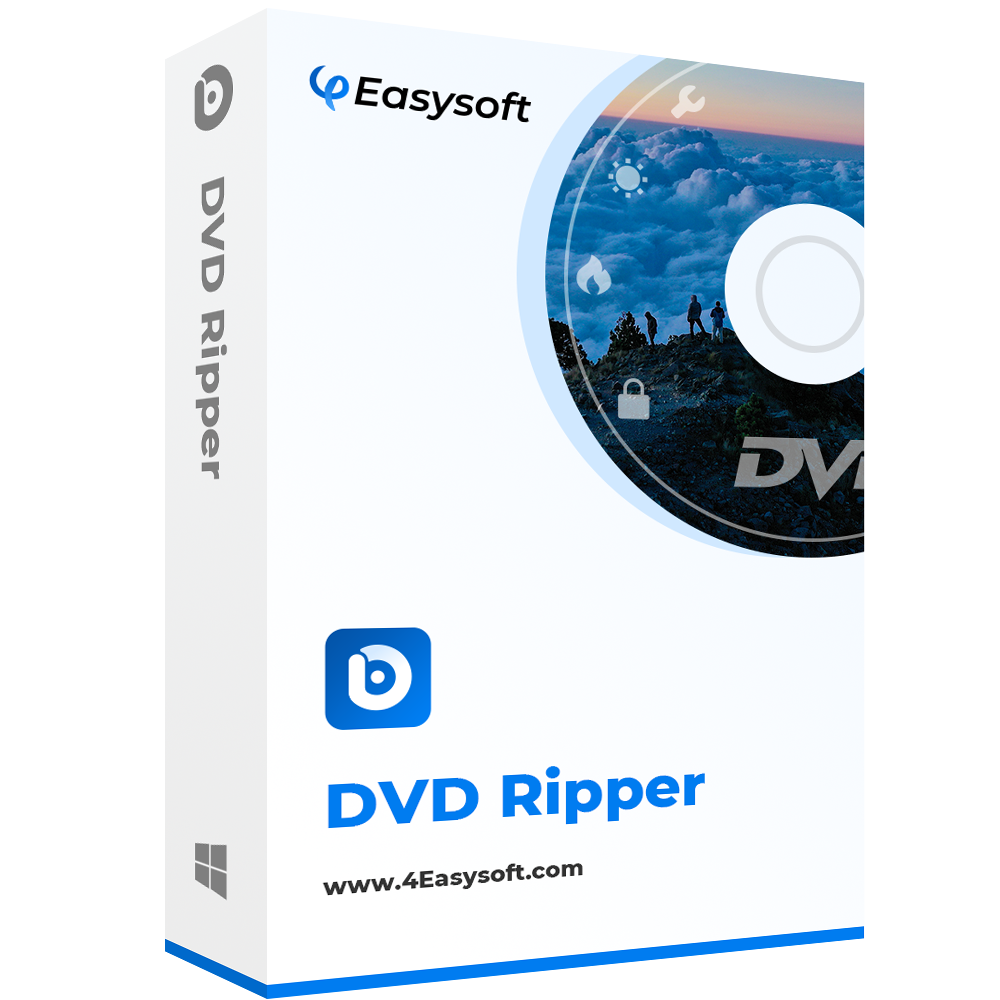 4Easysoft DVD Ripper
DVD to AVI supported by a 60X faster conversion process through GPU acceleration.
Offer video tweaking options with video resolution, quality encoder, etc.
Compact with basic video editing features you can apply to your homemade DVD movie.
Supports video enhancers such as upscaling resolution, optimizing brightness and contrast, and more.
How to Convert DVD to AVI using 4Easysoft DVD Ripper
Step 1Visit the 4Easysoft DVD Ripper website to install the tool. Launch the tool to load your homemade movie by clicking the Load DVD dropdown menu. Choose between Load DVD Disc, Load DVD ISO, or Load DVD Folder, according to your preference, and tick it.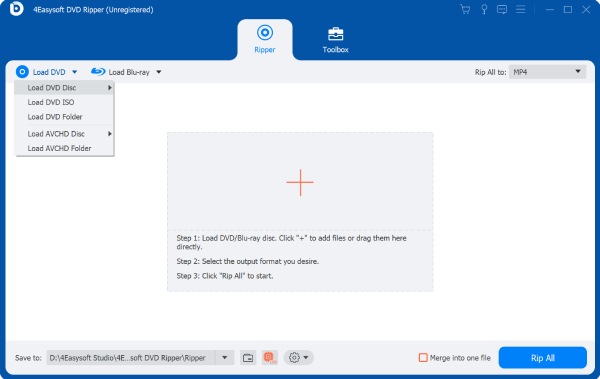 Step 2If you wish to load only a few movie files, click the Full Title List button. Select those titles you want to convert by ticking the Checkbox selection. After that, click the OK button.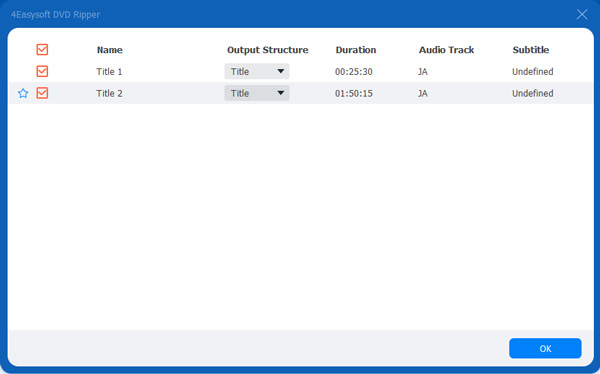 Step 3To convert your homemade DVD movie to digital format. Click the Rip to Video/Audio. Look for the AVI format in the Video tab and tick it. To ensure you attain a high-quality output, click the Custom Profile button with the Gear icon and tick High-Quality. If you are finished, click the Create New button.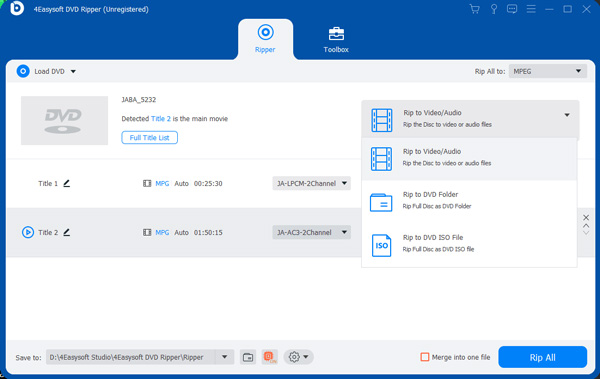 Step 4After doing all the setups, click the Rip All button to convert your homemade DVD to AVI format on Mac.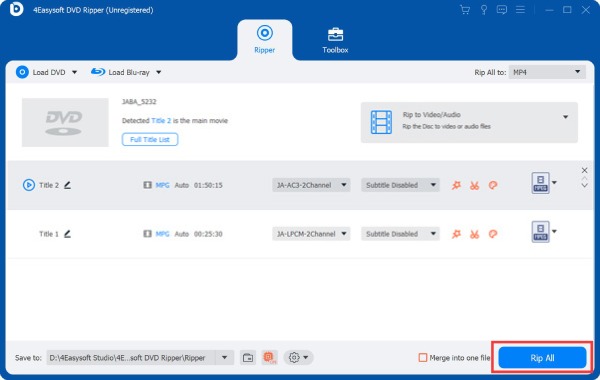 Part 2. How to Convert DVD to AVI through VLC Media Player on Mac
Apart from the other DVD ripper tool, VLC Media Player is also a suitable tool you can use to convert your homemade DVD to AVI on Mac. This tool is a free and open-source cross-platform media player you can use, whether Windows or Mac. Moreover, this tool also contains encoding parameters which you can use to apply changes to bitrate, frame rate, resolution, etc. However, unlike other DVD rippers, VLC took a lot of time to finish the conversion process, especially with lengthy movies. Another thing this tool also linked with disc issues, not all types of discs are convertible using this tool.
To convert your homemade DVD to AVI using VLC, this is how you do it.
Step 1Launch VLC Media Player on your Mac. Click the Media tab and tick the Convert/Save button.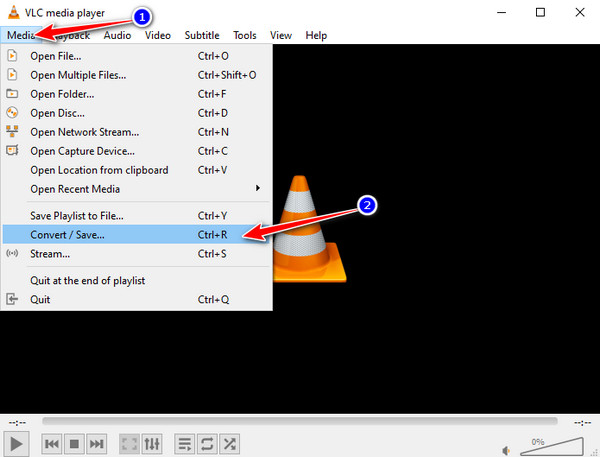 Step 2Click the Disc tab in the Open Media window and select the file you want to convert from your Mac. You have to ensure that your disc is inserted; you can see if you successfully inserted it once the disc file appears on the Disc device. After the setup, click the Convert/Save button.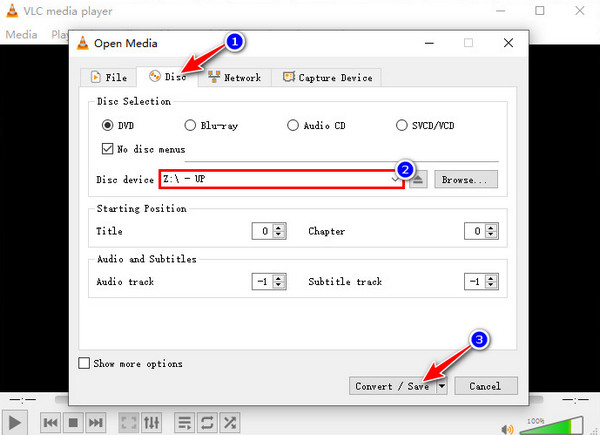 Step 3You'll notice that AVI is not available on the Profile choices. To add it, click the Create a new profile button.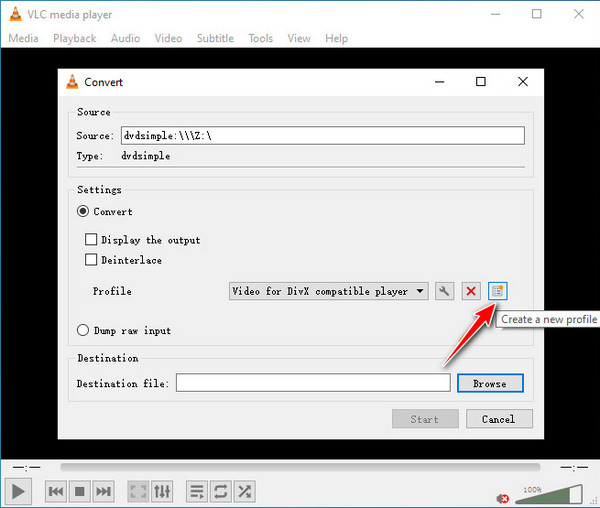 Step 4In the Profile edition window, look for the AVI format and tick. You can also apply changes to the output's quality, codec, bitrate, etc., under the Video codec and then click the Create button to save your changes. After those setups, click the Start button to begin the DVD to AVI conversion process on Mac, which will take a couple of minutes to finish.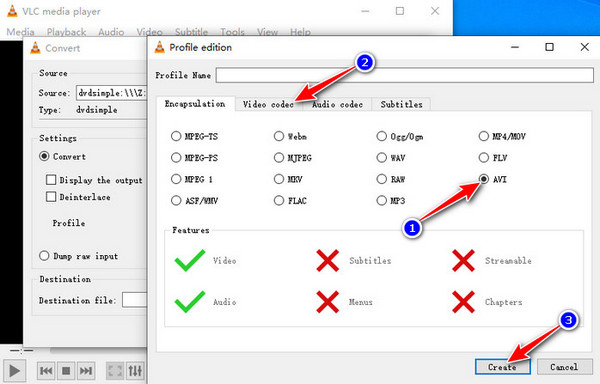 Part 3. The Detailed Steps to Convert DVD to AVI with Handbrake
Handbrake is also an appropriate tool to use in terms of converting a homemade DVD to AVI format on Windows/Mac. This tool is a free and open-source converter that is also infused with video tweaking features that you can apply to your output file. However, since the Handbrake upgrades all the time, the latest version of it doesn't include AVI in its output format selection. But you can download the old version, which is Handbrake 0.9.3. This version is still available online and free to download. Furthermore, unlike other Mac DVD to AVI rippers, this tool only offers a few basic video editing features and output formats.
Ways to convert DVD to AVI using Handbrake version 0.9.3
Step 1To load your homemade DVD movie files on the tool, click the Source button and select the DVD source. Wait for the Handbrake load and read the DVD source, which will take some time to finish.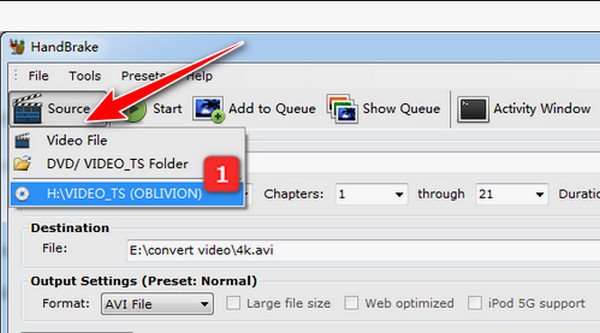 Step 2Choose the movie file you want to convert to AVI by clicking the Title dropdown menu button. After selecting, tick the Browse button to choose your preferred output file destination.

Step 3To convert your movie files on your homemade DVD to AVI, select the AVI format by clicking the Format dropdown menu button under the Output Settings (Preset: Normal). Once you are done with your selections, tick the Start button to begin with, the DVD to AVI conversion on Windows/Mac.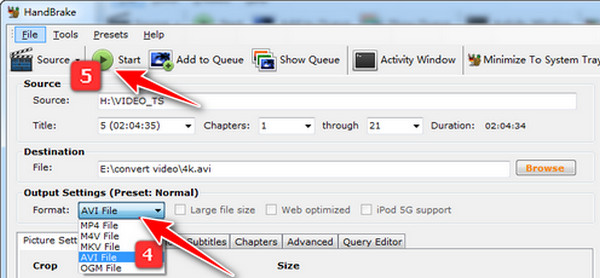 Part 4. FAQs about Ripping DVD to AVI on Windows/Mac
1. Does ripping alter damage to the video file from DVD?

No, you don't need to worry. Video files don't get any alterations because ripping doesn't bring damage or changes to the video files stored on your DVD. The ripping process is just extracting the files from your DVD and converting them into a digital format playable on portable devices.

2. Why does AVI format the best format to convert DVDs?

That is because the AVI format could provide you with the highest quality among other formats. This format is also preferable for TV viewing. If you want to watch your movie to a much larger resolution and experience a high-quality movie-watching experience, then DVD to AVI as an output format is the best.

3. Is it possible to rip the DVD to AVI with HD 1080p on Windows/Mac?

Yes, it is! Even though most normal DVDs are in Standard Definition with 720x480, you can use 4Easysoft DVD Ripper to convert DVDs to AVI with 1080p resolution.
Conclusion
That's it! Those are the best tools to convert your homemade DVD to AVI file format. As you have noticed, some of the tools contain drawbacks that deal with the speed of the conversion process and fewer video tweaking options. If you wish to have a DVD ripper that can convert DVDs faster, provides high-quality outputs, and is compact with advanced editing features, then 4Easysoft DVD Ripper is the a powerful Windows/Mac DVD to AVI ripper you shouldn't miss. Have a try and experience its powerful capabilities.
Related Articles: