The Ultimate Guide to Convert VOB to MP4 on Windows/Mac
Is it possible to convert VOB to MP4? Yes, of course. Video Objects, also known as the VOB files DVDs file that contains video and audio data, also has a menu and subtitles because it is a container of movies. But, if you wish to watch your favorite VOB videos on your device like mobile phone, Windows computer, or Mac, VOB files are not compatible. Good thing there is an answer to that problem! Converting VOB to MP4 will allow you to watch your VOB videos on your desired devices. This article will help you with the processes.
Part 1: How to Convert VOB to MP4 on Window and Mac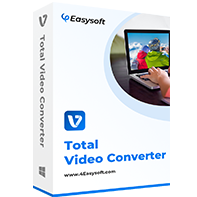 Advanced Features of All-in-One VOB to MP4 Converter
Convert VOB files or homemade DVD VOB files to MP4/HD MP4/4K MP4 files.
Manage, preserve, and edit the subtitles and audio tracks from the VOB files.
Provide 4 different methods to enhance the 720P VOB with advanced AI technologies.
Advanced editing features to cut out the desired parts or merge different clips.
Support converting a large number of videos and audio files with a batch process.
Step 1When you have already downloaded 4Easysoft Total Video Converter, open it and click Add Files button or the plus sign + to add your VOB file. You can also drag the file directly into the interface.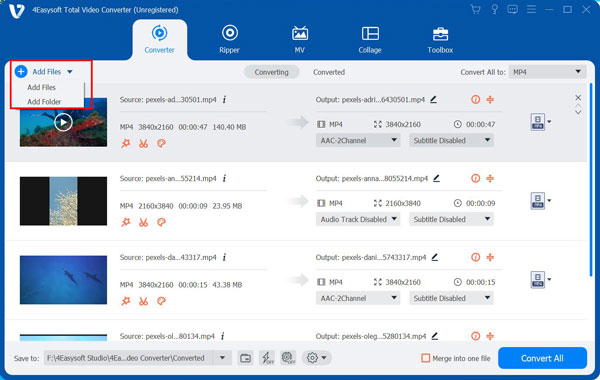 Step 2Once you have uploaded the VOB file, you can click the Format icon next to the VOB file. Select the MP4 as your desired format. Moreover, you can choose 4K MP4, HD MP4, or iPhone MP4 directly for conversion.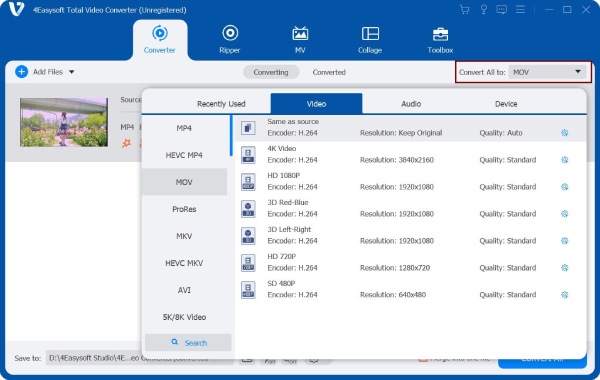 Step 3When you need to choose the desired audio track or subtitles, you only need to click the Audio Track option or the Subtitle option, you can select the desired files or upload the ones you downloaded to the MP4 file.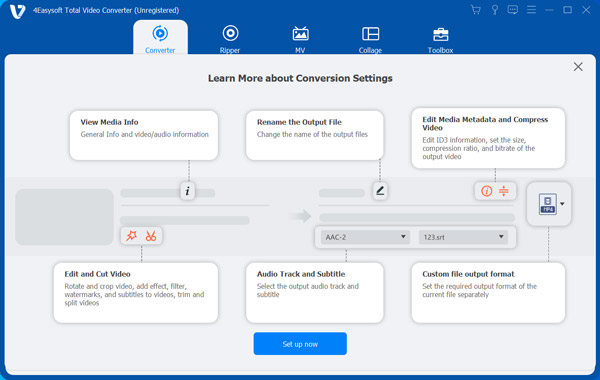 Step 4Click now the Convert All button to finalize your VOB to an MP4 conversion process. You can also tick the Merge into one file option to merge multiple files into one file. The process will take minutes or even hours, depending on the file size.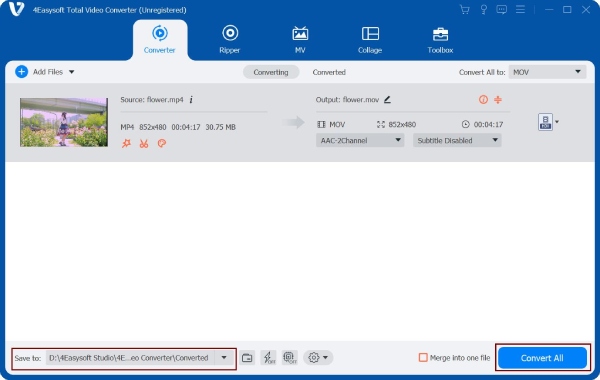 Note
Just choose the Ripper menu when you need to convert VOB from DVD to MP4. Of course, you can use the same editing features to touch up the MP4 files according to your requirement.
Part 2: How to Convert VOB to MP4 with Handbrake
HandBrake is one of the most used and recommended in converting videos without trimmings. Do you wish to convert VOB to MP4, you've come to the right page! In HandBrake, you can convert your VOB video files to MP4 on Mac, Linux, and Windows. It can modify the properties of your output MP4 file manually. You can control the output's file size and the quality of the photos.
Steps to Follow:
Step 1After downloading Handbrake, click the Open Source button, then click the File option to select your VOB file to convert.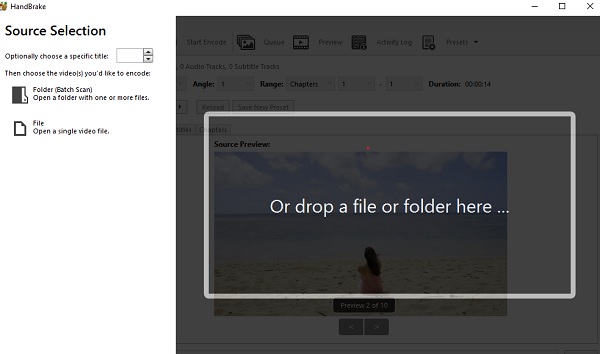 Step 2Once a file is added, click the Format button, then choose your desired output format, the MP4.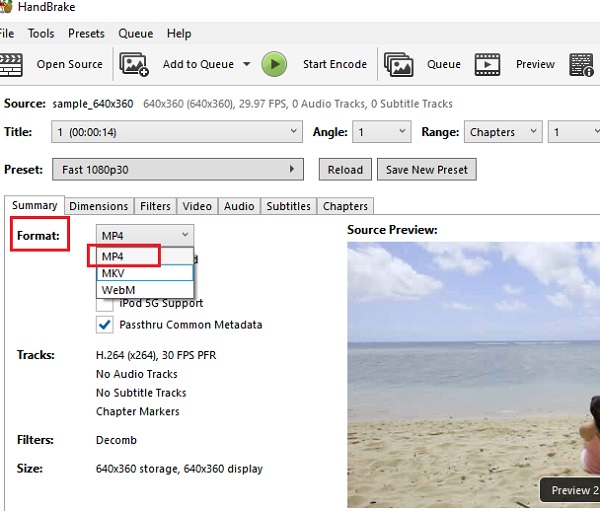 Step 3Select now the Save As option from the Browse button to locate your converted file's folder.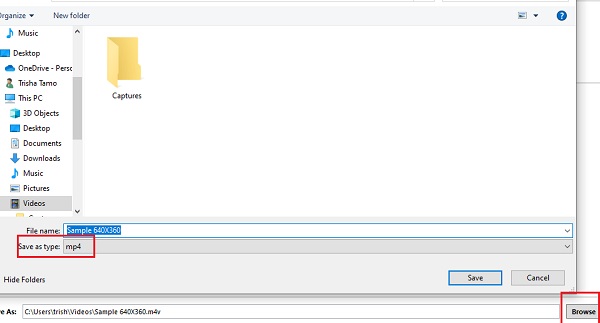 Step 4You are almost done! Click now the Start Encode at the upper part of the interface to start converting VOB to MP4. Just wait for the converting process to finish, and your converted file will automatically be placed in your saved files.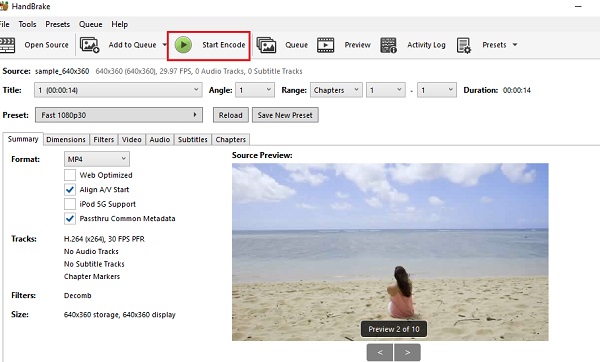 Part 3: How to Convert VOB to MP4 via VLC Media Player
What is the VLC Media Player all about? This is a free media player where you can play almost all multimedia files such as Audio, CDs, DVDs, VCs, etc. Since playing any form of media is its main function, this will help you convert VOB to MP4.
Take Note:
You can't always get the best result using VLC. Some users complain about the file distortion when VLC cannot support the file with a wide range. The good thing about this software is that this is a free program where you can record, play, edit, download, and convert videos.
Steps to Follow:
Step 1First of all, download the VLC tool on your device. Click the Download VLC button.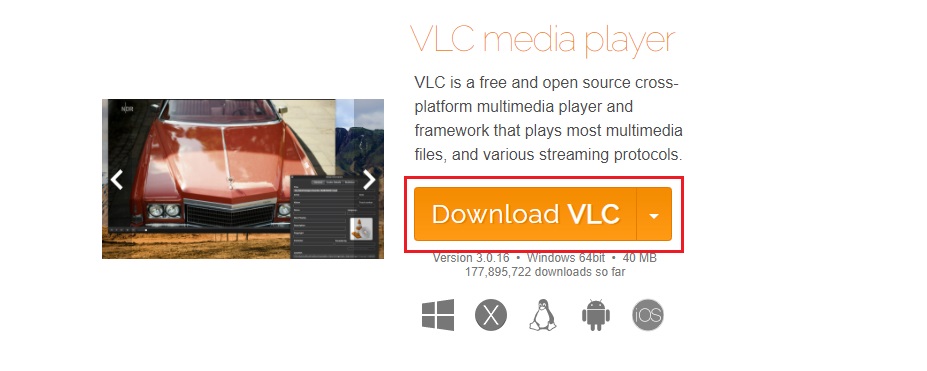 Step 2Select the Media button on the menu bar, then click the Convert/Save button.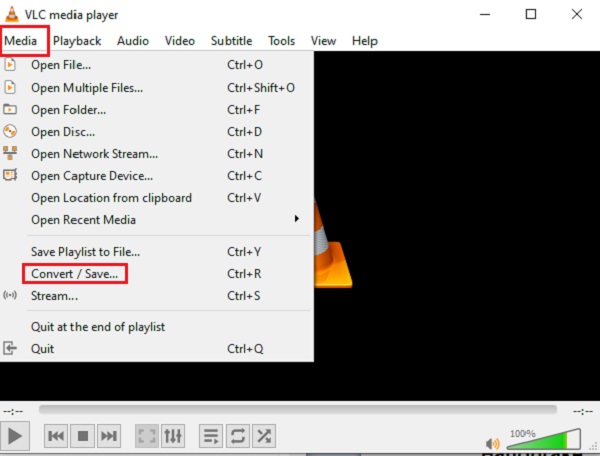 Step 3To add the file you want to convert, click the Add button. Click the Convert/Save button now after selecting the VOB file you want to convert.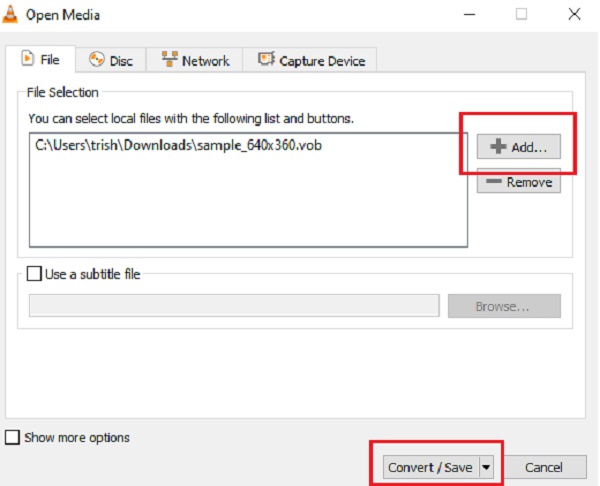 Step 4After that, you will see another window. Modify the Profile option to choose your desired format that you want to convert to, the MP4. To convert VOB to MP4 properly, select the Video -H 264 + MP3 (MP4) option.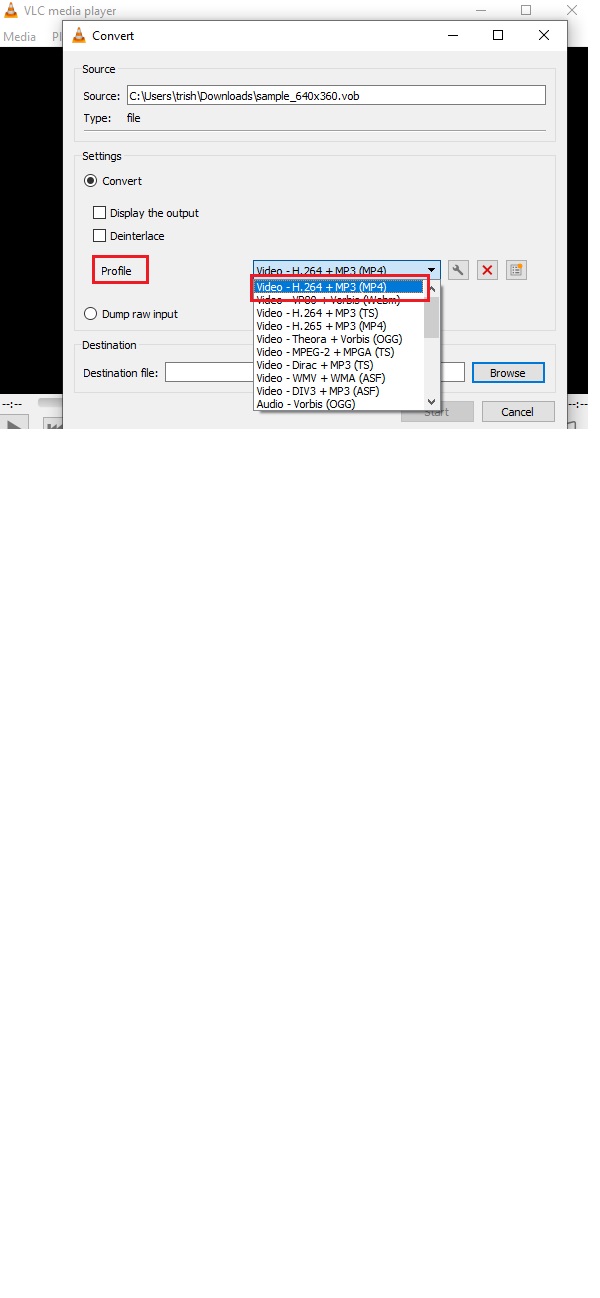 Step 5After selecting your desired format, click the Destination File to Browse the folder you want to save your converted file to. Once set the chosen folder, click the Start button and wait for the conversion process to finish.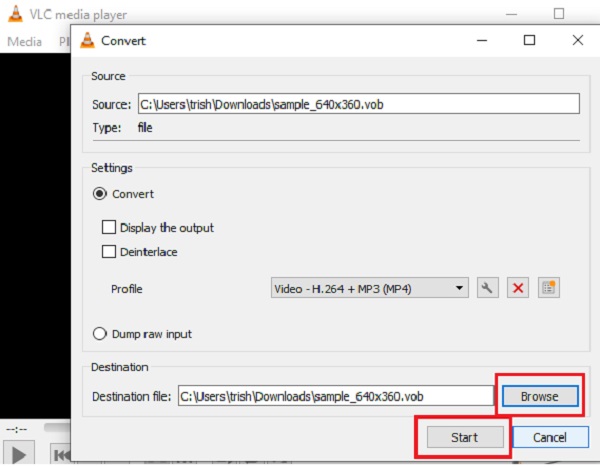 Part 4: Is It Possible to Convert VOB to MP4 Online
When talking about the best online converter, Cloudconvert is in. This tool's main function is to convert VOB to MP4. Here, you can convert different media forms, ebooks, audio, and videos. Using this online converter, you can only convert 25 VOB files a day because it limits the quantity of imported VOB files.
Steps to Follow:
Step 1Search the official website of Cloudconvert on website. Click the Select File button then choose the file you want to convert.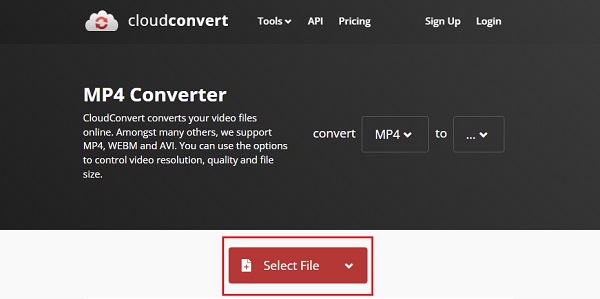 Step 2Once you've selected your file, you can now click the Convert to button and choose your desired MP4 format in the Video button.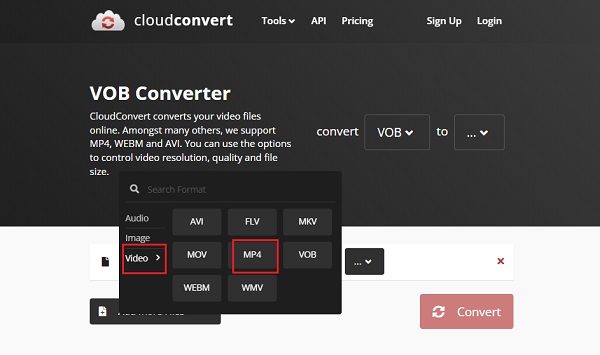 Step 3To finalize, click the Convert button to start conversion. Just wait for the converting process to finish, then click the Download button to save your converted files on our device.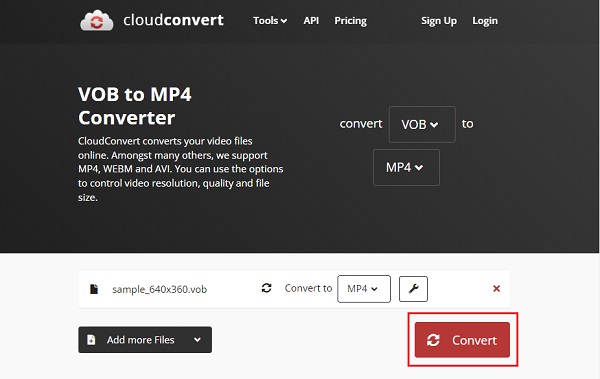 Note: You can add more files when converting them into the same format. Just click the Add More Files button.
Part 5: FAQ about How to Convert VOB to MP4
What is the VOB file all about?

The meaning of the VOB file is Video Object. In-stream form, it has real audio, subtitle, and videos. VOB files are usually formatted as MPEG-2 system streams and can be opened by various video playback programs.

Is it possible to convert DVD VOB to MP4 on Mac?

Yes. But you have to use an external DVD drive beforehand. There is an alternative method to extract the VOB files from the DVD. Choose the professional DVD to MP4 converter to extract the movies with the original quality.

Can I play a VOB file with a DVD player?

Yes. You can play VOB files with most of the media players, such as VLC Media Player, QuickTime, and more. However, once IFO or BUP files are absent, a DVD player may not allow DVD navigation.
Conclusion
There you have it! Given above are the most efficient and easy ways to convert VOB to MP4. We highly recommend you to use 4Easysoft Total Video Converter to convert VOB files, or even the DVDs into MP4 file formats. We can give you the assurance that you will not be disappointed with the results of your modified files! For more inquiries, do not hesitate to leave a comment below!