Reviews on CDBurnerXP's Features, Pros, Cons, and its Best Alternative
Looking for the best CD burner on the online market to store all music tracks on a CD/DVD, and CDBurnerXP always shows up in your searches? Before using it, let this article tour you through CDBurnerXP's features, pros, and cons. This post would be a great help for you to assess if this program achieves all your burning needs. We also feature the best CDBurnerXP alternative if you find the tool lacking. Let's dive in!
Part 1. Overall Reviews on CDBurnerXP: Is It An Excellent CD/DVD Burner
CDBurnerXP is known to be an easy-to-use CD and DVD burner tool. Through its intuitive interface, you can quickly go along with this tool and use its features without any payments. In line with that, it supports a multilingual interface that truly accommodates a lot of different users around the globe. Moreover, it is infused with the ability to burn the excellent disc of the present time, the Blu-ray and HD DVDs. The most important thing it that CDBurnXP also supports many different audio formats, such as FLAC, WMA, AIFF, WAV, MP3, BWF, etc. CDBurnerXP's capability doesn't end there; now you can explore its features, advantages, and disadvantages.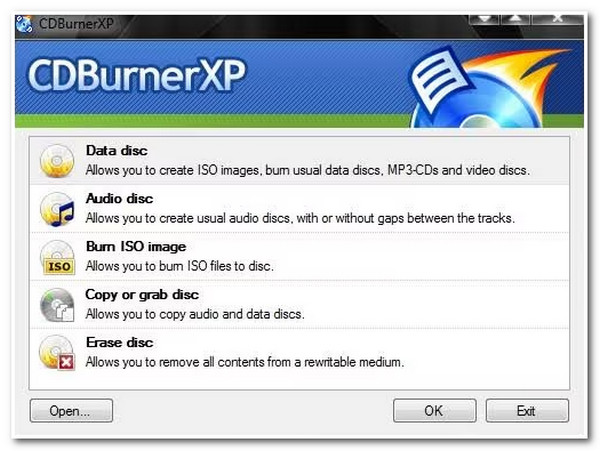 CDBurnerXP Main Features:
Infused with the ability to burn discs and generate ISO files.
Equipped with the ability to create bootable discs.
Capable of burning a large number of MP3 files on a single CD.
You can add new audio tracks from an existing CD without ripping.
Allow you to verify data before burning them.
Pros

CDBurnerXP's read and write speed is impressive, which is quick for creating CD.
Preview the music files you wish to burn using its built-in audio player.
Enable you to rip contents on different discs.
Cons

Only made available for Windows computers.
Unreliable burner tool to use for large files.
Linked with system crashes as reported by users.
Lacking editing features, which beginners best use.
Part 2: How to Use CDBurnerXP to Burn DVDs on Windows
After reading this post's CDBurnerXP review in Part 1, which focuses on the tool's capabilities and limitations, you might also want to try using it. Here are the basic steps on how to use this tool to burn DVDs:
Step 1Download the CDBurnerXP on its official website. After that, launch the tool and click the Data Disc to create a new project. Don't forget to insert your blank DVD into your disk drive.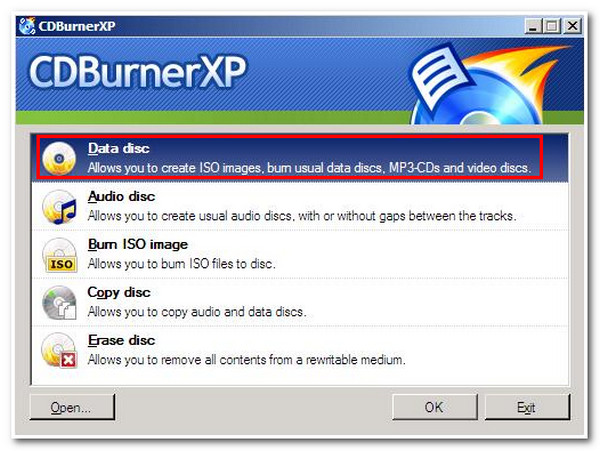 Step 2On your File Folder window, select those files you want to burn on your DVD. You can add the files you want to burn by selecting the files by clicking the Add button or simply dragging and dropping them.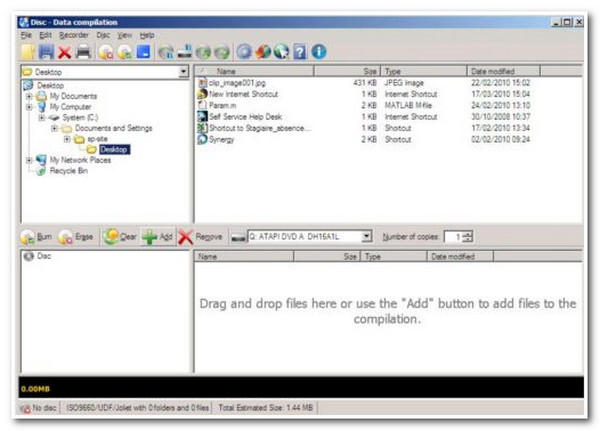 Step 3You can rename your disc by ticking the disc's root node. Otherwise, press F2 on your keyboard to change the default name of your disc. Otherwise, you can directly give your disc a label by clicking the Disc tab in the upper part of the tool and ticking the Set disc labels.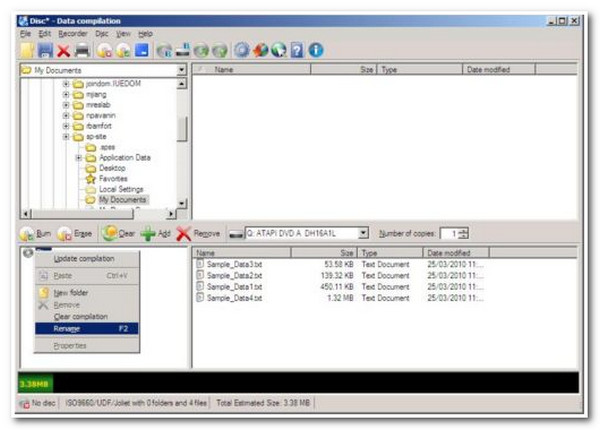 Step 4When you finish those setups on CDBurnerXP, click the Burn button in the Compilation window's upper part. You can also select the Disc tab and tick the Burn disc. Then, a pop-up window will appear on your screen; tick the Finalise disc to start the burning process.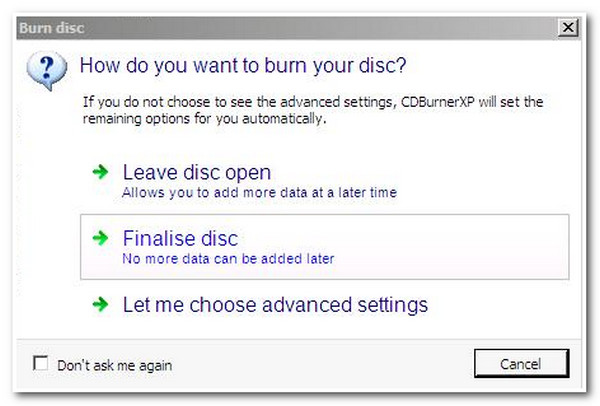 Part 3. The Best Alternative DVD Burner to CDBurnerXP
However, just like what mentioned, CDBurnerXP is unreliable if you wish to burn large files to DVD/CD. In case you try it, there are instances that you might end up failing to burn them after waiting for a long time. To avoid this issue, here is a recommended CDBurnerXP alternative that is powerful enough to burn various data files to your DVD - 4Easysoft DVD Creator.
This tool is developed to burn video files to DVD or Blu-ray and with other disc types. Additionally, you can burn all of your homemade videos to DVD, with 720P quality up to 4.7GB. On the other hand, if you wish to burn video files to Blu-ray, you can store them up to 1080P resolution. Moreover, this tool supports many video and audio input formats and is enriched with outstanding editing features. The 4Easysoft DVD Creator tool is your best CDBurnerXP alternative.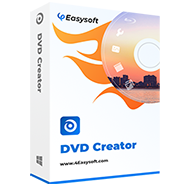 Features of 4Easysoft DVD Creator
Support ISO file creation to store your homemade videos with high quality.
Composed of redefining video editing features such as merging, splitting, trimming, cropping, adding music and subtitles, etc.
Offer stunning themed templates you can add to your homemade or personal video before burning them.
Allow you to burn your homemade or personal videos to DVD with NTSC or PAL standard, which enables you to play your burned files on TV or DVD players.
How to Burn DVD using 4Easysoft DVD Creator:
Step 1Download and install the 4Easysoft DVD Creator on your Windows or Mac. After that, insert your blank DVD into your computer. Launch the tool and click the DVD Disc button.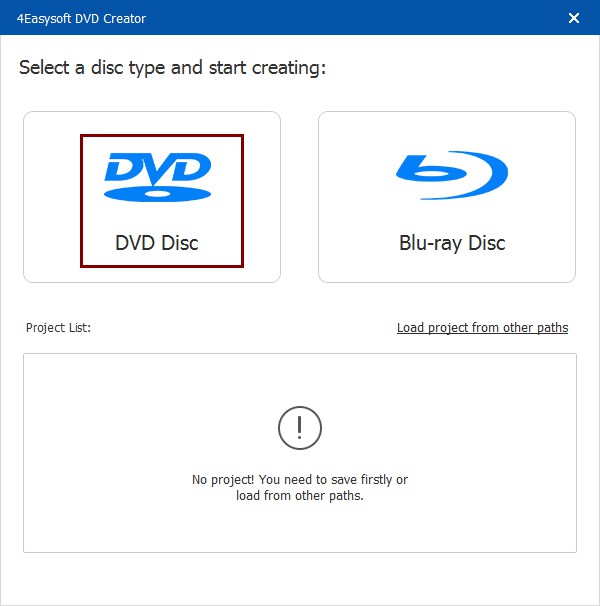 Step 2Next, tick the Add Media Files button to import the homemade or personal video files you wish to burn. Then, click the Next button to proceed.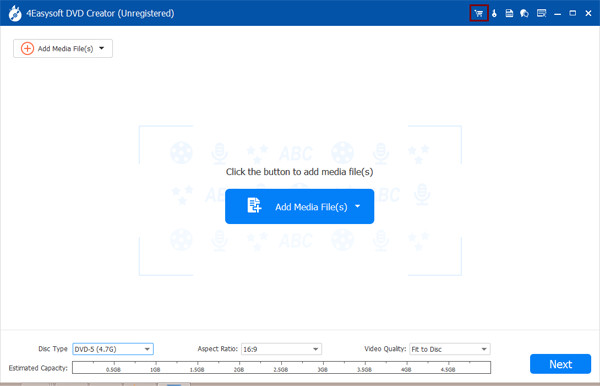 Step 3You can redefine your video files to be burned by adding a themed templates menu offered by the tool or create your template. Also, you can add music backgrounds as well as an opening file.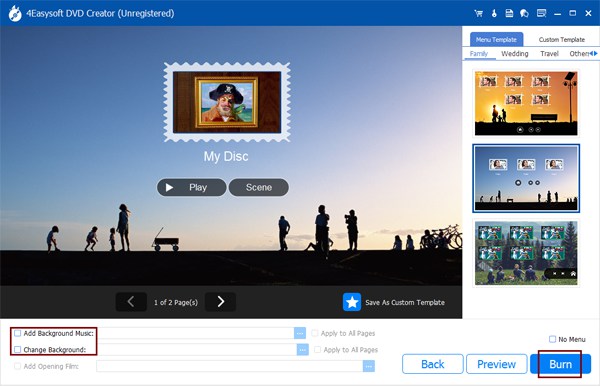 Step 4Once you are satisfied with your setups, click the Burn button, then you will prompt to add some changes to your output by using the tool's built-in setting. After that, tick the Start button once satisfied with your work on this CDBurnerXP alternative.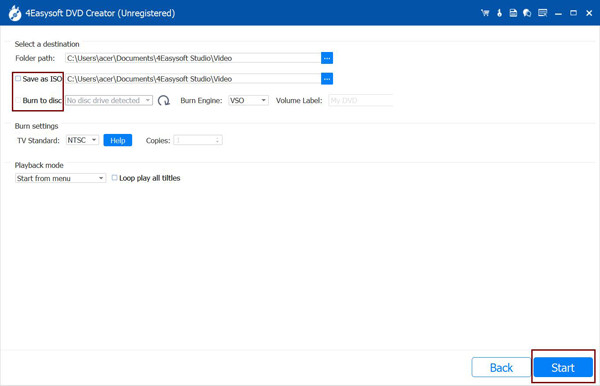 Part 4. FAQs about CDBurnerXP
Can CDBurnerXP copy the DVD?

No, it can't. This is because CDBurnerXP is not a DVD authoring tool that copies video material and combines it with some images, texts, music, dubs, etc. Thus, it only burns those videos that already exist video images to discs.

Does burning a video file affect video quality?

No, it doesn't affect the quality of your video file. For you to have the assurance of still having the original quality of your video after burning it, you can choose the original resolution as well as quality on CDBurnerXP.

What exactly is the difference between ripping and burning?

Burning is copying media files from a computer and transferring them to a blank CD, DVD, or Blu-ray disc. While on the other hand, ripping is a way of copying media files from a specific disk and transferring it to your computer.
Conclusion
CDBurnerXP is a suitable tool you can use to burn your media files. On the other hand, the 4Easysoft DVD Creator is still the best alternative to the said tool. Compared to CDBurnerXP, 4Easysoft DVD Creator comes with many different features and functionality, which is perfect for all your DVD/Blu-ray burning needs. Install and download the tool now!
Related Articles