Graphic Card Drivers: How to Update With Three Effective Ways
Having outdated drivers can affect your computer's performance, such as it becomes sluggish and crashes which can be an annoyance to everyone. Without updating it, you will surely get terrible performance, especially if you're building a gaming PC. So, how would you know that it is outdated? If you notice that your PC's performance has been dropped or has stability issues, you should update graphic card drivers whenever possible. If you don't know, this post has come to rescue you! Keep reading to learn the three ways to update graphic card drivers.
Part 1: How to Update Graphic Card Drivers in Three Different Ways
If you already know that your driver needs to be updated, update it immediately. And the best way and, at the same time, safest to update are given below.
1. Update the Official Website [Windows/Mac]
If you own an NVIDIA graphics card, you want to keep it up to date. As you know, it is known as one of the best graphics cards today, keeping the GPU running smoothly. Actually, there are two ways to update it, but today, we will go over how to update the NVIDIA graphics card on its official website.
Step 1On the NVIDIA main page, click the Drivers located in the top-right menu.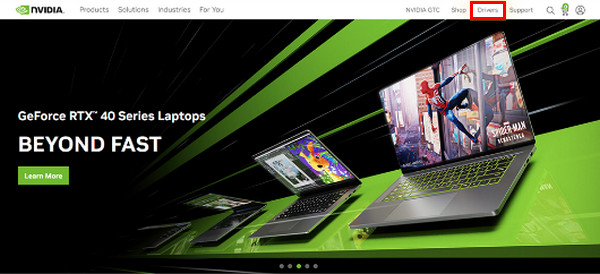 Step 2From the dropdown list, select the relevant specs for your driver. Click the Search button to find your GPU's latest driver update.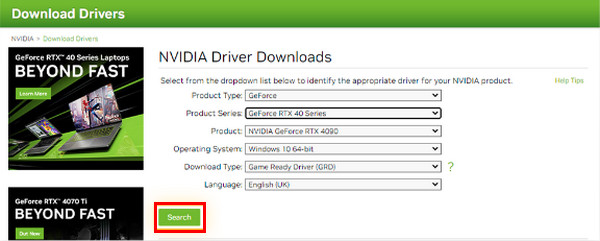 Step 3See below if the update is compatible with your hardware, operating system, and other preferences. Click the Download button. If it rises again, click the Download button to confirm.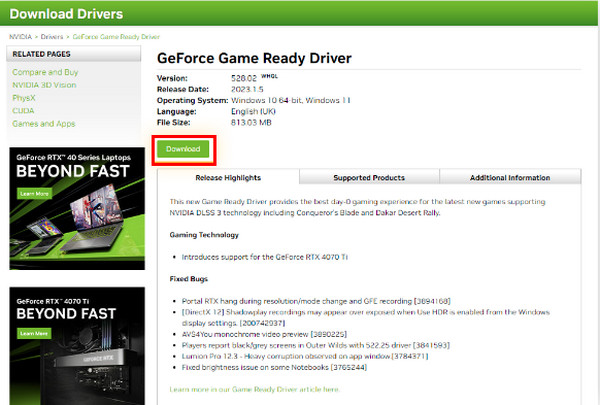 Step 4You will that it was finished updating when the exe file was ready to launch the setup wizard. Make sure to complete the installation process.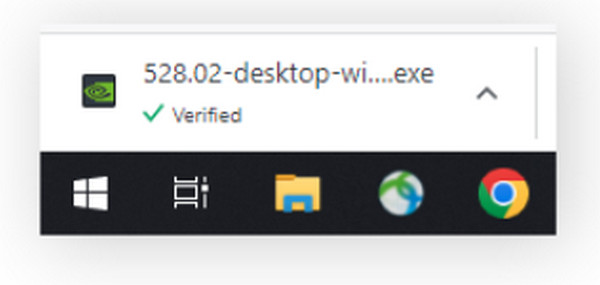 2. Update in the Windows Settings [Windows]
Probably the easiest way is through the Windows Update. Along with network adapters, monitors, printers, etc., driver updates are automatically downloaded through Windows Update. If you like to update the driver, here's how:
How to update in Windows 11:
Step 1Go to the Windows menu, then click Settings. Click the Windows Update button in the left side menu.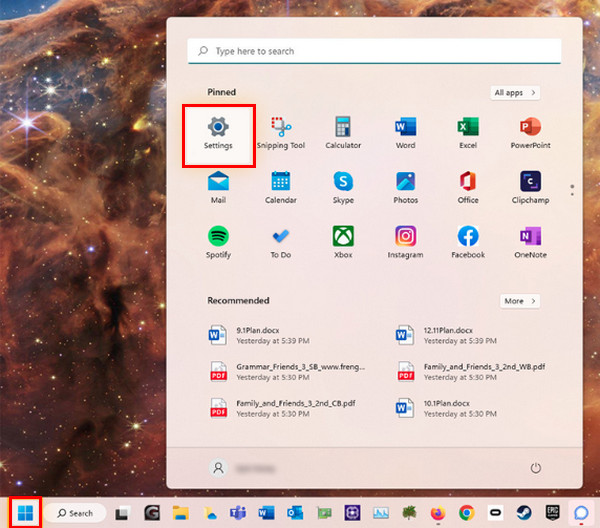 Step 2Click the Check for Updates button, and then you can install any available driver or update.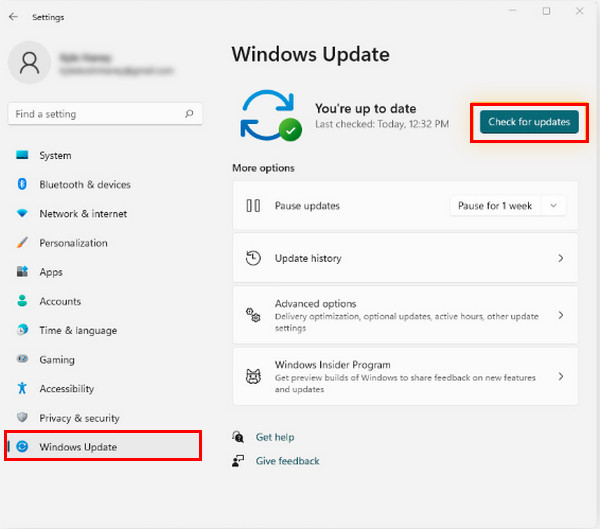 How to update in Windows 10:
Step 1Open the Start or Windows menu, then go to Settings, which has a Gear icon.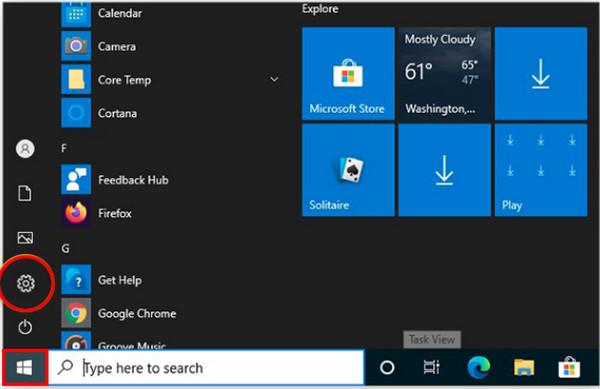 Step 2Head to Update & Security. Click the Check for updates button in the Windows Update section to see if any driver or update is available. Install it if there is one.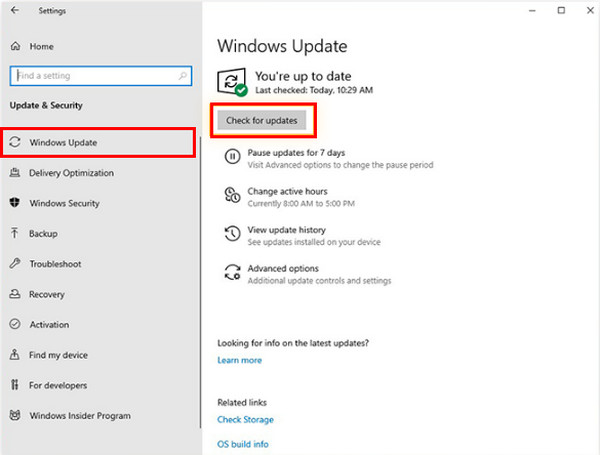 How to update in Windows 7:
Step 1On the Start menu, enter Windows update. Then, click Windows Update in the listed results.
Step 2Click the Check for Updates and wait if there's any update available. If so, install it.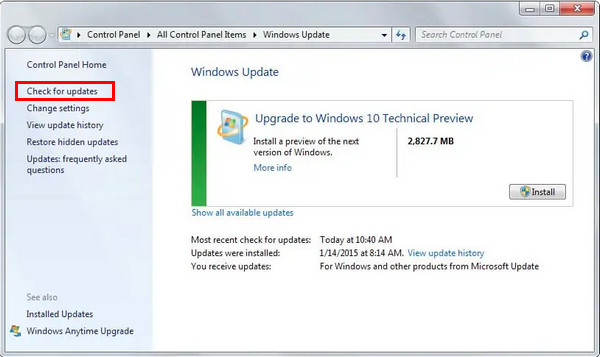 3. Use Third-party Graphic Manager [Windows]
If you prefer using any third-party tool to update graphic card drivers, consider using the most convenient AVG Driver Updater. It will perfectly scan PCS, detect outdated drivers, and download the most current ones with no sweat. In addition, you can have this on your Windows 11, 10, 8, and 7.
Step 1If finished installing the AVG Driver Update, click the Scan Drivers to check if your PC is running outdated drivers.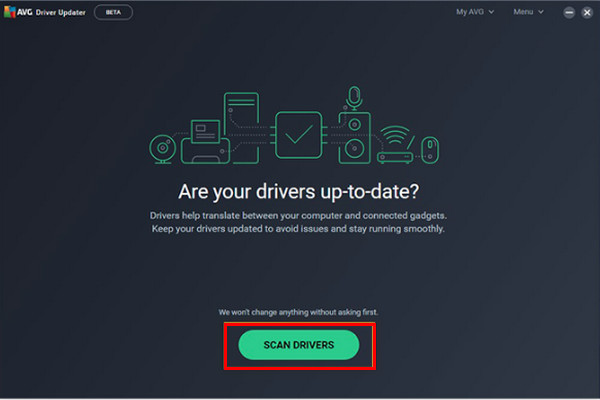 Step 2Then, it will scan the system completely and notify you when there are outdated drivers. Click the Update Selected to start updating all old ones in one click.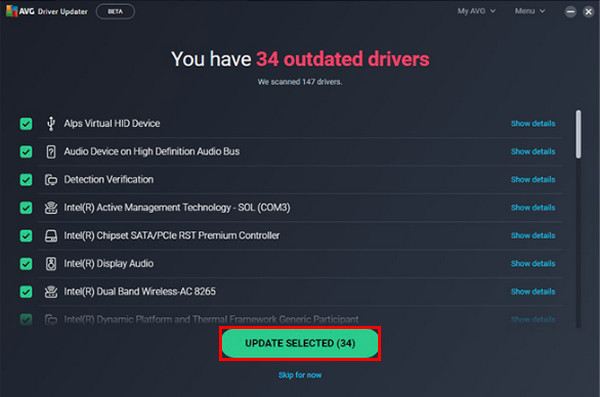 Step 3You can also check a particular driver by clicking Show details to update individually.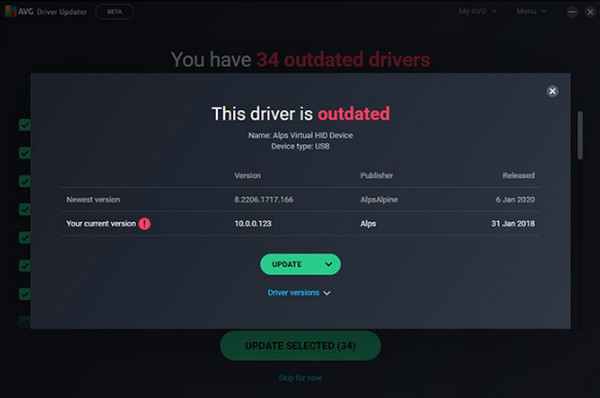 Part 2: FAQs about Graphic Card Drivers
Can my computer still work if it doesn't have a graphics card driver?

Yes. Computers are still usable even without them; however, all hardware in your computer requires drivers, which are needed to describe and show features on your device. Simply put, a computer cannot display images or graphics correctly without graphic card drivers.

How to check if Drivers are not up-to-date?

If the GPU you're using matches the version of your computer, then it is up-to-date. You can check in the Device Manager, locate the one you use, and go to Properties. You can see there the GPU's model and other details about it.

Which graphic card driver is best for gaming?

You can consider using the NVIDIA Driver. According to its users, it provides better stability, although it takes time to have new updates and improvements for some issues it faces.
Conclusion
Although old drivers still work, they won't get along with the newest games. Plus, you would see your computer stuttering or lags or the program crashes. So, take the steps above to update the graphic card drivers you now have for stable computer performance. You can update directly on the official website of the drive you have, using Windows Update or third-party software like AVG Driver Updater.
Related Articles