List of the Top 12 Best AVI Video Converters with High Quality
AVI, as you know, can contain a massive amount in size if uncompressed. And even though it offers high quality, storing more video with this format, you might end up experiencing a storage shortage. You don't have to suffer from AVI drawbacks because the solution is easy. You just need to compress or convert it to a smaller format like MP4 using an AVI converter. Explore this article to see the ten best AVI converters for desktop or online usage.
Part 1. Top 5 AVI Converters to MP4 with High Quality on Windows/Mac
1. First on our list of AVI to MP4 converter tools is the 4Easysoft Total Video Converter. It supports more than 600 video and audio formats to import and export. With the customized settings, you can keep the output videos in high quality. Moreover, in terms of its speed, this tool can provide you with a 60X fast speed with GPU acceleration for compression and conversion processes. With those points, this tool is worth trying and using as your AVI converter on your Windows or Mac platforms.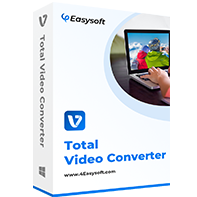 4Easysoft Total Video Converter
Infused with file size options, you can choose to compress your output.
Offer video previewing before compressing or converting your AVI.
Support 1080p and 4K video resolution you can apply to your output.
Capable of enhancing your AVI video file to improve its quality.
Here are the basic steps on how to use this AVI converter to MP4:
Step 1 Free download and launch 4Easysoft Total Video Converter on your Windows or Mac. After that, click the Add Files option at the upper part of the tool or pull the videos into the program.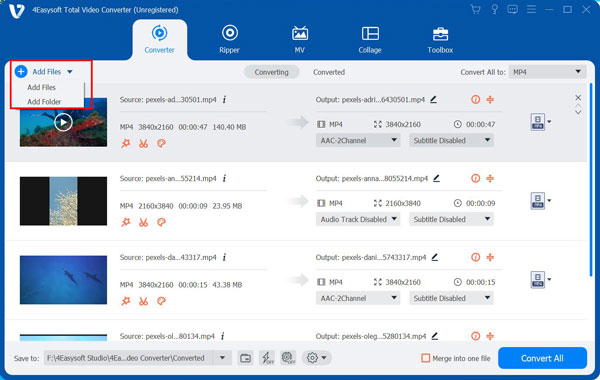 Step 2Click the Convert All to dropdown list and choose the Video tab. Then you can click the MP4 format to convert AVI to MP4 with the desired resolution.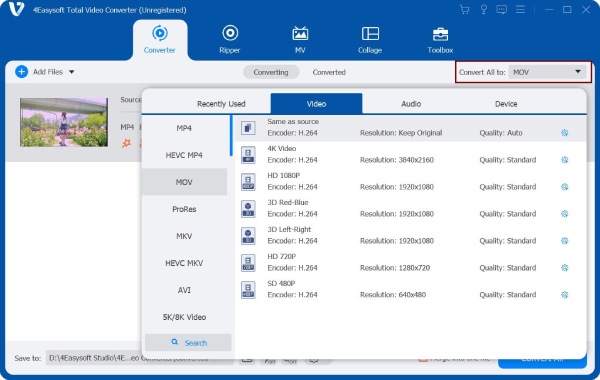 Step 3To keep the high quality, you can also change the video parameters by clicking the Custom Profile button. Here you can adjust the resolution, quality, frame rate, bitrate, etc. In this AVI converter.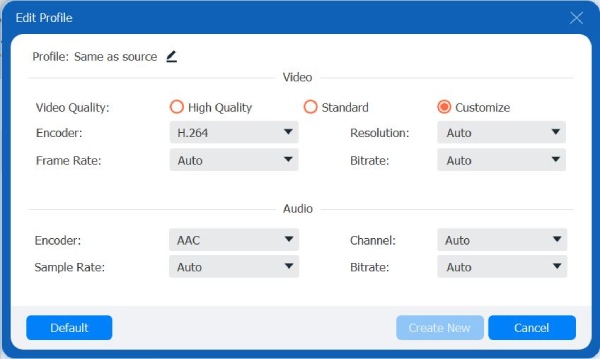 Step 4Once you finish the above setups, you can go back to the main interface and edit your videos further. After that, click the Convert All button to start converting AVI videos.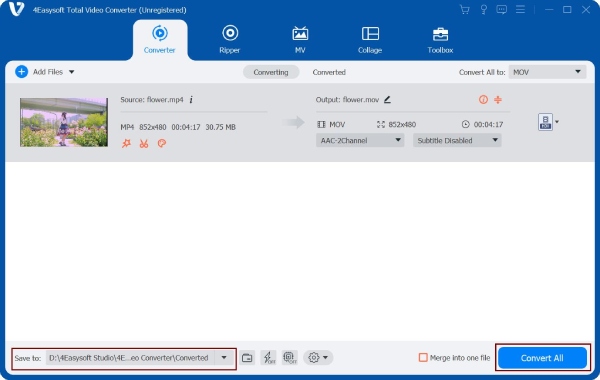 2. Handbrake is also one of those AVI video converter tools you can use on your Windows and Mac computers. However, the latest version of Handbrake only supports limited output formats, but you can still use this tool to convert AVI to MP4. Moreover, this tool contains many different features you can use to bring modifications or enhancements to your AVI. Those include video dimension setups, filters, video, and audio tweaking options, adding subtitles and chapters, etc. Furthermore, setting parameters for video quality is easy and allows you to preview your output before converting it. Although, this AVI converter only supports previewing the first four minutes of your AVI video.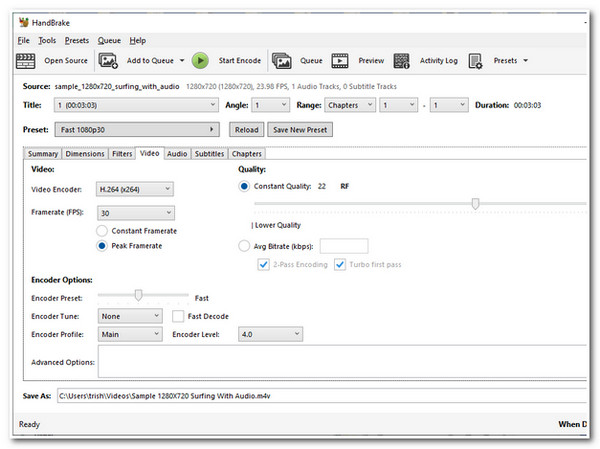 3. Freemake Video Converter is another AVI video converter compatible with Windows and Mac devices. This free converter tool was made to convert AVI files into various formats, including MP4, MKV, WMV, and more. This tool also supports output tweaking options to modify your AVI before converting it into MP4. Despite that, this tool doesn't support file size compression, but you can customize the resolution of your AVI video. By lowering the resolution, you can reduce the file size of your AVI file. Its conversion process is also commendable, and AVI to MP4 is easy to understand and accomplish. Lastly, this AVI converter keeps evolving and developing other advancements to provide excellent service to its users.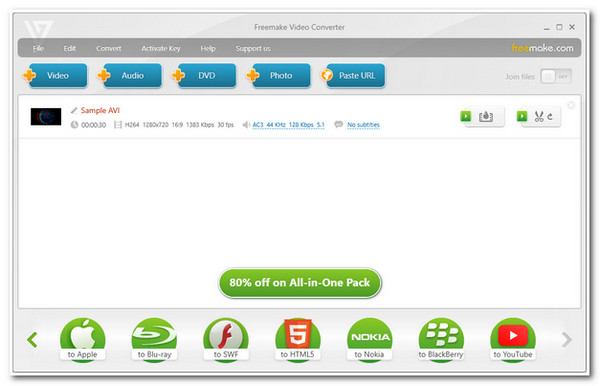 4. Any Video Converter is compatible with Windows and Mac platforms. This AVI video converter enables you to convert AVI to MP4 and other popular formats. Moreover, just like other tools, this is also infused with a few effective video tweaking options. Additionally, those video tweaking options are direct and automatically categorized as High (Larger file size), Low (Smaller file size), and Normal. Through those options, you can reduce the size of your AVI file. Furthermore, converting your AVI to MP4 is at 30X faster conversion speed. This AVI converter tool is also one of those reliable tools to use for your conversion needs.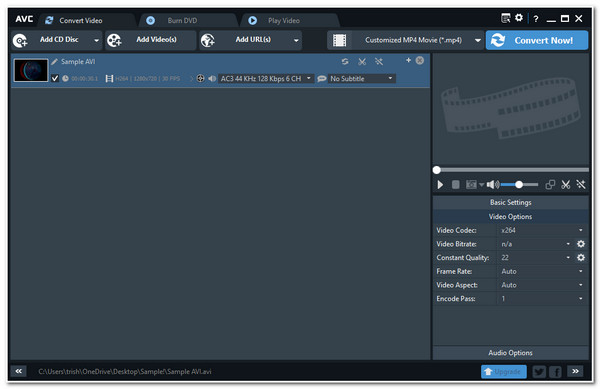 5. Leawo Video Converter is also a noteworthy AVI converter to MP4 tool you can use with your Windows or Mac operating system. This tool supports 180 formats and enables you to apply changes to our output through its parameters. Another thing, you can convert your AVI to MP4 with 6X speed of conversion and lower its file size while keeping its source quality. Moreover, it is also composed of video editing features that you can apply to your output for a much better and more creative appearance or look. Although this tool was linked with some issues and lacks some features, you can still use it to lower the resolution causing you to save more storage. Nonetheless, it is still an efficient AVI converter tool for you.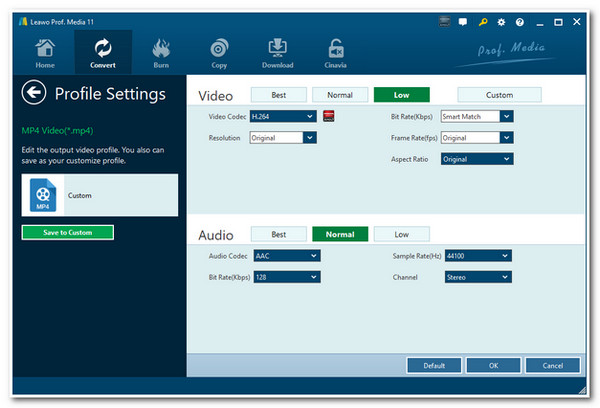 Part 2. 2 Easy-to-use AVI Converter Apps for Mobile
If you want to convert AVI videos on your mobile and save more storage space, here are 2 simple but powerful AVI converters for Android/iPhone. Keep reading to know their features and choose the desired one.
1. Video Format Factory
Video Format Factory is a AVI converter for mobile that supports a wide range of video and audio formats, including popular ones such as MP4, AVI, MKV, FLV, and more. You can easily convert AVI videos to MP4 for Android or MOV for iOS devices. Moreover, it provides a video compressor to reduce the file size without losing too much quality. In this way, you can easily save more movies on your Android/iPhone.
2. Video Converter&Compressor by Inverse AI
This is also a powerful AVI video converter for mobile, and it also support compressing videos. Although the compression process will save more space on your mobile, you'd better convert AVI to MP4 for easy playback on all devices. What's more, it also provides customized adjustments on your output videos, which will produce high-quality videos with small size. With its intuitive interface, you can start converting AVI now, even as a beginner.
Part 3. 5 Best Free Online AVI Converters
There are also a lot of online AVI converter tools that you can use for free and accessible only with your computer browsers. Let's explore them below.
1. CloudConvert
First on our list of the best free online AVI converter tools is, CloudConvert. This online tool enables you to convert AVI to MP4 in just a few clicks. Aside from that, it is also infused with video customization settings that allow you to choose your preferred resolution, ratio, codec, and more. Moreover, you can also add some changes to your AVI file by adding subtitles to it, undergoing some video trimming, and applying watermarks. Just note that you can stay within 10MB AVI file input, but you can still upgrade this if you avail of its paid version.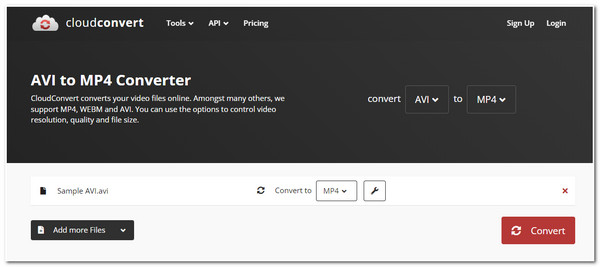 2. Convertio
Convertio is also an efficient AVI video converter you can use online. Thanks to its simple interface and features, this tool comes with a very straightforward and easy-to-understand video conversion. Aside from that, this tool also supports other file types, such as eBooks, images, documents, videos, and more. In terms of video editing features, this tool comprises output tweaking features you can use to apply some changes to your videos manually. These tweaking options include video resizing, quality options, codec, frame rate, etc. However, this AVI converter doesn't allow you to upload an AVI file that exceeds 100MB. You must sign up for your account and choose your plan to upgrade it.

3. FreeConvert
Another AVI video converter tool you can use online is FreeConvert. This tool can convert your AVI to various formats, including MP4. Like other great online tools, this is also developed to convert other files, such as audio, image, and documents. You can also import your AVI files as many as you want and convert them simultaneously. You can also choose and pick your desired video resolution, ratio, and frame and edit your video. Despite those points, this tool has limitations in file import. You are not allowed to use the tool to convert an AVI file to MP4 that contains more than 1GB of file. But you can still enlarge it if you sign up for your account and purchase one of their offers.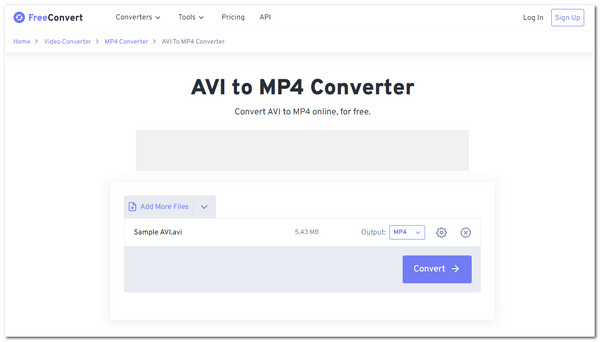 4. Online-Convert
Online-Convert is also an effective online converter to use as an AVI converter. Despite being simple, this online tool has what it takes to convert AVI to MP4 and enhance or modify it with its built-in video editing features. Those editing features include changing your bitrate and frame rate, setting file size, and more. Behind those good points, this tool performs very slowly and takes a lot of time to finish the process.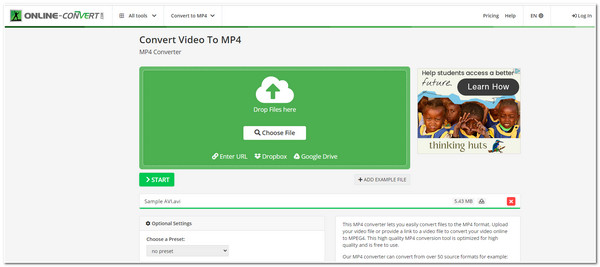 5. OnlineVideoConverter
Last but not least is, OnlineVideoConverter. This AVI video converter tool is very straightforward and comes with different options to choose on you wish to import your AVI file. Those options are to import your AVI video file from a link, your file storage, or record an AVI video. Moreover, this tool will not require you to install specific software or sign in to your account before you can use it. However, it only supports limited AVI tweaking options. But then, it still has what it takes to be your online AVI converter.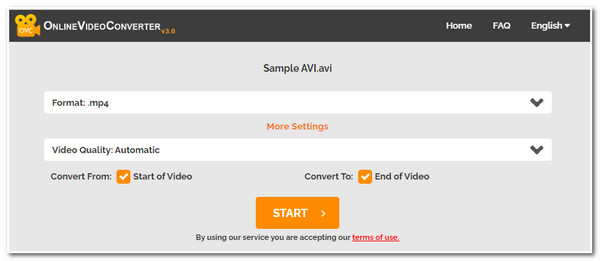 Part 4. FAQs about the Best AVI Converter
1. Compared to AVI, does MP4 also contain high quality?

No, AVI still contains much better quality than MP4. With other popular video formats, AVI is considered a better media container.

2. Does AVI compression affect its quality?

AVI file format contains a codec that helps the compression or reduction process of its file size while maintaining its admirable quality. It does affect the quality but not that much.

3. Can I convert AVI to MP4 with a smaller size and high quality?

Yes, you can. Converting AVI to MP4 will make you reduce the file size while maintaining its original quality. Moreover, it is also one of the abilities of this tool that compresses the video size while preserving its original quality, or you can also enhance it.
Conclusion
Picking the best AVI converter tools is necessary to achieve your desired conversion needs. The tools mentioned above can convert AVI to MP4, MKV, MOV, etc. The most recommended tool is the 4Easysoft Total Video Converter. This tool comprises video tweaking options that are beyond the best for reducing the file size of your video with an AVI format and converting it with an MP4 which also enables you to enhance your output. Witness the other capabilities it can give as your AVI video converter in your own hands. Feel free to download and install it now!
Related Articles: