10 AI Video Generator Tools to Make Videos for YouTube in Minutes!
You probably agree that creating videos for YouTube is one of the most time-consuming tasks. It requires much work before uploading it to YouTube, which is exhausting. But with the rise of AI Video Generator tools for YouTube, everything has become easier, for it provides AI-driven creation of videos! Thus, this post collects the 10 best AI YouTube Video Generators that independently create videos with excellent output. Explore them now!
Part 1: Best 10 AI Video Generators for YouTube with Different Features
Many AI YouTube Video Generator tools are available on the market, but only a few are infused with remarkable AI technologies. Having AI technology integrated into them will assist the user in creating their videos. This is beneficial because it allows users to create videos in just a few minutes, allowing them to work on other tasks. In this post, you'll see a list of the 10 best AI Video Generator tools for YouTube and their different features. So without any further ado, let's start diving in!
1. Pictory
The first AI Video Generator tool for YouTube that you can use is Pictory. This AI-driven tool can generate videos within just a few minutes out of a script (Blogs or Articles), pre-existing videos with overlayed texts, and a group of images. Moreover, it supports 3 million plus image assets, GIFs, Stickers, Emojis, and Templates, which you can embed or add to your video. Furthermore, it also offers automatic captioning if you want to subtitle your video.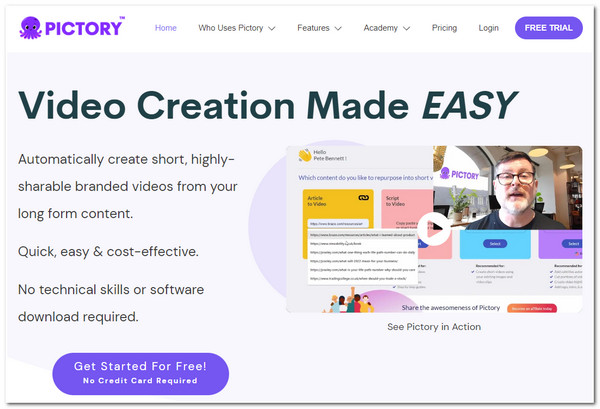 2. Synthesia
Another tool you can use as an AI YouTube Video Generator is Synthesia. Unlike Pictory, this AI-integrated tool supports 120 languages and 140 diverse AI avatars you can use as someone who is talking to your video. Using its built-in Text-to-Speech feature, you can make an avatar talk depending on your imported script. It also supports options to tweak avatar gestures and diction.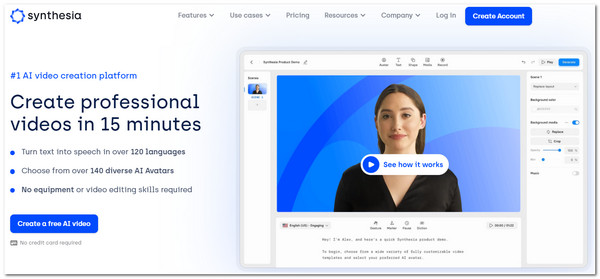 3. Deepbrain AI
Deepbrain AI is similar to Synthesia AI Video Generator; it also supports the Text-to-Speech feature that utilizes photo-realistic AI avatars that you can use to deliver how-to tutorials on YouTube. It offers 80-plus languages, various ready templates, and video editing options such as captioning, background modification, and adding background sounds.

4. Wave.Video
The moment you see Wave.Video AI Video Generator for YouTube, you will definitely amaze by how many infused video editing options this tool supports. Aside from its built-in Text to Video feature, it is also equipped with pre-made templates, stocks of media files, text, audio, captions, and layout editing tools. This tool stands out because it supports various formats for Facebook, YouTube, TikTok, and Instagram uploads.

5. Fliki
If you are looking for a dedicated YouTube AI Video Generator tool, consider checking Fliki. With just a tick, you can create a fantastic video for YouTube. All you need to do is to select your preferred voice and emotion. After that, add your script to the tool, either a document file or a link to your Blog. Then export your work, then that's it! You can now upload it on your YouTube channel.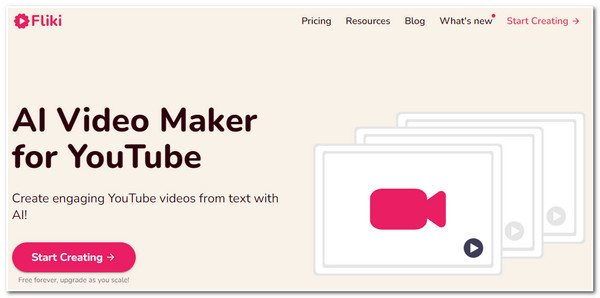 6. Lumen5
The following AI Video Generator for YouTube that you can use is Lumen5. The same goes with the first featured tools above; Lumen5 also can transform written scripts, blogs, and even those URLs that contain content into a creative video. The process behind this is that the tool's integrated AI will summarize your imported script or Blog, create scenes out of it, and match each scene with its stock footage. Provide timing in each scene, and arrange text positioning and composition!

7. FlexClip
Unlike the tools above, FlexClip supports different features integrated with AI technology. This tool supports Image Generator, Audio Subtitle, Background Remover, etc., and AI unifies all. But the FlexClip's features that you can use as YouTube AI Video Generator is the AI Text to Video and AI Text to Speech. Through these features, you can create YouTube videos, either a how-to tutorial, explainer, promotional, social media videos, etc. Of course, it also lets you customize some parts after the AI generates them.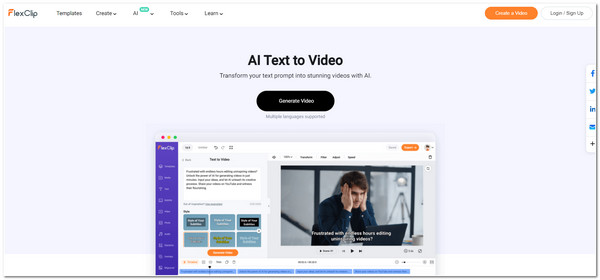 8. HeyGen
The following AI Video Generator for YouTube is HeyGen. This tool allows you to embed voice recordings into an avatar or create a script of what the avatar will say. It supports 100+ diverse and customizable avatars and 300+ voices in 40+ various languages. With this tool's 10X faster processing speed, you can create engaging videos quickly.
9. Colossyan
Colossyan is also one of those AI Video Generator tools for YouTube that offers impressive features. With this tool's integrated AI and equipped machine learning technologies, it can easily generate videos that are best for tutorial and explainer videos. It supports various avatars and 120 different languages to choose from. It also lets you modify the accent of your avatar and add subtitles to it.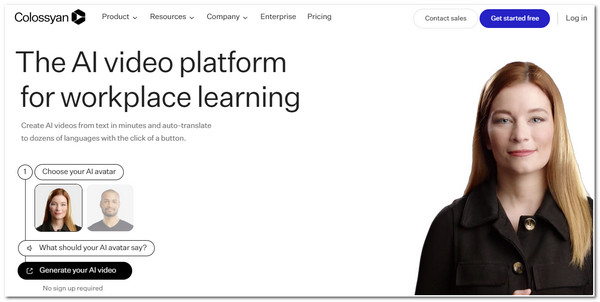 10. Designs.AI
Last but not least, this group of AI Video Generator tools for YouTube is Designs.AI. This tool is similar to Wave.Video. Aside from the fact that it supports the Text-to Video feature, it also lets you modify the size of your output according to the size requirement of various social media platforms, like Facebook, Instagram, Twitter, etc. This is an excellent opportunity for you to cross-posting YouTube videos to other platforms. Its Text to Video feature lets you convert various written content into video in more than 20 languages.

Part 2: More Tips on Making YouTube Videos with AI-generated Scripts
That's it! Those are the group of 10 best AI Video Generator for YouTube. Now, it is essential to remember that you must ensure that the scripts you'll use to generate videos should be written comprehensively. What would be the sense of having a tremendous AI-generated video if the content of it is not engaging and not easy to understand? Other than that, you should also offer your audiences something different with each upload. So, in this part, you'll be going to see various tips on making AI YouTube videos. Explore them below!
1. Organize Your Ideas
Ensuring you write your script with organized thoughts and ideas is very important. You can deliver straightforward content or messages to your audiences with an organized script.
2. Create a Captivating Story
With many videos on YouTube, gaining views on the platform is quite challenging. You should also ensure they contain a compelling and engaging story when filming a vlog, how-to tutorials, explainer videos, etc., aside from creating a script for them as a guide. In this way, you could be remembered.
3. Produce YouTube Videos with Different Contents
Aside from having a compelling and engaging script generated by an AI Video Generator tool for YouTube, you should also ensure that you often offer different content on each of your YouTube uploads; if you can't, at least feature different subjects in your content. For example, aside from how-to tutorials, if your content focuses on Beauty, you can also feature beauty product reviews. If you run out of ideas, you can visit the ClipMaker.AI YouTube Ideas AI tool.
ClipMaker.AI YouTube Ideas AI can generate various YouTube video ideas. Just type in what your YouTube Channel is all about, click the "Generate my ideas" button, and the tool will automatically show you some ideas.

Part 3: FAQs about the Best AI Video Generator for YouTube
Which of those featured YouTube AI Video Generator tools offers a free option?

The tools that offer free versions are Pictory, Wave Video, Lumen5, FlexClip, Colossyan, Fliki, and HeyGen. However, they only offer limited features and services under the free version. If you need more than those offered under the free version, purchase one of their paid versions.

What would be the best AI Video Generator for YouTube that offers great avatars?

If you need a tool that offers a lot of avatars, Synthesia is the best pick tool. Otherwise, if you are looking for a tool that offers photo-realistic AI avatars, then Deepbrain AI is what you are searching for.

How to make AI generated YouTube videos using Synthesia?

To make an AI-generated YouTube video using Synthesia, you must first access the tool, select your avatar, and add your video as background. After that, type in your script and select a language. Then, edit the video, and once you finish it, you can generate it.
Conclusion
There you have it! Those are the 10 best AI Video Generator tools for YouTube. Through them, you can free yourself from creating YouTube videos that take a lot of time to finish. With just a few clicks and ticks, you can acquire the best AI-generated output for your YouTube upload. Visit the tool's website that captures your interest and starts using it today!