12 AI Painting Generators with Different Features, Styles, and More
For anyone who's a fan of experimenting with their ideas with different styles and images, there are things like Artificial Intelligence or AI. One of its products is the AI painting generators, which can help make various types of art with AI's machine learning and neural networks. And it will allow you to reduce time on producing fantastic art. AI Painting Generator comes in two forms: Image to Image and Text to Image. To learn more about it, this post will walk you through the top 12 AI art generators today and knowledge about it. Have fun!
Part 1: Best 12 AI Painting Generators on Windows/Mac/Online
As mentioned, there are two types of AI Painting Generator. The first one is the self-explanatory Text to Image; users will input text or call as a prompt and then be able to make unique art based on the text. Meanwhile, for Image to Image, users are enabled to upload an image and then transform it with AI. These are found in the 12 AI Painting Generators below. Start to know more about them now.
1. HotPot
Price: $10 - $200 per month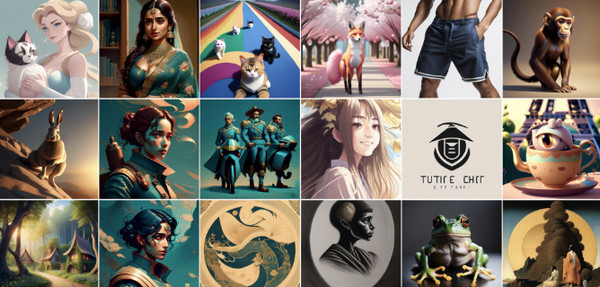 HotPot AI Image Generator can transform your imagination or idea into art. It is a type of AI painting generator from text, where users can simply enter words and let HotPot do the magic to produce incredible art. As it utilizes advanced algorithms to understand the words put by users, this online AI deeply understands the words put by users to translate into exquisite art.
Pros

Fast generation of producing high-quality arts.
Wide range of artistic styles.
Cons

Slow results in the free trial.
Come with advertisements.
2. Cutout.Pro
Price: $2.99 - $1399 per credit

To explore more of your artistic side, check out Cutout.Pro AI Painting Generator. It makes sure that everyone can create beautiful and one-of-a-kind art, according to their artistic skills, by offering a friendly main interface and tools. Additionally, the experience of turning your image into an artwork can be done quickly with the guidance it provides throughout the process.
Pros

An powerful interface that is good for all skills.
Unique artwork generation.
Lots of tools offering in experimentation.
Cons

Limit in file size.
3. DeepAI
Price: $4.99 per month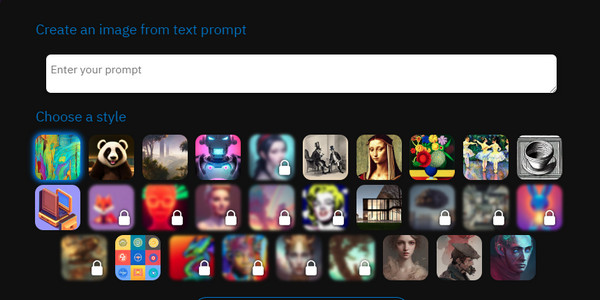 DeepAI allows users to upload as many pictures as they want, transforming each one into fantastic realistic art. Being an AI Painting Generator, each turned-into-an-art image can be customized in colors, textures, details, and more. Aside from that, it provides tools like StyleGAN and BigGan that helps make realistic images.
Pros

An open-source software AI Generator.
Produce vector graphics instantly.
Adjusting various details for images.
Cons

Not free from advertisements.
Limited file format supports.
Fotor
Price: $8.99 - $19.99 per month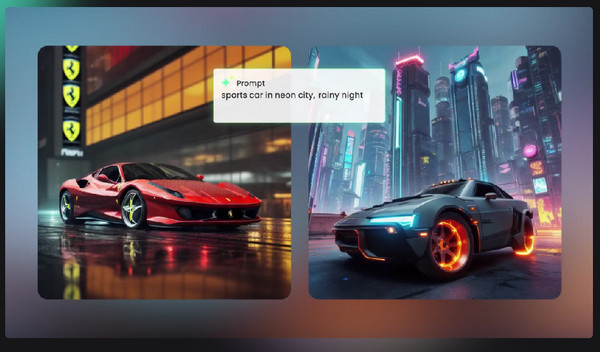 Among the best AI tools is the Fotor, which needs minimal effort to create art in just minutes. It is a free AI Painting Generator that doesn't require users to create an account to download their transformed artworks. You are allowed to apply personal touches easily and select the style of art you want once you upload an image.
Pros

No account is needed.
Offers lots of styles and editing options.
Affordable in subscribing plans.
Cons

Slow performance as a desktop app.
The free version has limited tools.
5. WOMBO Dream
Price: $9.99 per month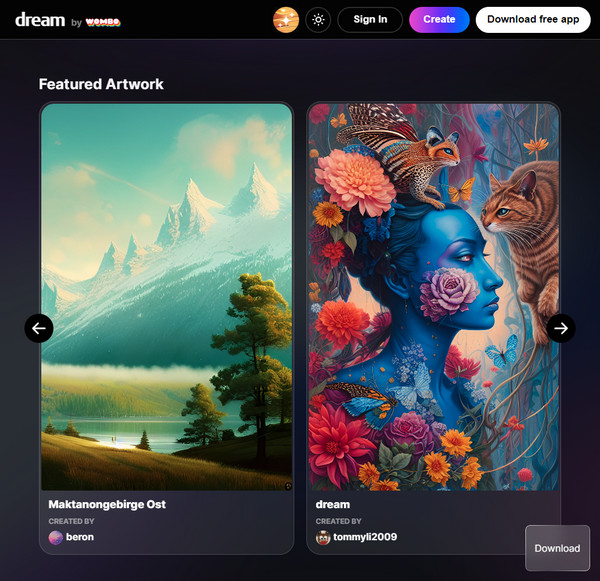 Another AI Painting Generator from text is WOMBO Dream. Aside from transforming the text into artwork, it also supports turning existing images. This tool has collections of templates and comes with realistic renditions and a version for mobile. Furthermore, it lets users select different styles like comics, abstracts, ink, and more.
Pros

Wide range of templates.
Work as a mobile application.
Not complicated main interface.
Cons

One image for each prompt.
6. Shutterstock
Price: $49 per month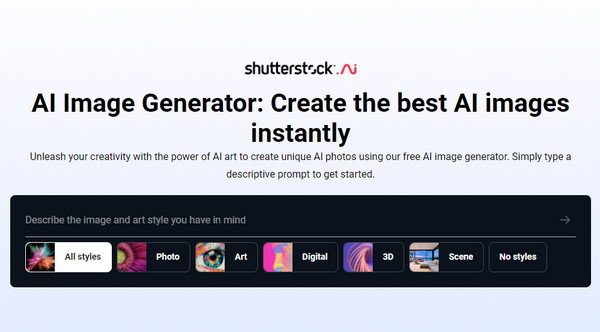 The famous Shutterstock provides stock photography, footage, and music, and now, it lets works as AI Painting Generator, letting users generate their images into artwork. It offers a variety of image styles, and when you click each, you will get access to more options to process what you're going to create. You can then save all transformed photos, public or private.
Pros

Support more than 20 languages in text prompts.
Offer tags to add ideas in text prompts.
Have a private Shutterstock collection.
Cons

Slow generating images.
7. Starry AI
Price: $11.99 per month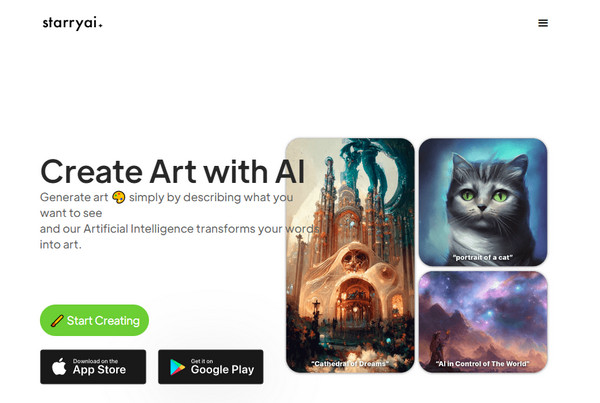 The following AI Painting Generator is StarryAI, wherein users won't be needed to upload images to transform. Instead, just entering a simple text will give you lots of digital art. You won't have to give a detailed description as it has machine learning that assists in processing images and even suggesting filters you will need.
Pros

Work on iOS and Android devices.
Turn text prompts into artwork instantly.
Simplified process for all skill levels.
Cons

Limited up 5 artworks each day.
8. Artimator
Price: $9.99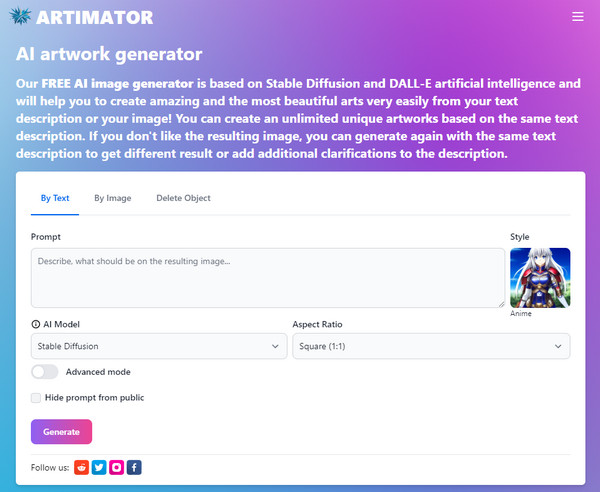 Another free AI Painting Generator that can help you create stunning artwork in no time. You can generate a wide range of artwork based on your description. And if you're unsatisfied with it, you can generate it again or provide a detailed one for different results. Although a free online tool, Artimator will save you time by providing beautiful artwork.
Pros

Unlimited text generator.
Accept both text and image as an input.
Customizable options are available.
Cons

The learning curve is steep for some users.
Lack of originality on the generated images.
9. NightCafe
Price: $14.37 for three months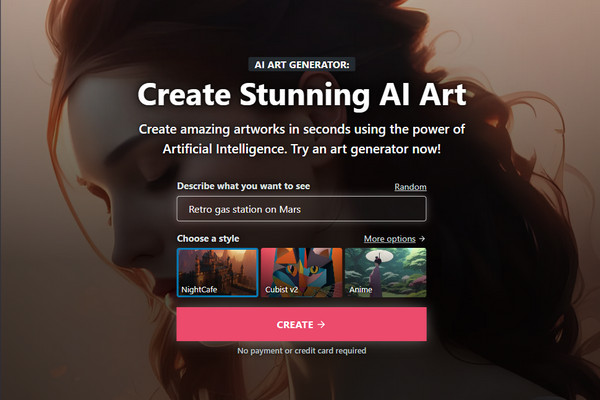 NightCafe s among the popular AI Painting Generators known for its algorithms and options compared to other generators. Similar to others, it can generate up to 4 images from a text prompt. Moreover, it has an extensive library of images from users all over the world and also includes competitions to create art.
Pros

Various artistic styles are offered.
Available online and for both iOS and Android devices.
Multiple prompts, batch creation, and download are supported.
Cons

Slow in image generation.
10. Craiyon
Price: $5 per month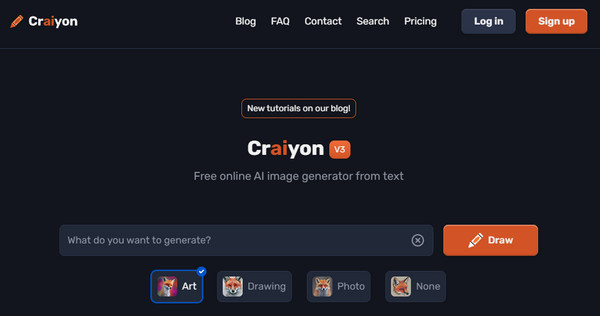 An online AI Painting Generator formerly known as DALL-E mini is Craiyon which is capable of generating images from any text that users enter. However, its AI struggle with drawing faces, but over time Craiyon improves every concept, like designing art for clothes and merch, and offers features that can quickly generate images from a text prompt.
Pros

Unlimited text prompts.
Friendly user interface.
Quick image generation.
Cons

Lots of advertisements.
No templates or style presets.
11. Leap AI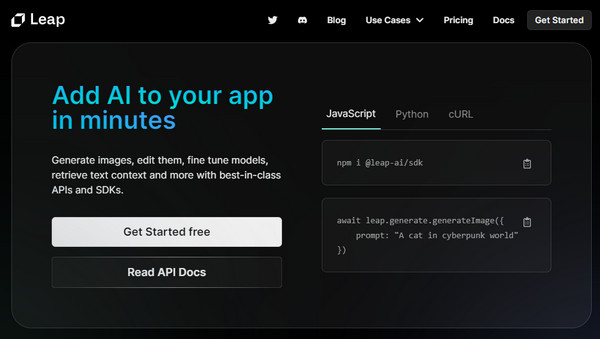 Aside from generating images, Leap AI can retrieve text context through its APIs. Like other generators, this AI Painting Generator is a text-to-image function in which you will enter text then AI will do the job. You can generate up to 100 images in the free version, but soon you can also use it for video generation, as Leap AI promise.
Pros

Generate background and headers.
Can retrieve text documents.
Integrated with more than 5,000 apps.
Cons

Lack personalization.
Can be complex for most users.
12. Artbreeder
Price: $8.99 - $18.99
Closing out the list of AI Painting Generator is the Artbreeder. It is a widely used AI tool to generate landscapes and portraits. It comes with three models, and this includes image production, which can accurately generate the data you input. Additionally, it can change the skin tone, hair color, and eye color of the user's face.
Pros

Generate random images.
Create high-quality transformed pictures.
Utilizes lots of neural networks.
Cons

Limited ability to control some features.
Part 2: More Knowledge You Should Know about AI Painting Generators
As you can see from the above list of AI Painting Generators, AI applications can provide you with a wide range of art styles from the image or text you input. Whether you're searching for something creative thing to do to enjoy and explore your creativity, AI Painting Generator is worthy of your time. You can consider using the WOMBO Dream, and other discussed AI tools for commercial and personal use.
But how does it work? With artificial intelligence, the generator will transform the text into a corresponding or raw image that transforms into an artwork. AI Painting Generators can be a place where collaborators and people share their skills and work together to provide different art styles. Since AI generators are prevalent today, knowing their pros and cons will give you more insight into how AI Painting Generators work.
What I Like About AI Painting Generator:
Artificial intelligence doesn't require human energy to provide fantastic artwork.
It is a concept built and managed by humans who trains a machine to acquire such skills.
Generate significant content without an extensive team to help.
Eye-catching templates can be created from scratch.
What I Don't Like About AI Painting Generator:
Lack human understanding for processing data
Can't understand shapes, lines, colors, and other details.
Cannot come up with new ideas and interesting new results.
It cannot converse with a reader or explore a specific topic.
Part 3: FAQs about the Best AI Painting Generator
What is the most significant advantage of AI Painting Generator?

AI tools most significant advantage is the creative process, letting users make and produce works with different style techniques in no time.

Which AI Painting Generator has almost no restriction?

Although the famous AI tool, PicSo is included in the above list of AI painting Generators, it offers no limitations in generating images, making it among the best selection for the AI community.

What is the most used AI Painting Generator?

Dream by WOMBO is one of the famous AI generators in today's market. The generation is fast and can be accessed as a mobile application.

Is the PhotoSonic AI a free art generator?

PhotoSonic is a free-to-use art generator, but not totally. In the free trial, you will experience many limitations, and all features will be available once you subscribe.

What is AI Painting Generator in simplest form?

It is a tool that automatically uses deep learning algorithms and neural networks to generate art in simple clicks.
Conclusion
Wrapping it all up, you have learned today of the best AI Painting Generator tools, making creating amazing paintings or artworks much easier. Whether you're techy or not, you can use each discussed to explore your creativity with the variety of styles and options they provide. Furthermore, it is worth noting that all 12 mentioned are packed with great features; expect to see more improvement from them in the future.