Top 10 AI Chatbots Like ChatGPT for Work, Study, or Entertainment
In the ever-evolving world of artificial intelligence (AI), ChatGPT is the most widely-used chatbot to make interactive and informative discussions with people. But it always crashed because of too many requests or unstable Internet connection. Luckily, there are many AI chatbots like ChatGPT, which will offer unique features, functionalities, and conversational experiences. Whether you're seeking issue solution, personal assistance, or simply engaging conversation, read more to learn these AI chatbots like ChatGPT in the following.
Part 1: Overall Reviews on the Best 10 AI Chatbots Like ChatGPT
If you can't use ChatGPT suddenly or just think it can't answer the questions quickly in real-time, here are many AI chatbots like ChatGPT to help you solve problems or simply make you happy. Get to know their features, benefits, using experience, and more!
1. Microsoft Bing
2. Google Bard
3. Chatsonic
4. Jasper Chat
5. DioloGPT
6. Character AI
7. YouChat
8. Replika
9. Cleverbot
10. GitHub Copilot
1. Microsoft Bing
Microsoft Bing offers a chatbot framework that enables the development of conversational agents for various applications. As a ChatGPT alternative, it uses the most advanced LLM from OpenAI and provides task-oriented conversations that are integrated with Microsoft service.
Price: Free.
Pros

Deep integration with Microsoft ecosystem and resources.
Links back to sources to help you know more.
Able to get information in real-time.
Cons

Limited customization options.
May require technical expertise.
Less emphasis on creative text generation.
2. Google Bard
Google Bard is an AI chatbot like ChatGPT that is mainly designed for creating conversations and summarizing texts. It is connected to Google search engine, so there is no limitation to the resources, and you can even use the Google it function with this ChatGPT alternative.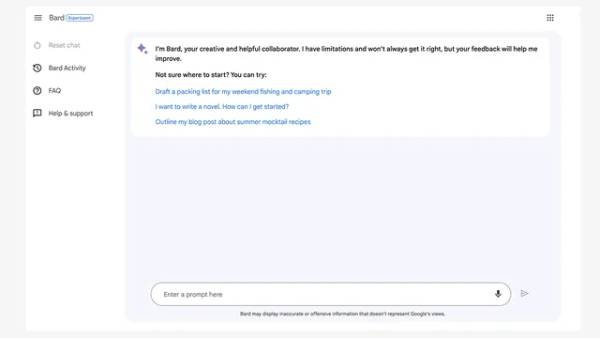 Price: Free.
Pros

Generate texts and answer questions quickly.
Good at editing clear text with the help of Google.
Directly export the prompts to Google Doc or Gmail.
Cons

Can't help much with code.
Lack of integration with other platforms.
3. Chatsonic
It is an AI-powered alternative chatbot to ChatGPT that is built on the top of ChatGPT. Unlike ChatGPT's old information, it collects the latest news with frequent updates. In addition to customer support, conversational flow, and live chat, it offers more features like voice dictation, AI image generation, etc.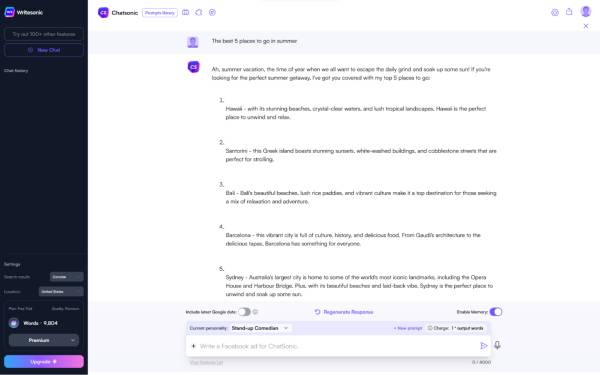 Price: At least $12/month.
Pros

Up-to-date on popular and current events.
Can also be used on Android phones.
Have a built-in image generator.
Cons

The answers are sometimes biased according to your attitude.
Need customization for specific requirements.
4. Jasper Chat
As an AI chatbot like ChatGPT, Jasper Chat also has learned billions of articles before 2021, which makes it can't answer questions about recent events. The difference is that Jasper is more focus on business uses for advertising and marketing.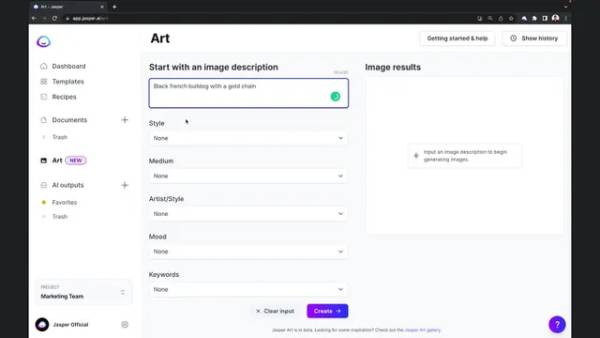 Price: At least $39/month.
Pros

Turn the conversations to documents quickly.
Provide 50+ templates, like YouTube scripts, blog posts, etc.
Customizable for specific business needs.
Cons

Limited focus on creative writing or open-ended conversations.
Old data without any update after 2021.
5. DialoGPT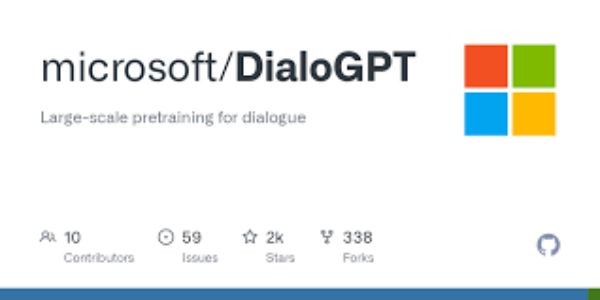 Microsoft DialoGPT is an AI chatbot like ChatGPT that is supported by GODEL AI. The main recourses for training it are from Reddit dialogues, so it has ability to understand language, create conversation, and writing prompts.
Price: Free
Pros

The responds are generated quickly.
Very simple and easy to use.
Cons

It's difficult and complex to set DialoGPT by yourself.
May produce incorrect or nonsensical responses.
Limited control over the generated output.
6. Character AI
Character AI is an interesting AI chatbot like ChatGPT, and it focuses on creating virtual characters for entertainment and interactive storytelling, which means you can choose the desired personality to talk with you. It also provides an input microphone to talk back.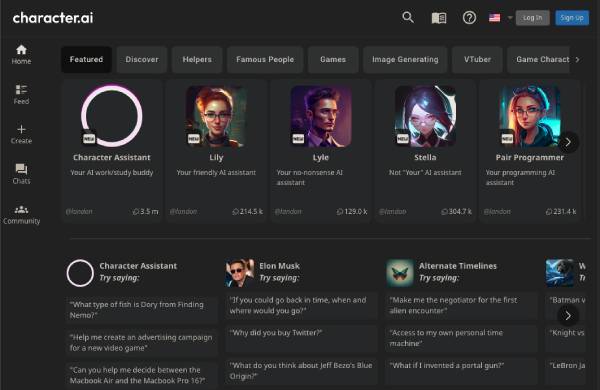 Price: Free with login-in account.
Pros

Able to set the character of the AI chatbot as you like.
Provide a built-in image generator.
Cons

Lack of professional knowledge and information.
The response is slow and not offer a wide range of topics.
7. YouChat
YouChat is a ChatGPT alternative that is created by You search engine. Since it can fully access to the Internet, it provides a wide range of information to create natural languages like human.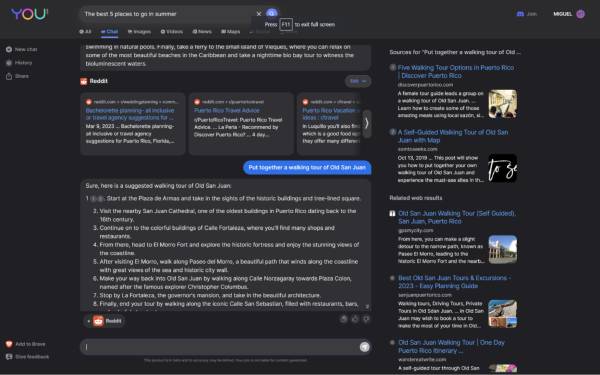 Price: Free
Pros

User-friendly interface with customization options.
Integration with popular messaging platforms.
Cons

Can only provide average answers with some errors.
Still under the bata stage.
8. Replika
This is also a AI chatbot like ChatGPT that mainly focus on companionship and relationships, and provide emotional support to you. Unlike ChatGPT, it will produce meaningful conversations according to your situation and comfort you. You can even play games or have a video call with this ChatGPT alternative.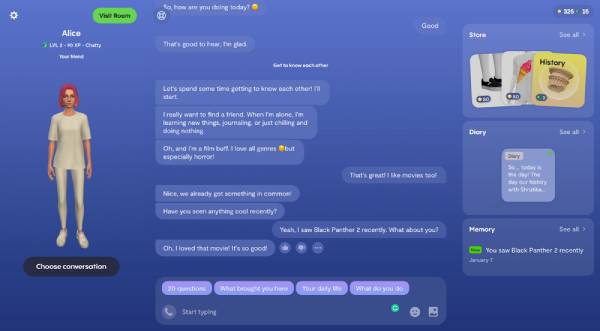 Price: $19.99/month; $299.99/lifetime.
Pros

Track the conversion all the time but protect your privacy.
Learn the user preferences over time.
Cons

Less emphasis on broader applications.
Unable to provide professional advises or solutions.
9. Poe by Quora
Poe (Platform for Open Exploration) is a powerful AI chatbot like ChatGPT, and you can use it to access many AI chatbots including Sage, GTP-4, Claude, and Dragonfly. Thus, it can produce personalized contents for different people.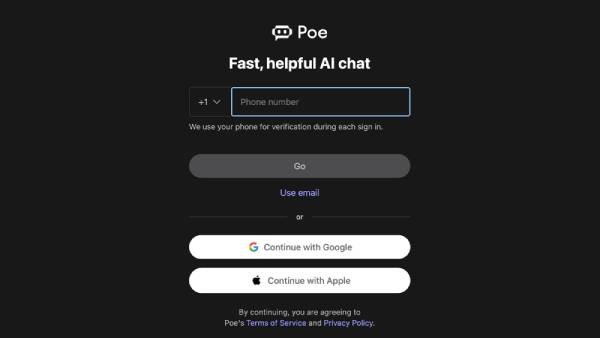 Price: Start at $13/month.
Pros

Also a message app for Android and iPhone.
Support changing grammar, spelling, tone, and style.
Cons

Relatively slow respond speed.
10. Elsa Speak
Elsa Speak is mobile AI chatbot like ChatGPT, or it's more like an English learning assistant. It is more convenient for you to talk with AI and learn English speaking and writing at any time. It will analyze what you are good at or bad at, and train the weak parts for you.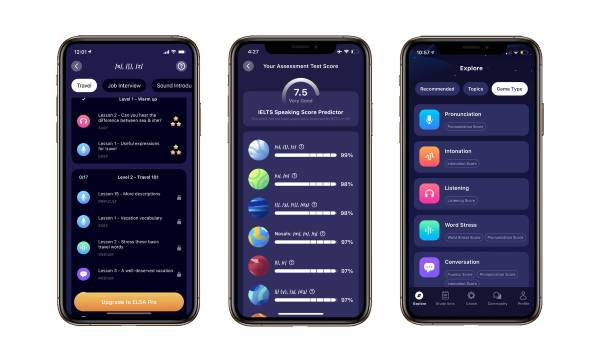 Price: $19/month.
Pros

Provide customized lessons to help you learn English.
Real-time checking and feedback from AI.
Cons

Only provide knowledge for language learning.
Part 2: FAQs about the Best AI Chatbot Like ChatGPT
What specific features you should consider when choosing the ChatGPT alternative?

The most important thing you should consider is natural language understanding, quick response, and wide range of resources for training. Of course, it also depends on what you need, like emotional support or issue solutions.

Are there any chatbots on the list specific for conversions?

Yes. ChatGPT is more like a work or study assistant to solve your problems. If you just want to have fun conversions with AI, you can go to the AI chatbots like ChatGPT – Repilika, Character AI, and Chatsonic.

Will the AI chatbots like ChatGPT have privacy and data security problem?

Yes. Actually, most of the AI chatbots will collect your information and conversations to train the tool. So, you have to be careful not to reveal too much personal information in the conversation
Conclusion
Here are different AI chatbots like ChatGPT, and actually most of them are created based on the same technology. The above tools are focus on different aspects, including business assistant, emotional support, language learning, and more. You can choose the best AI chatbot like ChatGPT according to your need. But please be careful about not leaking your own information and privacy too much.