4Easysoft Total Video Converter as Your Powerful BlackBerry Video Converter
As a BlackBerry mobile user, you might experience be in a situation where you notice that a specific video is unable to play on your mobile device. That falls into a compatibility issue. BlackBerry devices do not support all types of video formats, and only a few exist. To overcome it, you must convert your video file into BlackBerry-supported formats. But, assurance of having a video compatible after conversion is sometimes unachievable. Read this article to see BlackBerry-supported video and codec formats to help you pick the suitable one and use the perfect tool as your BlackBerry video converter.
Part 1. What is the Video Format and Codec on BlackBerry
The first step you should do before starting the conversion process, you should first explore BlackBerry's supported video format and codec. This is a crucial thing you need to consider because even though we convert video with a BlackBerry video converter, we can't be sure if it will successfully play on your BlackBerry device. There are possible instances in which you still might encounter compatibility errors. This step also applies to every media conversion. To help you identify the BlackBerry-supported formats, here is the table containing BlackBerry video formats and codecs.
| | |
| --- | --- |
| BlackBerry-supported video formats | Supported video codecs |
| MP4 | H.263, H.264, MPEG-2, MPEG-4 |
| MOV | H.263, H.264, MPEG-2, MPEG-4 |
| 3G2 | H.263, H.264, MPEG-2, MPEG-4 |
| 3GP | H.263, H.264, MPEG-2, MPEG-4 |
| AVI | MPEG-4 |
| F4V | V6 |
| ASF | WMV 9 |
| WMV | WMV 9 |
Part 2. The Best BlackBerry Video Converter on Windows/Mac
If you are looking for a great BlackBerry video converter, then 4Easysoft Total Video Converter is what you are looking for. This BlackBerry video converter tool is free to download and usable with Windows and Mac platforms. Moreover, this tool can convert your video to various formats supported by BlackBerry devices, such as MP4, MOV, WMV, etc. Furthermore, this tool also enables you to apply changes to the video's resolution, optimizing brightness and contrast, etc. In addition, you can also edit your video before converting it using its basic video editing features such as crop, rotate, trim, etc.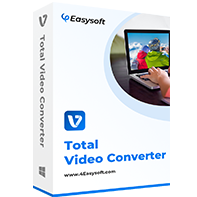 4Easysoft Total Video Converter
Supports 600 plus video and audio formats that also cover BlackBerry formats.
Capable of providing 60X ultra-fast speed conversion process with your video to BlackBerry.
Infused with video customization settings, including an encoder, frame rate, bitrate, etc.
BlackBerry video converter supports batch conversion with lossless quality.
How to convert video to BlackBerry-supported format using 4Easysoft Total Video Converter.
Step 1Go to the 4Easysoft Total Video Converter's website to install and launch the tool on your Windows or Mac. To import your video file, click the Add Files button. Select the video file/s you want to convert and tick Open. Alternatively, you can Drag and Drop the files on the tool's interface.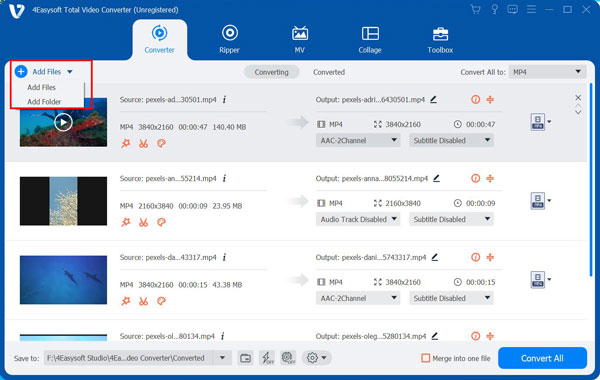 Step 2Suppose you want to convert your video into MOV format. Click the Format button located at the upper-right part of the tool. Look for the MOV format under the Video tab and tick it.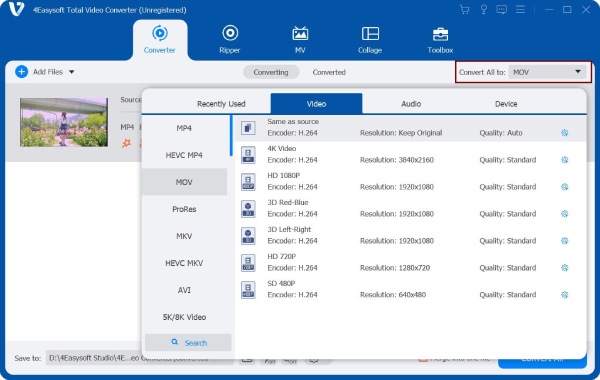 Step 3If you wish to customize the parameters of your output, click the Custom Profile button with the Gear icon. You can adjust your video's quality, encoder, frame rate, resolution, and bitrate.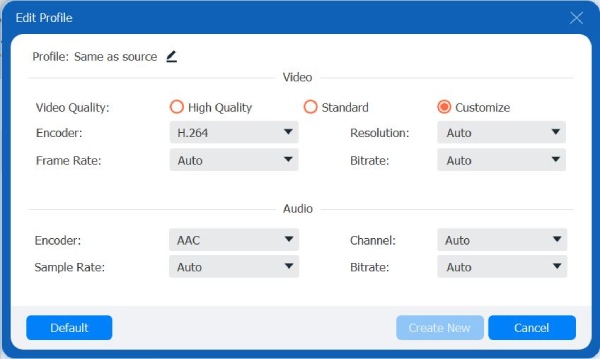 Step 4To choose the storage path where you want no save your output file, click the Save to dropdown list button. After that, tick the Convert All button to start the video to BlackBerry conversion.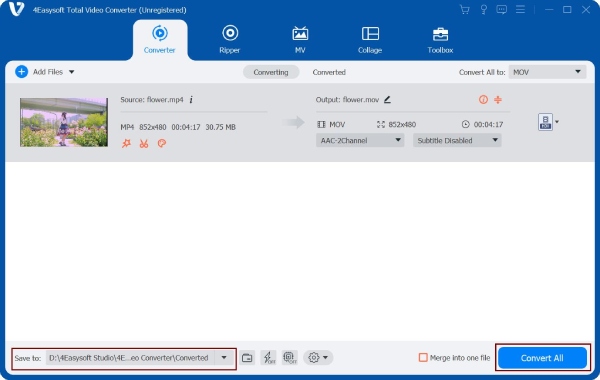 Part 3. How to Convert BlackBerry Videos to MP4 Online for Free
If you are looking for an online BlackBerry video converter for free and with customization settings, then 4Easysoft Free Video Converter is for you. This online tool supports 300-plus formats and can convert BlackBerry videos to MP4. Moreover, since this tool supports the batch conversion process, you can simultaneously convert a number of your BlackBerry videos. Furthermore, it converts your BlackBerry videos easily with a few clicks. Aside from that, this tool is also infused with the capability of tweaking your video's resolution, encoder, frame rate, bitrate, and more.
Here are the steps to convert BlackBerry Videos to MP4 using 4Easysoft Free Video Converter:
Step 1Visit the 4Easysoft Free Video Converter's website using your browser and click the Convert Video Now button to import your file on the tool's interface.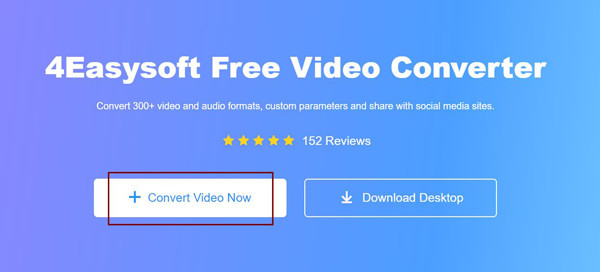 Step 2Tick the MP4 format located at the bottom part of the tool. You can also apply some changes to your output file by clicking the Setting button to adjust the video's output resolution, frame rate, bitrate, and encoder.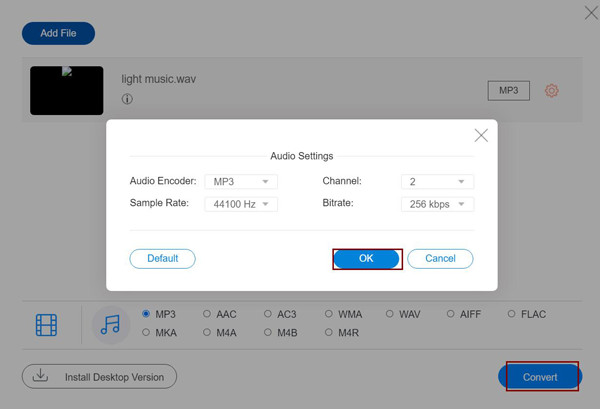 Step 3Click the Convert button, and then the tool will automatically open a Folder window for you to choose your desired output folder destination of the converted BlackBerry video file. Then tick Select Folder and wait for the tool to finish the BlackBerry video to MP4 conversion.
Part 4. FAQs about BlackBerry Video Converter
1. Can I use VLC to convert BlackBerry to digital format?

Yes! VLC supports almost all popular video formats. You can convert BlackBerry into MPEG, MKV, WAV, ASF, etc. Aside from that, this tool is also a multi-platform tool under Windows and Mac.

2. Can I utilize QuickTime as BlackBerry Video Converter?

Yes, of course! QuickTime does not only performs to play a video. It can also utilize as a video converter. It also supports formats compatible with BlackBerry, such as MP4, WMV, 3GP, and AVI.

3. Do online BlackBerry video converter limits you with file size inputs?

Most of them do limit you with your file size inputs. Some likely allow you to import only 100MB files which can be increased if you register your account or purchase an upgraded version. If you are looking for n online tool that will not limit you, then 4Easysoft Free Video Converter is what you need.
Conclusion
That's it; those are the best ways to convert BlackBerry videos to MP4 and vice versa. Again, always consider your device's supported formats and codecs to land a successful conversion process. As you have noticed, 4Easysoft Total Video Converter and 4Easysoft Free Video Converter support many video formats, making them suitable as your BlackBerry video converter tool. Moreover, they are capable of providing you with excellent conversion services. Thanks to their powerful features. Feel free to try it and experience those features on your own hands!